15 Slimming Long Layered Haircuts for Women with Full Faces
Long Hair with Side-Swept Bangs
@margostyles.mpls
If you're looking for a flattering haircut for a chubby face shape, then consider long hair with side-swept bangs. The angle of side-swept bangs elongates the face, making it appear more oval. Ask your stylist to modernize your long hairstyle with a smokey balayage.
Related: See more hairstyles with bangs ideas for round faces.
Very Long Hair with Balayage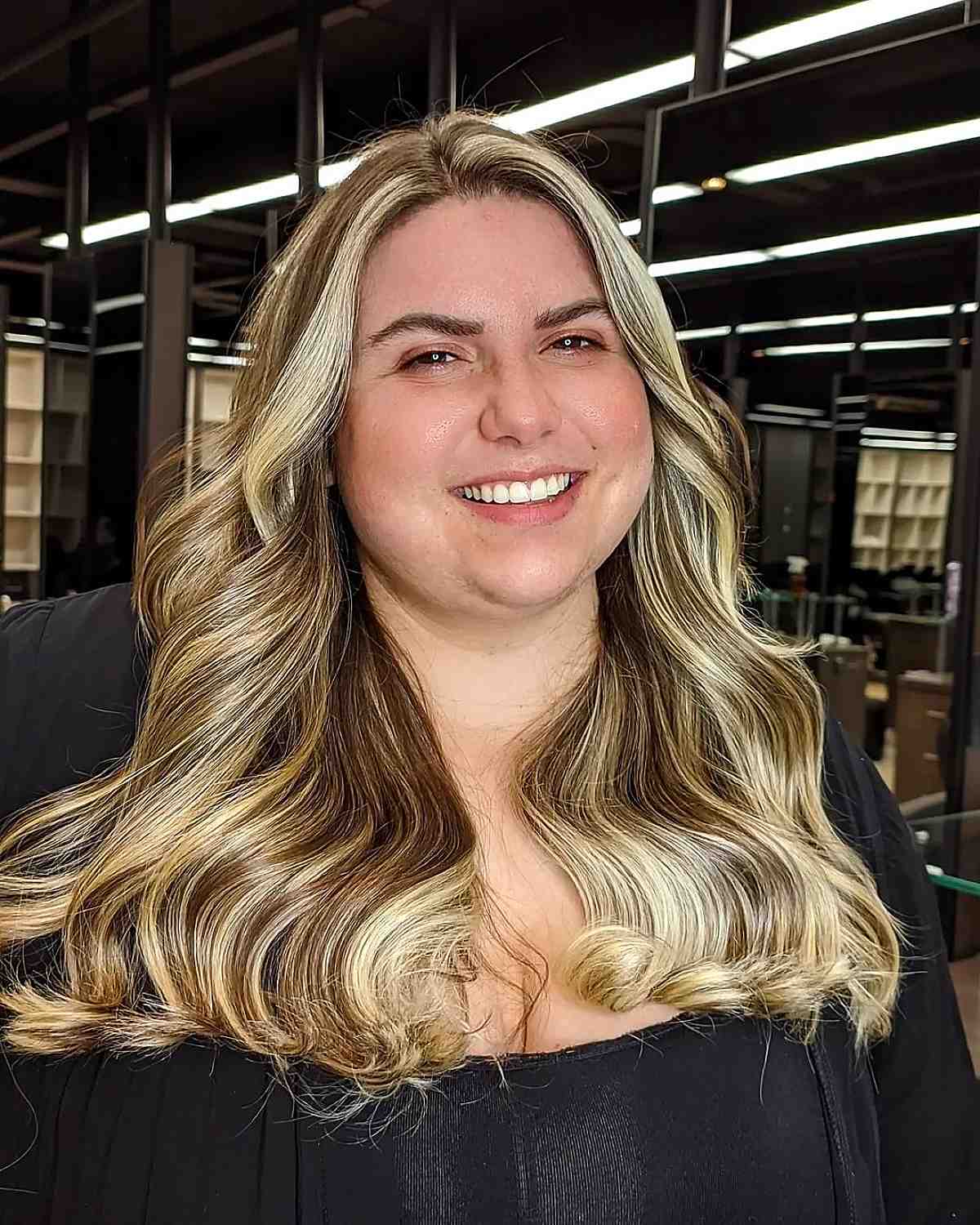 @kauanmaiahairstylist
Try rocking very long hair with balayage to hide a double chin and square off a face with roundness. Layered styles soften wide faces because there is movement flowing throughout the hair. Add some beige balayage and natural waves to compliment this stunning long haircut.
Blended Layering
@giboazhair
Go for a stunning blended layering technique if you're looking for a slimming hairstyle for a round face shape. Long hair with layers has many variations, but this perfectly tousled style paired with a seamlessly blended curtain bang is an absolute winner. Play up the natural texture with loose beach waves and IGK Beach Club Volume Texture Spray.
Sliding Haircut for Longer, Thick Hair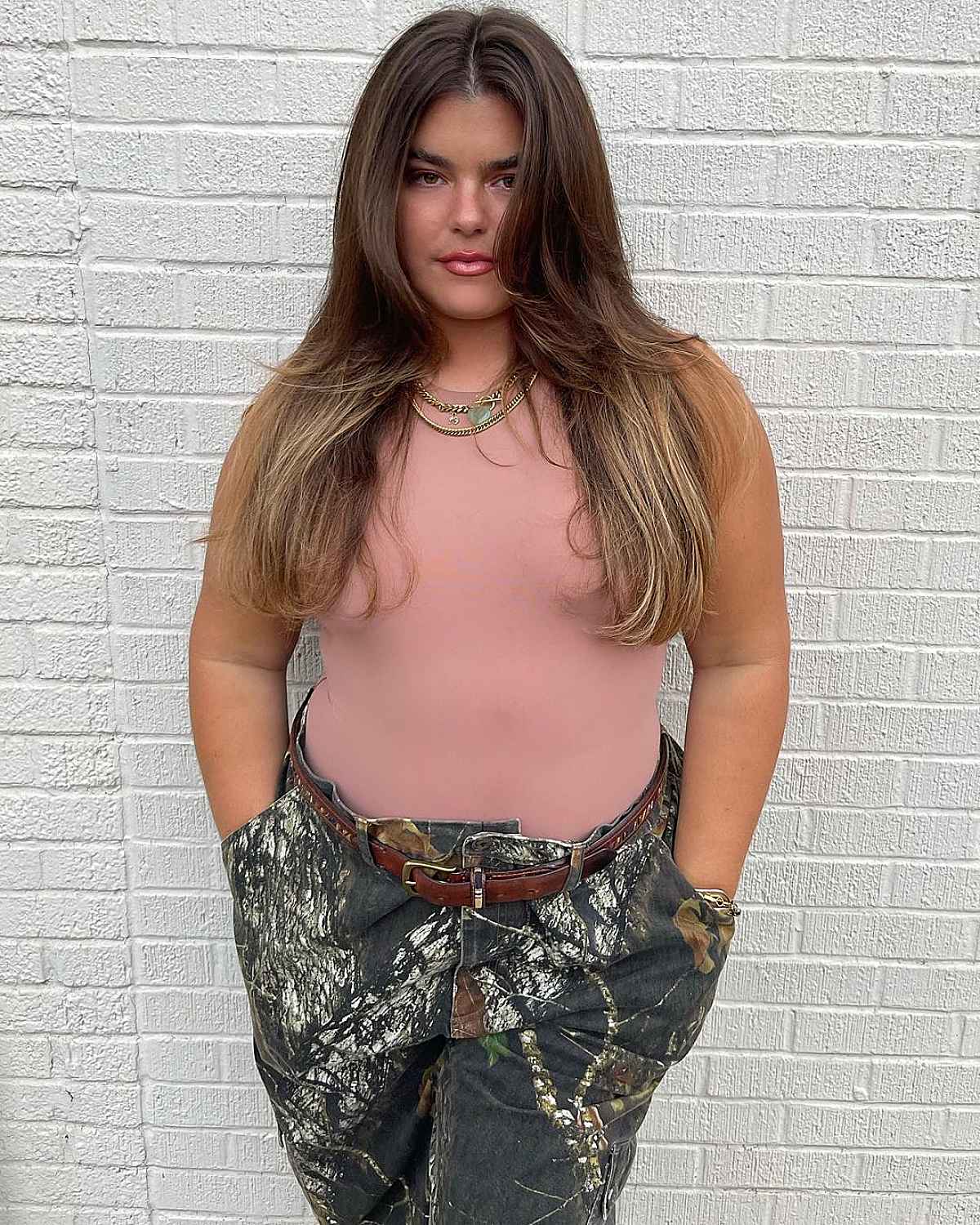 @danaisabellaaa
Try a sliding haircut for long, thick hair to remove weight. This free-hand cutting technique removes weight both internally and externally for a customized look. Slide cutting layers for long hair is a great method to reduce bulk while maintaining length, as well as adding face-framing to soften round jawlines.
Face-Framing Layers
@tyler_the_hairstylist
Consider face-framing layers if you're looking for a big transformation without losing your length. Long layered hairstyles with face-framing starting below the chin, creating a slimming silhouette for fuller face shapes. Style with a large round brush and Oribe Imperial Blowout Transformative Styling Crème.
Waist-Length Sleek Hair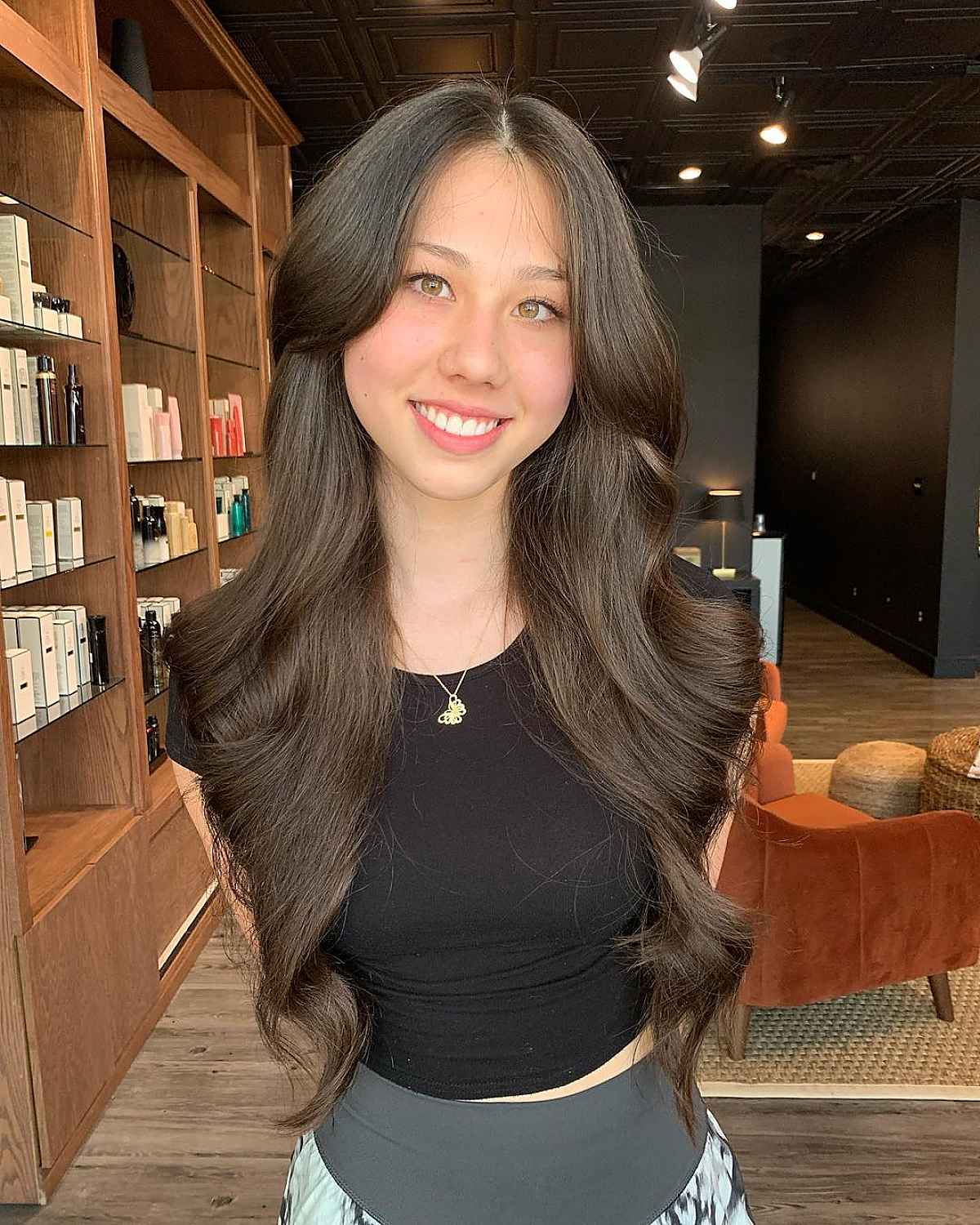 @mollyalycecasso
Go for waist-length sleek hair for an undeniable showstopping hairstyle. This extremely long style looks best with some subtle long layers or loose curls when worn on round face shapes. Be sure to talk with your stylist about the best at-home haircare routine to keep your locks shiny and healthy.
Layers on Long Tresses
@hairbyracheleigh
Try incorporating layers on long tresses for a subtle, but oh so impactful change. Long locks can feel heavy and flat over time, so a long-layered hairstyle lets you keep the length but adds some bounce. A rich warm brunette tone is the perfect complement to this stunning haircut.
Long Layered Hair with Bangs
@cudmoreco
Try long layered hair with bangs if you're looking for a haircut to compliment a round face shape. A long-layered haircut with curtain bangs is the perfect style to give the illusion of a narrower jawline and longer face. Ask your stylist for golden highlights to accentuate the face-framing layers.
Long Curly Hair with Layers
@nubiarezo
If you have a chubby face, try long curly hair with layers. The layers allow the curls to lay naturally proportioned around the head and are one of the best long hairstyles for round faces. Make sure to keep the curls below the chin line or longer to avoid adding more width to the face.
Razor Cut Shag with Curtain Bangs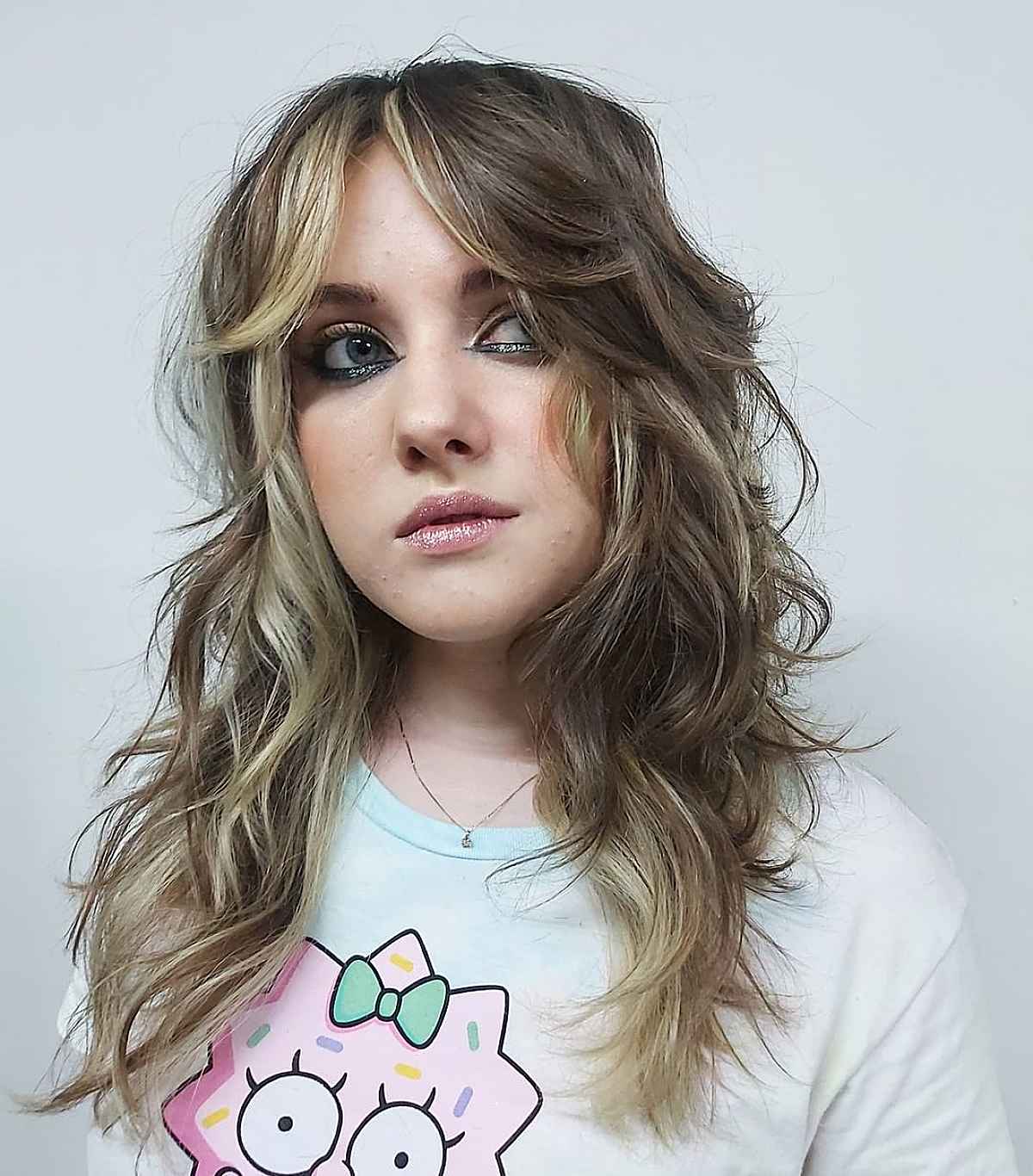 @verosainzpeluqueria
Go for a funky razor shag with curtain bangs if you're looking for a change. Razored layered cuts are the perfect style for round face shapes because they create a ton of texture throughout the cut. A symmetrical curtain bang with a center part is extremely flattering for chubby faces because it highlights the cheekbones by breaking up the widest part of the face. Style this haircut with Ocean Mist by Reference of Sweeden or spray wax to play up the texture.
Textured with Beach Waves
@hairbyjennverma
A long-layered haircut that is textured with beach waves is a laid-back, fun in the sun style. A long cut doesn't have to be boring, add some loose waves for a relaxed vibe, or pin it up in a tousled high bun for a touch of glam. Ask your stylist to warm up your blonde with a golden gloss for extra shine.
Low-Maintenance Long Hair with Fringe
@sercandagstan
Go for low-maintenance long hair with fringe if you're looking to create a soft jawline or elongate a round face shape. Long layered haircuts are versatile and offer many styling options. Top this look off with a textured fringe and sun-kissed balayage for that extra wow factor.
Longer Feather Cut
@hairwithdanijela
If you're looking for the perfect cut to elongate a chubby face, try a longer feather cut. This long haircut has rounded cascading layers flowing throughout the cut. Style with a round brush and IGK Beach Club Blowout cream to properly show off the movement in this haircut.
Long-Length Hair with Layers and Wispy Bangs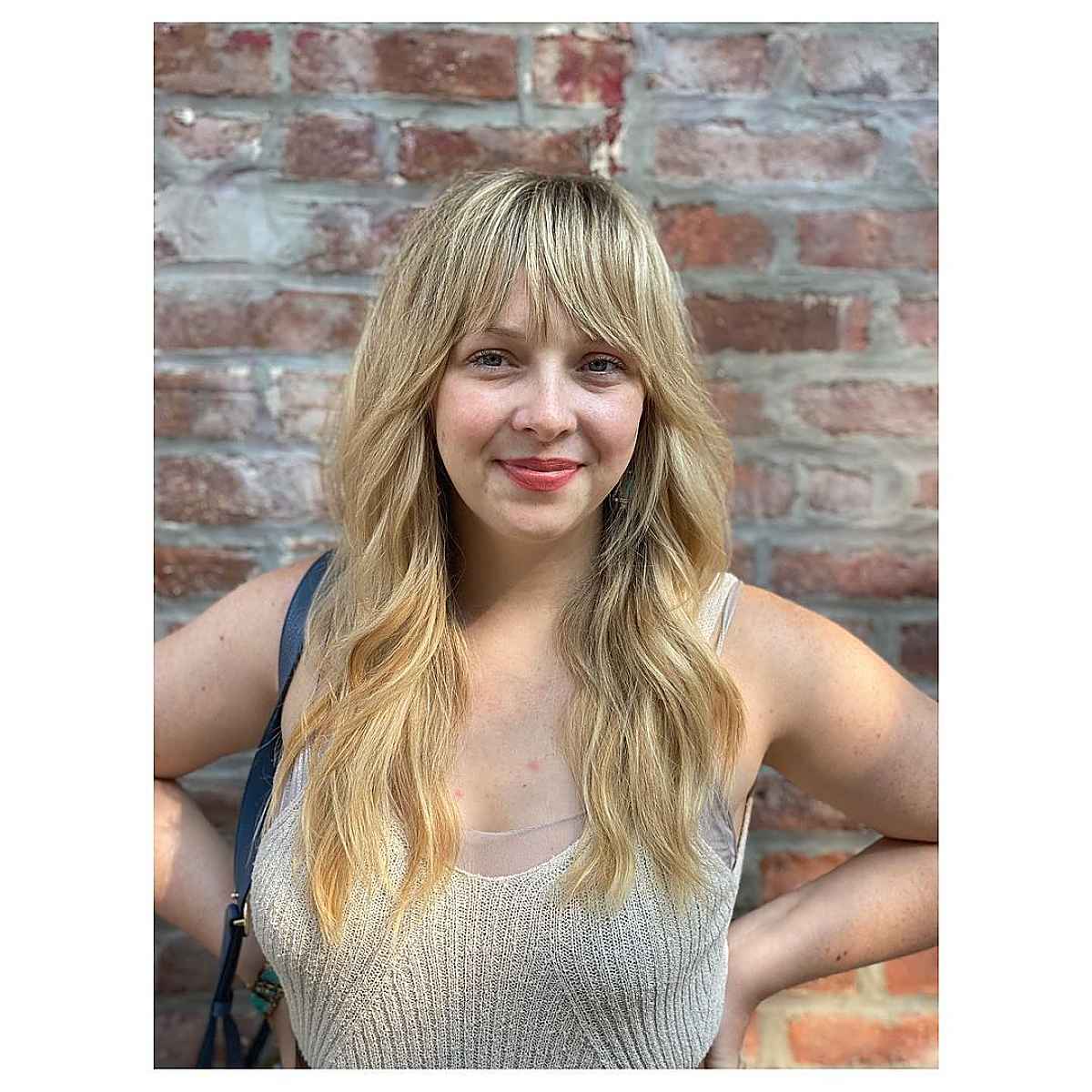 @heyemilysue
If you're looking for a dramatic change without losing too much length, try long-length hair with layers and wispy bangs. Long layered haircuts with bangs falling below the jawline add movement and slim full faces. Add a wispy bang to open your face and balance the layers.
Long Layered Shag
@randa.rivera
A long-layered shag is the "It" haircut right now for many reasons. Shag cuts are a great option because they create a ton of movement for easy styling options from wash and go, to adding loose curls on day 2 or 3. Shags are especially stunning haircuts for chubby faces, because they balance out the curves on the face, creating a more oval or elongated appearance.