23 Best Ways to Get Long Layers with Medium-Length Hair
Long Layers and Texture for Thick Hair
@salsalhair
Thick hair can be tricky to manage, so try adding long layers and texture for less bulk and more manageability for a medium hairstyle. Long layers for thick medium-length hair are brilliant for achieving big volume and texture, but the downfall is if overworked, they can just keep expanding. Long layers are a key for creating the shape you want, while texturizing helps to remove excess bulk. With a layered texture, thick hair becomes much more workable and easy to style.
See more flattering medium-length hairstyles for thick hair
Middle-Part with Money-Piece Highlights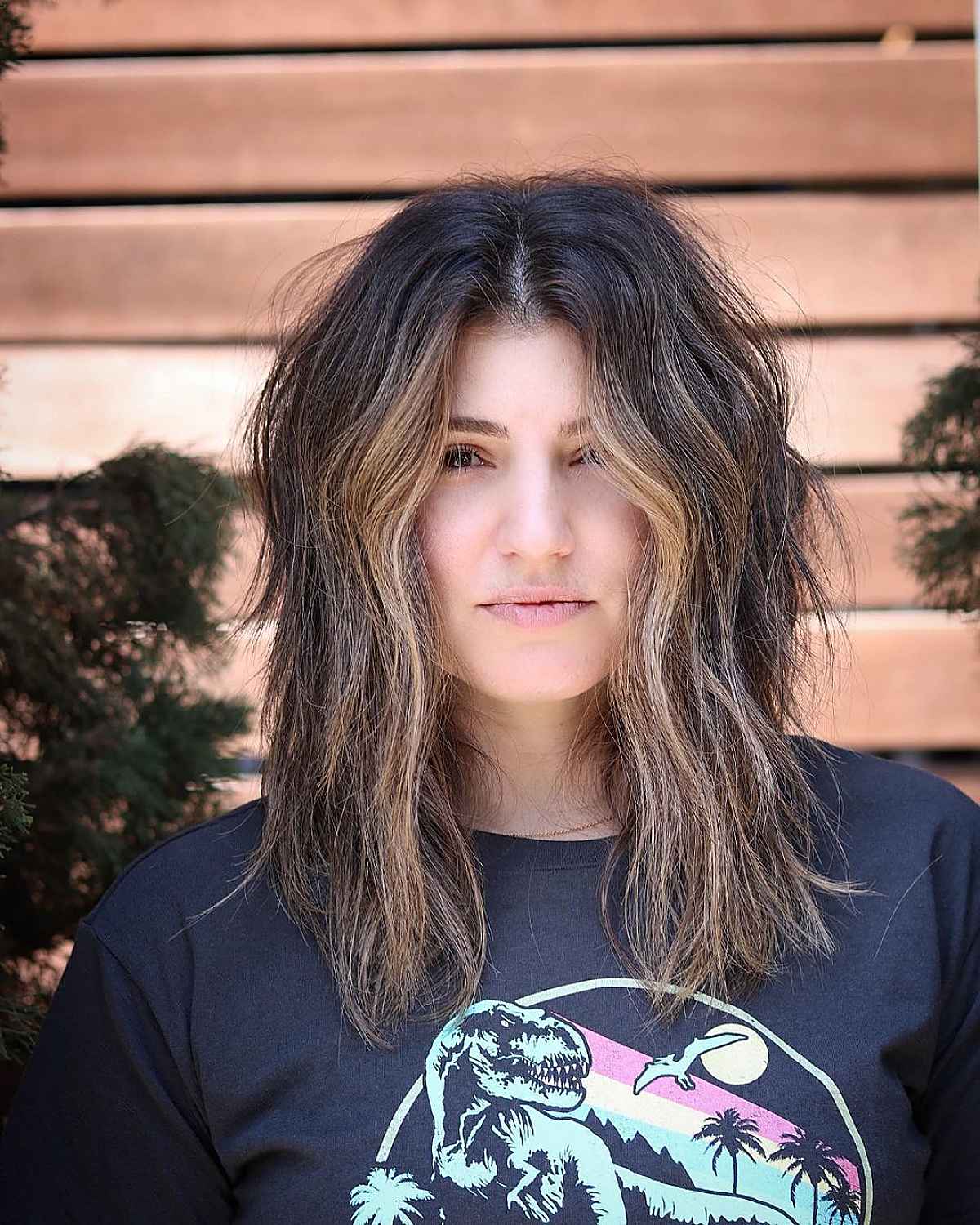 @hairbyelvisp
A middle part is an iconic staple in current hair trends, and adding money piece highlights creates an extra wow factor, drawing the eyes into the face and framing your features flawlessly. The middle part is a long-time favorite in many eras of medium hairstyles.
The combination of a timeless middle part, messy layers, and money piece highlights will be sure to give you a classic and chic look when polished, and the perfect relaxed hairstyle when worn more loose and textured.
Layers for Women Over 60 with Shoulder-Length Hair
@anitas.style
Many women over 60 struggle to find shoulder-length hairstyles that suit them. Long layers for mature women are a fabulous way to bring new life to your changing hair. Women in their 60s typically face different challenges with their hair than in previous years, and it can be hard to find a cut or style that works.
Long layers on shoulder-length hair are a fabulous way to transition into a fresh and bright new look. The uneven layers make it versatile to style and the shoulder length keeps the mane easy to manage. Embrace the new texture of your hair with extra volume and textured waves.
Long Layers on Straight Hair
@kenzierae_hair
Long layers are fabulous on medium straight hair when trying to create lift, bounce, and body. Hair that is naturally very straight tends to fall limp and drag the face down with it, but by adding some long layers, weight is removed and allows the lighter hair to bounce up more.
Blended layering on collarbone-length hair can be crucial to giving fine or straight hair that oomph we all want in our style. Hair that is straight with layers can sometimes be more styling time as you will now have to make sure any flyaway ends are tamed.
Edgy Medium-Length Mullet
@geiovan_styles
Boldly rock an edgy medium-length mullet to be the most iconic person in the room. The modern mullet is a style that is both edgy and classic. The choppy layers on a mid-length mullet create endless movement and dimension. It can easily be styled in several ways and can be customized to work with most hair textures and face shapes.
When considering such a long layered mid-length haircut, consider the time needed to style daily, as well as the overall look you like to achieve daily. There are many techniques and variations that get different results when cutting hair. Ask your stylist what would work best for you.
Face-Framing Long Layers
@hair_by_rachelstarr
Adding some simple face-framing long layers and straight bangs is an easy and low-maintenance way to switch up the style and overall movement of your medium-length haircut. With detailed features like face-framing layers for medium hair, you can create a perfect guide for the eye to follow and really show off your best features. Face-framing haircuts can be customizable to anyone and can be used to enhance the contrast or dimension of color as well.
Long Layers with Blonde Highlights
@mahnoosh_rezazadeh_
Brighten up your typical long layers with some beautiful blonde highlights to give a youthful and revitalizing glow. Adding highlights to long layers on medium-length wavy hair creates extra dimension and contrast with the darker pieces which adds an element of movement and texture. Blonde highlights are a great way to gradually transition to overall lighter hair or brighten up already light hair.
Red Medium-Length Hair with Layers
@ryennesnow.hair
Red hair compliments layered hair in a way that most colors don't. Red tones bring warmth and produce different hues in different lighting. Medium-length hair with long layers and bangs is a versatile way to try out a red tone or a new haircut. Keep in mind that more vibrant tones of red will often need more maintenance than more natural tones. Your hairstylist will be able to help you choose the best color and cut for individual daily needs.
Eye-Catching Peek-a-Boo Highlights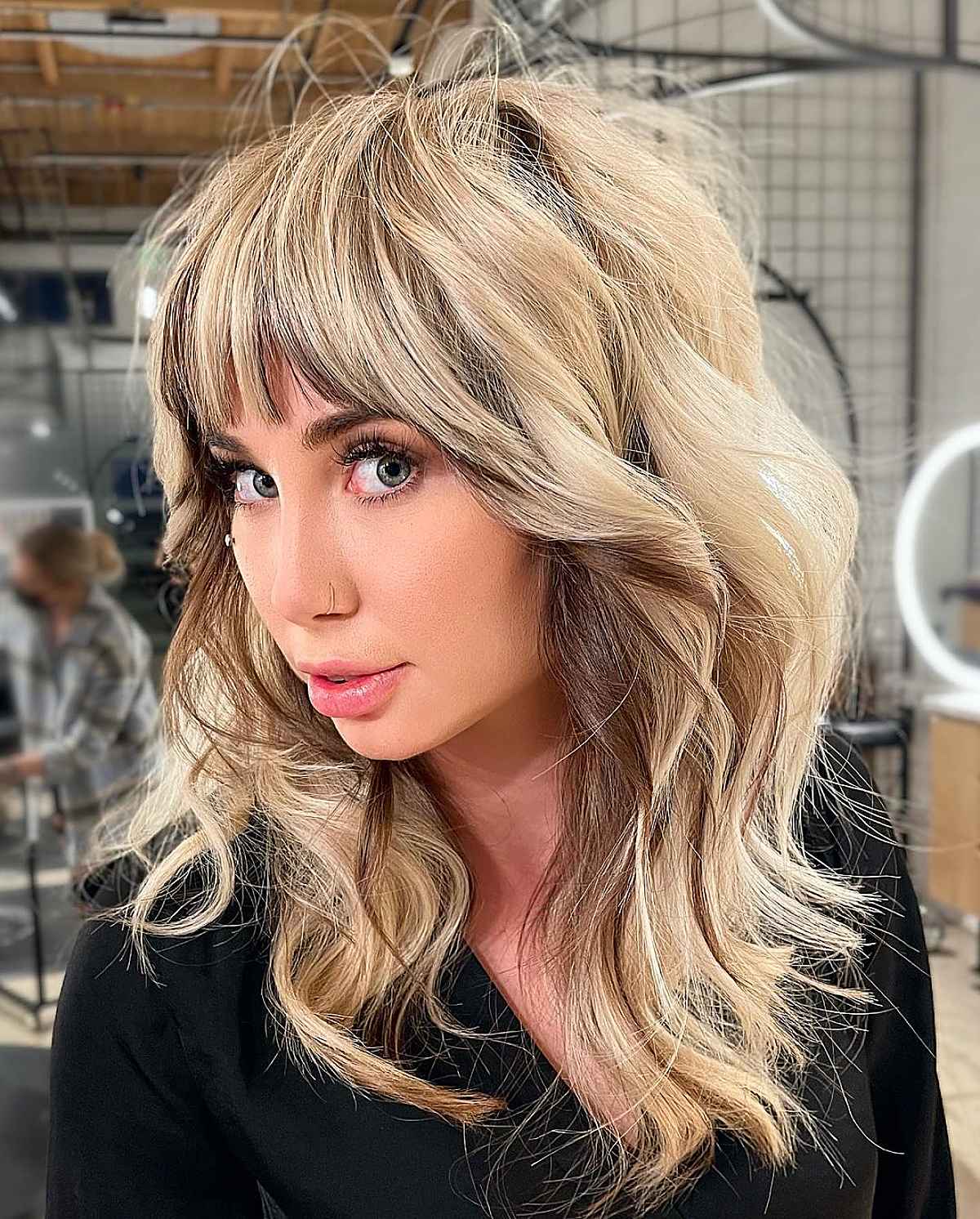 @erika.king_
Freshen up your medium-length blonde hair with long layers and by adding some eye-catching peek-a-boo highlights and blunt bangs to frame and accentuate your favorite facial features. By adding an eye-catching feature near the face, you have the ability to really draw the eye toward the features you like. Peek-a-boo highlights are easy and quick maintenance. A simple change like a pop of color can bring a drab and plain layered haircut some vibrancy.
Two-Tone Block Coloring to Show Off Long Layers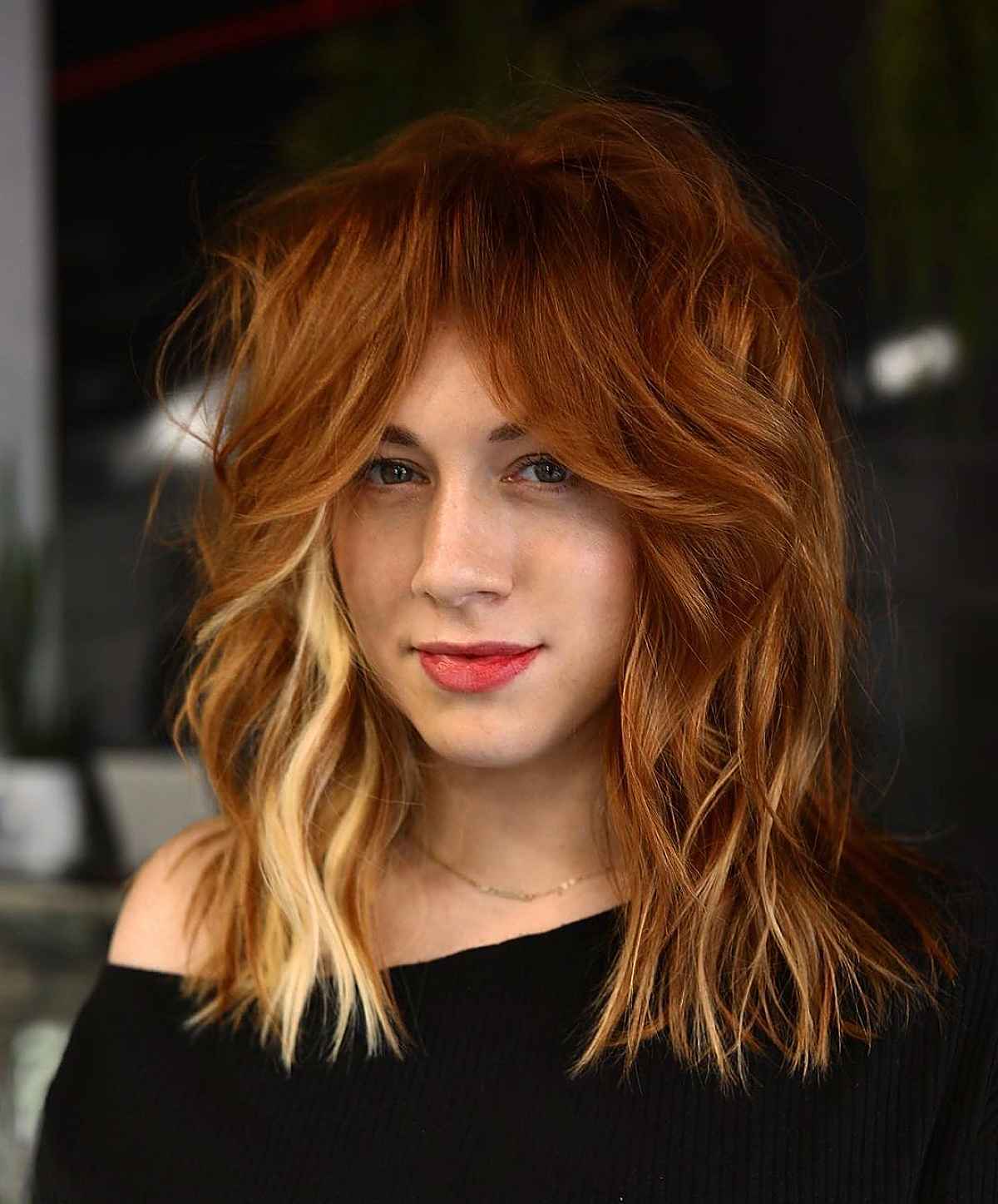 @megumicolor
Utilize some two-tone block coloring techniques to show off beautiful long layers on medium-length hair. Long layers sometimes blend in with the main lengths of the hair which takes away some detail and interest. To bring some detail and dimension back to the hair, a two-tone block coloring pattern is perfect. The two tones create contrast within the color and style, which works well to accentuate the long layers and really bring them back to the spotlight.
Subtle Blonde Layering
@un.rooted
Some subtle long layering with blonde hair can enhance movement and dimension with the color. A textured style and layering on blonde hair is a great way to add lift and bounce without taking away too much thickness and bulk. Layering is also a fantastic way for blondes to keep their hair healthier and better maintained. Medium-length hair with long front layers is easier to style, but does require a bit more styling than a one-length medium cut, so keep styling time in mind.
Long Feathered Layers
@rogerriverascabeleireiro
An amazing way to add movement and layering without losing thickness, is to add long feathered layers. Creating long soft layers that very subtly and lightly frame the face can help the medium haircut keep a beautiful shape and flow even without excessive styling. Feathered layers are very light and textured layers meant simply to frame the face, and are not meant to remove excessive bulk. Feathering is best used with fine hair as it doesn't take too much density away.
Shaggy Long Layers
@_leonardolimas
Rock some shaggy long layers for a medium hairstyle that's edgy and raw. Lived-in medium haircuts with texture and movement are all the rage right now. Carefree shaggy layers create the perfect movement and texture for that lived-in, roughed-up look while still framing the face beautifully.
These long layers with bangs for medium-length hair can be polished up to look elegant but are typically best worn with some curl or wave and bigger texture and volume. Extremely thin, fine, straight, or smooth hair may struggle with this cut as it will take more styling and work to get the big volume and texture.
See more shaggy mid-length cuts
70's Style Layering with Curtain Bangs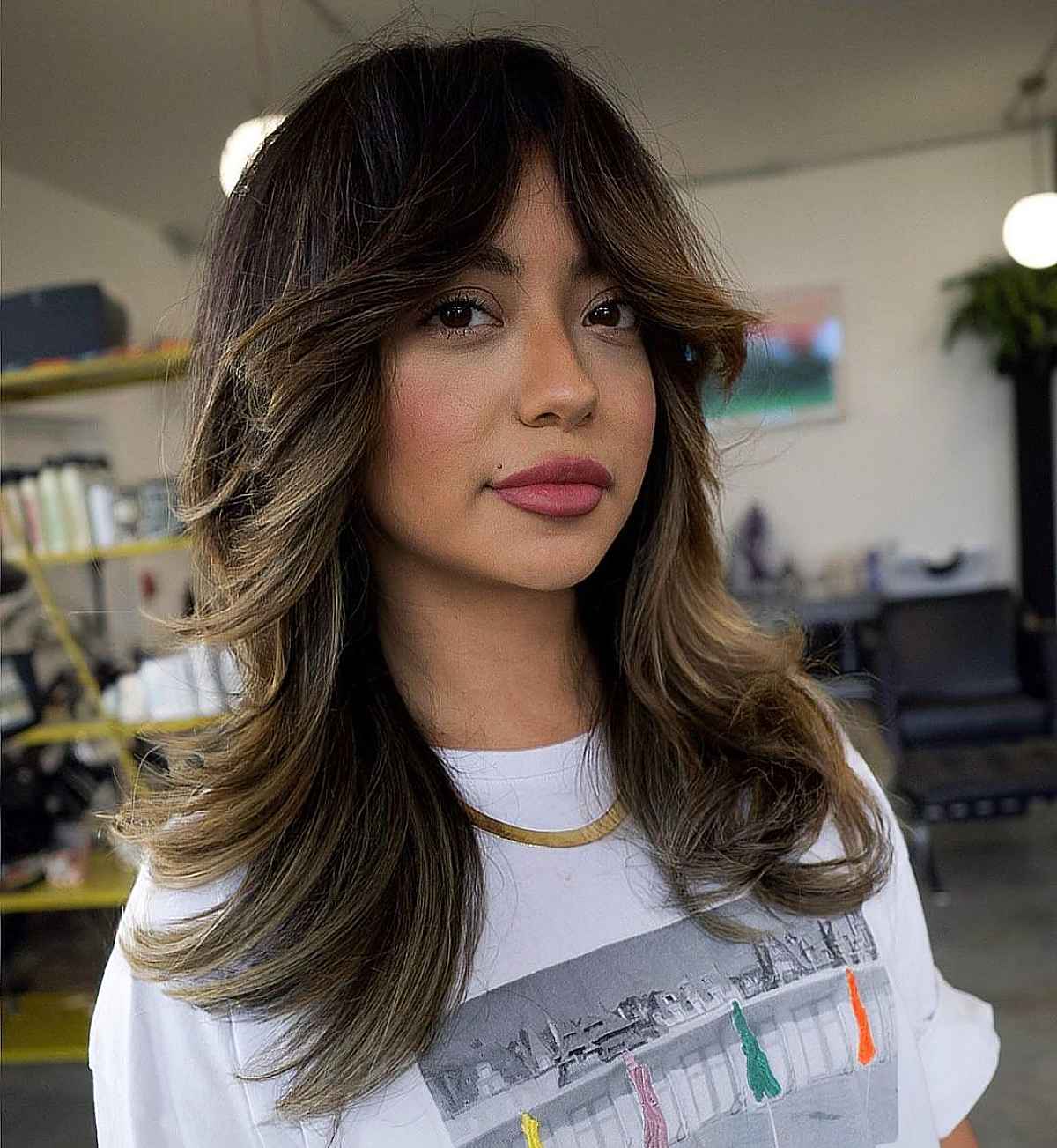 @tyler_the_hairstylist
70's style layering with curtain bangs on medium hair is all the rage right now. Curtain bangs are great to enclose your forehead to get a "bang look" without going too short. These bangs paired with long, face-framing layers on medium hair really opens you up toward the check bones. To create soft waves, use a blow-out spray to create lift and finished with a flat iron making a "c" shape away from the face.
Check out these layered haircuts with curtain bangs
Long Shaggy Layers with Textured Fringe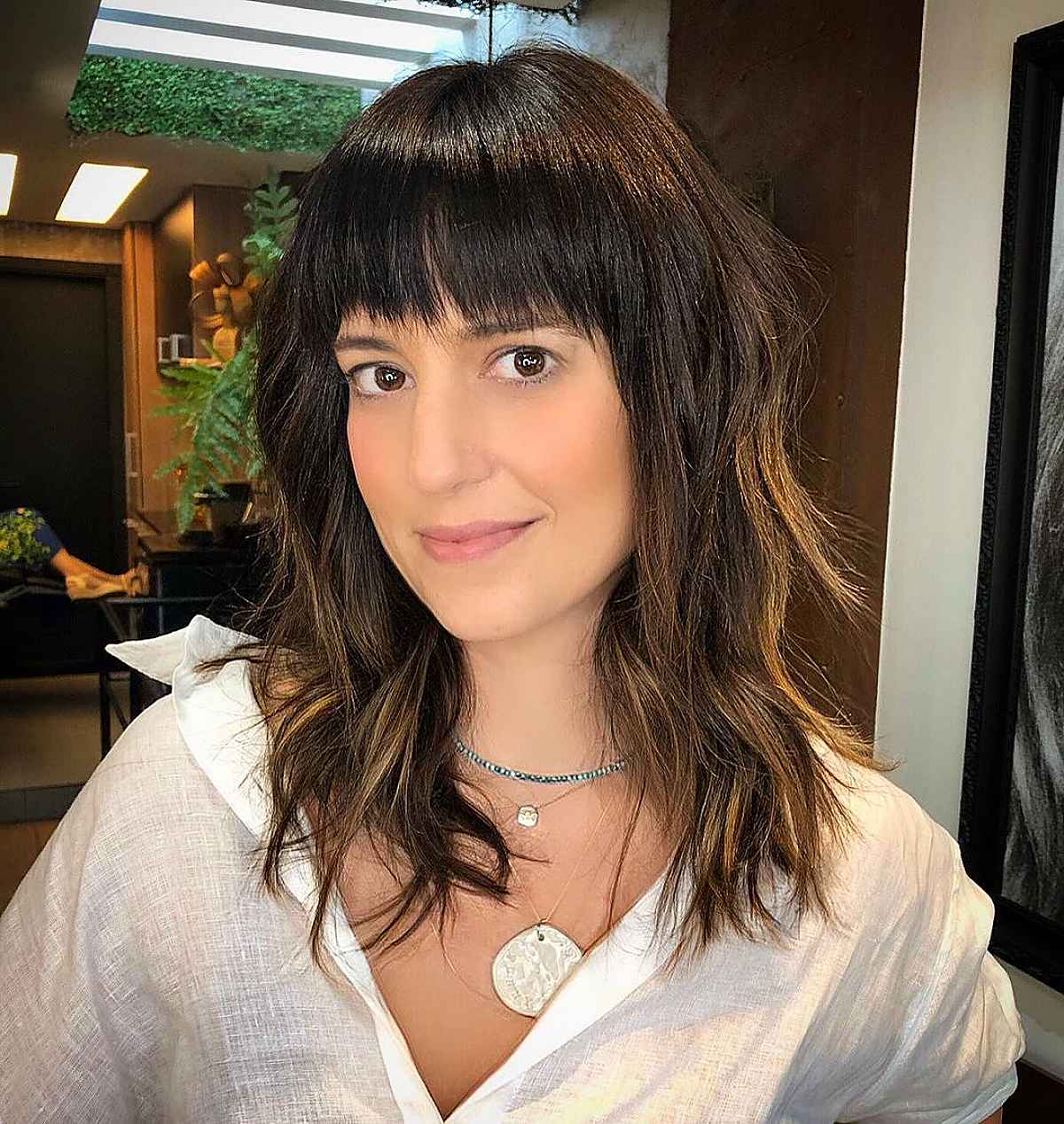 @marianagorini
A medium haircut with a long layered shag with textured fringe is great for the edgier kind of woman. A choppy fringe always adds that little change you need in life. Upkeep on the cut is about 8 to 10 weeks but the bangs will be more like 3 to 4. Texture spray is your best friend here to really show off the layers and textured ends.
Mid-Length Layered Wolf Cut
@shadiarezk
A mid-length, long layered wolf cut is where the shag meets the mullet. If texture and extreme movement are what you're seeking, then this shoulder-length layered hair is for you. Short face-framing and cropped top layers give this cut a true shape of its own. Any volume product is great for this hairdo to achieve maximum volume and movement, especially on the roots.
Long Layers for Women Over 50 with Medium Hair
@tina_does_hair
Haircuts with long layers are great for women over 50 with medium hair. Whoever said being older means short hair hasn't tried this cut yet. These long layers really give this cut a great shaggy look and maximum volume. Style this medium hair with layers
with a volumizing mousse and a nice round brush blow dry.
Mid-Length Undone Style with Layering
@yukistylist
This dark brown hair has a great mid-length style with long layering to create a lived-in, undone look. It's perfect for anyone who wants a get-it-and-go style without a lot of upkeep. This shoulder-length hair with layers, if styled with loose waves, helps to reshape the hair and create movement though out. Good styling products would be a frizz-free leave-in conditioner and shine spray for a finisher.
Long Layered Bangs
@ryennesnow.hair
Long layered mid-length cut with bangs is a great option for someone who wants a change in their cut without sacrificing their full length. These wispy bangs can always be an extreme change and upkeep, but this technique is perfect to give you a bang look without a lot of commitment. To style and achieve chunky layers, use a round brush, and blow dry with a good root spray to achieve that lift and fullness all over!
Here are more stunning layered haircuts with bangs
Icy Long Blonde Layers
@wild_arrow81
The perfect winter blonde is an icy finish with long layers on medium-length hair. Long layers are great for any hair type. They really help the hair to achieve more movement and if too heavy to remove some weight. To style, use a styling wand and finished with a light texture spray.
Modern Layers for Women Over 40
@gimoll
For a woman over 40 looking for a mid-length cut that creates a modern look with layers, this is a great match. This wavy lob is a style that is timeless, no matter what age you are. The edgy bangs in this one are great to hide those unwanted wrinkles and to add a little edge to it.
Flowing Long Layers with a Side-Part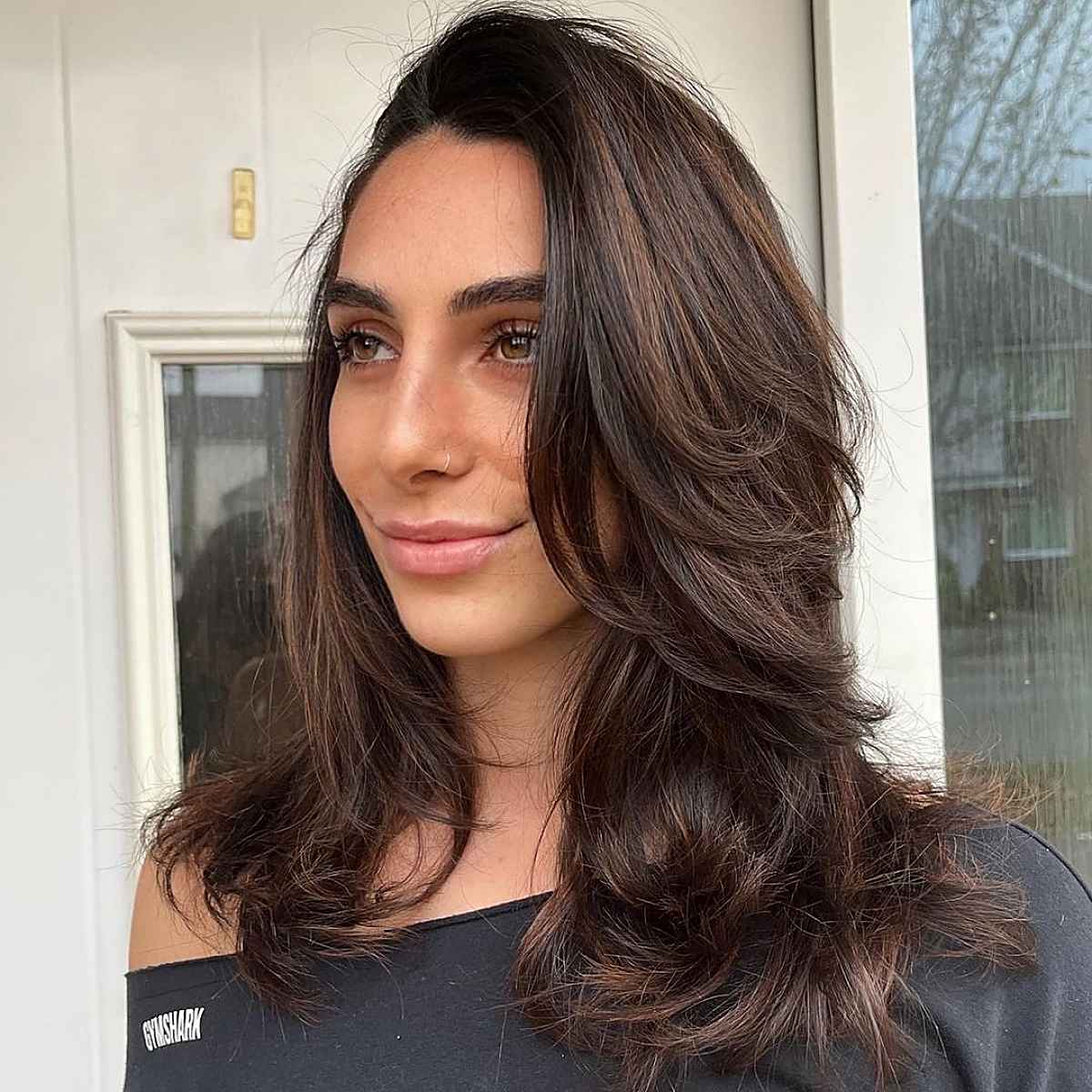 @hairbyparisleanne
Flowing long layers with a side-part on a medium-length haircut creates movement and lift in the hair. Layers are a cutting technique in which weight is removed from the hair. The shorter the layers the more movement you will achieve. Side-bangs are a great pair with this layered hairstyle to achieve more lift around the face and create a shorter face-framing look.
Dimensional Long Layers on Medium-Length Hair
@dougllas
Creating dimensional long layers on medium-length hair will give you the movement your hair has been wanting. To get more dimensional layers, a razor is a good tool for your stylist to use. This will give the hair a more lived-in look vs a blunt cleaner finish. To style your mid-length layered hair with beachy waves, use a good sea salt spray to start and finish with a styling wand.