26 Most Requested Shoulder-Length Choppy Haircuts for a Trendy Look
Wash-and-Go Long Bob with Layers
@yukistylist
A wash-and-go long choppy bob with layers is perfect for the woman on the go. Add some choppy style layers to add some texture and movement in your locks. And a few messy waves and you're on your way!
Mid-Length Chop with Internal Layers for Fine Hair
@gleitonpedrostudio
Try a mid-length chop with internal layers for fine hair. Shoulder-length choppy hair is low-maintenance and fun. Internal layers are perfect for a finer texture because they will give you that volume you love!
Shorter Layers on Collarbone-Length Hair
@prissyhippiebeautyshop
Consider layers on collarbone-length hair if you're wanting to lighten up your locks. Medium-length choppy hair cuts are so stylish and versatile. This is a perfect hairdo for a woman on the go!
Heavily Layered Bob Cut
@anapirestilo
Try a heavily layered bob cut if you want a sassy new look. Choppy haircuts are what everyone is loving right now. The more texture and layers the better. Style your bob sleek or messy, depending on the day!
Shoulder-Length Choppy Layers
@jeanaudreysalon
Consider shoulder-length choppy layers if you want to add some flair to your hair. The choppiest of layers will really make your tresses stand out.
Medium-Length Chop with Highlights
@shearbeauty_bynicole
Consider a medium-length chop with highlights if you're looking for a fun new look. A medium-length haircut can be styled in so many ways! The highlights will really bring out the dimension in your chic new look!
Face-Framing Choppy Layers
@corinna.at.pony
Consider face-framing long choppy layers if you love texture! A mid-length haircut is perfect if you want a lot of movement in your hair. If you're in love with texture, you'll be obsessed!
Mid-Length Chop with Glasses
@maisonlaloge
A mid-length chop with glasses is seriously trending. Ladies want choppy styles finished with eyewear to complete the look.
Uneven Layers and Balayage
@hairbyydani
Try uneven layers and balayage if you're looking for a textured new look. A shoulder-length cut with textured layers can really bring your balayage to life. Style with some soft waves and rock your new look!
Cute Shoulder-Length Bob for Women Over 30
@brentdanielbasore
A cute shoulder-length bob for women over 30 might be what you're looking for. Shoulder-length hairstyles are simple, low-maintenance, and very versatile. Whether styled straight or with loose waves, you will love your hair!
Collarbone-Length Shaggy Layers for Women Over 60
@brentdanielbasore
Collarbone-length shaggy layers for women over 60 are a go-to look! Medium-length cuts with texture are easy to style and are so trendy. Grab some texture spray to finish your look and have some fun with your aging tresses.
Related: See more hairstyles for women over 60.
Messy Shag Hairstyle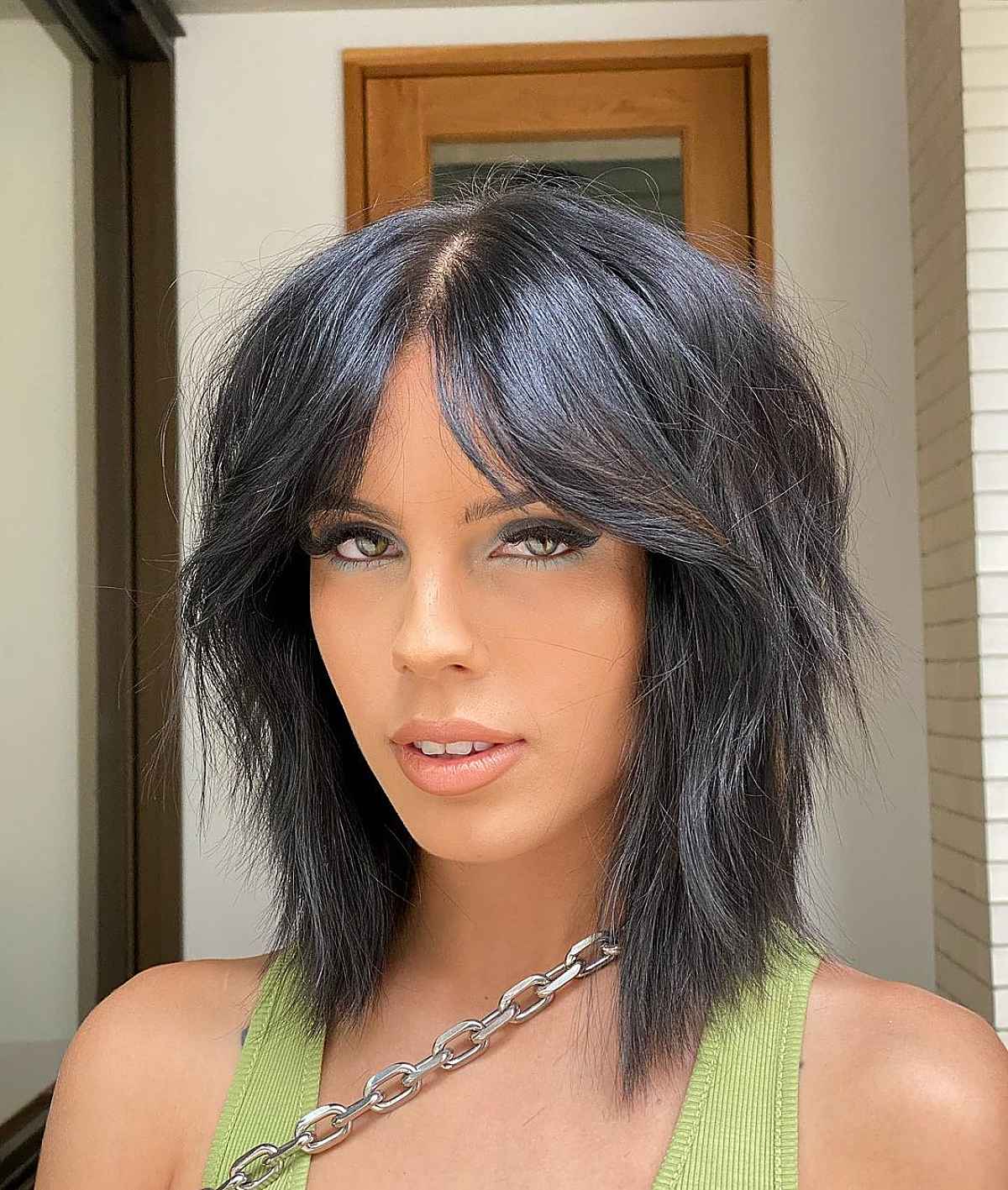 @jaiden_edwardsandco
Try a messy shag hairstyle if you're wanting an edgier new look. Shoulder-length cuts with tons of textured layers will give you that undone messy hairstyle you're going for. Grab some products to really show off that texture!
Modern Shoulder-Length Bob
@yukistylist
A modern shoulder-length bob is a sexy and trendy way to wear fine-textured hair. Barely-there layers and a choppy perimeter add fullness and interest to an otherwise boring medium-length hairstyle. Curl in alternating directions with a medium-sized curling iron and finish with a texturizing spray to achieve perfectly tousled waves that look great for any occasion.
Layered Shag for Thick Hair
@rachelwstylist
Layered hairstyles like a shag for thick hair is the ultimate in sexy, sultry '70s vibes. Ideal for girls with high-density hair textures, this shoulder-length hairstyle utilizes expertly carved layers and perfectly placed choppiness to decrease fullness and add interest to otherwise unmanageably thick hair. If you are feeling bold, talk to your stylist about adding panels of color to enhance the shagginess of the haircut and bring more attention to the face-framing texture.
Razored Shaggy Cut with Bangs
@kayleighadelehair
A razored shaggy cut with fringe is a modern option for women who are tired of standard layers or all one-length haircuts. From super edgy and rock 'n' roll to casual and wearable, the medium shag cut is a choppy hairstyle that can be tailored to all hair textures and types. Seek out a hairstylist that has experience using a razor to add volume and texture while giving you that effortlessly cool look.
Razor Cut for Wavy Hair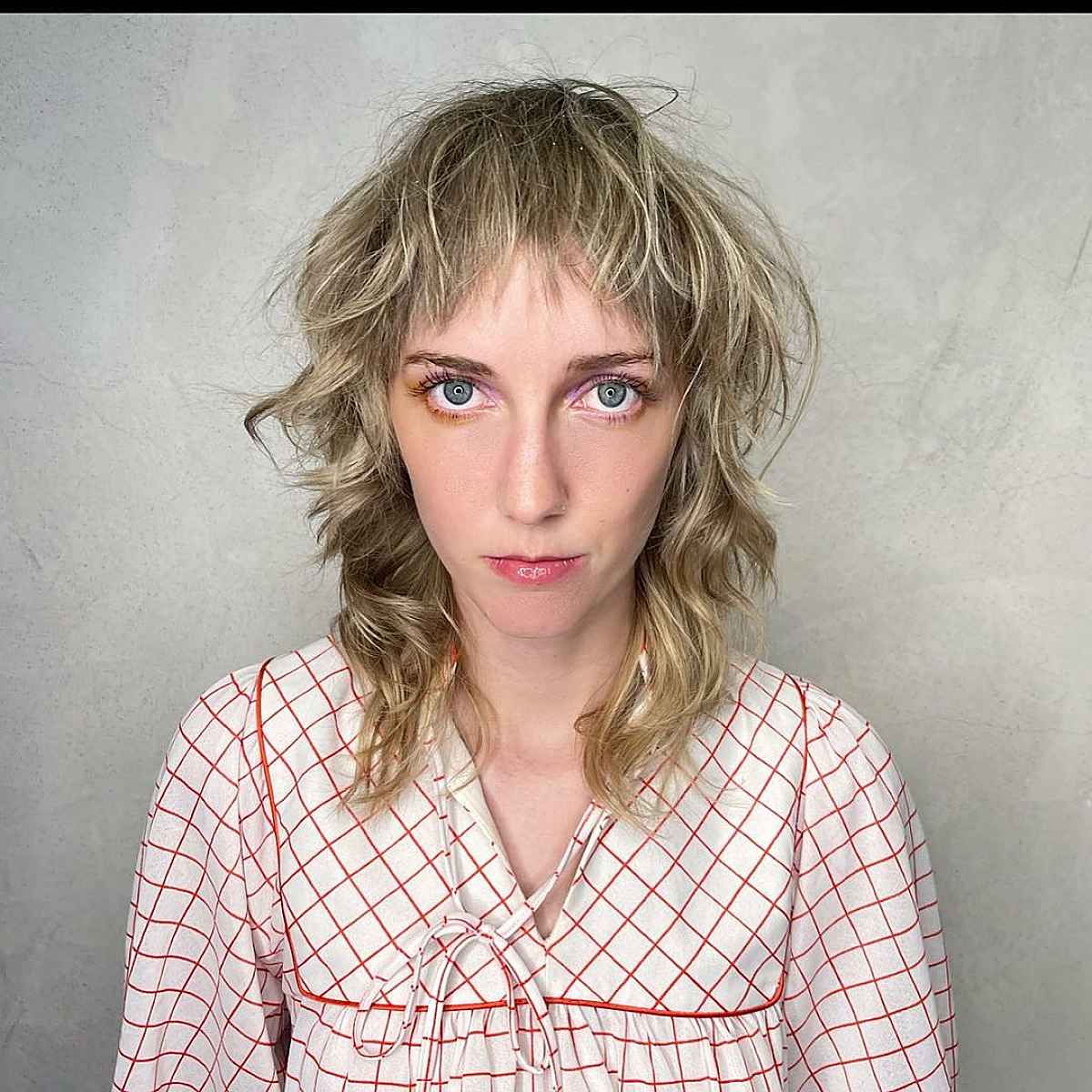 @cellardoorhair
A razor cut for wavy hair is the way to go if you are looking for a soft-shaped silhouette with carved layers and wispy petals of texture. If your goal is to emphasize your eyes and cheekbones, opt for short face-framing layers and piecey bangs. Using a razor to achieve choppy medium-length haircuts on naturally textured hair is no longer the taboo it used to be – however, it is important to find an experienced hairdresser that knows out to properly achieve the style you are looking for without creating split-ends and additional frizz.
Classic Shag Cut for Women Over 50
@curliron_maiden
A classic shag cut for women over 50 with fine hair is a great way to look youthful, modern, and yet still age-appropriate. A medium-length cut paired with full bangs and softly curled layers is flattering for almost all hair types and ages and works with even the most active of lifestyles. Be sure to use a moisture-enhancing product and shine spray to counteract the natural loss of elasticity and to keep your shag looking fresh.
Choppy Shag for Mid-Length Hair
@hairbyashleybelow
Consider a choppy shag for mid-length hair if you have fine, straight strands that tend to go flat. Expertly razored layers that get choppier towards the ends and a long cheekbone-length curtain bang add an edgy flair to this rock 'n' roll inspired shag. Perfectly undone waves can be achieved with a flat-iron or large barreled curling wand and finished with a salt spray to enhance texture and increase volume.
Asymmetrical Long Bob for Mid-Length Hair
@diogo.migli
An asymmetrical long bob for mid-length hair is a fresh modern take on a traditional shoulder-length haircut. A deep side part, relaxed beach waves, and face-framing highlights come together perfectly to make this haircut ideal for anyone that is seeking a soft, romantic way to wear their fine to medium density tresses
Classy Mid-Length Chop for Older Women
@donnasalonoficial
A classy mid-length chop for older women is a fashionable and practical option that combines sophistication with the ease of a low-maintenance hairstyle. A no-fuss layered haircut is perfect to wear curled or pulled back for those wash 'n' go days. Consider a few face-framing highlights to add brightness around the face and an overall youthful appearance to medium-length hairstyles.
Low-Maintenance Choppy Shag
@allisonvarmettehair
A low-maintenance choppy shag is a haircut that can be perfectly customized for all hair types and textures. Internal layers on fine hair can add movement and give the illusion of thickness while long, cheekbone-length bangs frame the face and draw attention to the eyes. The versatility and wearability of shaggy, shoulder-length choppy cuts make it one of the most requested styles in salons today.
Texturized Medium-Length Lob
@elite_qualityhair
A texturized medium-length lob haircut is the perfect, universally flattering haircut for anyone seeking an effortless, yet stylish look. Long layers and collarbone-grazing beach waves add the right amount of chicness to this choppy haircut. Be sure to use a heat protection product before styling lobs to ensure the health of your hair and finish with a shine spray to give your locks an envy-inducing brilliance.
Collarbone-Length Long Bob with Layers
@hirohair
A collarbone-length long bob haircut with layers is ideal if you have fine hair and are looking for a low-maintenance effortless style. Long choppy layers and a center part are the star features of this choppy hairstyle. The chic factor is taken up a notch with a rooted shadow, dimensional blonde color, and softly curled waves. Be sure to use a sea salt spray to add a tousled, beachy texture without weighing down the hair.
A-Line Bob for Medium-Length Hair
@refinedhairbyelke
An a-line bob for medium-length hair is a stylish option for women with average to thick hair that want movement and versatility without compromising length in the front. A slight undercut removes density from the nape area, allowing the subtle surface layers to stand out and emphasize the angled silhouette. Talk to your stylist about the various ways choppy medium-length hairstyles can work for your hair texture.
Choppy Bob with Choppy Bangs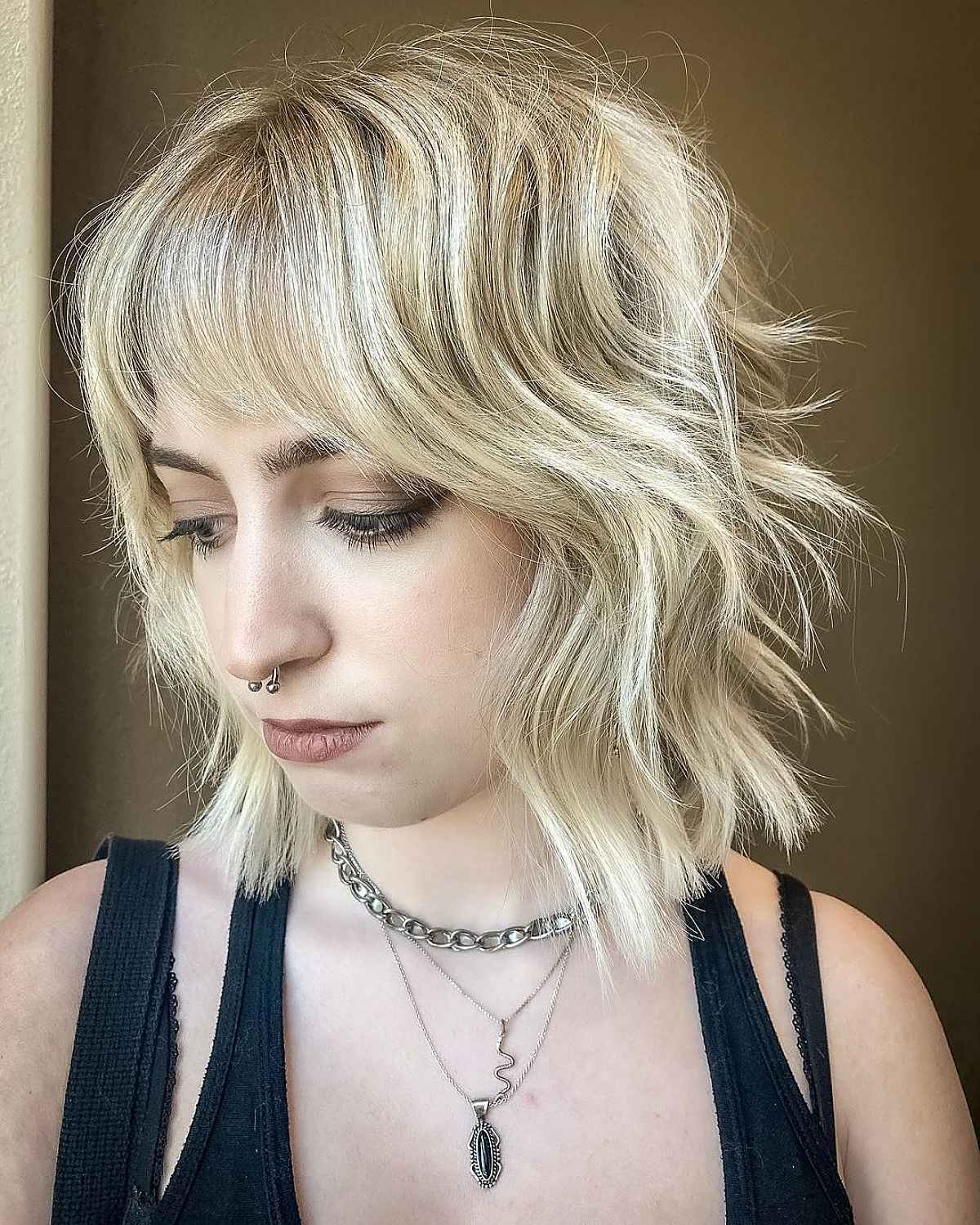 @misfitsalonandbarber
A choppy bob with choppy bangs is perfect for showing off your wild side. A blunt perimeter with razored layers and wispy bangs is ideal for fine-haired women that want a choppy cut that can be worn curled or straight. Lots of texture is key to making this haircut a show-stopping way to wear fine tresses.
Shaggy Hair for Women Over 40
@greenmangosalon
Shaggy hairstyles for women over 40 are a flattering and trendy option to enhance your natural texture in an easy-to-style, low-maintenance way. Layering keeps shoulder-length haircuts from going flat and emphasizes natural curls and waves while maintaining the length. The shag variations are limitless so be sure to talk to your stylist about your lifestyle, styling abilities, and overall desired shape.