25 Ways to Get Face-Framing Layers on Long Hair
Long Layered Hair with Blonde Money Pieces
@daltonsdolls
Long layered hair with blonde money pieces creates pops of color that add dimension to your hair. Long layers accentuate the color and draw attention to the face.
Long Shaggy Layers with Curtain Bangs
@bleachedandblown
Long shaggy layers with curtain bangs can enhance fun pops of color in your youthful style. Face-framing layers for long hair with bangs are essential as well for styling with soft feathered texture.
See more Face-framing Layered Haircuts with Curtain Bangs
Face-Framing Layered Cut for Older Women
@jackmartincolorist
A face-framing layered cut for older women brightens up and adds life to the hairstyle. A face-framing for long hair with a side part haircut is fun, flirty, and sophisticated.
Blonde Layered Hair with Long Framing Layers
@osmanbalcihairstudio
Blonde layered hair with long framing layers that add dimension can enhance your overall color. Face-framing layers for long straight hair is essential to add texture and movement.
Long Layered Waves with a Curtain Fringe
@ernestomeneses
With thick heavy hair long layered waves with a curtain fringe help lighten up the look. Soft texture enhances layering and adds volume to normally lacking thick hair.
Subtle Layers with Long Curtain Bangs
@frame.amsterdam
Subtle layers with long curtain bangs help finer hair appear thicker while also adding movement. A lovely face-frame creates the illusion that there is more hair around the hairline than there actually is.
One-Length Hair with Face-Framing Layers
@chrisweberhair
A simple one-length haircut with face-framing layers can do a lot for your style. Longer hair around the face can often drag the shape down in an unflattering way that drowns out your features instead of otherwise enhancing it.
Face-Framing Layers for Long Wavy Hair
@romeufelipe
A great way to make your natural texture more tamable is with face-framing layers for wavy hair. Without layers, wavy hair takes on an unflattering sharp triangle shape. Round layers are more flattering for these hair types.
Center-Parted Long Hair with Layers and Loose Waves
@hairerik
Center-parted long hair with layers and loose waves is a very trendy style. Middle parts keep your hairline thicker while layers and waves frame the face and add texture.
Face-Framing Pieces and Soft Waves for Long Tresses
@yukistylist
Face-framing pieces and soft waves for long tresses adds movement to the style while maintaining length. Soft touchable waves are low-maintenance but help the layers stand out.
Layered Hair with Face-Framing Bangs
@chahong_official
Layered hair with face-framing bangs is a trendy look consisting of shorter dramatic layers only around the face and a long curtain bang. Long layered hair with bangs also maintains your normal length in the rest of the haircut.
Middle Part Style with Wispy Layers for Long Hair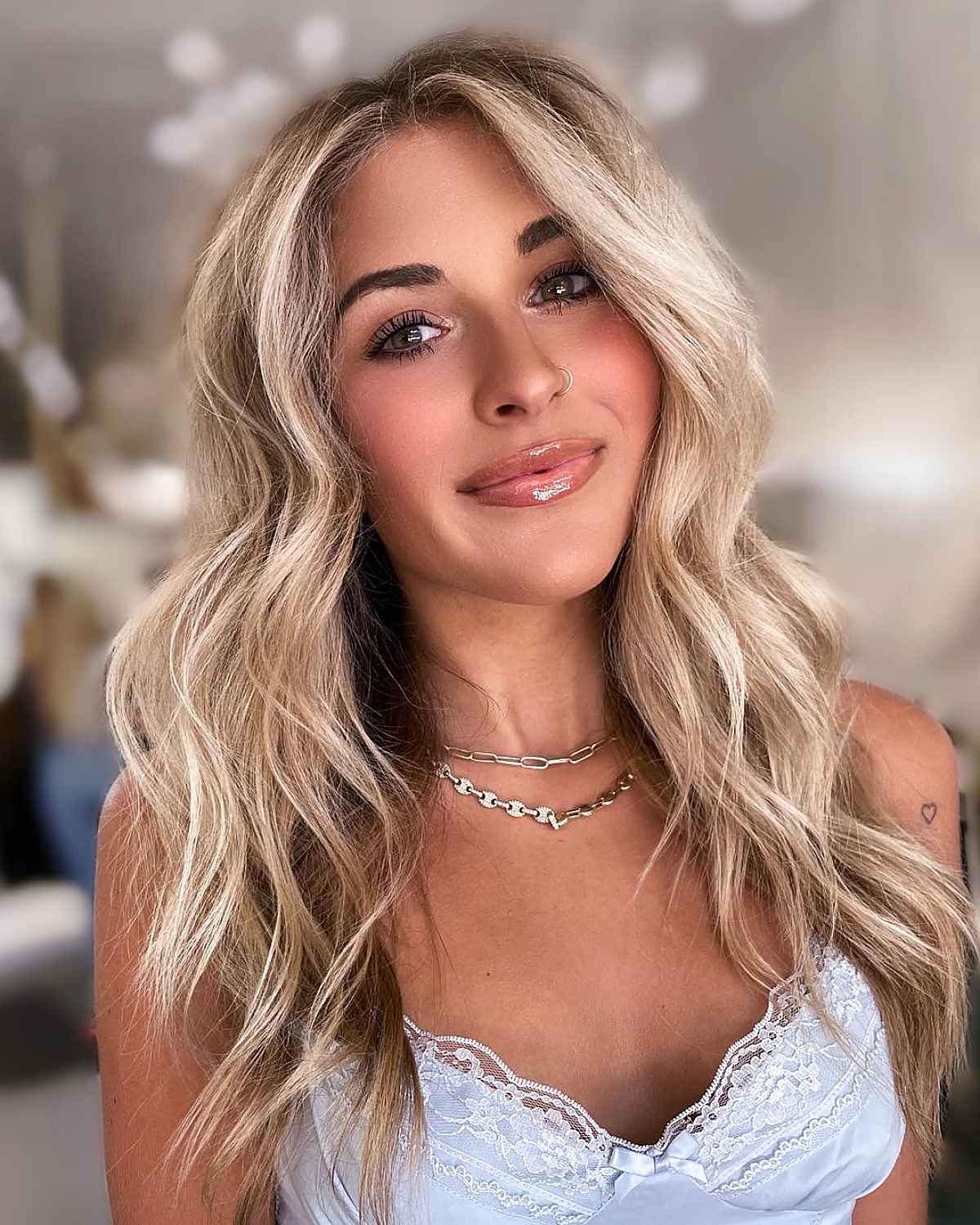 @colorbymaddie
Try a messy layered cut with middle part style with wispy layers for long hair. Feathered face-framing helps crate that purposefully undone look.
Long Face-Framing Pieces for Straight Hair
@privesalon_orlando
Long face-framing pieces for straight hair add style and compliment your bone structure. Unlayered straight hair often pulls hair down creating a dull and flat effect.
Long Wavy Layers with Blonde Face-Framing Pieces
@romeufelipe
Long wavy layers with blonde face framing pieces brighten up hair and skin. Light face-framing within the haircut creates volume that compliments elongated faces by adding more to the shape instead of creating harsh boxy lines.
Face-Framing Long Layered Haircut
@the_hair_goddess_miami
A face-framing long layered haircut maintains length but is lighter around the face. Those feathered shorter layers are essential for that healthy bouncy hair style.
Long Choppy Layers with a Center Part
@jordangabeeee
A haircut that has long choppy layers with a center part is a must on super long hair. Choppy layers for long hair frames the face and add movement to the style. Center parts without layering are very harsh and can often hide your face.
Money Pieces for Middle-Parted Hair
@suparkhair
Money pieces for middle-parted hair keep brightness and focus on the face frame. Extra dimension and balayage guarantee a gorgeous grow-out and less time in the salon. Not to mention the money saved.
Tousled Layered Style with a Face Frame
@yukistylist
Tousled layered style with a face frame gives a messy undone style on purpose. Haircuts for long hair need shorter internal layering for a lightweight textured look.
Face-Framing Layers for Long, Thin Hair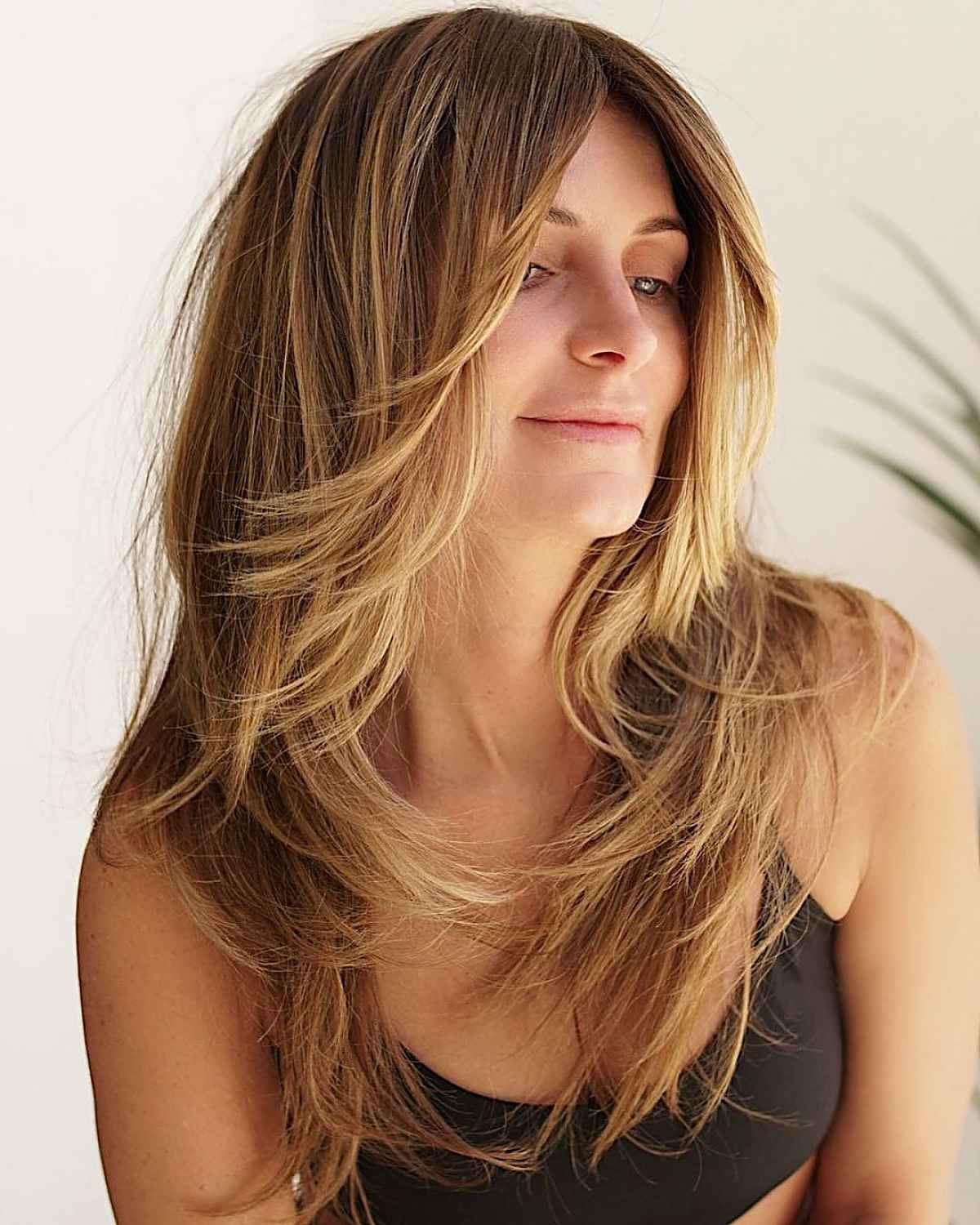 @hairbyashleyfillip
Face framing layers are essential for long thin hair. Light wispy layering lightens the hair, adding volume and ease of styling. Incorporate dramatic shorter layers for an extra bounce in your style.
Face-Framing Highlights for Balayage Hair
@colorbymaddie
Face-framing highlights for balayage hair add extra brightness while keeping that easy beautiful grow-out that balayage coloring provides. Add invisible layers for thick hair to ensure your light bouncy style maintains its length.
Textured Layers with Middle-Parted Bangs
@katexmargo
Textured layers with middle-parted bangs is a great haircut for women with round faces. Add wispy bangs to keep the cut open instead of choosing a style that adds harsh unflattering lines around the face.
See more flattering long haircuts for rounder faces and long layered cuts for full faces
Face-Framing and Swoopy Layers
@jackiecolors
A face-framing and swoopy layered cut is a more dramatic version of long layered haircuts. Layers are cut shorter around the face for more movement and an effortless style.
See more front-layered haircuts for long hair
Wavy Long Tresses with Face-Framing Pieces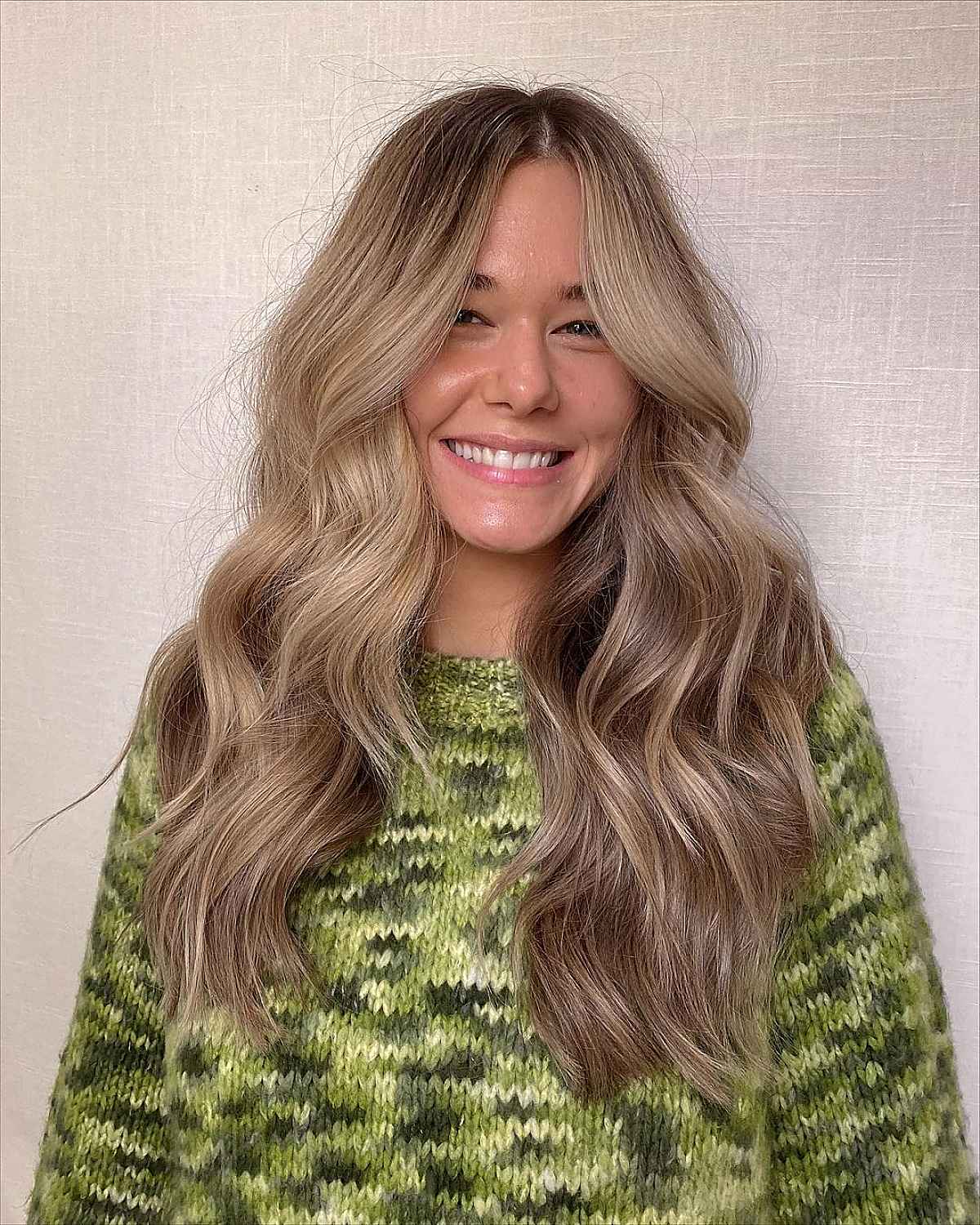 @hairbylexidawn
Wavy long tresses with face-framing pieces are a great way to create ease of styling while maintaining length along the perimeter of the cut. Face-framing layers for very long hair show up best with a wavy texture.
Face-Framing Layers with Beach Waves
@unite_hair
Face-framing layers with beach waves give soft and touchable texture to the hair. Adding volume and fullness to layered haircuts for long hair with texture is simple and stylish. It also can create more shine making your hair appear healthy and bouncy.
Face-Framing Feathered Layers for Long Hair
@drethings
Face-framing feathered layers for long hair is a layered style with a lot of movement. Keeping the hair light and soft is a perfect way to compliment a heart-shaped face rather than a long one-length that may close off the shape instead.