20 Volume-Boosting Bob Haircuts for Women Over 60 with Fine Hair
Short Feathered Bob
@chameleonsplymouth
A short feathered bob is a way great to achieve thickness all over the head. With the movement going away from the face and a short stack in the back, this combo makes the hair look thicker and fuller by concentrating the hair away from the face rather than toward it. Volumizing products are great for this style, followed by a round brush blowout.
Related: Short bobs for ladies over 60.
Blunt Chin-Length Bob for Women With Glasses
@hair.by.mikeanthony
Opt for a blunt chin-length bob if you wear glasses. The strong front with no face-framing is a go-to for women that want to be able to tuck the hair behind the ear. It allows for zero hair fall into the face while creating fullness and the appearance of a thicker hair density. Smoothing serum is a good product choice for this bob hairstyle if you want a sleek look.
Related: Flattering hairstyles for women over 60 with glasses.
Short Bob with Fringe for Fine Straight Hair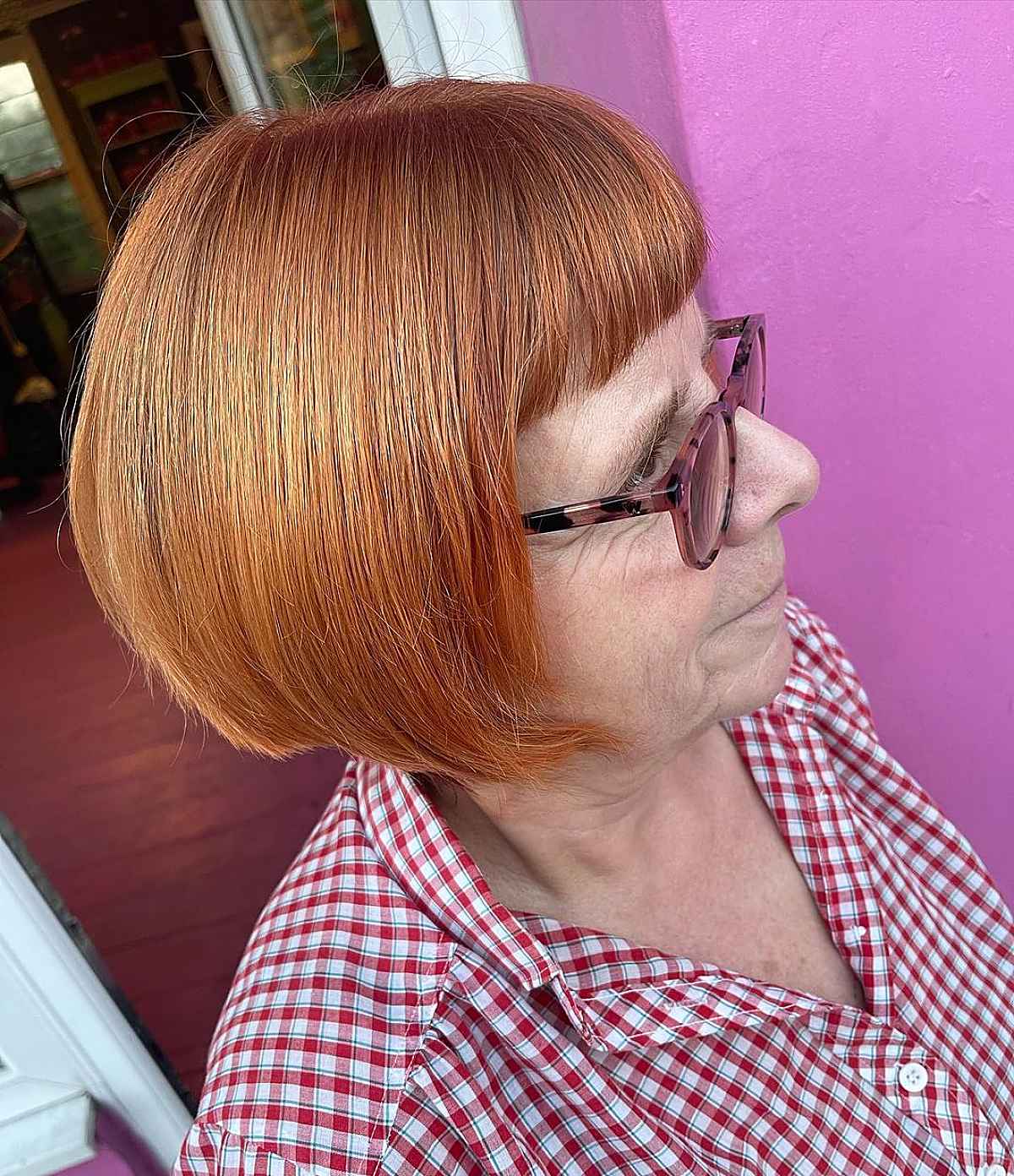 @vintage_victory_rollers
A short bob with fringe is a great cut for fine straight hair. Straight hair is the best texture for a strong fringe. Zero effort is needed in styling bangs – how they are cut is how they will lay. A perfect combo for a cute short bob that will add body to the hair without it being too stacked without a lot of effort in styling. Maintenance on this cut is about every 6 weeks in the salon.
Very Short Bob for Fine Curly Hair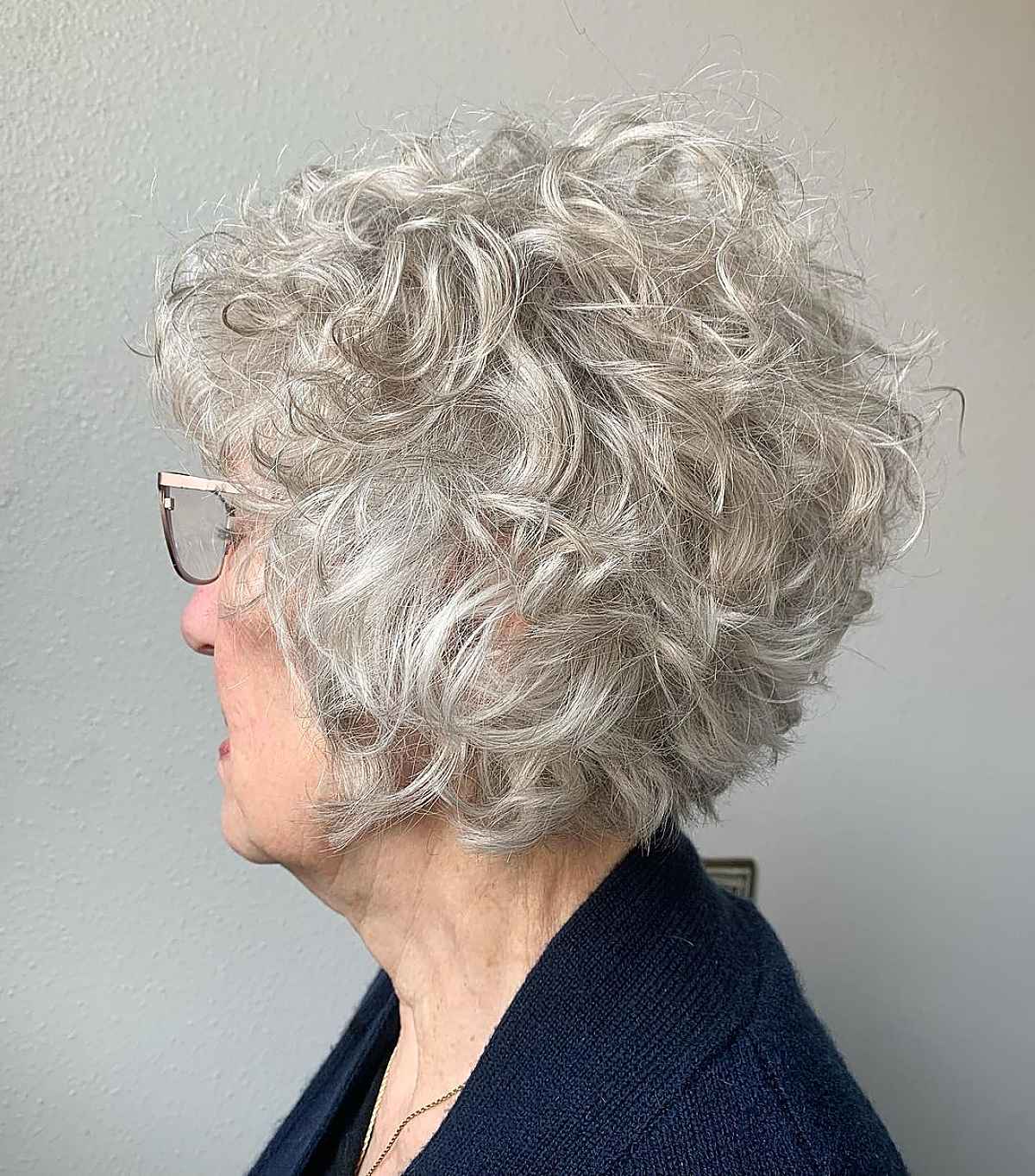 @andrea_gildedfox
A very short bob haircut for fine curly hair will give that curl the boost of volume it's been wanting. Short bobs aren't your typical grandma cut, but they're more fashionable and up-to-date. A diffuser and curl cream are needed to achieve this bouncy curl look.
The Pixie Bob for Fine Hair
@mandy_sineadkellyldn
The pixie bob for fine hair will give your grey hair the volume it needs. With its super-stacked back and long sides, it's a perfect pair to add volume to the hair while also covering those unwanted forehead wrinkles. Salon maintenance on this bob cut is every 4 to 6 weeks.
Related: Hairstyles for grey-haired women over 60.
Blunt Bob with Bangs and Beachy Waves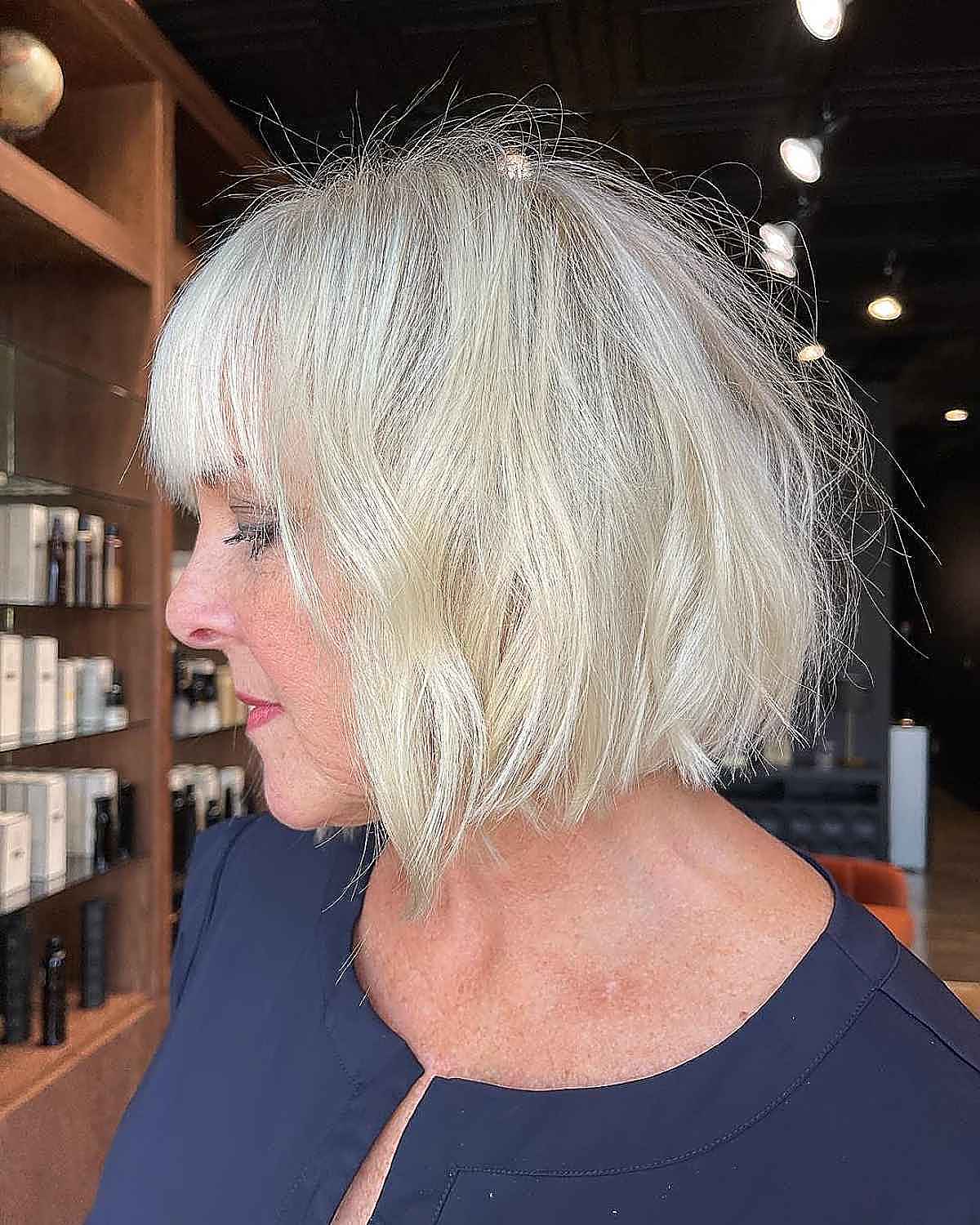 @mollyalycecasso
A blunt bob with bangs and beachy waves is a cut that never goes out of style. Ladies over 60 with thin hair can really benefit from this cut due to more movement and its illusion of fullness. A beach styler wand is your best styling tool to achieve this beautiful look.
Razor Cut Textured Bob with Fringe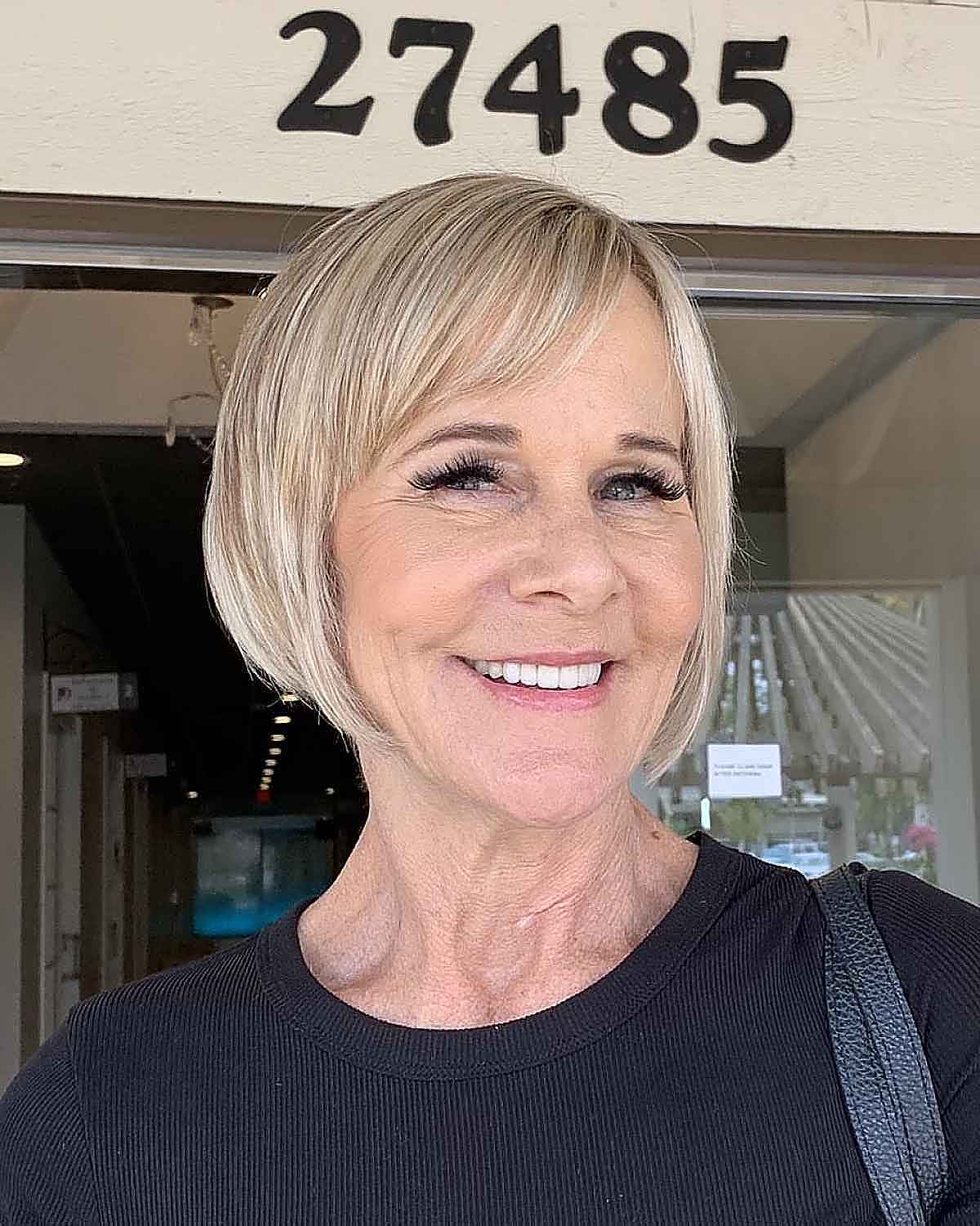 @thetalkofthetownsalonsuites
When cut with a razor, a textured bob with fringe will create a lived-in and hand-crafted shape. A sixty-year-old who has fine hair benefits the most from this cut. Textured bobs give the hair a messier look, therefore, creating less work on the styling part. Root spray and texture cream are great styling products for this haircut.
Short Bob with Side-Swept Bangs
@studio_marteena
A short bob with side-swept bangs is perfect for 60-year-olds who want to hide their forehead lines. Short bobs and bangs are a classic style that will never fade out. With a short length on the back of the neck and a longer length toward the front, the style will be in the short realm without losing a lot of length around the face.
Related: See more short haircuts for ladies over 60.
Jaw-Length Angled Bob with Bangs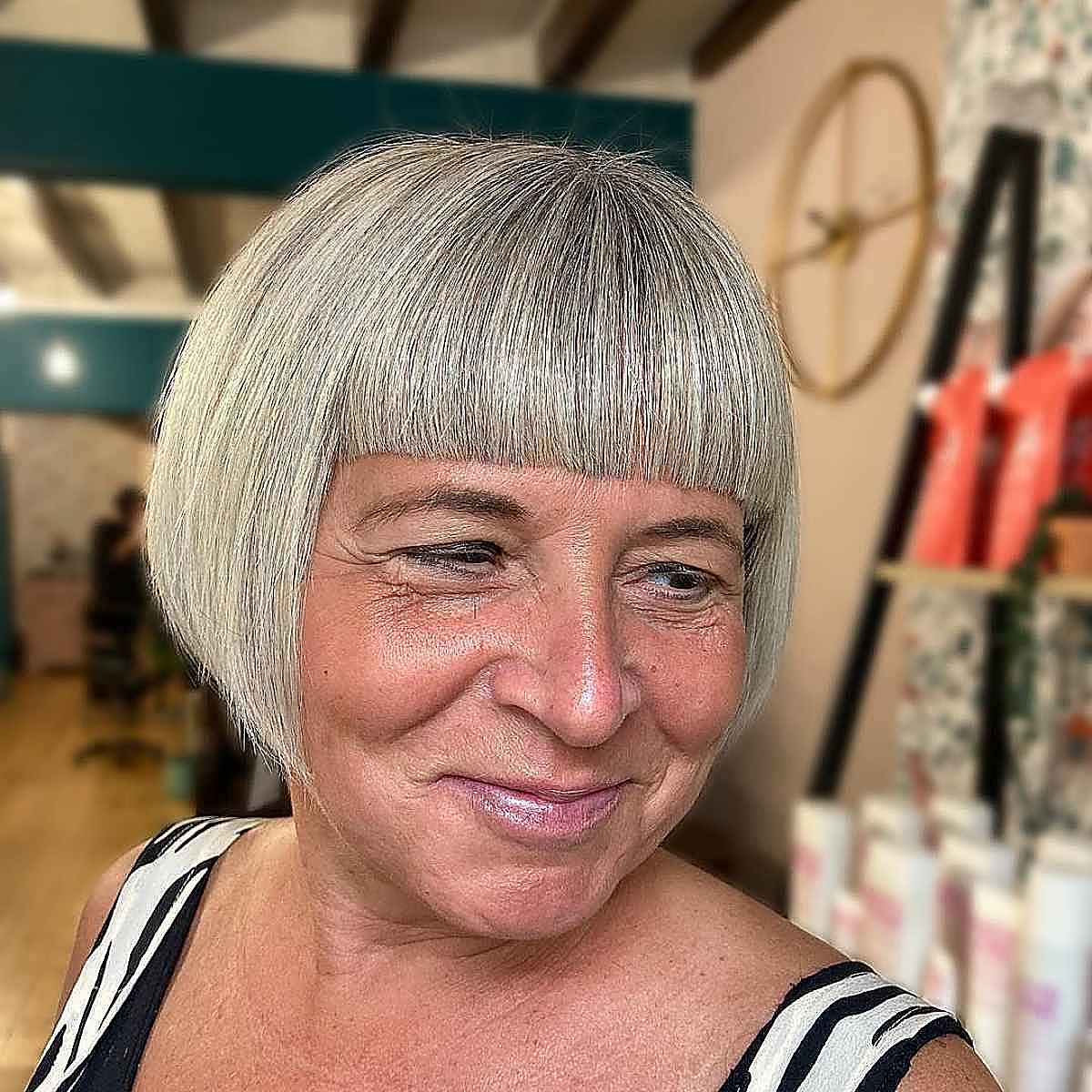 @mane78belper
A jaw-length angled bob with bangs is a great look for mature women with thin hair. Blunt and clean lines are the main focus of this cut, which gives this bob a little edge without being too much. Styling tools should include a 1-inch flatiron to showcase these perfect lines.
A-Line Bob with Curtain Bangs
@hairbyjosie
An a-line bob with curtain bangs is a great cut for older ladies wanting to go shorter. Bobs are a fashion-forward look that doesn't translate as an "older woman's cut." This bob style paired with curtain bangs gives the illusion of full front fringe, but they're easier to grow out and low-maintenance.
Related: Check out more low-maintenance hairstyles for women over 60.
Chic Wavy Bob on Fine White Hair
@joni.wella
A wavy bob on fine, white hair is such a chic look. Wavy bobs are great for women in their 60s with thin locks. This classy and timeless style is great to dress up or down. Upkeep on this cut is about every 6 to 8 weeks.
Soft Graduated Bob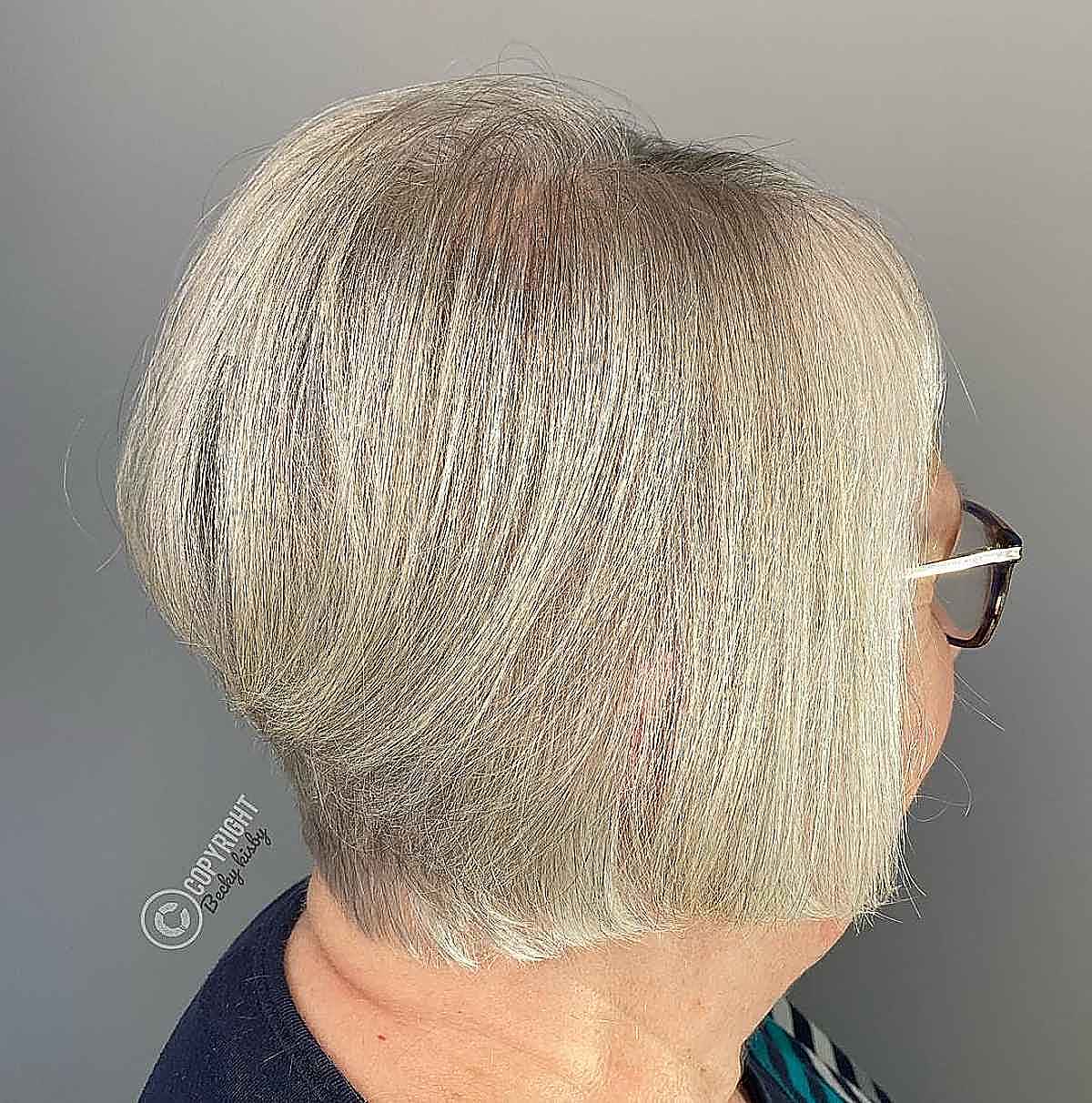 @robecsalon
A soft graduated bob is simple and easy to maintain. This haircut is great for anyone, but older women over 60 with fine hair will really appreciate its fuss-free styling. Just add some texture spray to damp hair and let the cut do the rest. Graduated bobs are the perfect combo of texture and lift.
Layered Inverted Bob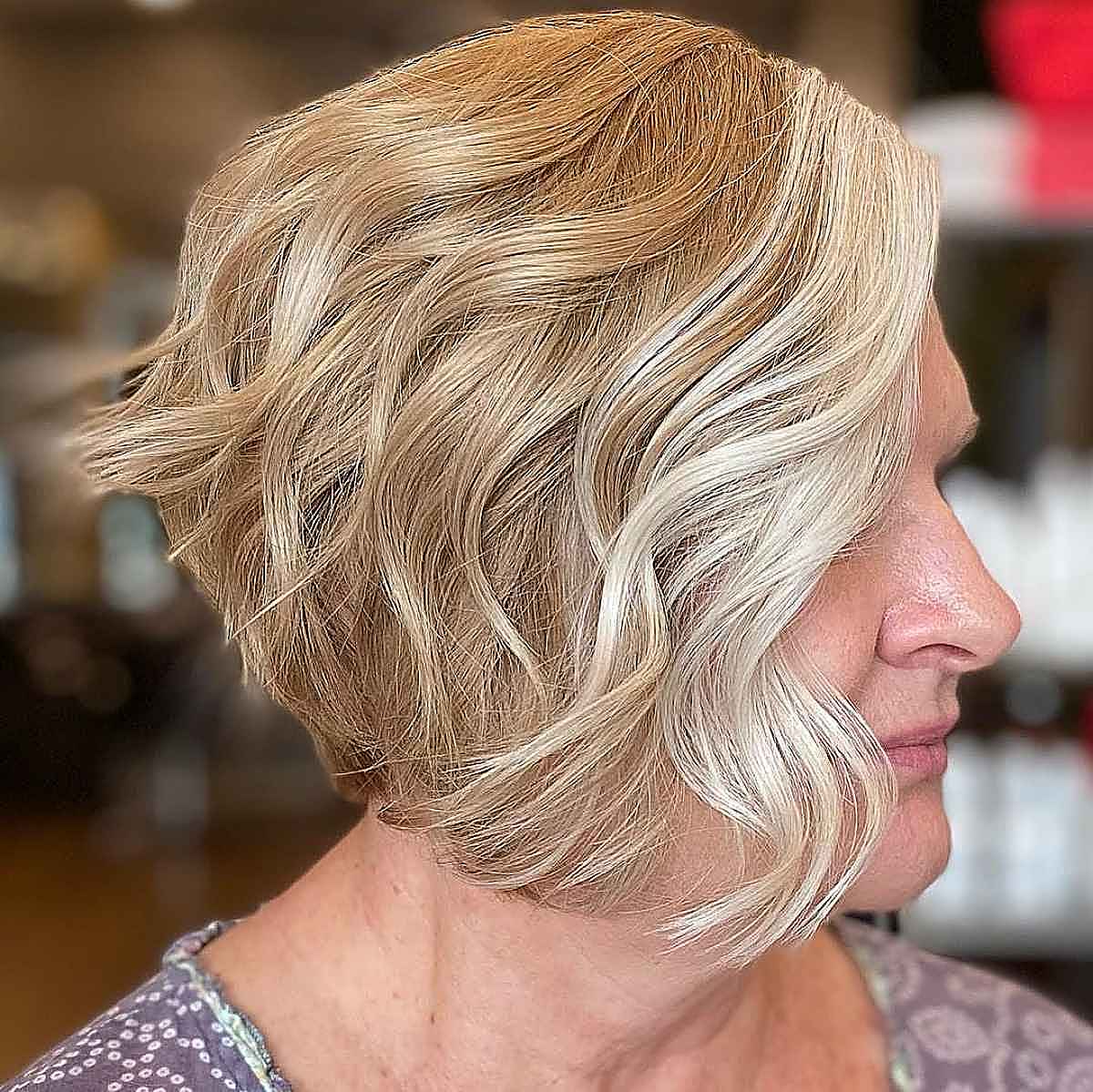 @hairbytara_c
A great haircut for an older woman over 60 with fine hair is a layered inverted bob. It lifts your hair with its super high stack in the back and length toward the face.
Stacked and Inverted Bob with Bangs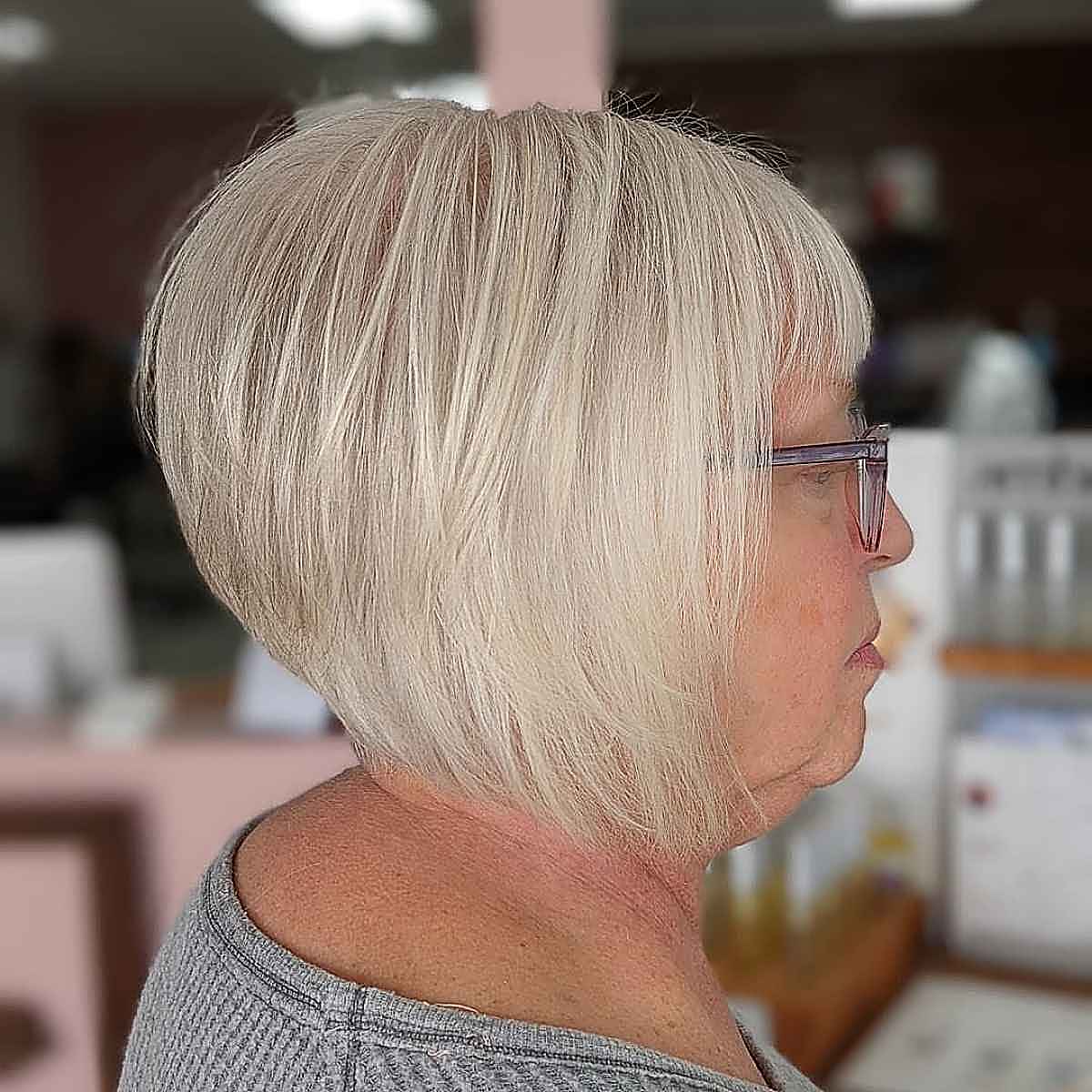 @hairstylistjennae
The perfect pair is a stacked and inverted bob with bangs. Bangs can really give your hair the edge you have been wanting. Women in their 60s with fine hair benefit from the volume you get with this cut. Plus, bangs cover the forehead and hide wrinkles or large foreheads.
Short Bob with Bangs
@effigemm
Short bobs with bangs are a great way to change your overall style to look 10 years younger. Women in their sixties can get stuck with the same style over the years, but this cut can add a little something without changing your haircut completely. Upkeep is every 4 weeks for bang trims and every 6 to 8 weeks for the full cut.
Face-Framing Layers with Wispy Bangs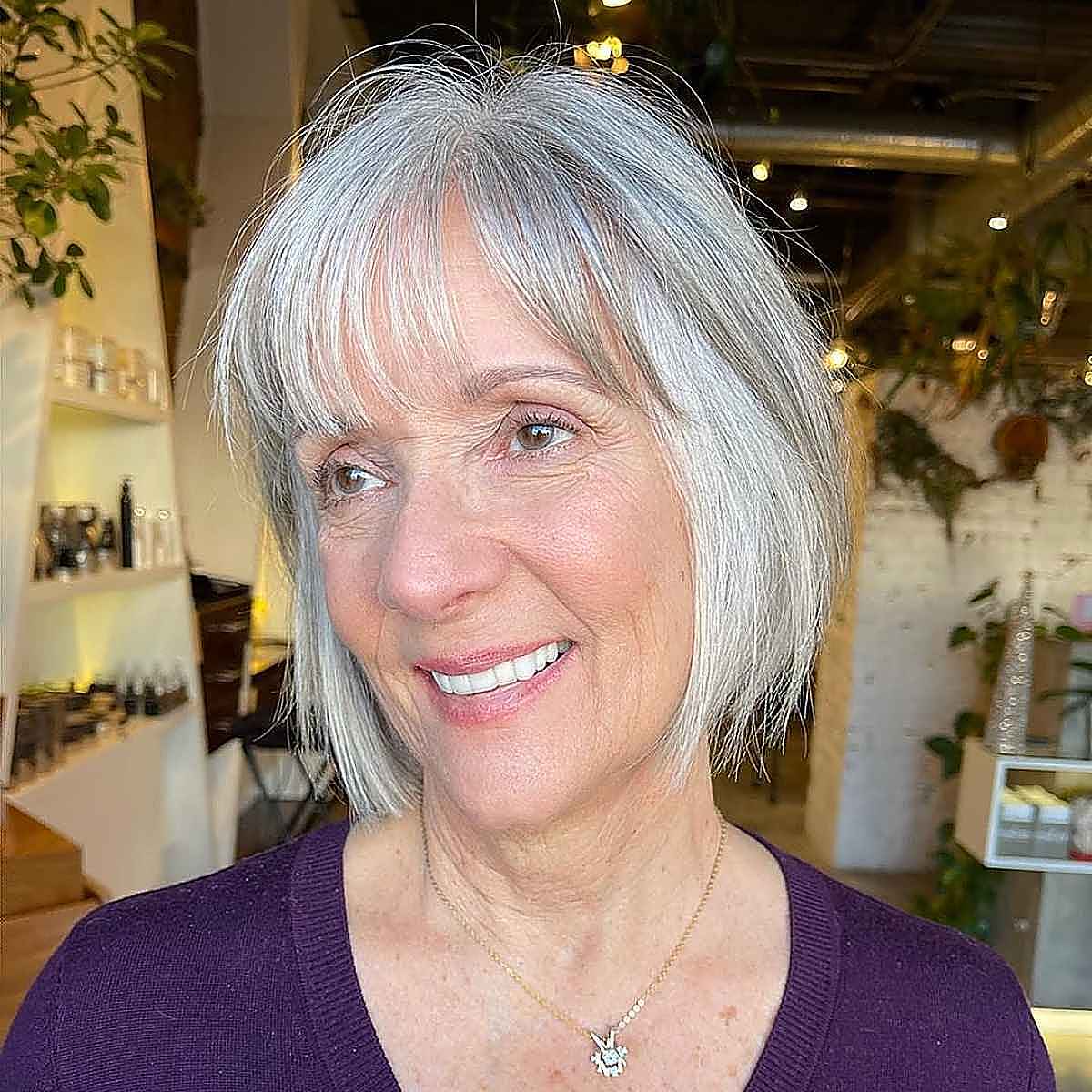 @dnalabsalon
Wispy bangs with face-framing layers are a great combo for fine hair. Fine-haired women always struggle with achieving a full fringe look, but wispy bangs are a perfect, younger-looking match. Since the hair isn't as full in your sixties, the piece-y look is already achieved with the natural texture. Add a little root lifter to your daily style routine and you're good to go.
Blunt Long Bob
@hairartistrybykelsey
A blunt long bob is where mid-length meets a traditional bob. Long bobs create the illusion of fuller hair with its blunt line work and minimal layers. Finer hair really benefits from this haircut, and product choices like volumizing mousse and round brush blow-dry really help show off more body in the hair.
Asymmetrical Chin-Length Bob
@chaddofficial
An asymmetrical chin-length bob offers an edgy look. With sharp line work and complimentary length on the cheekbones, this cut is great for women in their 60s with thin hair and a rounder face shape. When your hair is wet, use a root lifter. Then finish with a flat iron to really showcase the sleek line work.
Related: Asymmetrical cuts for ladies over 60.
Wavy Layered Bob with a Middle Part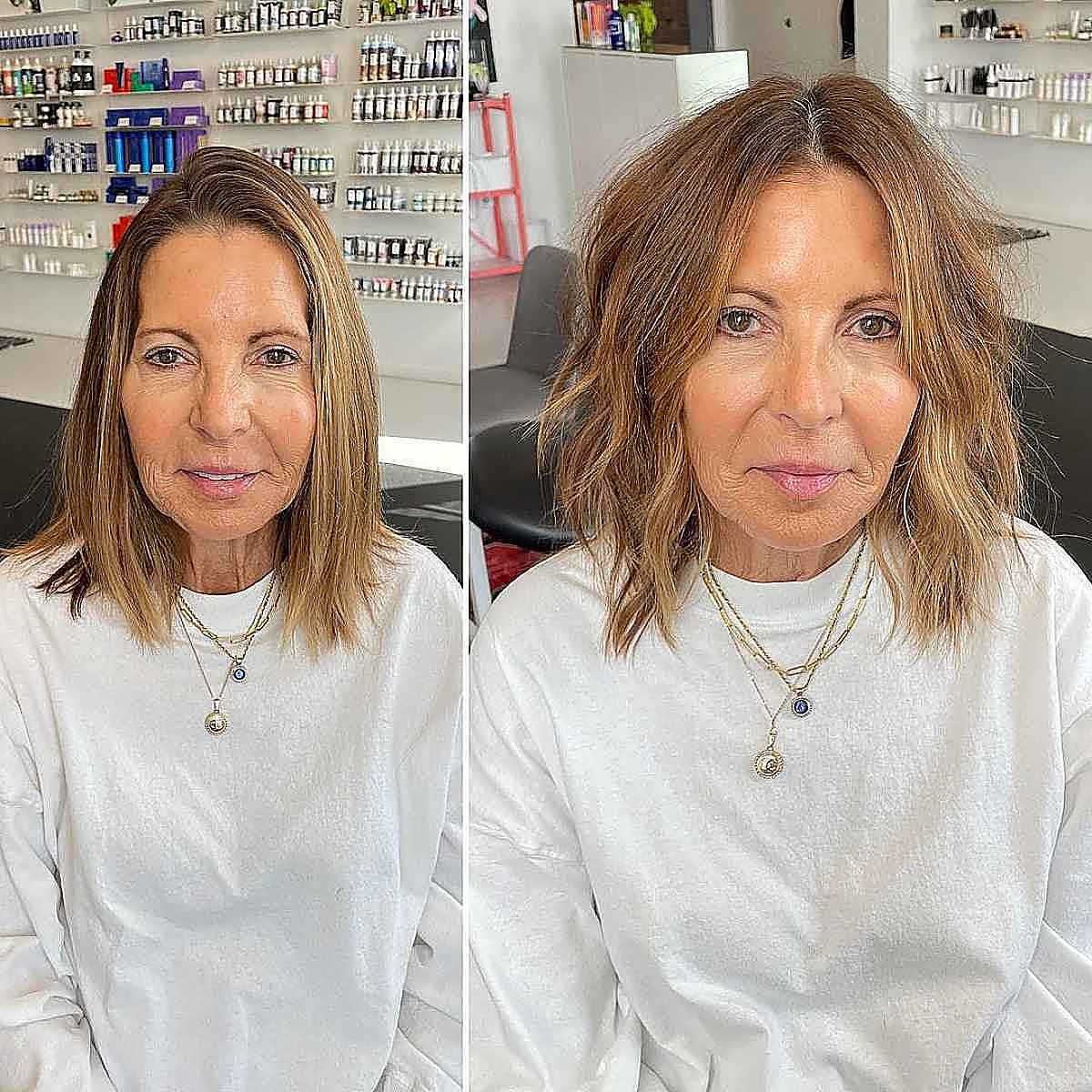 @marinapett.hair
A wavy layered bob with a middle part is always a great go-to for ladies past sixty with thinning hair. A middle part will camouflage any thinning we may receive over time near the front of the hairline. It creates a fuller look while maintaining a hip style. A styling wand was used to achieve this wavy textured look.
Neck-Length Stacked Bob on Salt-and-Pepper Hair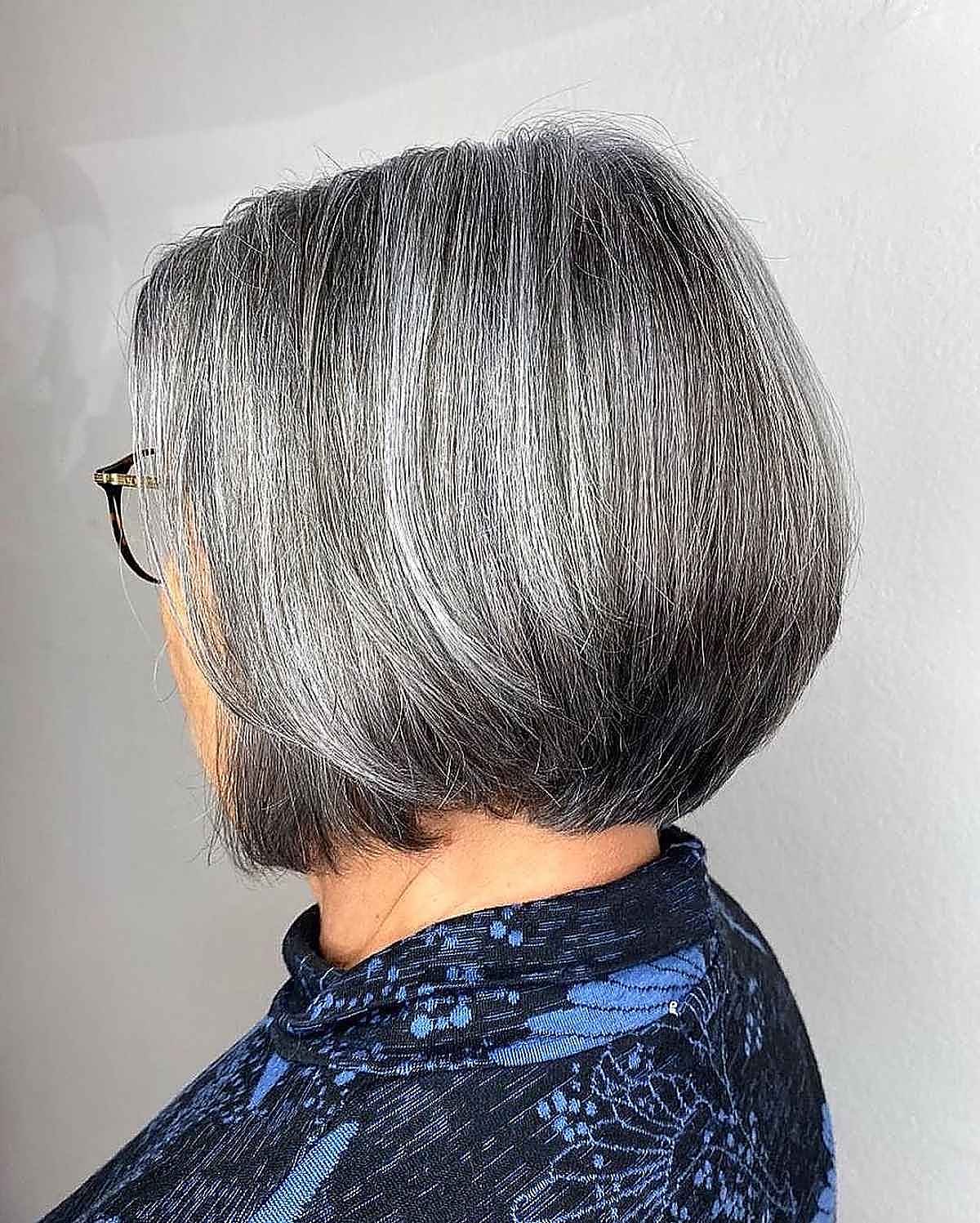 @wellanordic
A stacked bob at neck length really shows off this natural salt-and-pepper hair. Bobs are always a great choice for fine locks to achieve fullness. Cutting the hair into slight graduation in the back makes it look full and gives maximum volume. A round brush blow-dry is the best way to style this look.
Related: Bob hairstyles for women over 60.