28 Bixie Haircut Examples Trending in 2023
Feathered with Bangs for Women Over 50
@salonjelle
A feathered bixie with bangs is a flattering cut for women in their 50s. This cut gives you the option to air dry for a ready-made style or blow out for an added flair. Feather-light layers allow this look to feel youthful on a mature woman. A new 'do can be combined with a new hue, or accent highlights can add to or evolve the transformation.
Related: Bob haircuts for women over 50 and pixies for ladies over 50.
Brunette Bixie on Fine Hair
@nk_beyondthemirror
A bixie is a great choice for a woman that has a natural brunette base for depth. Coupled with highlights to add points of lights within the layers helps to give the illusion of denser hair. Customizable parts of the haircut can range from the neckline, fringe, and texture within the layers.
Layered Bixie with Face-Framing Bangs
@shiori.poly.ali
A layered bixie with face-framing bangs can range in length, density, and style. Finding a stylist with this skill set will help embrace and evolve the haircut as the styling possibilities can change up the style from product of choice to tool of choice. It's best suited for women with fine to medium textures.
The Shaggy Bixie with Fringe
@hirohair
The shaggy bixie haircut is the modern flair to a retro style. Straight or wavy texture can embrace this style with air drying or with the use of hot tools. If desired, a fringe can be added and the part can be customized.
Square Graduation Cut on a Bixie
@timurbegichevstudio
Square graduation on a bixie gives you the possibility to explore your style. Leaning on the longer end of a bixie gives the haircut versatility to wear the style smooth or with texture. A fringe can be customized to frame the face or connect into layers.
Chin-Length Bixie with Long Side Bangs
@jessica_xexsalon
A chin-length bixie with long bangs to the side perks up the style of a traditional bob. Layers can be kept shorter for added volume while long side bangs can be carved out to frame the features of the face. Directional blow-drying or a smoothing iron with a bend in styling can make the layers pop with style.
Wispy Layers
@coolikovastudio
A bixie hair cut with wispy layers is a great choice for fine to medium hair. Feathered light layers create points of style that can be kept tucked behind the ear for a polished payoff or accented with pomades for a textured feel.
Bixie with Side-Swept Bangs
@rodrigues_ricardo
Bixie cuts with side-swept bangs are edgy and ultra-cool for the woman on the go. The long asymmetrical style of this cut allows for many possibilities in styling. Smoothed, tousled, or curly!
Choppy Bixie with Thin Bangs
@kurze.frisur.ideen
A choppy bixie with bangs that are thin reads sultry and sophisticated depending on how you style it. Points of accent highlights can add dimension to this haircut or a change in color for a complete transformation.
Short Bixie with Blended Layers
@jessyjinstylist
A bixie that's short with blended layering gives the haircut a uniformed look. Styling is versatile but best suits straight to wavy hair. Air drying with curling cream or blown out with gel will help create the foundation, and hairspray or pomade can help lock in the style.
Side-Parted Wavy Bixie
@hair_by_shantellcescutti
A wavy bixie parted to the side is achieved when there are longer layers in the front and length. This allows for two rounds of tousling a 1" to 1.25" barrel wand. Intentionally leaving the ends out helps add to that lived-in look of a long pixie. Following through, straight down the ends for a quick polish is optional, especially on second-day hair.
The Airy Bixie
@pamela_cabelos
An airy bixie hairstyle is a great choice for fine to medium density hair. It's perfect for women that want to feel the fullness of their hair, but air on the side of whimsical style. Feather-light layers create points of style that can be kept tucked behind the ear for a polished payoff or accented with pomades for a textured feel.
Long Bixie for Ladies Over 60
@glamlorenzab
A long bixie with crown layers is a great haircut for women over 60. Crown layers help give it that modern twist while displaying the versatility of a retro look.
Related: See more short bob cuts for women over 60, and pixie cuts for ladies over 60.
Tousled Layers on a Bixie Cut
@ka_espacobeleza
When you add tousled layers on a bixie cut you get an added flair to a subtle style. Layers really pop when tousled by a wand or a texturizing paste for a piece-y finish.
Bixie with Long Bangs for Thin Hair
@tribecahairstudio
When it comes to having long bangs on thin hair, it's a style of choice for added flair and the convenience of the best of both worlds: half bob, half pixie. It's a quick hairstyle to create from a wet to dry state as your hands can be used as a brush to style the hair dry. Styling aids like Ouai Matte pomade can be added once your hair is dry to piece out the fringe or layers. These products can also be used as the style grows out in between appointments.
Stacked Bixie with an Undercut
@gorjesshairart
If you stack a bixie and give it an undercut, it helps distribute the weight of the hair to a more elevated textured style. An undercut can be favored to remove bulk or simply to add an edgy vibe to the bixie style. This choice can shorten the salon visit window or can be maintained during routine visits. When styling, a dual pair of a paddle and a small round brush can help achieve a blow-dry style, while products like mousse and serum can complement the look.
Related: See more short stacked pixie bob hairstyle ideas.
Messy Bixie Style with a Deep Side Part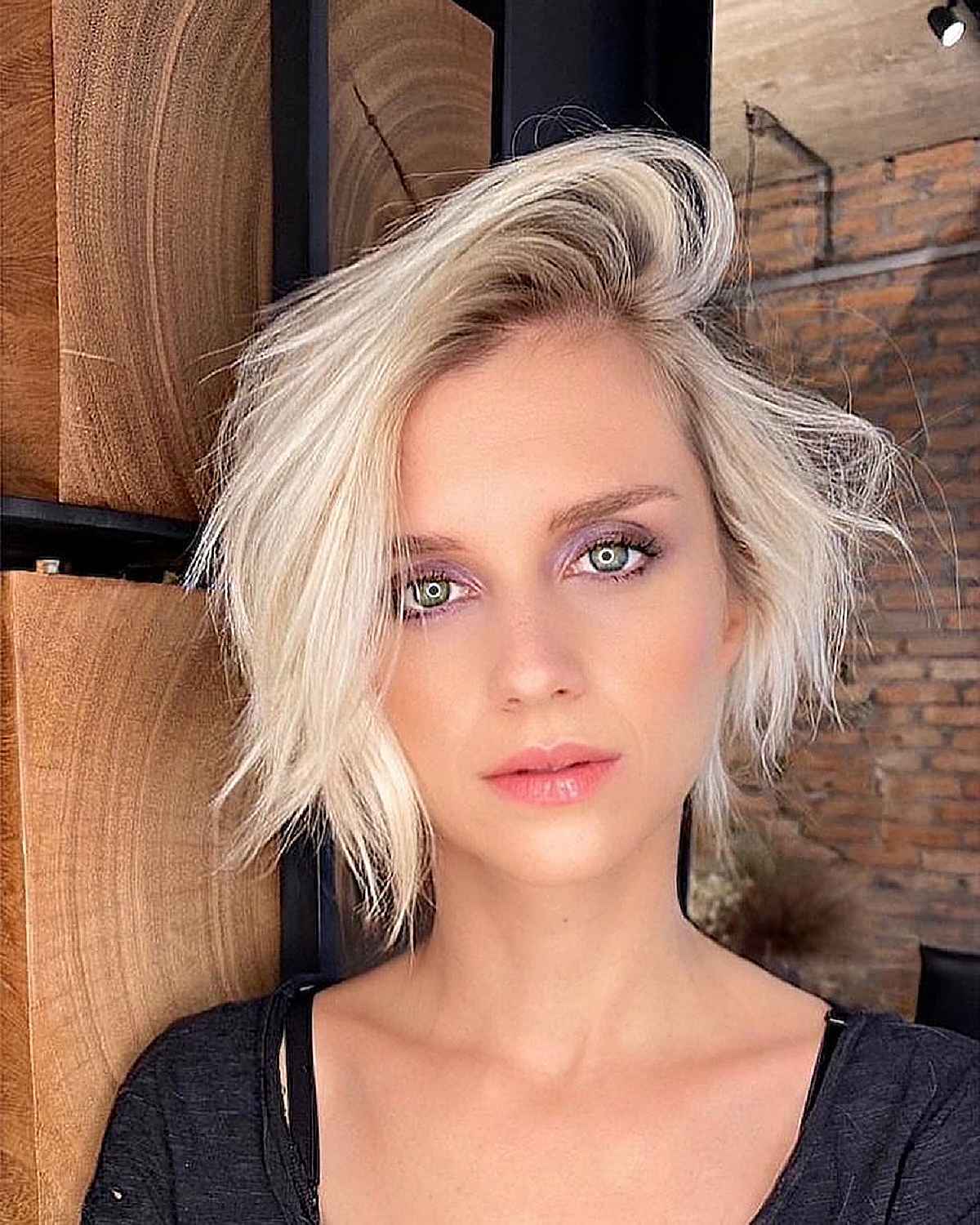 @rodrigues_ricardo
A messy bixie with a deep side part is a sultry style for the "undone" look. A quick tousle of the curling wand can help you achieve a lived-in look, coupled with products like Texture High Tide Texturizing Flexible hold hair spray from Sexy Hair to seal in the final style. This haircut can be asymmetrical or balanced depending on your preferred end result.
Side-Swept Bixie
@rodrigues_ricardo
A side-swept bixie is edgy and ultra-cool for the woman on the go. The long asymmetrical style of this cut allows for many possibilities in styling. Smoothed, tousled, or curly! Photos of reference for your next appointment can help in identifying the perfect style.
Soft Bixie with Face-Framing Layers and Bangs
@hair_by_shantellcescutti
Face-framing layers and bangs can be worn on a bixie to give it softness. You can cut your bangs in several ways: full long fringe, wispy short fringe, side-swept to the left or to the right. The possibilities are endless, and the fun part about a haircut like this is that the bangs grow every 4 weeks and a style refresh can make it feel like a whole new 'do every time.
Sleek Bixie for Thick, Straight Hair
@ikw0977
A bixie for thick and straight hair can be a great change in your 'do if you're wanting to feel lighter in your routine, style, and maintenance. To sleek the hair during styling time, use Drybar liquid glass miracle smoothing sealant to help heat protect while providing smoothness and shine.
Textured Pixie Bob with Subtle Layers
@brookemeadowshair
A textured bixie (pixie bob) with subtle layering is a great way to try this trend. Your stylist may use a razor to carve this shape into place. While styling, a quick blowout can be aided with the use of your hands for directional style or a paddle brush. IGK Big Time Volumizing Mousse helps give the hair body while voiding frizz and an added bonus, it's heat activated so the hair will stay protected. Adding color can complement the flair or one color all over can look polished yet playful.
Straight Bixie with Side Bangs
@bellavisci
If you have straight hair, try a bixie with side bangs. It's an effortless look for women that have naturally smooth hair, and desire a wash-and-go style. The choice of side bangs gives this trend personality and the bangs can be made to swing to either side. Maintenance can include 6-week salon visits, blowouts with an air dryer coupled with products that help in smoothing out the style.
Bixie with a Fringe and Shorter Layers
@hairpin_me_down85
If you're deciding on getting a bixie with a fringe and shorter layers the possibilities open up to a fun and sassy hairdo. A fresh style can be dried in 10-20 minutes with tools like a paddle brush, diffuser, or even a hand to direct hair into the desired end result. A textured paste will provide a directional hold, while a styling cream will aid in smoothing the style.
Jaw-Length Bixie with Soft Layers
@salaomaisbonita
Try a jaw-length bixie with soft layers, as it flatters the features of the face and provides volume and density. A blowout can be paired with heat protection gel like Redken's Big Blowout to smooth down the cuticle and block out humidity while providing a cushioned, bouncy feel.
Angled Bixie Undercut
@shmoakin_hair
If you want an angled bixie with an undercut, then whip out your razor because this look is sharp. This haircut breathes ultra-cool style and personality. It's high-maintenance but it's customizable. You can alternate between a long swing on the preferred side or matching pieces for balance.
Related: See more undercut pixie bob hairstyles.
Textured Bixie Hair with Tapered Layers
@jhonyveiga
A textured bixie with tapered layers is the best pairing for a modern, sassy hairstyle. A customized length can be decided between bangs, side-swept, or piece-y pieces for spiking. Color can be added for dimension if desired.
Ear-Length Bixie Cut for Thick Hair
@timurbegichevstudio
An ear-length bixie haircut for thick hair is a style choice when you're wanting to break free from the weight of your hair. This bixie, a half bob and half pixie is a happy medium because it allows for styles like blown out or air-dried. The key to this sitting well on your head is for your stylist to debulk and texturize.
Tousled Blonde Bixie with Wispy Bangs
@studioccinyyc
A tousled blonde bixie haircut with wispy bangs is a versatile way to keep hair chic and sassy. This beautiful style is best for that next step in a short length while breathing a modern flair. A busy student, a mom on the go, or a person that wants to up their personal style would be a great fit for this transition. Tousled hair can be achieved with a wand, paired with Alterna My hair my Canvas Any way texture spray.