Top 19 Bohemian Hairstyle Ideas
Boho Hairstyle for Short Hair
@jennesahair_
Q&A with style creator, Jennesa Makarenko
Mobile Hairstylist @ Hair by Jennesa in Schomberg, ON
How would you describe this?
Boho hairstyles for short hair? Yes, please! This is a textured chignon, perfect for a "classy bohemian hair girl". It's simple, but still has some intricate detail within the style, giving it interest and beauty.
What's your best advice?
You can dress it up or dress it down. As you can see, the model in the photo is wearing a casual outfit for an everyday business look. By adding a hairpiece, veil, or a bridal gown – you have a beautiful wedding hair updo.
Since this style is all pinned up, it might not be the best option for a woman who typically wears their hair down. It might feel too tight to their head and not comfortable for them. To make it looser or wispier, small pieces could be pulled out around the face to give it a more organic feel.
Bohemian Braided Updo
@beautybyjenmarie
Q&A with style creator, Jen Ambrecht
Future Professional / Cosmetology Student @ Elite School Of Beauty in Vancouver, WA
---
How would you describe this?
This Bohemian hairstyle is effortless, romantic, and slightly messy. Bohemian updos with braids are simple but add so much to the overall boho style.
What's your best advice?
This bohemian hairstyle is best suited for women with medium to long hair and without short layers because they'll stick out of the braid. Use texture spray to add some dimension to the bun and help hold the braids when slightly pulled apart.
Boho hairstyles for long hair could be dressed up with hair accessories or a veil as well. Or add flowers for an even more boho romantic feel. This updo is ideal for women who want a boho or romantic style for a wedding or event.
Gorgeous Boho with Small Braids
@braidsbynina_
Q&A with style creator, Nina Herrera
Wedding / Event Hairstylist @ Braids by Nina in Broward Country, FL
---
How would you describe this?
This is an elegant boho style with a double braid that is great for weddings or events.
What's your best advice?
Get a great hairspray to hold the bohemian style! Try Not Your Mother's haircare products. If you have hair extensions, it will give the style a much fuller look.
Dimensional Boho Chain Braid
@crystalmarie_redken
Q&A with style creator, Crystal Cannon-Karakas
Hairstylist @ Halo Salon and Day Spa in Roseville, CA
---
How would you describe this?
This Bohemian style gives off a fun yet edgy boho vibe. It has the timeless look of a traditional braid, but by switching it up and making it a chain braid, it becomes edgy and different.
It's polished, while still giving the feeling of a lived-in boho style. This cut also features contrasting textures.
What's your best advice?
If you want this boho hairstyle, make sure you're ok with some texture and a more lived-in finish. Although there is volume in this hairstyle, the front is closer to the scalp. if that makes you uncomfortable, opt for adjusting where the braid begins.
With boho hairstyles for thin hair, add texture and volume with a lot of shine. Try Redken's Full Frame Mousse with a drop of Redken's Glow Dry. It's the perfect combo for volume and shine without weighing your fine hair down.
For thicker hair, use Redken Velvet Gelatine and some Redken Guts to create a smooth and controlled, but voluptuous canvas. With any hair texture, use Redken's Windblown to finish and create a disheveled style with shine and texture.
Bohemian Beachy Side Braid
@hair_by_lofrost
Q&A with style creator, Lauren Frost
Hairstylist @ The Beauty Bungalow in Poway, CA
---
How would you describe this?
This Bohemian hairdo is "beachy" with a side braid. It looks very natural as if the sun-kissed the hair itself.
There's natural depth at the root and it melts into the beautiful pops of blonde around the face and on the ends.
What's your best advice?
This look is super low maintenance. When done properly, this style can last for six months. This style is for women who love a natural, sunkissed vibe. It looks undone and messy.
Blow dry Kevin Murphy Body.Builder and Body.Mass into the hair. After the hair is dry, add Young.Again serum and Bedroom.Hair hairspray. Use a 1 1/4-inch Halocouture curling iron, and wrap small sections around it, using the curling iron like a wand. Finish by brushing the hair out with a paddle brush and fingering back through it. This style lasts for days!
Low Twisted Boho Ponytail
@emmysleemanhairstylist
Q&A with style creator, Em Sleeman
Hair Up Specialist in Melbourne, VIC
---
How would you describe this?
This boho pony is a ponytail with a twist. It's a modern take on the classic low ponytail.
When you think of bohemian hair, you think of loose waves, texture, and big, messy fishtail braids. This look encompasses all of the above but is effortless, easy to achieve, and the perfect style for any girl that has to attend a formal event, but is not so formal herself!
What's your best advice?
Sea salt, sea salt, sea salt! This kind of hair is all about texture, so applying a good sea salt spray to damp hair before drying (and also before styling dry hair) is a great way to add body and movement to finer, silkier hair types. You can also never get enough of texture spray. Use that on the roots to give added volume and directly on the pony to give more shape and feel after styling. Redken Wax Blast is amazing for creating texture in hair!
Softly Braided Boho Updo
@hairismything
Q&A with style creator, Julie Krothe
Licensed Organic Hairstylist @ Shear Miracle Organics in Columbia, PA
---
How would you describe this?
This is a softly braided boho updo. Don't you love hairstyles with the simplicity of the earthy yet elegant vibe of the pulled apart braids and carefree soft curls?
What's your best advice?
This is a great style for women with shoulder-length hair or longer, who is looking for a quick and easy style that is soft yet playful, and won't get in their way.
For straight hair, start with clean, dry hair and utilize either some dry shampoo or powder root booster. Then use a light hairspray to add a little bit of texture and hold. Use these products prior to wrapping one-inch sections around a 1 1/4-inch barrel curling iron or wand.
For hair that has natural texture, you can jump right into braiding! Softly pull the braids apart and pin up the back. To finish, pull out a few soft pieces of hair to frame the face and neck.
Messy Bohemian Half-Braids
@jkandcompanyhair
Q&A with style creator, Jenny Kay Collins
Owner @ JK & Co. Hair Salon in Wrens, GA
---
How would you describe this?
These are messy bohemian half-braids. It's basically two inverted French braids with added volume that are finished off with a nice twist of hair to hide the elastic. The hair is styled first with just a bit of wave and some sea salt spray. This boho hair is totally easy but so chic!
What's your best advice?
The boho braids are definitely the best when prepped with a sea salt spray, as well as a dry shampoo and/or a volume texture spray. These products provide the good amount of volume, texture, and "piece-y-ness" that makes this boho hairstyle adorable. The key to all good hair: Don't overthink it!
Half Up Do Braid Boho Style
@yadgiahair
Q&A with style creator, Yadge
Freelance Hairstylist in Bondi Beach, Sydney
---
How would you describe this?
This is a half up half down Bohemian hairstyle. The braid is worked into the style. It adds a nice detail to the style and creates that boho feel. Hairstyles that are half up and down can be worn for any event.
What's your best advice?
The hair has to be able to hold a curl or wave well. The whole idea of the "bohemian" look is for it to have natural, loose-looking waves. The style will not be achieved if the hair falls straight.
Some great styling products that add wave and texture to hair are sea salt sprays and texture sprays such as Doo.Over texture spray by Kevin Murphy. This style is great to wear to a party, a festival, or even a boho themed wedding.
High Volume Boho Braid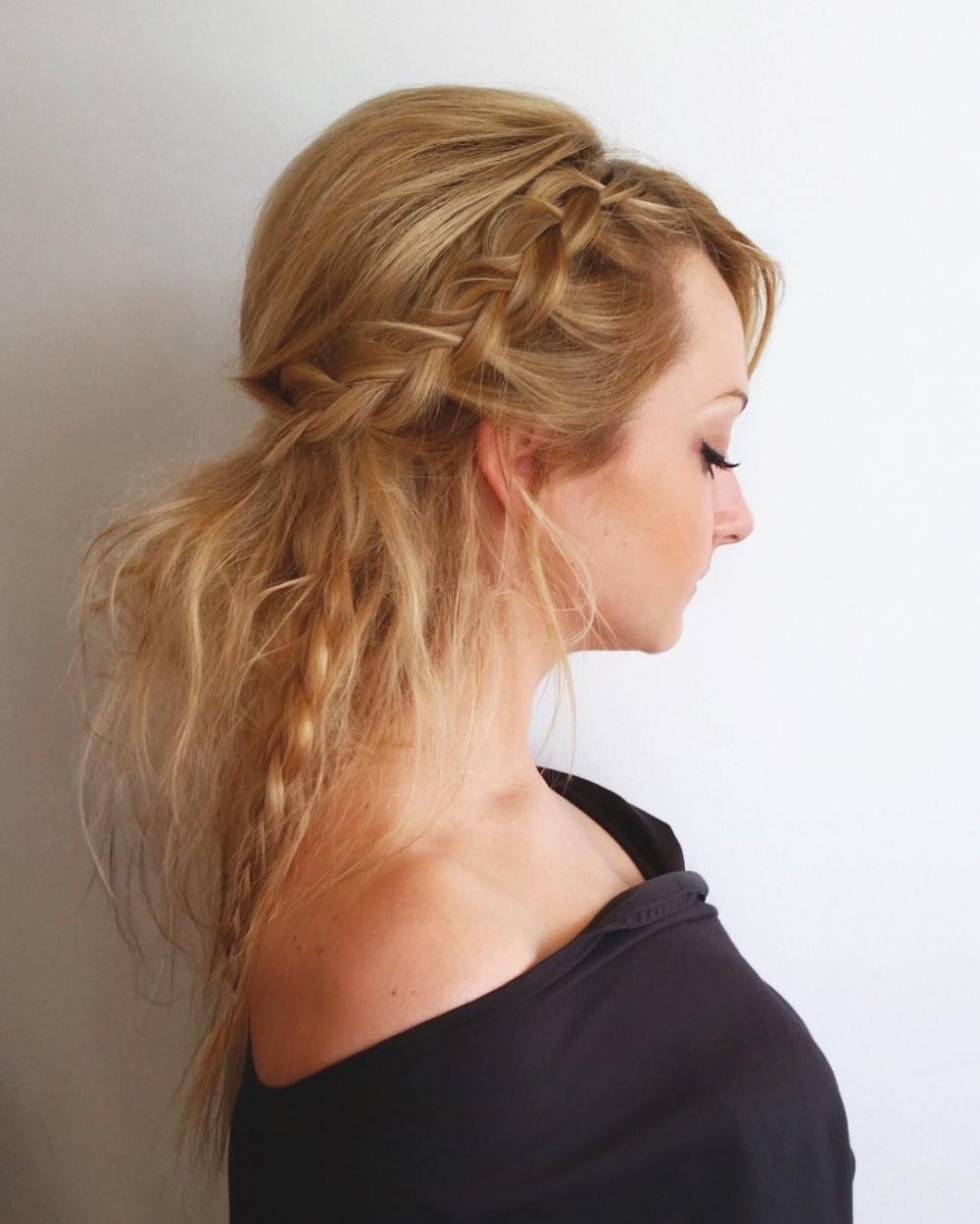 @dreamdawnatelier
Q&A with style creator, Donna Kang
Senior Stylist @ Mane Society Salon in Maple, ON / Master Artist and Educator @ BaByliss Pro and Dannyco Professional
---
How would you describe this?
This is bohemian and natural, yet trendy and chic. There's a balance between the pretty and feminine top half of the style versus the sexy, tangled texture at the bottom.
What's your best advice?
If you want to express your fun, carefree and stylish side, you can wear this bohemian hairstyle to a wedding, music festival, or a night out on the town. This boho style can be done on all hair types. It requires texture in the hair so get a texturizing spray or volumizing powder to add grit. This makes hair easier to manipulate, especially if you have thin, straight hair.
Volume is an important element of this boho braided hairstyle. Teasing the crown and the remaining hair left down, as well as plumping out the braids by gently pulling out the sides, will elevate the style. If you want a more subtle style, keep the teasing to a minimum. End with finishing spray to ensure long-lasting hold.
3 Strand Ponytail Braid Bohemian Style
@lostylehairandmakeup
Q&A with style creator, Lauren Edwards
Hair and Make-up Artist / Owner @ Style Hair and Makeup in Tampa / St Petersburg, FL
---
How would you describe this?
This 2 strand ponytail braid bohemian style is simple yet edgy.
What's your best advice?
To style, use any texture spray or dry shampoo, a 1-inch curling iron, a ponytail holder, a few bobby pins, and Kenra 13 hairspray.
Soft Boho Fishtail Braid
@hairbylaceygc
Q&A with style creator, Lacey Perren
Mobile Hairstylist @ Hair By Lacey in Gold Coast, QLD
---
How would you describe this?
This Bohemian hairdo is for the beautiful bride. The softness of a fishtail braid and incorporating a French braid at the top helped create a little more texture and volume.
Any advice for someone considering it?
To create this boho style, go through and spray Delorenzo Elements Sandstorm in your hair to give volume and texture to the root area. Then use the Cloud 9 to curl the hair, then pin the top section. While the top section cools down, use ShowPony clip-in extensions around the side to help create extra length and fullness. Work back through the top and use Delorenzo Quicksand to help give the mid-lengths a little more hold.
Braid the top and use a clear hair tie to secure the braid. Use a sea salt spray to help the styling of the fishtail. To help hold everything in place, finish with Affinage Black Ice hairspray.
Loose Braids Boho Style
@kayla.hairstylist
Q&A with style creator, Kayla Faulkner
Hairstylist @ Salon Ray in Kennesaw, GA
---
How would you describe this?
This style is trendy boho. It's not your every day, hippy-ish, free spirit boho style. It's a little more polished, with just a bit of a laid-back feel.
From the front, your hair looks simply curled and ready to go. Then you get a little surprise when you see the braid in the back!
What's your best advice?
This style is versatile enough for any girl. All you need to achieve this style is a good curling iron (a 1 1/2-inch iron), some basic braiding skills, and texture powder (try Expandadust by Unite).
Once you create the braid, puff some Expandadust onto the braid. It gives the hair the grit you need to expand out the braid and make it more full. It also gives it an extreme hold so it isn't going anywhere until you wash it out!
Effortlessly Romantic Boho Hairstyle
@sarahspillerhair
Q&A with style creator and Freelance Hairstylist, Sarah Spiller
---
How would you describe this?
These Bohemian braids are the main feature and blend into the ponytail. Plus, it features a touch of casual and romantic bohemian styles.
What's your best advice?
The best product to recreate this style would be the Design Me Puff Me powder because of the texture it gives your hair.
This style would suit most hair types, but works best on long thick hair. It's a very casual look, so it may not work for those of you with a hectic or corporate lifestyle. Bohemian hairstyles look best on ladies with a round or oval face shape.
Boho Braided Crown Hairstyle
@_hairbynicoleray_
Q&A with style creator, Nicole Ray
Hairdresser / Stylist @ Bombshell Hair and Makeup Lounge in Placerville, CA
---
How would you describe this?
This is an edgy Bohemian updo with a romantic touch.
What's your best advice?
Use a dry shampoo to give the hair a good amount of texture, as well as a strong hold hairspray.
Loosely Braided Boho Hairstyle
@majestichairfl
Q&A with style creator, Paige Virginia
Owner / Stylist @ Majestic Hair Salon and Bridal in Delray Beach, FL
---
How would you describe this?
This is a secure but loosely braided Bohemian style. When you add baby's breath and/or jewels, this style becomes elegant in so many ways. Believe it or not, the hair in the photo is a pin-less style.
What's your best advice?
When choosing boho styles of any kind, remember many of the models have extensions. Also, the entire boho style changes when you add your hair bling. Come well prepared with your hair additions to give your stylist a fighting chance in recreating something you have in mind.
I have also found that the messier, the better! Not the fuzzier though, because no one likes frizz. I use Redken Spray Wax and/or Kenra alcohol-free hairspray to keep my boho beauties effortlessly secured. Messy hairstyles can still look hot if done correctly.
Modernized Boho French Braid
@theupdogirl
Q&A with style creator, Ellie Ferrari
Wedding & Occasion Hair Specialist @ The Updo Girl in Exeter, Devon
---
How would you describe this?
This is a modern twist on your classic French braid. Infinity braids are everywhere at the moment and are relatively simple to accomplish. You get a ton of different textures from the combination of braids.
What's your best advice?
If you aren't blessed with tresses, use a texturizing iron at the roots for added volume for the Dutch fishtail. Ensure you keep the Dutch fishtail nice and tight, pulling on it as you go for that "pancaked" style.
Try Design.Me Puff.Me hair volumizing powder. It's popular for creating a lot of types of braids, and it's great for baby hairs too! When creating the infinity, the smaller the pieces of hair you take the more effective the outcome.
This style is really suitable for all women. It can be adapted for women with bangs and taken over to the side for a softer look, which is great for women with slightly rounder face shapes. This style really would stay in for days if you needed it to.
Bohemian Crown Braid Updo
@looksbyleah_imagica
Q&A with style creator, Leah Milley
Senior Stylist @ Imagica Hair Studio in Victoria, AU
---
How would you describe this?
This updo is relaxed, textured, soft and elegant. This boho style updo can be dressed up or dressed down for any occasion.
What's your best advice?
The preparation for this style is key. You need a good setting spray. Once the braid was done and set, the rest of the hair was curled and set with pin curl clips. It's important to let the hair fully cool down before attempting to create its structure. Also, use a sea salt spray and a volumizing powder to create the messy, matte texture.
This style is great for women with a lot of hair. It's essential to have enough length for it to be able to be loose, creating the "boho" look.
Bohemian Festival Vibe
@hairbyjennh
Q&A with style creator, Jennifer Hofmann
Freelance Hairstylist @ Hair by Jenn H in San Diego, CA
---
How would you describe this?
This is a half up half down Bohemian hair with soft waves. It gives a festival vibe to a classic style. The braid adds bulk to fine hair and plays up all the highs and lows of the blonde hair color.
What's your best advice?
Use a 1-inch Babyliss Wand to achieve this uneven and soft curl pattern. Add Sexy Hair Powder Play Light to the crown to help create texture and volume at the scalp. Lightly spray Redken Diamond Oil through the mid-shaft and ends to create shine. Finish with a light working hairspray to keep the hair soft to the touch and moveable.
Easy boho hairstyles like this work best on fine to coarse hair. The braid being pulled apart makes it appear larger and is an easy way to help finer hair appear thick and full. This style would be perfect for a night out or a special event, or even anything in between! Boho hairstyles are perfect for concerts and festivals.