The 15 Best Gentleman Haircut Ideas You'll See
Long Slick Back Hair
@emma_ccbs
Even long hair can produce a trimmed up, slick back look. Just style it slicked back and keep it there using gel or your favorite pomade for that neat, suave finish.
The Modern Gentleman
@envybarbers
A cut does not make a gentleman. A true classic man owns even the seemingly normal barber's cut. The best thing about the modern gentleman cut is it works on both straight and wavy hair types.
The Gentleman Cut for Wavy Hair
@_srlucaslima
A light fade and layered cut for a catch like you. This gentleman cut is sure to flaunt your natural wavy hair texture.
The Black Gentleman Haircut
@cal_newsome
This gentleman's cut does not need any introduction. Clean fade haircut and slapping waves make a suave black gentleman.
Short Comb Over Haircut
@maisie_mrobinsons
A simple man's look, this classic comb over with part is nothing but casual and savvy. Worn with suits, a standout from the crowd and let your facial features be highlighted.
Side Part with Beard for Gentlemen
@eddie_rtb
Connect the fade to your beard by having a faint sideburns area. This serves to keep hair polished all over, not sacrificing style and fashion.
Side Part Quiff Hairstyle
@lucas_kemper_hair
Stylish and sneaky— a quiff with a defined part plus a lower fade comb over is a neat way to pull up your sleeve for a cool gentleman's hairstyle. This is great for hiding those long locks when you've got a strict dress code for the office.
Undercut with Fade Haircut for Thick Hair
@theheroine_
Gradation in an undercut comb over is what keeps this gentleman hairstyle looking fresh. Long hair up top maintains a very frisky attitude. Adding texture will create more movement in straight hair.
Dapper Long on Top + Short Sides
@nextlevel_barber_shop
With a short sides haircut, you have so much room to explore and play around different styling techniques. You can try out different hair products that suit your needs, all while keeping a straight look.
Side-Swept Fringe for Thin Hair
@leekaja.hanif
If you have thin hair, having a trendy side-swept fringe over your hairline could create a fuller look. And since haircut styles like this are easy to jazz up, why not give it a try?
The Classic Gentleman Cut on Short Hair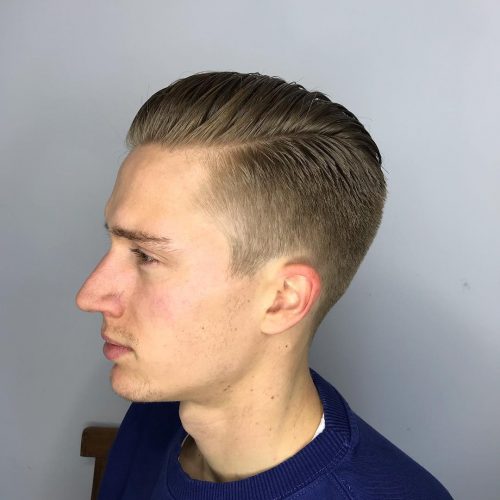 @buhair_frizerskisalon_maribor
If the famous Captain America can get away with this retro hairstyle and still be dapper all those years, then you can too! Less is more, they say, and you can bring so much more to the look without trying to hard.
Gentlemen's Simple Side Part
@bushmanbarber
Ah, a classic side comb-over. Never fails to leave the girls admiring your fresh gentleman's haircut.
Combover for Medium-Length Hair
@thugcuts
This medium-length haircut is classic and professional. Created by barber Isabelle Enei from Canada, the best thing about this haircut is that it looks sophisticated and as though time and effort went into it.
A combover haircut like this requires time to style and products. Enei explains, "It's not suitable for low-maintenance men or men who want to "wash and wear." It works well for those with wavy and straight hair textures."
This look is best achieved when blow dried with a vented brush or round brush for more volume. "I always recommend applying a grooming spray to damp hair prior to blowdrying for extra hold. After blowdrying, apply a paste throughout the hair. For a softer finish, use your fingers to style it, and for a more structured look, comb it into place," Enei explains.
The Ivy League
@_hairbypamela
This modern gentleman's hairstyle is an ivy league haircut with a side part, designed by hairdresser Pamela Panousis of Australia. What's great about it is it's sophisticated yet fun and modern.
"I'll always look at the hair type and consider all things necessary in order for my guy to walk out and be able to style his hair easily and effectively after he leaves my chair," Panousis explains.
Side Part + Classic Taper
@romanspringfield
This classic gentleman haircut is a side part pompadour with a taper fade on the back. A lot of dudes used to wear these kinds of haircuts in the 1950s and barber Roman Tsubera from Ukrain is a big fan of the style.
"As a barber, I try to advise these haircuts to all guys because they're practical, stylish, simple to comb, etc. Side parts are one of the most casual haircuts you can go to a job interview, party, date. If you know how to comb or apply some hair product in it, they will become your signature style. That's why I love cuts like this side part with classic taper! They look great on duty or even at home," Tsubera explains.
If you don't know which haircut or style to get, Tsubera proposes the classics because they never get out of fashion. "The interesting thing is that every man with any hair type can afford classic cuts. You can find any haircut depending on face shape, personality, lifestyle and etc," Tsubera notes.