21 Best High and Tight Haircuts for Men
High and Tight Fade Haircut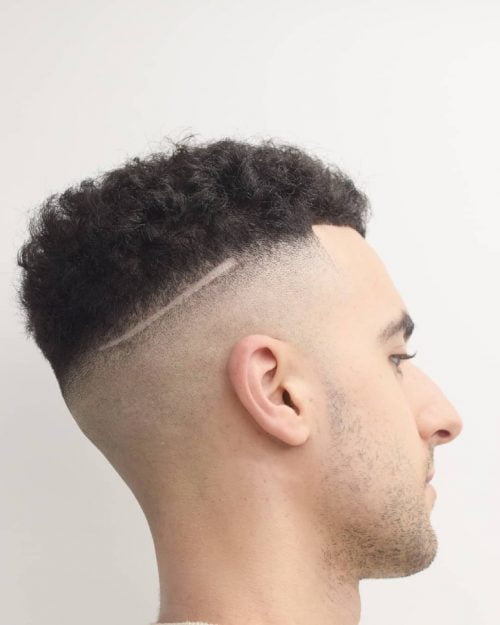 @aaron_kiely_hair
High and tight curls with a taper fade create that thick forest of hair that can be styled to your heart's content. A sharp slice 2-3 inches above the ear will allow you to mimic this neat tapered haircut like this.
High and Tight with Long Hair on Top
@hair.by.ashmichelle
The high and tight long on top with a skin fade like this is golden! Shave your sides but still retain longer hair on top.
Long and Tight
@barberobengie
A long high and tight haircut like this is a style that works best on men with thick hair. Shaved sides remind me of cream being poured into coffee. Fluffed pompadour balances out this sharp cut.
Short and Tight Haircut for a Gentleman
@cal_newsome
Famous athletes swear by short high and tight haircuts. It's neat, manageable, but most of all it gives room for various styling. A skin tight fade haircut like this would also look great on dudes when paired with a beard for a more balanced style.
Tight Fade Men's Haircut
@stell_the_talent
This classic high and tight fade offers a neat and wholesome hairstyle that gents will love! The contrast of the tapered sides matches the parted top to create a sophisticated fade. The top hair was cut short in layers to make a dense patch.
Spiky High and Tight Hair
@virgiltb
This spiky version of a high and tight cut looks and feels like a fuzzy rug. Style comfortably without letting go of that manly aura.
High and Tight for Curly Hair
@charliegray248
High and tight fits curly men best because it highlights the coils while enhancing masculine features.
High and Tight Flattop
@rhoan_afroarts
Nothing screams the 90's like a high and tight flattop hairstyle like this! The dense, short hair gives form to the cut.
High and Tight Caesar Cut
@rpb_nq
This high and tight Caesar cut is sure an avant-garde! Males can try out this kind of slick and matted cut if they have straight hair.
High and Tight Faux Hawk
@crisaitaoficial
The high and tight faux hawk is great for its versatility in the definition of the cut, lightness, and practicality of the very short sides. Cuts like this are what barber Cris Aita of Brazil usually creates.
One great thing about it is its guaranteed success in attracting looks at the evening parties. It also helps a lot to lengthen more rounded faces.
"When styling for definition, I like very dry pastes or water-based ointments, with a medium or strong setting," Aita suggests.
Bald Fade for High and Tight Haircut
@barberdave411
There are lots of names for this look, ranging from bald fade to high and tight. According to barber David Michael Broderick of Salt Lake City, UT anyone can appreciate this look because it's appropriate both for the club and professional environments.
While it's certainly a fresh and crisp look, Broderick warns that it's also high-maintenance.
"Men with more sensitive scalps or those who suffer from eczema and other skin conditions might stay from this high and tight bald fade cut because of the potential for flare-ups due to both the aggressive nature of the cut and the sheer amount of exposed skin," Broderick adds.
High and Tight for Thin Hair
@_mac_barber
This high and tight for thin hair is a clean, fresh, and easy to manage cut. "I like it because it's a timeless haircut for all ages," says Noel McEneany, a barber from the UK.
High and tight haircuts pretty much suit any face shapes. "This cut suits the busy guy who doesn't want the hassle of styling their hair for 20 minutes before they go to work. Just minimum matte paste or clay run through the hair for a messy look, or a spray of salt spray onto freshly out-of-the-shower hair left to dry naturally to rework during the day," McEneany explains.
High and Tight Buzz Cut
@kate_does_barberingandbalayage
This is a high and tight buzz cut! It's down to the skin most of the way up, fading into a very close cut on top. Barber Kate Merola of New Jersey says that the best thing about it is that it's such a clean and easy look.
"Anybody can rock it – from young kids to government officials! I have many guys who just like the low-maintenance and longevity of it. It's a long-time favorite look that is making a strong comeback," Merola explains.
Anybody who likes an easy hairstyle that allows you to get up and go in the morning should consider the high and tight look! No hair brushing or products necessary!
High and Tight Pompadour
@miguel.ace_
Masculine and dapper – this high and tight pompadour is a marine style that meets rockabilly! The stylist created this look is Miguel Acevedo from Toronto, ON.
"I love mixing classics up to create something new. It's got the low-maintenance and clean look of a high and tight hairstyle, with enough up top to keep it elegant," Acevedo states.
Acevedo recommends this look to any man who's creative and cares about their look but doesn't want to fuss too much styling it.
"This look will suit any face type except oblong rectangular or diamond as the height of the top lengthens the face. To style, just a quick blow or towel dry, brush back and finish with a bit of pomade or paste – matte or glossy to preference," Acevedo suggests.
High and Tight with Side Part
@sjay_johnson
This high and tight with hard part was made for the modern man who is challenging the stereotypical business look. This is a creation by SJay Johnson, a stylist from Athens, GA. "I love how clean the cut is all while bringing attention to his facial hair. They complement one another," says the stylist.
Be aware though – Johnson points out this isn't a cut for guys who go weeks before the next appointment.
When wanting to try this high and tight cut, these are the questions that your barber must ask you first: Have you have ever had a bald fade? How often are you willing to have your cut done? "Having a hard part line is a commitment. The grow-out could be uncomfortable for you if you aren't a regular in the chair," Johnson adds.
Messy High and Tight with Beard
@iisakkinummi
This high and tight with a beard is a short and messy undercut hairstyle, designed by hair artist Iisakki Nummi of Finland. "For me, the best thing is that it's a very salon-friendly cut. It fits most of the cool guys with ripped jeans but also there's something punk-rock in it," says Nummi.
High and tight haircuts are a good alternative to just a short messy haircut if you want to add there a bit more character. Nummi personally used a lot of razor doing this, to make the shattered texture to the hair.
"Use the salt spray before blow-drying it with your fingers, and put some texturizing (spray) wax and mess it up," Nummi states, describing how to style this messy high and tight cut.
Prohibition High and Tight Haircut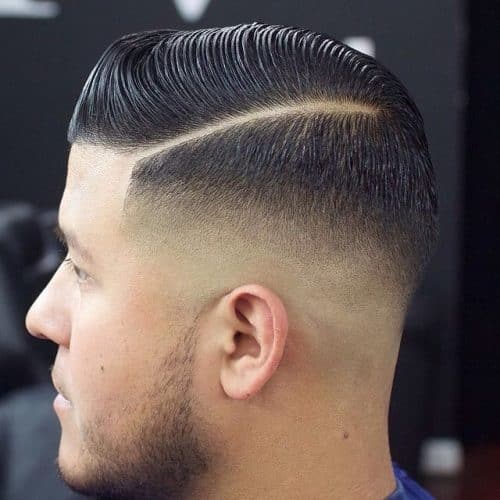 @petelenational
High and tight haircuts are all about adding softness with boardroom masculinity to traditional fades with hard-edged definitions.
"All the shadow lines and carved side partitions are purposely slightly curved to add a richer dimension with a fluid finish." This is how barber Peter Sykes of Montreal, QC describes this creation.
Sykes continues, "It's for dudes who want to show they've graduated to the big leagues of work and play!"
High and Tight with Comb Over Fade for Bearded Guys
@obie_wan_da_barber
This high and tight with a comb-over is more of a classic but new-age style. Created by barber Earl Harris of Florida, it's more of a combination of a pompadour and an uptown fade.
"The beard brings the haircut together. When you go for a classic haircut, a beard can really enhance the cut," Harris notes.
Some of the products that Harris used to style it are Elegance Pomade Hair Wax and Bigen Color Enhancement for the beard.
High and Tight Afro for Black Men
@barbershmelev
The idea of this high and tight afro hair was to cut an asymmetric flattop while adding some softness and to round solid angles. As per look creator Anton Shmelev of Russia, the result was a great afro look for black men or African-American guys and it sucсessfully combines futuristic and tribal motives.
This high and tight flattop haircut is perfect for creative and eccentric personalities. It will be great for athletes, dancers, and even singers. Shmelev suggests, "The best styling product for this haircut is strong-hold hairspray."
High and Tight Mohawk
@studio.z.6ix
This modern high and tight mohawk for gentlemen is a medium-length with razor cut textured ends. Barber Zee Ali of Canada created it with straight shear cutting, leaving 3-4 inches of hair in the crown and temple of the head, extended in a V shape all the way to the nape area. It has razor sliced ends (1 inch) adding texture and bulk weight removal.
Ali emphasizes, "The contrasting textures of this haircut have a very bold and fortified modern feel, with a full-bearded (ice-pick shaved outline) zero skin mid-blend on both sides with a freehand styled hawk."
Great high and tight haircuts are always tailored to your face shape, and the key is to create balance and synergy. "Considering a new look like this, consult with your stylist. The oval, round, triangle and square profiles can be best suited for this haircut making it versatile. Oblong or elongated face shapes may require less length in the crown (1- 2.5 inches hair length) to create balance in shape and feel. 5-clock shadows, goatees, clean-shaven are all fungible," Ali explains.
High and Tight Undercut
@priceattackttp_hairbysimone
There are so many variations of an undercut and this one is cut high and tight with no fade.
Australia-based style creator Simone Joseph says, "It's about finding what suits your head and face shape. The texture of your hair determines how it will fall naturally and how it's best to style."
The best thing about high and tight haircuts is the number of variations in the cut. There are options for everyone. You can vary the fade and experiment with the beard.
According to Joseph, the products that never fail with these styles are texture dust for grit, matte pastes for an undone, piece-y look, or hair mousses and gels for volume and definition. "Then, finish the look with a shine spray or hairspray," he continues.