25 Red and Blonde Hair Color Ideas for Fiery Ladies
Dark Red and Blonde Hair Color with Highlights

@theowlcove_brittany
This is the contrast that everyone wants – the dark red and blonde tones! Rightly placed light streaks on top, running down to the middle, combined with crimson streaks make gorgeous hair color ideas. Even short hair can look this stylish and deep with combined blonde-red hair color!
Dark Ginger Red Hair with Caramel Highlights

@hairbykatierose
Dark ginger red hair with caramel highlights is a hair hue you'll want to try. The contrast of the caramel highlights on this rich red base is stunning. This color is perfect for women with warmer skin tones and will add the extra shine and brightness you've been looking for!
Red-Violet and Blonde Balayage

@hairbycatcox
Red-violet and blonde balayage is a soft and beautiful color melt of warm tones. To get this color, ask your colorist for a balayage with a warmer base and light blonde on the ends.
Dark Strawberry Blonde Hair Color

@myhotmessstylist
Dark strawberry blonde hair color is typically a go-to shade for women with fair skin complexions. It's also a great way to try a copper color without having to commit to going all over copper. For maintenance, try Davines Alchemic Copper Conditioner to keep hair color healthy and radiant.
Golden Red and Blonde Hues

@kkays.beauty
Ask for golden red and blonde hues to brighten your dark locks to give an extra layer of dimension, and shine. For lasting results, use hair care products designed specifically for redheads, such as the Davines Alchemic line.
Burgundy with Blonde Streaks

@bombshellred
Try burgundy with blonde streaks if you want to add some fun to your highlights. The burgundy shade will add in-depth dimensions and make your blonde pop even more. Finish your look off with some waves to show off your new look!
Dimensional Auburn Blonde Hair

@laurabergaminihair
A dimensional auburn blonde hair can be achieved by adding some highlights to create brighter areas of color. Talk with your stylist about placements that are best for your haircut. Once you have some brighter pieces, you can color the hair to a red in a shade that suits your skin tone and will pick up different shades where the hair is darker and lighter.
Bright Red Tones

@parvinebeautysalon
Be the girl on fire when you get hair as fierce and vivid as this bright red to blonde hair ombre! Use the best color-safe products for a long-lasting relationship with reds. Ombre hair color ideas like this one look awesome with wavy hair styles, too!
Berry Red and Ash Blonde Highlights

@kayleedawnhair
Feel like the Little Mermaid with this modern straight hair painted with a divine blend of warm and bright streaks of blonde-red tones! These combinations of red and blonde highlights creates multi-tonal hues that could bring the warmth out of your complexion.
Scarlet and Honey Blonde Highlights

@tousledbykirsten
Rock out a fresh new straight cut with a bright red radiant color melt! Berries and vanilla definitely go together in everything!
Rose Gold Beauty with Blonde Balayage

@xcellent_kevin
Embrace the trendy pink hair with a seamless blonde ombre balayage like this one done with a shadow root for more depth. Perfect for any hair – long or short – this rose gold and blonde color balayage is a total must-have!
Summer-Ready Strawberry Blonde Balayage on Short Hair

@jessicaeckelmanhair
Go for a style that will wow everyone like this wavy bob painted with bright ginger red and honey blonde highlights. This summer-ready strawberry blonde hair color has become a very popular tone. There are not many at home dyes that can produce this shade so a colorist will definitely be needed.
Light Ruby Hair with Highlights

@april_shelley
This strawberry blonde amplifies the look of any light-colored hair. It adds a pop of color to a monotone look and makes it appear softer and full of body.
Redwood Auburn Hair with Gold Hair Highlights

@melissanoelledesigns
Enhance your natural crimson red-tinted locks with this stunning technique! These warm and bright streaks of blonde and gold hair highlights totally lighten the hair and give it a dimensional effect. This shade is very similar to the color auburn.
Red Velvet to Blonde Ombre for a Fall Hair Idea

@tarynfrancesca
Look sophisticated and sexy with this scarlet red-to-blonde color melt! This makes a stunning fall hair trend, for sure. For unique hair ideas like this, it's a good thing to start with natural colors. It lessens the upkeep and time in-between salon visits and also enhances the beach blonde color at the hair ends.
Red to Blonde Ombre

@getfadedanddyedbystacey
This blended ruby ombre with bright blonde streaks is one to die for! It's charming both on straight and wavy hair as long as the transition is done precisely. This color is perfect if you want to paint your hair blonde but in a fun and trendy way.
Medium-Length Blonde Hair with Red Lowlights

@baileyhuff95
Go subtle like how this bright white blonde color is incorporated with hints of reds. The lowlights definitely break the monotonous look and gives it a more interesting finish!
Crimson Red and Dirty Blonde Highlights

@stellar.mane
Paint your hair red and blonde for this fun, edgy but conservative look at the same time. These crimson red and dirty blonde highlights were created by stylist Samantha Luna of Turlock, CA.
"Such rich red highlights make the style very versatile," says Luna. "I also love creating loose waves, as it really shows the contrast between the two colors."
Fire Engine Red with Blonde Highlights

@hairbyagomez
"It's an edgy hot red hair with highlights of a very soft blonde hue. The cutest thing about this look is the two tones of color to make something completely different from the ordinary," describes cosmetologist Adriana Gomez of Bakersfield, CA.
"Coldwater and dry shampoo are going to be your best friend," says Gomez. "I recommend Amika dry shampoo and Redken color extend magnetics. Washing your hair with cold water really helps to keep the color vibrant as long as possible."
Blonde to Red Reverse Ombre

@msnataliejean
This blonde to red hair is a lot like a dip dye or reverse ombré. It was created by stylist Natalie Jean of Huntington Beach, CA.
"Semi-permanent colors like this wash out very fast, or between 4-6 weeks," says Jean. "Take into consideration that you need to not wash your hair every day while having semi vivid colors."
She adds, "this color is for women wanting to try to add some pops of color throughout their existing color. They look best on blondes because not all vivids show up on levels 6 and darker without lightening the hair."
Short Blonde Hair with Red Highlights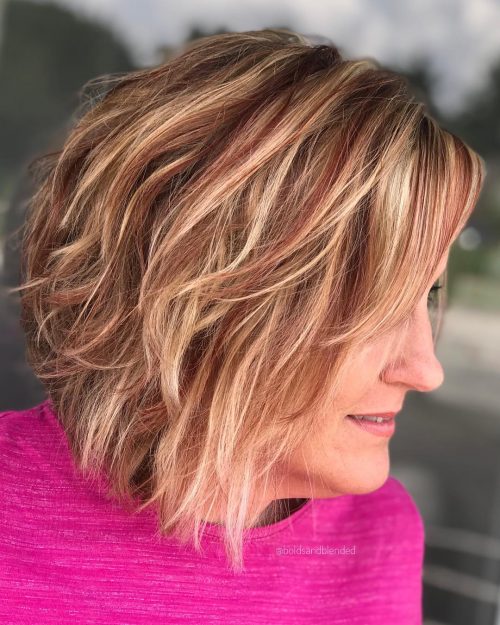 @boldsandblended
This style is a slight A-line bob with layers and lots of texture cut into it plus pops of red and blonde hair highlights. It was cut and colored by stylist Kelly Ries of Ellicott City, MD.
"It's very low-maintenance, especially if you have a natural wave in your hair," says Ries. "If your hair is very straight naturally, it only takes a few minutes to throw in some loose, messy curls just to add a little movement and texture."
Even though the color has a lot of contrast, it's still a very natural color.
Shoulder-Length Blonde Hair with Red Streaks

@aroqhd
This blonde hair with red streaks was created by hairstylist and color specialist Ashlea Roquemore of Odessa, TX.
"It's colorful and vibrant but can also be mature and office friendly," she notes. "I don't often see clients who want these types of bright rooted colors so it's definitely unique."
Roquemore says it's important to use salon quality color care and be mindful when showering. "While these colors are permanent, they should not be shampooed in hot water. Tepid water temperature is preferred with a cool rinse."
Two-Tone Blonde and Red Hair

@verity_alterego
Here's a two-tone blonde and red hair color created by hair artist Verity Clarke of Essex, UK.
"It doesn't have lots of complicated sectioning and blends, but the precision of the two colors that split straight down the middle definitely stands out," notes Clarke.
Clarke continues, "this look is easiest to create on natural virgin hair or hair that is already blonde. Trying to get that lovely even, clean blonde on hair that is already red or colored with a dark color would be a challenge. It may take several appointments to achieve whilst maintaining the condition of the hair."
"Reds do fade quickly, so the color would need regular top-ups (every 6 weeks or so)," she adds. "A professional color-hold shampoo and conditioner will help maintain the color. Washing in cool water helps prevent both color fade and the colors bleeding together."
Two-Tone Highlights on Brown Hair

@salonfusionohio
This is a high-fashion color lit up with a pop of light blonde, cherry, copper, auburn hair accents, and red highlights framing the top and sides of the hairstyle which helps to enhance the haircut and style. It was created by salon owner and stylist Becky Calderone of Painesville, OH.
Calderone reminds us to invest in professional products from the salon to help support the hair color and to keep the integrity of the hair. "This is a hi-lift blonde and a creative hair color. Remember when trying out pop hair colors to be committed," she adds.
This look has a few long substile layers that blend beautifully into the woman's long hair making it easier to grow out and to accent the hair color nicely.
Natural Red Hair

@sceniahairstylist
"I love this natural-looking red hair because it's romantic that meets trendy," says master stylist Scenia Carpenter of Tallahassee, FL.
She notes, "it has soft but vibrant hints of copper blonde, soft texture with the cut and style, but with an asymmetrical fringe. The soft waves and fun bangs really help bring out all the shades in this color."
The copper highlights work for ladies with a lighter skin tone. Nevertheless, Carpenter still thinks that this whole hair idea is best for all face shapes, fine to medium texture, and someone who's not afraid of color and cut maintenance to preserve the look.