34 Best Caramel Highlights for Every Skin Tone Trending in 2023
Caramel highlights are just like they sound with the light, creamy shade much like Werther's Originals candies. Like the candies, caramel hair color and highlights can be fused in many different ways like caramel with dark chocolate. No matter what your complexion, hair type or natural hair color may be, a warm caramel hue can complete your look! Whether it be a subtle pop of caramel against some darker pieces or an all-over color, there's always a way to add highlights to your life! Whether it's a subtle touch of warmth or something extra contrasty, there's always a way to incorporate one of these yummy caramel highlights into your look!
Butterscotch + Caramel Highlights

@m_lolo_14
These sweet warm caramel streaks provide a stunning contrast that creates a deep and dimensional look for her long brown waves.
Iced Coffee Brunette

@camouflageandbalayage
Go lighter this season without going fully blonde with this beautiful blonde color melt. Style with loose subtle waves and choppy ends for a fresh lightweight look! Just like your favorite flavor of coffee, there is a shade of caramel for you.
Dark Brown Hair with Caramel Highlights

@aimee_cuts_and_dyes
These delicious dark brown hazelnut pieces on a deep brunette hair prove how combining these two shades can be so enticing. The result is super sexy, rich, and attention-grabbing!
Caramel Highlights on Chin Length Bob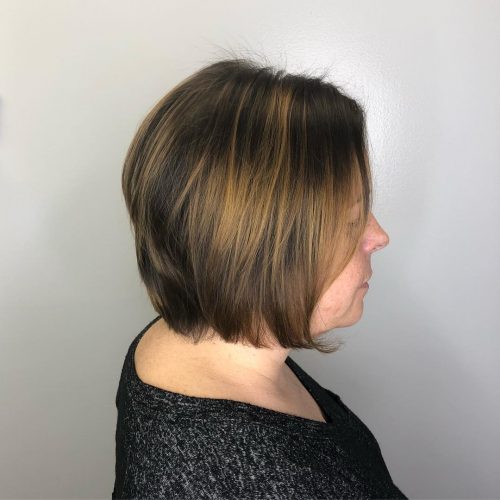 @hair_by_amanda.k
A bob with hints of caramel syrup dripping down lusciously on a dark base has all the depth it needs. This color is bound to make anyone who wears it sophisticated and trendy. When it comes to caramel highlights, hairstyles that feature the color transitions from darker to lighter work very well.
Mocha Brown Hair with Caramel Highlights

@hairmakeuphappiness
A timeless shade of caramel that flatters any natural hair color out there – this caramel highlights hairstyle does a great job in creating a dimensional look. Finished with wavy ends, this style is best on medium to long hair length and can be done on any hair type.
Salted Caramel Highlights

@amberly.philipps_hairstylist
Q&A with style creator, Amberly Philipps
Master Hairstylist @ Texture Salon in Palm Harbor, FL
How would you describe this look?
This look is a subtle beachy style with hints of bright blonde with mostly caramel highlights and a dark underneath to add depth and the appearance of fullness. The best thing about the cut is that her hair is very fine so we blunt cut the ends and framed her face with a long layer so her hair appears fuller and voluminous. I love how the colors blend and show off with the soft curls for the caramel highlight.
Any advice for someone considering it?
This look would be perfect for someone with fine hair and/or 50% or more grey, looking for easier upkeep. This caramel hair color goes great with tanned skin so it's perfect for this sun lovers.
Short Brown Hair with Caramel Highlights

@blondeandbalayaged
Q&A with style creator, Bailey Lynn
Certified Cosmetologist @ Prep Hair in Winnipeg, MB
---
How would you describe this look?
This style is a lobbed caramel balayage. The greatest thing about this particular style is the caramel color blending outcome. Her natural root color was the perfect base. Using a painting method and fine baby lights throughout, I was able to achieve this beautifully blended effect.
Any advice for someone considering it?
Short hair may seem like less work but depending your hair type it can also mean more work! Now don't let that scare you, that's nothing a little dry shampoo and styling paste can't fix with this particular length and style. Someone who doesn't want to wash their hair often can also maintain this style or modify it as needed, further and further from their last wash day. Shades of caramel blend well with brown hair color.
However, if you enjoy a ponytail you may want to consider something a tad longer. But there may be alternatives to your favorite gym style, or to get that hair out of the way of the kids, whatever it is. The half up/half down style is my fave for this length! Whether you do a cute bun or just a pony, the other half can be left out and it's super stylish!
Ash Brown Hair with Caramel Highlights

@luistaylor_
Q&A with style creator, Luis Taylor
Hairstylist & Makeup Artist @ Paralelo Estudio Independiente in Roma Norte, Mexico
---
How would you describe this look?
This look is for those looking for something slightly natural without changing the natural tones of their hair and using a modern style in natural colors, caramel ash.
Any advice for someone considering it?
For the styling, it is possible to do it with natural waves applying a product such as Kevin Murphy motion lotion or styling with curl iron and apply sea salt from Davines and finish with a little dry texture of Davines to give more texture.
Bronze Caramel Highlights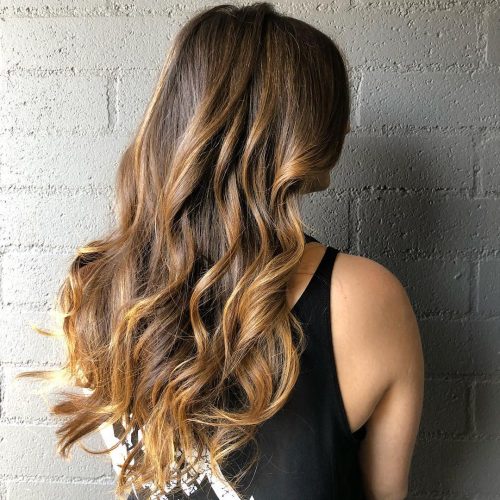 @matthewryanhair
Q&A with style creator, Matt Kwasny
Hair Colorist & Extension Specialist @ Harper Salon in Los Angeles, CA
---
How would you describe this look?
These are bronze caramel highlights. It's definitely still rooted like an ombré but has more thin highlights transitioning the depth at the root into the light at the ends. This creates a softer version of a traditional ombré. Less painted, more like she was at the beach. The greatest thing about this look is how effortless and pretty it is. For me, pretty never goes out of style, as it's timeless. This is a look anyone can wear because of how soft it is. I also love how the soft caramel waves I created complement the color.
Any advice for someone considering it?
This specific look is great for someone who likes a little warmth in their hair. Typically, the natural base color tends to grow out a bit flat, so these caramel ribbons really warm up and enhance a flat base. I also tend to feel that caramel tones tend to compliment women with olive skin tones really well. The sombre look is really great for the girl who doesn't want to come into the salon a ton, as it really is supposed to be "lived in." I touch up some of my girls every 4 months! I soften call this look recession highlights!
Pixie with Caramel Highlights

@hair.by.ashmichelle
Q&A with style creator, Ashley Barton
Hairstylist @ Hair Klaudt in Charlotte, NC
---
How would you describe this look?
This is an edgy, yet modern look that plays with shades of caramel. My favorite thing is the texture in the haircut. It allows it to be fun if you decide to spice it up with some pomade, or it can look more modern and professional if you lay it down! The color of the caramel hair highlights creates a playful look!
Any advice for someone considering this color?
You will definitely want some type of fiber pomade if you want to add more texture. The stickiness will allow the hair to stick up while giving some hold and not being too heavy. This look is great for anyone because it is so versatile in how you can style it!
Medium Brown Hair with Caramelized Tones

@pk_hair
Q&A with style creator, Paige Yates
Independent Stylist in Sarasota, FL
---
How would you describe this look?
This look embodies those summer vibes that every brunette woman looks for. The blend of natural color and the sunny caramelized waves creates the perfect setting for any occasion.
The greatest thing about this hairstyle and caramel hair color is the uniformity of both the darkness and the light. The dimension that is shown brings the hair and spirit to life! This cut is classified as the "modern bob" which woman are wearing everywhere. This cut allows to have a length in the front to play with but also able to release the weight in the back.
Any advice for someone considering this color?
This look is very universal for all shapes and personalities of women, however, all changes to your hair require a certain level of maintenance. This Caramel Dream is great for a wash-and-wear look so styling can be minimized depending on the client's hair texture.
Color maintenance varies on each client. Some prefer having more of a lived-in and rooty look, while others can't stand to see an inch of regrowth. Above all things, the product is key to styling and maintaining caramelized hair color.
My favorite products are anything Amika. I started this look by blow-drying the hair using Amika's Brooklyn bombshell spray at the roots, following it with the Amika mousse. Then I proceed to dry styling. I always start with The Shield anti-humidity spray before any heat service, spraying each section before I curl, then finishing it off with their Undone texture spray to create these beautiful loose beach waves.
Chocolate Brown with Creamy Caramel Highlights

@blertta_hairstylist
Q&A with style creator, Blerta
Licensed Cosmetologist / Colorist @ Giancarlo Hair Studio in Bronx, NY
---
How would you describe this look?
This one is a classic combination of chocolate and highlights with creamy caramel additions. I like that it looks so healthy and shiny.
Any advice for someone considering this color?
I used Colorly2021 and Wella to achieve this look.
Chocolate Caramel Swirl

@lacey_dru
Q&A with style creator, Lacey Dru
Stylist @ Maggie The Salon in Pembroke Pines, FL
---
How would you describe this look?
This new mommy has thick hair, so she wanted a look that was low maintenance and easy to style. Something wash-and-go. Her natural waves are perfect for this pop of caramel balayage and layers.
Any advice for someone considering this color?
As stylists, we do consider face shape amongst other things. However, the length is perfect for her because she can still ponytail it. With The Euphora curl promise, she can embrace her natural wave and have a bit of brightness from her highlighted pieces.
Balayage Caramel Babylights

@suchalizzy
Q&A with style creator, Lizzy Campos
Hairstylist @ The Beauty Bar at Carmel in Westfield, IN
---
How would you describe this look?
This look was creating with babylight foils and balayage. My favorite thing about the look is the subtlety of it. It brings dimension and pops of caramel color to the hair without the client feeling like they are blonde.
Any advice for someone considering this color?
These low maintenance caramel highlights are perfect for someone who isn't regular with appointments. I would also recommend it for someone who is shy about going lighter.
Any face shape could pull off this look. If you pull your hair back often, I recommend having foils placed around the hairline. This look was created on someone with fine hair.
I used a flat iron to curl the top sections, added Air Control by Aveda, then shook out the curls.
Dark Chocolate with Caramel Foilayage

@katiepdxhair
Q&A with style creator, Katie Pattison
Stylist @ Rock Paper Scissors Salon in Portland, OR
---
How would you describe this look?
I would describe this look as a caramel foilayage on a dark chocolate base. What I love about caramel highlights is that they can add natural warmth and brightness to a dark base color while maintaining color harmony.
What I love about the foilayage technique is that it allows you to lift through naturally dark brown locks (or even previously colored) hair more quickly than open-air balayage, yet it creates the same natural-looking, rooty highlights that make balayage so low maintenance.
Any advice for someone considering this color?
These highlights are a great choice for anyone who wants to add depth and dimension to medium or dark hair, however, they are definitely not for someone who doesn't like warmth in their hair.
Achieving highlights using the foilayage or balayage technique is great for the client who wants a low maintenance hair color that looks natural and grows out beautifully.
Natural Brown with Caramel Highlights

@blairepowell_hair
Q&A with style creator, Blaire Powell
Senior Stylist @ Berry Lane Hair in Grafton Street, Cairns
---
How would you describe this look?
I would describe this look as an enhanced natural color. I used warm and natural caramel tones to complement her natural hair.
My favorite thing about this look is that you can't tell her has been artificially colored. This could really be a natural head of hair.
Any advice for someone considering this color?
I recommend this caramel hair color to someone who wants to change their look but still wants to feel like their natural self. This look is best suited for someone with a warm skin tone. I think long hair works best to show off all the different tones.
Bolder Caramel Highlights

@chelsearich.hair
Q&A with style creator, Chelsea Rich
Color Expert / Owner @ Golden Edge Studio in Olathe, KS
---
How would you describe this look?
I would describe this look as a more bold highlight versus a subtle caramel highlight. This could be a great "round two" for someone who has had caramel highlights before but is looking to take the next step!
I love all the dimension it has with the different tones against the depth of her natural base. It all melts together so beautifully!
Any advice for someone considering this color?
Caramel highlights are friendly to most clients because they are easier to achieve and maintain than lighter ones. I always ask my clients what their level of comfort with styling is before I do any color service because color deserves to be shown off, not thrown up into a messy bun every other day!
This look will require a longer service due to the density and length of the hair, and because it is a full balayage and lowlight with a gloss is required. If your client has compromised hair or wants to keep their hair in its healthy state, I recommend using a bonding system like the Redken PH bonder or Olaplex.
As far as products go after the service, I recommend using a color-safe shampoo or any salon brand shampoo. I warn clients that the drugstore shampoos and conditioners can strip the caramel shade quickly and make your hair look dull and lifeless.
Caramel Highlighted Lob

@hair_by_matt_84
Q&A with style creator, Matthew Gucci
Stylist / Master Colorist / Bridal Specialist @ Hair Machine Salon in Rockville Centre, NY
---
How would you describe this look?
This is a long bob haircut or lob. Lobs are cut so that the hair falls between the chin and the collarbone, essentially creating a look that is quirky, cool, and neither too short or too long. This effortless cut works with pretty much every face shape and hair texture, so it's a perfect cut for anyone who wants to switch up their look in a flash.
This client asked for balayage but didn't want to be much lighter than her blonde base color, so I made her a true blonde caramel color. I used a lightener and a glaze which consisted of Goldwell's Colorance, 80Mills of Colorance Lotion, 20Mills of 8GB, and 20Mills of 8BA.
My favorite thing about this whole picture is how her hair color pops with the right amount of balayage highlights to outline her haircut in a way that her hair gives a nice flow. It was just the right amount of color to make the whole haircut work. She wanted a change and she got it!
Any advice for someone considering this color?
Any client considering caramel highlights needs to really think about her way of life by imagining herself with this look and her everyday wear. A cut like this requires maintenance and a little TLC. By TLC I mean caring for your new haircut and color with proper product use.
We used two to three pumps of Goldwell's Just Smooth Serum and one pump of It's a 10 Keratin Oil before blowing her hair out with volume. We used a 1-inch curling iron to achieve the curled look. As far as at-home maintenance, she bought the Goldwell Blondes & Highlighted Hair shampoo and conditioner along with the products I used for styling.
Long Hair with Caramel Highlights

@mayliz_hairmad
Q&A with style creator, May Zavala
Cosmetologist @ MLZ Hair & Makeup in Central Valley and San Diego, CA
---
How would you describe this look and what is your favorite thing about it?
This is warm colored hair with a few sunkissed babylights touched with a speck of caramel hue, all done with the balayage technique. The caramel highlights help lighten up the warm base color and bring out all of the wonderful tones and shine.
What products do you recommend to create and maintain this look?
I used Affinage lite powder with 20vol for the babylights and foils. I then applied Matrix Socolor 5m with 20vol to the hair that was left out of the foils (which is the base tone). We processed for about 35 minutes after finishing with the base color. I topped it off with Matrix Socolor 6w for the babylights.
I used Olaplex (my favorite) with the entire process. My model took home Joico Keratin shampoo and conditioner, Techitaly Lumina shampoo (purple shampoo), and #3 Olaplex treatment. This look requires regular trims every two months and a retouch every four to six weeks.
What type of client would you recommend this look for?
All hair needs a little bit of TLC. No hair color or cut can shine if it's just put away no matter the skin tone, hair type or lifestyle!
Caramel Blonde

@beautyby_brittanyjean
Q&A with style creator, Brittany Lavoie
Hair Artist and Nail Technician @ Hairaholic Salon in Mansfield, MA
---
How would you describe this look?
These are caramel ombre highlights. I used a foilayage technique to achieve the light blonde tones throughout her ends.
This shade of caramel was quite the transformation and took about 3 hours start to finish, but I love the way the color melts from start to finish and how the light and hues of dark brown sugars compliment her haircut.
Any advice for someone considering this color?
It is quite low maintenance once you've achieved this level of lightness if you have naturally dark hair color. If you color your root, you'll still have to maintain your root.
The ombre look is very easy to maintain and can be refreshed whenever you're ready! The best face shape for a look like this is a rounded or square face. From the front, the vertical placement of the color helps to draw your eyes and create the illusion of elongating the face.
It's always recommended with blondes to keep up with regular deep conditioning treatments at home as the hair tends to be more porous and can be fragile after lightening services.
As for the beachy curl, a little heat protect prior to curling with a wand and breaking it up with some medium-hold hairspray is just enough to keep the style soft and touchable!
Black Hair with Caramel Highlights

@carly.colors.hair
A delectable treat for your naturally dark hair, these sugary caramel highlights can make any type of hair appear dimensional because of the excellent contrast it provides.
Light Brown Hair with Caramel Highlights

@krystinamariahair
Q&A with style creator, Krystina Maria
Creative Hair Colorist @ Creative Hair Artistry in Walnut Creek, CA
---
How would you describe this look?
This look is lived-in caramel highlights. With the colors and placement, it gives clients 12-18 weeks before needing to return to the salon. I melted the highlights and smudged the root, so it gives a classic "I've-spent-all-summer-at-the-beach-getting-natural-sun-highlights" look.
For clients with lower hair density, I give a halo layered cut to give some movement, volume, and definition to their hair. I blend shorter layers into longer layers to achieve that and use a curling iron without using the clamp, as a wand gives the perfect boho beachy curl which looks effortless.
Any advice for someone considering this color?
For my wash and blow-dry clients, I always recommend Kenra's Color Charge Serum Spray which smells heavenly on damp hair to prep for the blowdry, and then followed up with their Volume Burst at the root and dry oil conditioner all over to set the style.
For my thermal clients, I love having them start with the same routine of Kenra's Platinum Color Charge Serum Spray on damp hair then blow dry. Before using a curling or flat iron, I use Paul Mitchell Hot Off the Press Thermal Spray with low hold to prep for heat styling. Then I follow with Kenra's Volume Burst at the root and a light spray of dry oil conditioner.
Honey Caramel Highlights

@prissyhippiebeautyshop
Sexy, delicate, and luscious, these soft waves are brightened up and defined more by these perfectly-placed accents on honey caramel highlights on dark brunette hair.
Candy Apple on Dark Hair

@brittdeshair
Q&A with style creator, Brittany Des Rosiers
Master Hairstylist @ Avalon Hair Designs in San Antonio, TX
---
How would you describe this look?
This incredible look was created by adding caramel balayage highlights to virgin hair and finishing it up with a long layer cut. My lovely client was wanting to go lighter and still have something that would grow out well without looking too bold on her naturally dark hair.
She was very concerned during the consultation about her highlights looking too brassy or orange. I was able to lay those worries to rest by discussing how a toner works and that we would be using a toner at the end of her service to control the amount of warmth seen on her highlights.
The blend of these freehand highlights is my favorite part of this look. With such a seamless blend, my client won't have to rush back into the salon at four to six weeks because she sees a strong line of demarcation (grow out). This amazing blend allows her to choose when she comes for her next color service depending on if she wants to maintain or go even lighter.
Any advice for someone considering this color?
These caramel highlights are amazing for just about every hair type. With the balayage growing out so seamlessly, it can be very budget friendly. The biggest thing you need to be aware of when considering caramel balayage highlights is that your highlights will have some warmth in them.
Discuss with your stylist what you like about the color you're showing them. Talk through the different tones you see so that you and your stylist can be on the same page. Caramel balayage highlights are super buildable. They can be your end result or an amazing stepping stone for going even lighter!
Sandy Beige Caramel Highlights

@artistry.by.nicole
Bring warmth everywhere you go by adding warm pieces on darker shades of caramel. Waves on long hair are guaranteed to add to a more sultry look.
Toffee Hues for Short Hair

@epic_hair_studio
Q&A with style creator, Mariam Khan
Professional Stylist @ Epic Hair Studio in Winnipeg, MB
---
How would you describe this look?
Brunette hair doesn't have to look borking. By adding these soft caramel highlights, it gives a kick to your brunette hair and turns it up a notch!
What I love about this look is how depth and lightness come into play with the layers and warm tones seamlessly blending in with one another. Literally, any basic hair color will pop out more if you get caramel highlights.
By adding some wispy layers at the back and contouring the face frame, it allows the hair to move freely and not weigh it down.
The final touch is, of course, a good blow out with a round brush, remembering to work at the roots for some lift and at the ends for a sleek, smooth look!
Any advice for someone considering this color?
Consider the following: face shape, maintenance of the style, and if it's age appropriate. There are so many versions of a "bob haircut".
The chin length bob (often caters more to mature women), tends to soften the facial features which make women look more elegant. The long bob which I did here is perfect if you're not into short do's but don't want the upkeep of a long haircut either. The trick is to aim for the collarbone-length, giving a look that's easy to style and take care of.
This is perfect for active women who workout at the gym or mom's who are running around chasing their little ones because it's long enough to be tied up.
Chocolate Brown Hair with Light Golden Caramel Highlights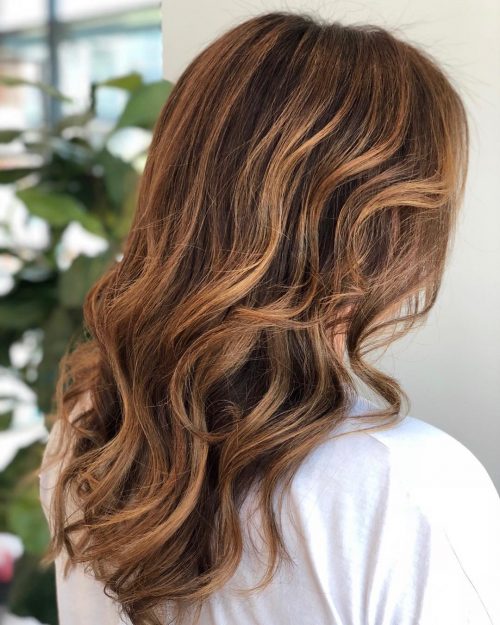 @megandiez
Featuring a rich chocolate brown base with caramel highlights that's ideal with any hair length and texture. Warm and bright shades always work so well to brighten any hair type and add depth especially when with waves.
Dark Caramel

@kaylad.artistry
Warm lighter shades can give a dark base the depth and dimension it needs. These dark caramel tresses also allows the texture of the hair to be on the spotlight, letting you style this dye job with ease.
Golden Caramel Highlights

@glayda
Golden highlights are one glamorous way to secure radiance in your long, wavy locks. Its caramel shade that goes well with the darker hue leaves a dimension that's hard not to fall in love with.
Cute Caramel Brown Highlights

@locksbythalia
To brighten up your mid-length hair, some cute caramel brown highlights will do the job. It's a brown hue that gives warmness and brightness to your dark base. Wear it even on a typical day, and you'll be gold! A chestnut brown or maple brown base color blends well with this shade of caramel highlight.
Medium Brown Hair with Caramel Highlights

@mjstylesbeauty
These pieces of soft caramel on medium brown hair are ready to dazzle! The balayage highlights shine best under the sun like a legit gem. Finish it off with a bit texture, making it look charming than ever.
Q&A with style creator, Mary Jane Demirjian
Master Colorist / Aveda Colorist @ Daryl Christopher Lifestyle Salon & Spa in Waltham, MA
---
How would you describe this look?
I absolutely love doing this for anyone with darker hair looking for a soft lighter hue or color without going blonde, staying in the brunette world. Caramel highlights include such a wide range of colors ranging from lightest brown to darkest blonde shades. Caramel, toffee, and honey – there are so many pretty tones in between. You can really brighten up anyone's hair that wants some lighter dimension for a pretty sun-kissed look.
My client Liz was ready for change. We nailed it! She usually comes to see me every 4 weeks for her root touch up, but she was ready for a little exciting change so we had talked about playing with some color and going lighter since she loves her long hair and I do too.
We are in Aveda lifestyle salon, so I use Aveda color which is organic and 97% plant-derived. For her soft caramel toned baby lights, I used the new Aveda clay lightener. I placed very thinly weaved highlights and painted in some balayage styled pieces of lightness throughout the top which we call a partial highlight. I then used a very warm level 8 toner to bring out the warmth of her darker colored hair which I brought up a half a level from 5 to 6. She really wanted some natural-looking soft highlights to brighten up her darker hair, so overtime time we can start going a bit lighter on her root color which was one of our goals too. This gives her that beautiful natural looking lighter tone overall. I was able to give her a very soft highlight that will grow out very nicely, so it's not going to be a lot of maintenance. We will not have to highlight her again unless she wanted after a few visits.
Any advice for someone considering it?
I advise getting caramel highlights over ashy highlights for people usually with a more olive skin tones or tan tones which will look absolutely beautiful with these hues. A great way to test if these tones look better on you instead of an ash tone is to hold up jewelry next to your skin. If yellow gold is more flattering against your skin tone rather then silver then you probably would look very stunning in some caramel highlights.
Blonde and Caramel Highlights

@gma_styles
Balayage and classy waves on long hair spell out effortlessness and charm that is eye catching in every occasion.
Caramel and Red Highlights

@gingerhairgirl_erin
Here's a captivating hair color consists of caramel and red highlights! With strokes of blonde tint, it creates a dimension effect, as well. Wear your mid-length, straight locks now with this look for such a stunning makeover.
Caramel Highlights

@loveisinthehairxx
Soft waves are great for adding character to medium length hairstyles. Paired with the right accents, it can also bring out the edginess and spunk in you.