18 Flattering Beige Blonde Hair Color Ideas for Every Skin Tone
Light Beige Blonde

@ellagibbshair_
Flaunt a shoulder-grazing, sun-kissed lob to match your glam. Finish it with soft waves to bring out dimension in this light beige blonde hairstyle.
Warm Beige Hair for Older Women

@jaezhairstudio
Warm beige hair for older women helps hide the grey with the extra warmth but slightly muted so it doesn't get too brassy. It's a beautiful shade for those wanting to go lighter to brighten up your face.
Beige Blonde and Highlights

@samcheevs
Proof that a beige blonde hue and highlights can do magic side by side. It'll make your long tresses full of life as it carries out brightness and warmth to the style. Go for a layered haircut to create more volume and texture, as well.
Beige Platinum Blonde

@beautyby_kristie
A beige platinum blonde is an exceptional addition to a previous balayage hair color. Hair length that stops above the chest is ideal when you're longing for a side-parted and wavy style.
Beige Blonde Highlights on Dark Brown Hair

@shimiazut_hairstudio
Play with some beige blonde highlights on dark brown hair, and it'll give you what you want and more. The lighter streaks create a warmer vibe, resulting in a more dimensional illusion. With soft curls at the tips of your long tresses, this will be the balayage of your dreams!
Beige Ash Blonde Hair

@salon.sessions
This beige ash blonde hair has a neutral hue that works on all lengths of hair. If you're into minimalist and true aesthetic beauty, it'll please you. The movement in this one looks flawless and goes well with your smooth, long tresses.
Beige Highlights on Dark Blonde Hair

@hairbylace
If you've been a blonde babe forever, jazzing things up with balayage is what you should try next. Rock some beige blonde highlights on dark blonde hair to transform your look. Add beach waves to your long hair for a movement illusion.
Short Beige Blonde Hair

@hairby.vivi
Pull off an elegant short beige blonde hair with waves that let your natural color blend in as time flies by. Style creator Vivi of Noja Hair and Beauty points out how to maintain such blonde color. She advised getting a toner or gloss after the balayage to melt it down, and for longer, softer grow outs.
Honey Beige Blonde

@kt_does_hair
Lighten your locks with this honey beige blonde hue. It offers a classic beauty that goes well with your mid-length haircut.
Dark to Light Beige Blonde Ombre

@pariserdem
A dark to light beige blonde ombre allows you to manage your grown-out strands like a piece of cake. The payoff is looking sassy, and you can pull it off on your long, straight hair.
Dark Hair with Beige Blonde Highlights

@jimberlydang
This dark hair with blonde highlights is about to make an impact! Wear this fashionable light beige color with your voluminous, long mane to ginger up your style. Babylights form fine lines of brightness to add shine to your locks.
Medium Beige Blonde

@loveishair_melissa
Can't decide between a warmer or cooler tone? Try a medium beige blonde color to class up your long mane. In case you're blessed with natural texture, additional waves can make it better.
Beige Golden Blonde

@laila.wella
Make a great impression by slaying a beige golden blonde. A subdued dimension is visible with its smudged-looking roots. Style your medium-length cut with soft waves at the ends to frame your face.
Beige Blonde Balayage

@styledbypaiges
A beige blonde balayage to flatter your fair skin! Opt for this shade if you want to add a dimensional illusion to your hair. Parting it in the middle while showing off long layers adds excitement to your overall look.
Flattering Beige Blonde Highlights on Brown Hair

@lauren_scallan
These flattering beige blonde highlights on brown hair achieve a natural-looking edge. With cool beach waves on your long mane, the outcome will wow everyone who gets a glimpse of it.
Curly Beige Blonde Hair

@hairflaviarodrigues
Defined kinks are the best canvas to come up with this gorgeous beige and curly blonde hair. Its round shape forms better when the length doesn't go past beyond shoulders.
Beige Lowlights in Blonde Hair
@jennistubbe.beauty
Giving your look a new shine are these beige lowlights in blonde hair. Nothing beats how fuller your mid-length, dense mane turns out when paired with a darker tone. Add subtle waves to your locks, not only for extra style but also for an added glowing effect.
Beige Strawberry Blonde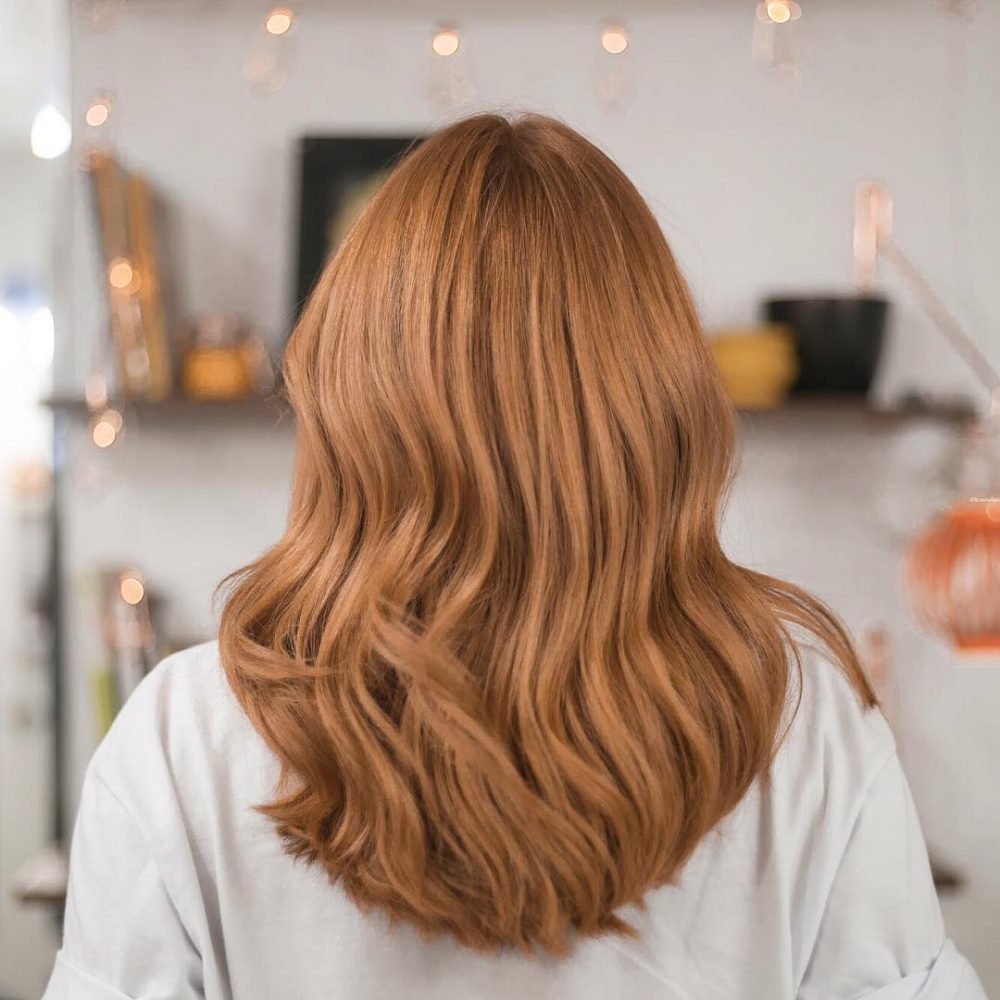 @the_hairdresser
It isn't too light or too dark, but just enough richness of reddish tone to get yourself a new hairstyle! Get ready for a beige strawberry blonde that grants you a taste of a flirtatious vibe. Smooth and subtle waves are guaranteed to manifest the V shape of your mid-length chop.