21 Dark Blonde Hair Color Ideas Trending in 2023
Dark Roots with Ash Blonde

@sofiafrancescabeauty
Dark roots with ash-blonde offer a low-maintenance hair color for brunettes. The rooty dark ash blonde color can save a dark-haired lady a few salon appointments.
It's perfect if you don't want frequent gloss sessions every four to eight weeks. To create these dark blonde roots, ask for a dark shadow root and an ashy level 8 blonde.
Honey Blonde with Dark Blonde Roots

@vivi_solari
Honey blonde with dark blonde roots is an easy, low-maintenance look for women with olive and tan skin tones. Maintenance ranges anywhere from 4-6 months whether the service is a highlight or a balayage.
Deep Strawberry Blonde Hue

@slayedby.sav
A deep strawberry blonde hue is always fresh and in season. Strawberry blonde color is great for natural redheads who have started to go gray and want to keep their red color alive. To achieve this hair color, hairstylists would use a deep copper color to cover any grays at the roots and add a few balayage highlights on the middles and ends of the hair to brighten up its color.
Smokey Mushroom Blonde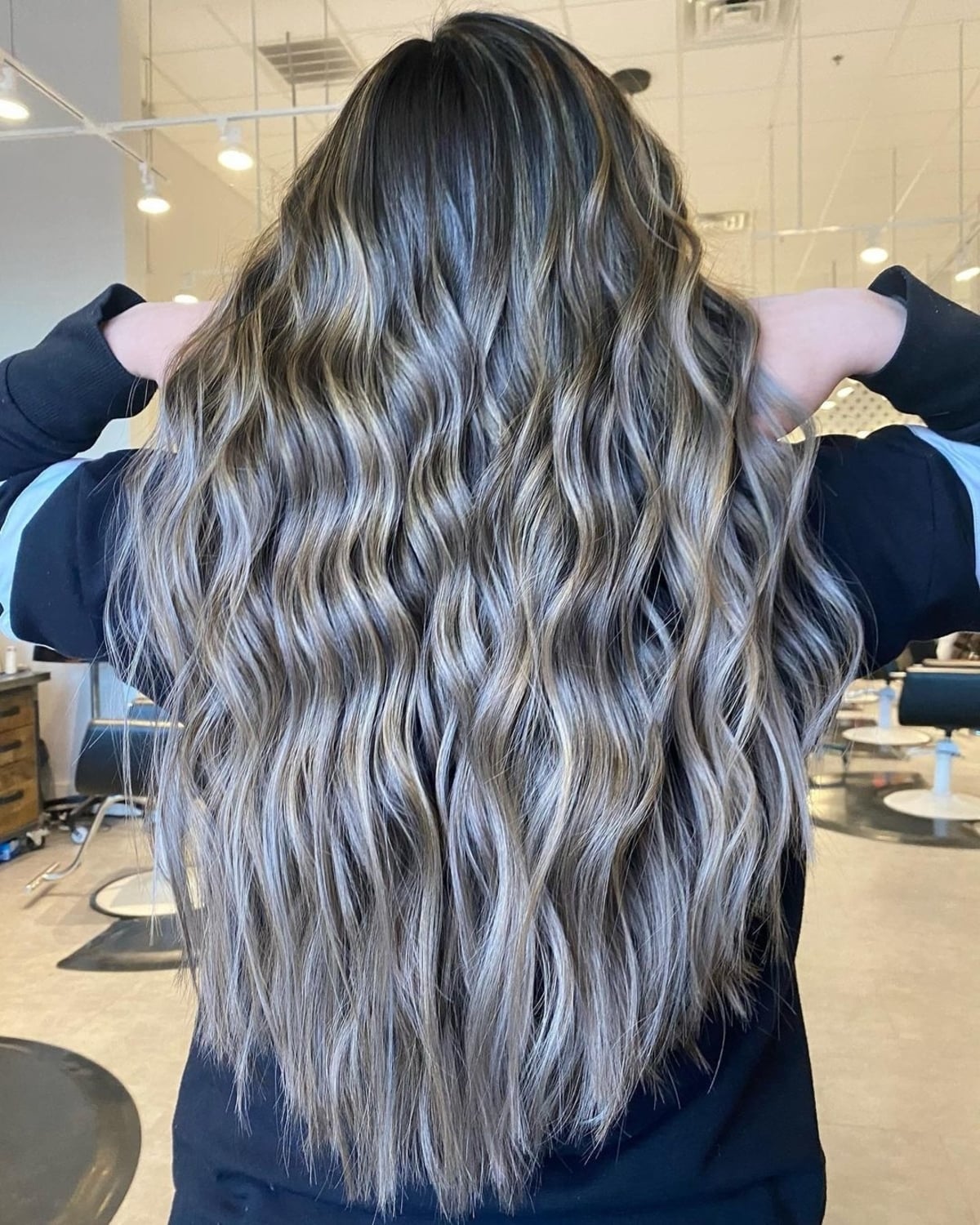 @sayler.bryn
A smokey mushroom blonde hair is ideal for women who want to cool their brown hues down. Perfect for going dark after being blonde all summer. For women whose blessed with naturally darker hair, they'll want to lift the bleach and then tone. In particular, this color brings out a more gray tone with a smokey mushroom color added with a hint of brown.
Dark Sandy Blonde

@hairbysarahpeterson
This dark sandy blonde balayage is very dimensional.
The natural dimension of this dirty blonde color will provide you with beautiful longevity. Many women choose to go 6-12 months without a touch-up.
Use a violet shampoo because it's essential to remove mineral build-up and eliminate brassy tones, maintaining a fresh blonde hue.
Trendy Dark Bronde

@hairbyjessquinlan
If you're searching for hair color ideas, a natural dark blonde tone that mixes both brunette and blonde will never do you wrong.
Dark Buttery Blonde with Lowlights
@hairbymelb
These multi-dimensional dark blonde tresses have a mixture of both warm and cool tones. They were created by hairstylist Melody Bartelson of Lake Geneva, WI.
"Use Wella Freelights and Wella Permanent hair color for the dark blonde highlights and blonde lowlights," states Bartelson. "Tone with Redken Shades Eq for the best shine and longevity."
The mixture of warm and cool blonde tones works well for women who have a combination of light skin and eyes.
Dark to Platinum Blonde

@dylanakendal_stylist
This shade of dark blonde to light platinum makes for one incredible ombre! To best show off this dark blonde hair color, you'll want shoulder-length to long straight hair.
Blonde with Dark Rose Gold Highlights

@nicolenadevito
"A dark blonde hue with rose gold is called a pink champagne hair color," states hairstylist Nicolena DeVito of Morgan, PA.
To fight the dirty blonde hair, DeVito says to try the Kenra professional color charge shampoo, conditioner, and spray serum.
Darker Warm Blonde

@micaylanicole_styles
A darker warm blonde tone is buttery with subtle dimensions, like a golden yellow blonde, to give it a sun-kissed color. This particular color was created by colorist Micayla Nicole of Oak Forest, IL.
A natural light brown base gives a great canvas to achieve a dark blonde seamless blend.
Micayla says to use a toner to keep this dark blonde hair dye looking fresh. "Use a purple shampoo every other wash to help eliminate future unwanted brassy tones in your darker blonde hair," she adds. "Make sure to use dry shampoo in between washes to keep your new blonde color looking clean & beautiful!"
Dark Bronde with Blonde Highlights

@janeadamshair
This dark bronde with blonde highlights is for women looking for a little warmth in their hair. Dark bronde hair color is a combination of dark blonde and light brown hues. The warmth of the highlights creates an instant shine to tresses. To accentuate the hair color's dimension, use a root lift and a leave-in conditioner or style cream.
This dark bronde with blonde highlights is the ultimate Bronde. It was created by hairstylist Jane Adams of Adelaide, SA.
"They're the perfect balance between a dark natural base and being a blonde," explains Adams. "A mixture of foilayage and painting techniques were used to create a strong color. By doing a root smudge with the toner (deeper at the roots on the crown moving gradually lighter towards the front) it's low maintenance."
For upkeep, Adams says you'll only need coloring every 4 months and cutting & toning 2-3 months. "Having thick hair helps achieve this look. But the color, cut, and finish can give medium fine hair the illusion of volume and fullness. This is due to the contrasting colors," she adds.
Dark Natural Blonde

@whitneyreed.hair
"A natural dark blonde hair color is not busy and requires little effort for the wearer," says stylist Whitney Reed of Greenville, SC.
"The maintenance for this dark-to-medium blonde shade is very relaxed due to the more slight variations in level," she adds.
Dark Balayage Blonde

@zoeguate
This dark balayage blonde can also be called a dark iridescent blonde hair color. By creating shadows in the corners of brown-ish blonde hair, the face appears more oval.
The balayage on long dark blonde hair stirs up softness and dimension. It also gives the end result depth and illumination.
Dark Golden Blonde

@maria.k89
"A dark golden blonde hair color is inspired by sunsets on the beach," says hairstylist and colorist Marija Kekovic of NYC. "Look for hair inspiration for something that is more subtle and dimensional such as dark blonde with highlights of golden blonde and brown," she adds.
You should choose your shades of dark blonde like you do your make-up. Embrace your light or tan skin color, love yourself, and tailor your dark and blonde hair to your personality.
Dark Ashy Blonde

@aleksmii
A punch of dark ashy blonde can bring out a flattering hair color. It isn't too dark nor too light but is enough to perk up a fresh haircut. Prepare to spend a good 3-4 hours in the salon to achieve this blonde balayage blend.
The softness of the tone gives locks a seamless grow-out. One thing to love about the dark ashy blonde hair trend is that it's easy to maintain at home for as many months.
Ash + Dark Caramel Blonde
@hairbyerika
Dark ash caramel blonde is a great contrast between the base and highlights. It was handcrafted by salon owner and stylist Erika Morales of Whittier, CA.
"It's good to keep dark blonde hair shades in the same color family for the most natural look, as well easy upkeep," says Morales.
She goes on to say, "this style is for women who are looking to be a darker blonde but do not want high damage to their hair. Blonde dark colors are typically low maintenance and easy to manage."
Light Brown and Deep Blonde

@mane_ivy
Light brown and deep blonde hues create a hair color with a touch of light balayage. This dark blonde color is great for almost every skin tone and eye color, such as brown eyes.
It may have a darker hue, yet it offers a cool-toned dishwater blonde without washing out the color.
Short Hair with Dark Blonde Highlights

@shmoakin_hair
Match short hair with dark blonde highlights when working with fine-density tresses. This short, neck-length haircut with dark blonde tones gives the mane extra fullness.
Achieve the bronde hue by adding these dark blonde highlights on brown hair. The dimension and the shattered ends are what offer added texture to hair.
Dark Blonde Ombre with Beach Waves

@ritzcabeloestetica
A dark blonde ombre makes a shiny, dimensional hair trend. This is optimal for women who are looking to enhance their natural blonde hair color.
What's fun about it is it doesn't require a complete transformation. To highlight the lighter strands, jazz the blonde locks up with some beach waves.
Dark Blonde Lob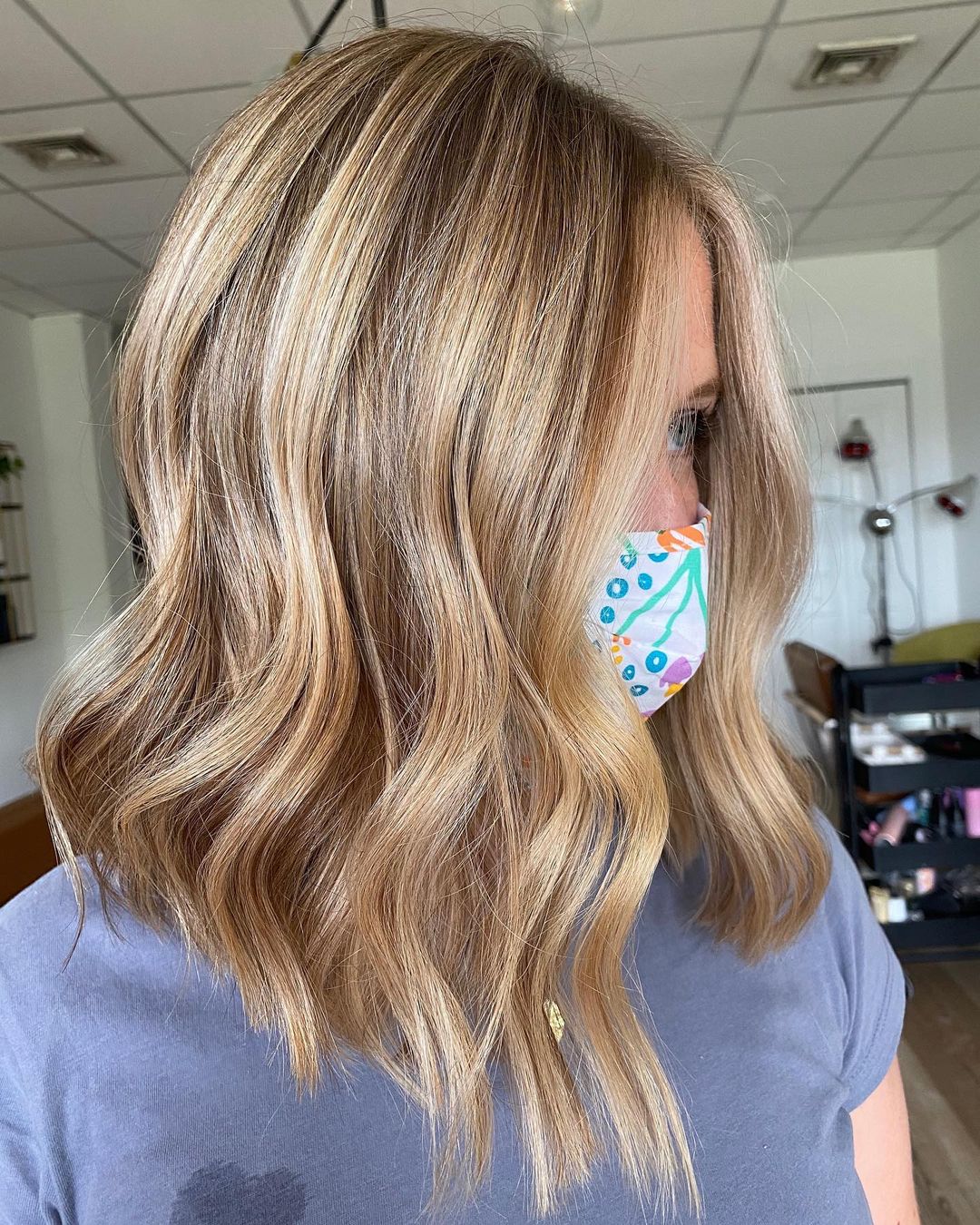 @hairmeroar
This is a dark blonde lob, amped up with neat waves. The cut and style combine well to form a beautiful dimension. It's great for women who don't have a lot of time to visit the salon but still want to look terrific!
To keep its gloss, use the right products. A good moisturizing shampoo and conditioner like the Sebastian Drench ones are ideal. When styling, the result stays glamorous all day long if spritzed with the beach spray, too.
Brown to Dark Caramel Blonde Ombre
@sarahgossetthair
"A sunkissed brown to dark blonde ombre fades seamlessly from roots to ends and that it is an extremely wearable look," exclaims hairstylist and colorist Sarah Gossett of Simi Valley, CA.
"Use a blue toning shampoo once a week along with a good, color-safe daily shampoo and conditioner are the main products to make this blonde shade last," says Gossett.
This blonde color is perfect for a natural dark brunette who wants to lighten her hair but doesn't want the maintenance of coming into the salon for dark highlights on blonde hair every six weeks.