These are The 31 Hottest Hair Color Ideas of 2023
Rose Gold with Shadow Roots

@tvon_beauty
Looking for subtle yet trendy hair color ideas? Then check out this rose gold color with shadow roots. It's for girls who aren't afraid to stand out. The darker roots add more depth to this millennial hair color, and will definitely catch eyes everywhere you go.
Rooty Beige Blonde for Women Over 60

@louis_beauty_maker
Rooty beige blonde for women over 60 keeps any grey soft and blended as the hair grows in. A beige blonde compliments most skin tones, eye colors, and natural hair colors. By keeping the beige tone, your stylist can soften regrowth as it comes in (blending white hair or grey hair) as well as maintaining a blonde color from the mids to the end which keeps a youthful look and avoids feeling "washed out."
Auburn Brown Hair for Women Over 50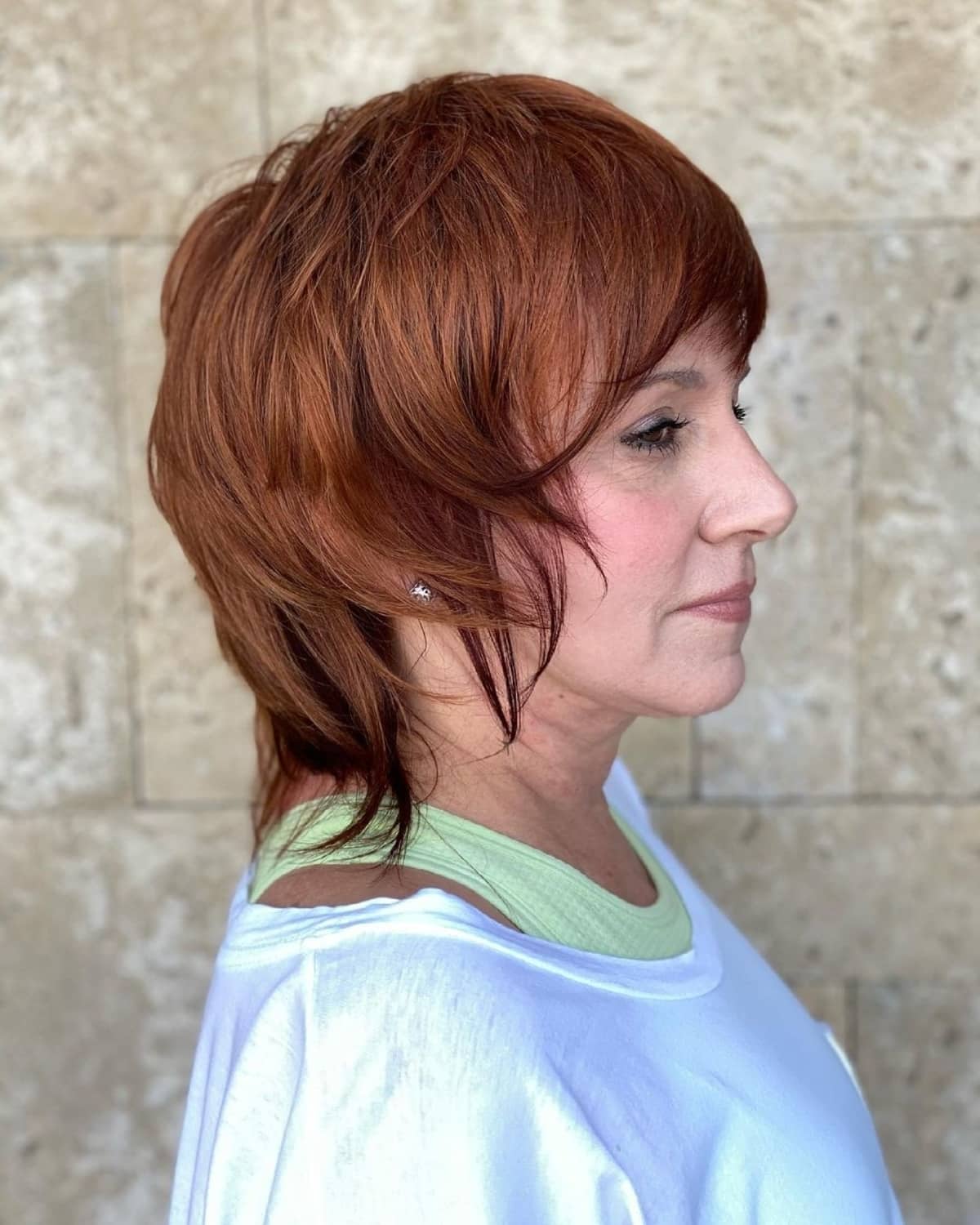 @chazcolorist
Auburn brown hair for women over 50 is everything! The hues of red and copper will instantly soften your features and create some added glow to your skin. Auburn tones can be enjoyed any time of the year!
Vivid Pink Hair Color
@chloe_theyoungamerican
Try a vivid pink hair color if you being bold is your current mantra! Create a shadow root for dimension by applying the color to your roots first and the mids/ends last. The semi-permanent color will condition your hair and create extra shine. This hair color will definitely be a showstopper!
Chocolate and Caramel Balayage
@hairbyawin
Consider a chocolate and caramel balayage if you want to add some brightness to your brunette hair. The combination of the caramel and the chocolate brown will keep your locks looking natural! Try using a gloss color and toner to add incredible shine to your hair!
Icy Blonde Hair for Older Women

@xosalon_pgh
Icy blonde hair for older women is trending! Feel brighter and younger than ever with these icy blonde tones. The tones will leave you feeling natural and it will take years off you immediately!
Golden Blonde Highlights

@kmedlin_hair
Golden blonde highlights are perfect if you are wanting to spice up your basic blonde. You will see the glow of this beautiful golden tone on your blonde tresses. If you love warm-toned blondes then look no further, this hair hue is definitely for you!
Sun-Kissed Balayage Highlights

@hairandmakeupbykatm
Try sun-kissed balayage highlights if you're desiring to brighten up your blonde. This hair hue is perfect for the low-maintenance girl who wants some in-depth dimension on her tresses. Style the look with some curls so you're beach-ready!
Face-Framing Balayage

@romeufelipe
A face-framing balayage helps open up the face. Depending on the face shape, consult your stylist about where the best placement for face-framing balayage hair should start. This is done to highlight different features of the face. This can be easy maintenance and a quick add-on service.
Light Copper Hair Color

@knox_redken_hair
This beautifully colored reddish-brown balayage creates a light copper shade that flatters women with light and fair skin tones. It looks amazing and brings out a smooth, healthy hair look for everyone out there!
Platinum Blonde Color

@yosuke_kimura6
Platinum blonde color is a cool ashy tone that flatters cool skin tones the best. Though it looks pretty, stylist Danny of London warns that it requires high upkeep.
"It often fades very quickly and can leave you with slightly warmer hair that may feel brassy. Using a blue or sulfate-free shampoo and regular treatments are a must. These maintain the optimum condition and avoid breakage. I also recommend using an Innolux treatment on all blonde services to ensure the integrity of the hair." he shares.
Caramel Highlights for Brunettes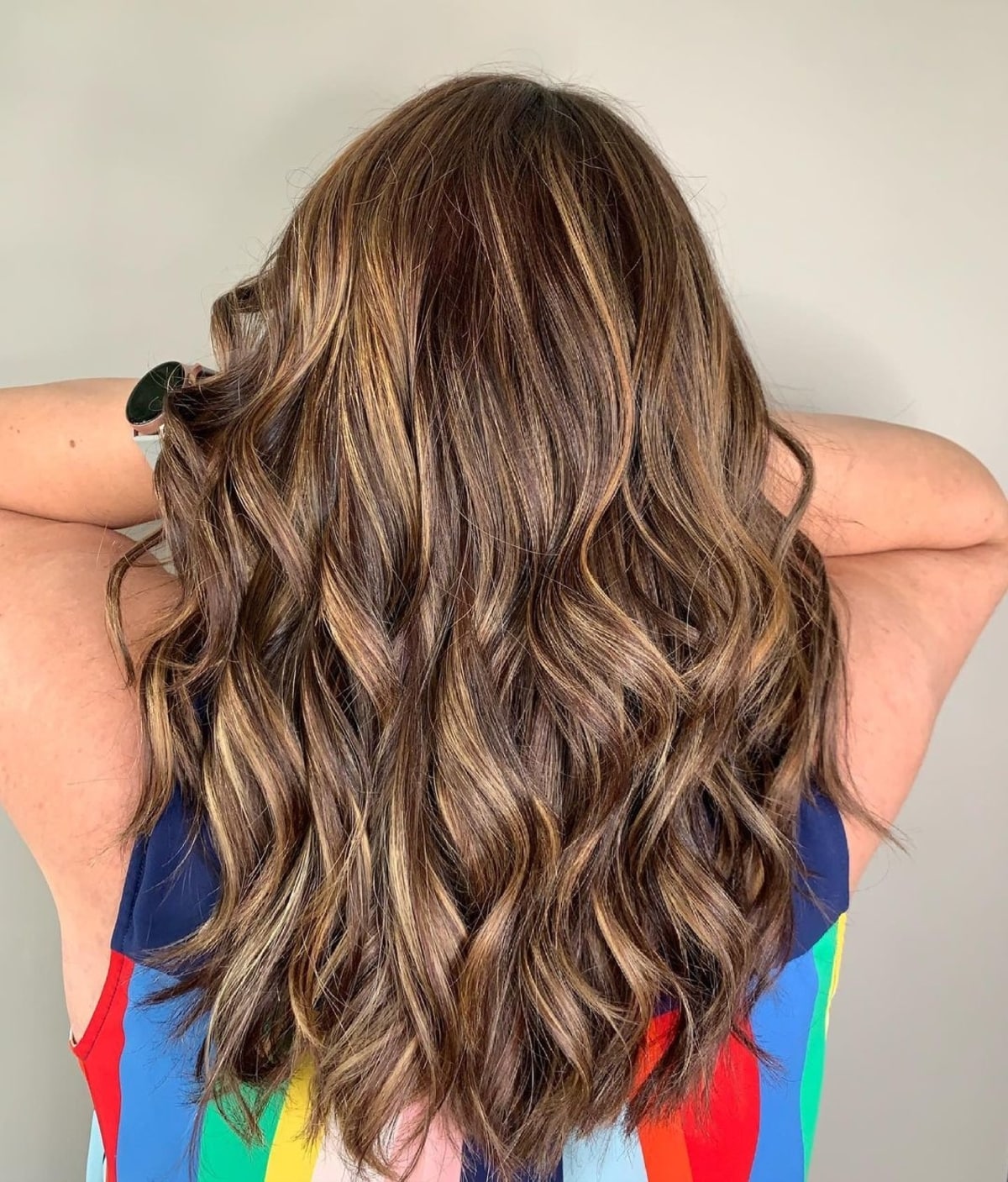 @hairaffairaz
Caramel highlights for brunettes offer a striking dimension without the harsh grow-out line.
Colorist Bella Unal from Arizona created it for ladies to get the best of both worlds. "When curled, the caramel ribbons stand out more! When it's straightened, it has more of a softer appearance," she points out.
Since the caramel hue may still fade, Unal suggests toning shampoos, such as Color Extend Brownlights Shampoo by Redken.
Strawberry Blonde Tone

@hairbyabigael
Rock a strawberry blonde tone to enhance the shine and warmth of an old blonde hue. This color will also be flattering on ladies with a lighter skin complexion.
Look creator Abigael Mccormick from Canada did heavy foils to pull off this color. "I did slices all over the head with babylights. I then backcombed and tipped out the ends for a solid look," she explains.
Though it looks stunning, Mccormick also emphasizes how high-maintenance it is. She recommends frequent glazes and tones every 6-8 weeks.
Ashy Blonde Highlights

@colorbylindseymay
These ashy blonde highlights on mid-length hair are made by color specialist Lindsey May of Wisconsin. "This is the perfect combination of blonde and brunette. I recommend this type of look to any brunette who wants to venture onto the blonde side, without losing their brunette hair completely," May explains.
If you are a dark brown naturally or have the previous color on your hair, these dimensional highlights could take multiple salon sessions to achieve. May recommends protein products to keep the health of the hair after lightening.
This look requires some upkeep but also gives some freedom to whoever wears it. "I tell my ladies to come back in 7 weeks for a trim and a toner. They can get the blonde retouched every 7 weeks or every 5 months, so I think it gives women some freedom with their hair," May notes.
Beachy Bleach Blonde Hair

@hairbywrei
This beach blonde hair color with beachy waves creates a beautiful, summer-ready fashion trend! The bright blonde tone is made by stylist Wrei Espiritu of Delta, BC.
"We tried many different formula combinations of warm and cool tones using Redken Shades EQ Gloss. We then decided not to tone the hair at all and instead use Redken's Blondage purple shampoo and conditioner. Then finished with Evo Fabuloso purple conditioner. We realized that keeping the raw natural warm blonde tones with some purple shampoo would give us this beautiful bright blonde," states Espiritu.
The haircut has a U-shape at the ends, which connects to the face-framing layers at the front.
"Most hairstylists use either a wand or a curling iron to achieve that undone beachy wave while I prefer to use a flat iron. I have tried many different curling techniques using a flat iron to get the same result as a wand or curling iron," the stylist continues.
Having a bleach out requires a highly maintained upkeep of root touch-ups, toners, and treatments. Depending on the face shape, very texturized bangs or face-framing layers would also look really good with this style.
Smokey Blonde Hair

@thehairmom
This is a modern smoky blonde with an edgy twist, pulled off by hair colorist Gianna DeCaro of Shelton, CT.
"My favorite thing about this look is how versatile it is. It's suitable for any age group and can be worn smooth or with a little bit of texture to give an effortless, edgier look," DeCaro states.
In the ash blonde family, this darker tone will gradually rinse out to a more neutral color. "As for the maintenance, a purple shampoo is going to become your best friend to maintain a cooler tone," says DeCaro.
Loma Violet Shampoo is her fave because it's aloe-based as opposed to water. "Aloe is much more hydrating for your hair and has many reparative properties which blonde hair definitely needs because of how many chemical processes it tends to go through," DeCaro adds.
The types of hair that can pull this off well include natural dark blonde to light brown hair color, fine to medium textured hair, and healthy hair that's in good condition.
DeCaro stresses that one must be open to following an at-home professional product regimen (i.e. no Suave or Pantene), and the color and cut need to be maintained every six to seven weeks.
Simple and Lived-in Bronde

@matt.swinney
There's a simplicity to this bronde hair. It was created by hairstylist Matt Swinney from Minneapolis, MN.
The blonde is set in a realistic tone not pushed too light where you can tell it's manufactured. Plus, it's a great hair inspiration for the fall!
This stunning color and style is for modern women with a busy lifestyle. It's effortless when done right. The lived-in look maintains the health of the hair.
It's very important to have the right regime of maintenance. Swinney suggests, "I like L'ANZA Healing Oil Shampoo and Conditioner to keep the hair healthy and shiny. I also like the L'ANZA Healing Oil to style and protect from heat. Lastly, all women should have a great dry shampoo to extend the life of their hair."
Rainbow Pastel Hair
@erin_nelson_doh and @jmcintyrehair
This pastel rainbow look is an accomplishment of two stylists working together—Erin Nelson and Joanne McIntyre of Chicago, IL.
If wanting pastel vivid hair, know that it's not low-maintenance. To maintain a very light platinum blonde, you must convert to an intense at-home haircare routine to keep the hair super healthy. "Also, get ready to be best friends with your colorist because you will see them a lot. Pastels fade quickly, so make sure to heed advice from the professional that you are working with," Nelson and McIntyre advise.
They go on, "The good news is we have amazing at-home color conditioners like KeraColor and Overtone. These products help with the color while keeping their hair healthy between appointments."
Muted Mermaid Hair Color
@allydestouttt
This is a modern, more muted take to the mermaid and rainbow hair color trend that's sweeping the hair industry! These hair color ideas were created by style creator Allyson DeStout of Dayton, OH.
She says, "The rainbow peekaboos give that extra wow factor! If you're looking for something more subtle, you can cover with the solid pink, creating many different looks from one hair color alone."
Three things to consider before going for a vivid hair service: patience, budget, and personality.
DeStout stresses that colors like these are not for the faint of heart! They are beautiful, but they are unnatural. If you are someone who does not enjoy getting your hair done every four to eight weeks, these colors are not for you.
Bold Blue Tones
@geli_hairconcepts
Featuring an edgy undercut pixie with bold blue tones to create peacock coloring! This is made by stylist Kristen Massengale of New Jersey.
For ladies considering this look, it requires frequent maintenance along with professional products. Massengale recommends L'OREAL Série Expert Vitamino color shampoo and conditioner to maintain the longevity of the color.
"First, determine if this look is appropriate for your lifestyle and profession. Then, consult with your stylist to understand the best colors that complement your skin tone, face shape, and personality," says the stylist.
Massengale also suggests booking a color retouch two to three weeks after the initial visit as fantasy colors do not last very long. Schedule an appointment three weeks after that to decolorize the regrowth and refresh the color.
Sunshine & Rainbows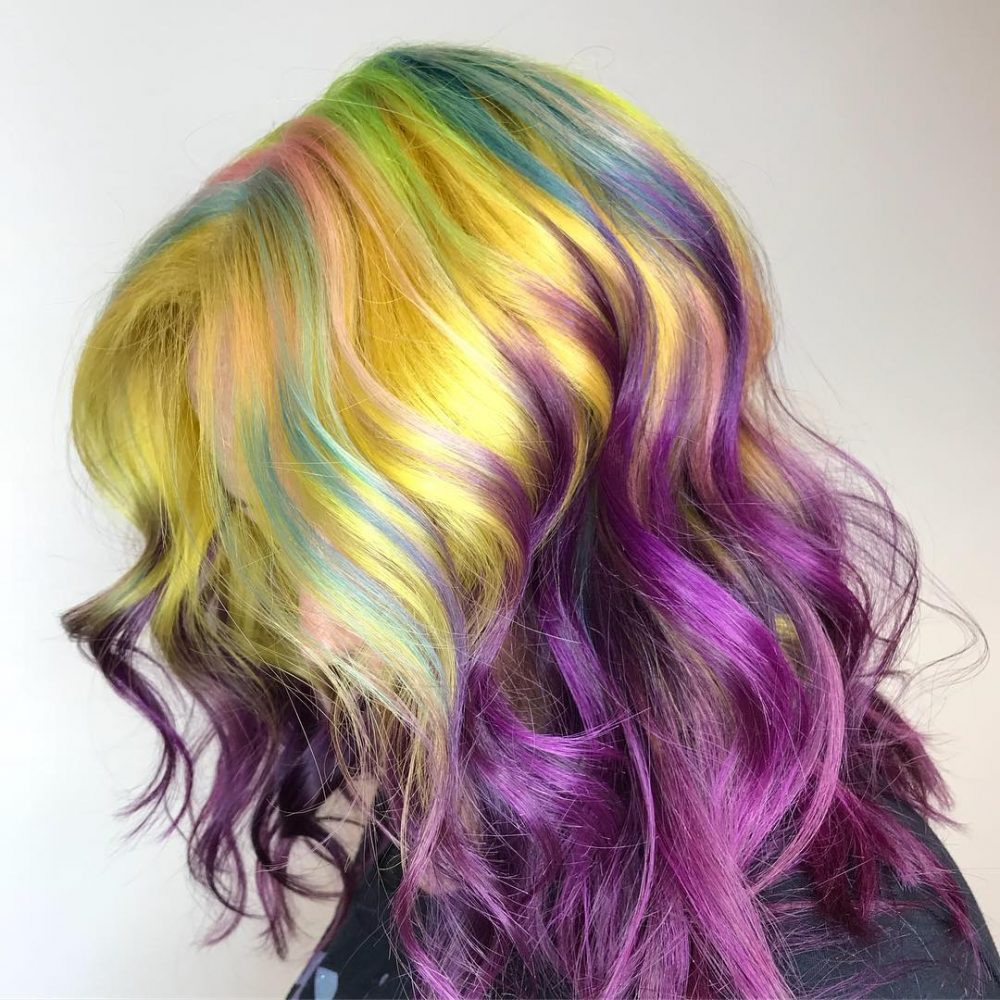 @chitabeseau
Cute hair colors like this combo of sunshine and rainbow roots are specialties of Las Vegas-based hair colorist Chita Beseau. "My favorite thing about it is that I paired it with an unconventional contrasting color to blend it into. I don't typically use purple and yellow together and haven't seen it done too often with hair color. It's something unique and happy," says Beseau.
To preserve the vibrancy of these colors, Beseau suggests shampooing the hair only one to two times a week with a sulfate-free shampoo and cool water.
"If you're set on a having pink hair, for example, be open to different hues of pink that are best suited for your skin tone," Beseau recommends.
Modern Galactic Bob
@adorebyaustin
This galactic color palette with a defined and respected classic bob cut was designed by balayage specialist Austin Nierman of Fort Wayne, IN.
"The best advice I have for a client wanting this service is to be prepared to be dirty," Nierman states. "This type of color can last up to 42 washes with a quality shampoo and conditioner. If you wash your hair four times a week, that's 10 1/2 weeks of color longevity," says the colorist.
It will fade, but Pulp Riot color fades true to tone so there is no fading to weird colors. "A blue will always be a blue," Nierman assures.
Purple-Infused Blonde
@hairbykimmyjo
A splash of purple or a purple-infused blonde, achieved by licensed cosmetologist Kimberly Altman of Ridgecrest, CA.
Altman's #1 tip for women wanting this hair color is to make sure you're using professional products at home. "The only negative with fashion colors is that they do tend to fade faster than normal colors, so this makes it very important to use a color-safe shampoo and conditioner," Altman clarifies.
Neon Lime Green with Deep Blue Tones
@fabhairbyjosh
This combination of radiant hair dye colors makes such a bold statement piece. Hair colorist Josh Rainville of Florida created this hair idea with deep blue tones at the roots and neon lime green from mid-lengths to ends.
On darker hair, this look is more of a process to achieve than with blonde hair. So, if you have dark hair and desire a look like this, be patient. "It's also is a fairly high-maintenance color that typically fades within four to eight weeks, so if you like your hair to look fresh all the time, then this may be a look you want to skip. But if you like change, you'll love the transformation in the tone of your color as it fades," Rainville points out.
At-home care is also very important with such colorful hair. Use a sulfate-free, color-safe shampoo and conditioner and wash with cool water no more than two to three times a week.
Aqua Mystery Hair Color
@anthonyjkakos
This aqua hair color for women is very edgy, fun, and vibrant. It was created by hairstylist Anthony Kakos.
Kakos recommends making sure your stylist helps you maintain this color in the healthiest way possible. He used Joicos Color Intensity in the colors True Blue/Colbolt Blue/Peacock Green/Mermaid to achieve this look.
As for maintenance, the product Viral or Gem Lites in the color Turquoise can help maintain the color. Cool water in the shower will keep the hair vibrant longer. Stay away from hot temperatures with styling tools as that can also fade your favorite hair color ideas!
Peekaboo Blended Purple
@hairby_leahgeorge
A tousled beach wave or a lived-in curl looks fun and flirty with a playful, bright blonde balayage hair color, and with a shadowed root for a winter vibe.
The graduation of different purple tones through the hair ends is a unique hair inspiration by colorist Leah George of Massachusetts. "I used Pulp Riot to add this peekaboo purple. This fun color should last at least 25 shampoos," George states.
This overall look is ideal for a woman that always likes to change her hair. Fashion colors are semi-permanent so there is no commitment.
Vibrant Green Hair
@courtgannhair
Fun, trendy, and vibrant are the words that come to mind with this green hair!
"For hair color ideas like this, I used all Pulp Riot products from lightener to color," says Missouri-based salon owner Courtney Alexander. "These colors require a little more upkeep and care than most colors. I recommend Kenra Color Charge to all my clients," she adds.
Alexander states, "Most of these colors need to go on fairly light hair, and not everyone will always be able to get light enough. I️ always like to be upfront with women wanting to do fashion colors that it really is a commitment if you want to make it last."
Punk Rock Purple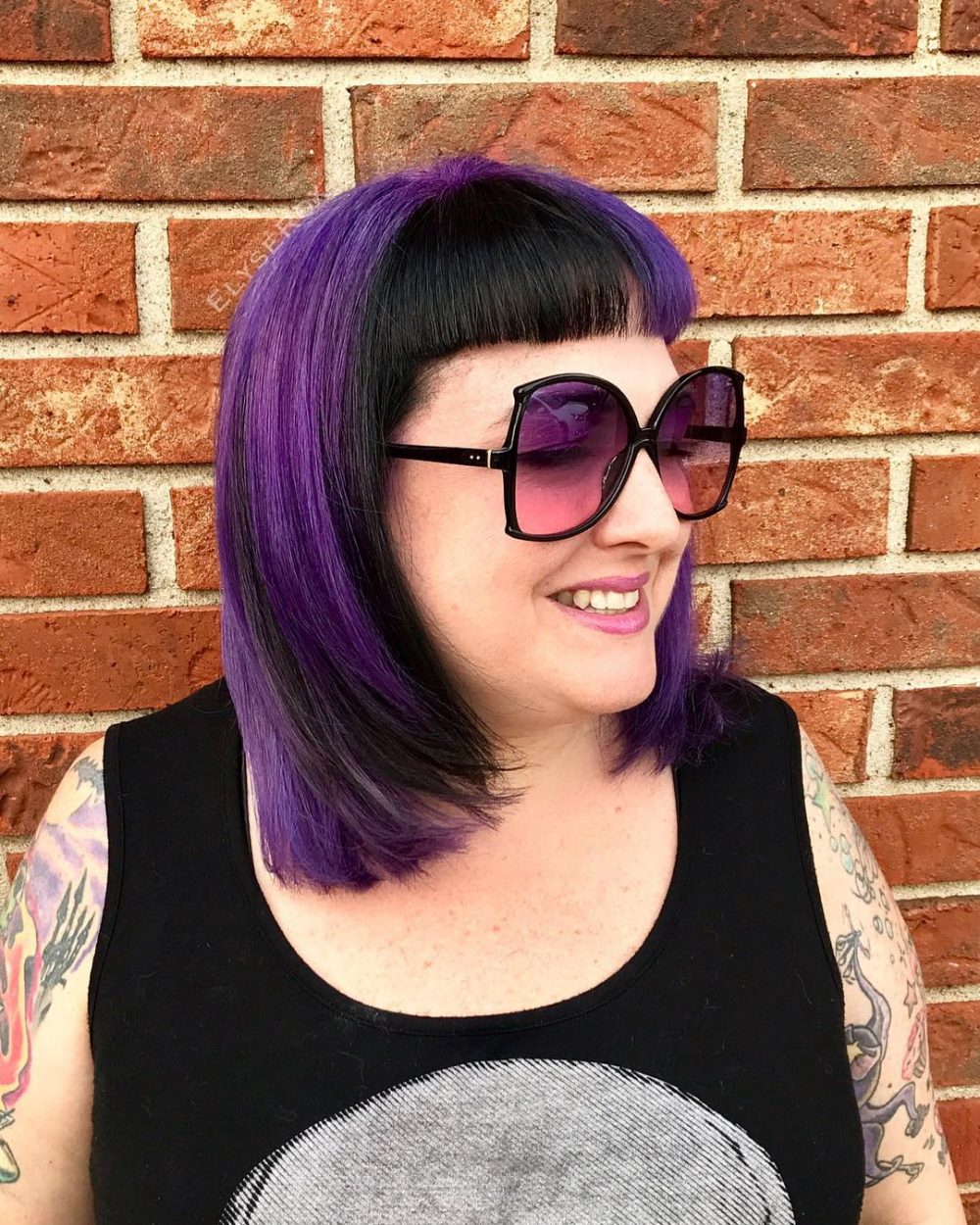 @elyserox00
This purple hair is more of a punk rock look with a Betty Bang! "Half-and-half hair is a lot of fun because you get to have two different colors on your head," says style creator Elyse Zydek.
"My favorite thing about these hair color ideas is pretty much everything! The half-and-half purple, black, and Betty Bangs are all things I love," Zydek adds.
"I used Pulp Riot hair color for the purple, mixing Smoke and Velvet together. I always mix with Olaplex to ensure that the hair stays strong. It also helps the color molecule attach to the hair to stay healthy and strong and keep it from breaking," Zydek points out.
For the black, Zydek used Color Insider 1n, foiling it in and applying the purple color around it.
Proper at-home care is also expected with color refreshing shampoos and conditioners, as well as Olaplex color bombs. "This client has very strong and thick gray hair. I feel anyone could wear this look as long as they're comfortable with it," Zydek notes.
Lavender Tone
@shayzahra
Here's a lavender tone, which is a light and fun way to change your color up without commitment. "Hair fades nicely when toned with pastel lavender colors," says style creator Rishay Sobouti of California.
"It has a soft contrast and is highly dimensional with dark hair. This was achieved with babylights small enough to lift up and tone over a soft pastel tone," Sobouti explains.
"I recommend these hair color ideas on softer skin tones and darker hair. The dimension stands out and complements each other and the cool color goes well with cooler skin tones," Sobouti states.
Silver Ombre

@theladyofhair
This silver ombre hair color by stylist Chelsea Redman of Roanoke, VA is for the women who want to be trendsetters. It's a great solution for women who don't want dull black hair anymore.
"The ombre style doesn't use your conventional color schemes but blended silver color and rich natural dark brunette hair tones create a dazzling hairstyle. The silver is perfectly done at the bottom to give it a fiery, smoky look that is hard to achieve with darker color palettes," Redman.
Living Coral Hair Color

@courtneymclarenhair
Soft-tones that you bring a wide range of hairstyles to play with! This hair color looks so chic and trendy.