25 Prettiest Lilac Hair Color Ideas for All Women in 2021
Subtle Lilac

@mona.m__royalshair
A subtle lilac shade allows hair to have a cool-toned pastel hue. Keep the roots darker to allow your natural hair color to grow out while achieving the extra depth that balances out the tone. Style the locks with soft waves for an added dimension.
Lilac Grey Hair

@ciarasbeautystyles
Lilac grey hair is perfect for naturally lighter base colors when you want to add a pop of subtle color. Lilac grey colors require a pale pre-lightened base color to carry any icy color.
Curly Lilac

@_goodnightapril
If you are looking to try something new, consider curly lilac hair. This look is very trendy and versatile, but it does require a lot of maintenance. Fashion colors often fade quickly so be prepared to see your stylist for toning appointments regularly.
Lilac Hair with Faded Shadow Roots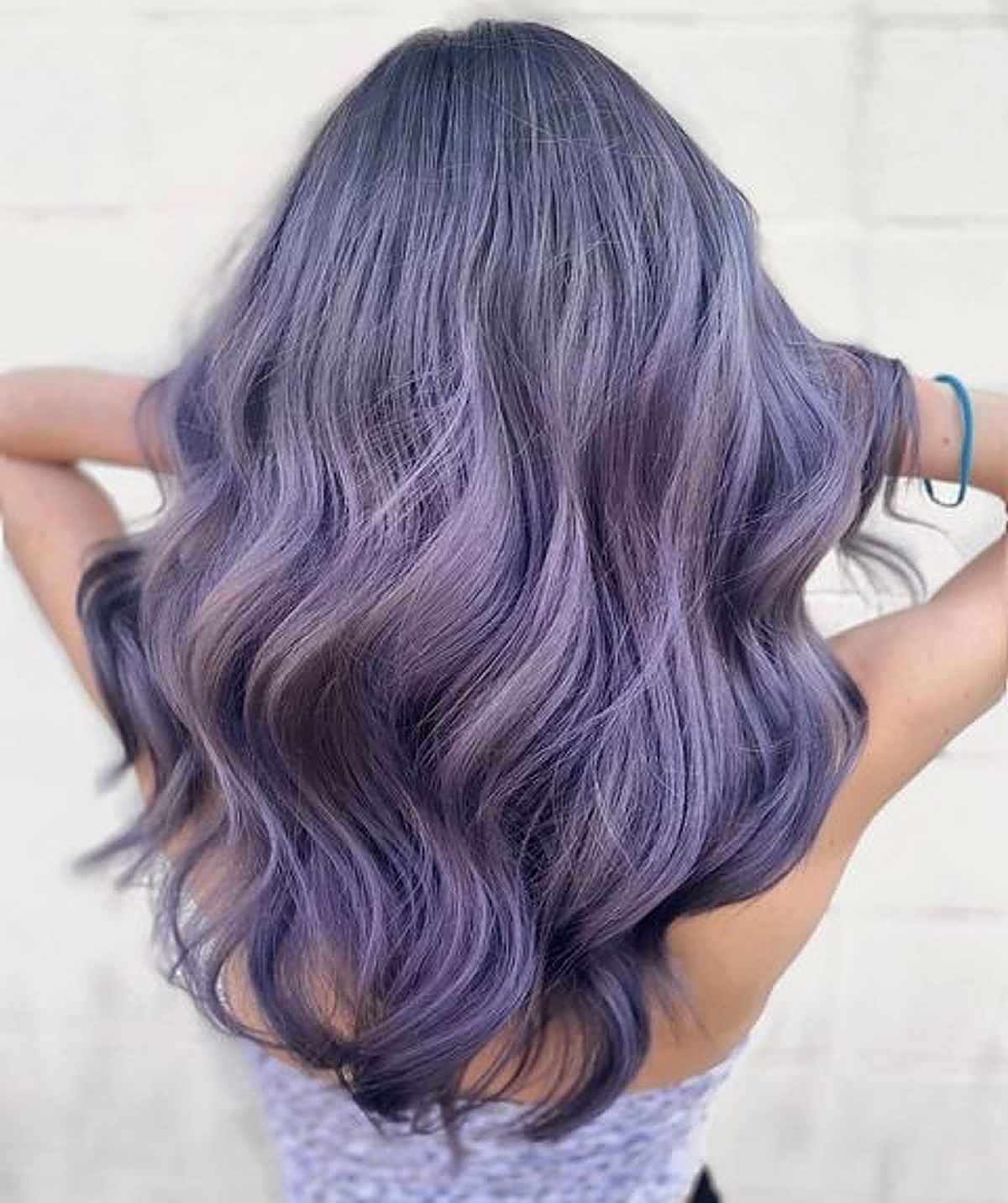 @pravana
This lilac hair with faded shadow roots is perfect for the bold, yet stylish young woman. Ensure you are ready to open up your wallet as this is a more costly service because of the delicate intricacies of this work. This relatively high maintenance color will have you wanting to visit the salon every two to three weeks to keep that lilac tone vibrant and shiny. A great option for at-home maintenance is to purchase a custom color conditioner from your stylist as well.
Lilac Blonde Hair

@lightness.hairandbeauty
Lilac blonde hair color needs hair to be pre-lightened to very pale yellow beforehand so that it can grab. It's a subtle ashy hue of lilac that looks great in combination with slightly bolder lilac roots. Prolong the life of the color by washing hair once a week, using less heat, and appropriate shampoos like Kerastase Ultraviolet and Colour Fresh Mask toning mask by Wella.
Bold Lilac

@hope.does.hair
Bold lilac hair color is a rather cool shade of purple as there are almost silver or steel secondary tones lying underneath, especially visible where the hair is extremely light, usually at the ends. The root area is colored in much bolder and deeper lilac which melts away into very pale lilac on the ends.
Bleached Lilac

@shadowplayhair
A multi-tonal bleached lilac is a pretty color for women who are already lifted to a bright blonde. With pre-lightened hair, it's crucial to know the at-hone care. Ask your colorist to mix a conditioner like Evo Fabuloso Pro to maintain your lilac bleached hair.
Added Lilac to Black Roots

@beautyybymaddiee
The added lilac to black roots is the perfect metallic balayage for women who have dark tresses. This hair inspiration will fade into an ash blonde. To get this, ask your colorist for a balayage with a touch of the color lilac. For styling, air dry the locks and do the scrunching method for natural-looking waves.
Lightest Lilac Shade for Older Women

@alexandraharrisonhair
The lightest lilac shade for older women is a great shade to try out because it blends and fades softly with the grey tones. This lilac hair dye for grey hair is achievable by adding lilac hair highlights for dimension. When styling, use hairspray or dry shampoo to hold soft waves for a chic and aesthetic finish.
Light to Dark Lilac Ombre

@salon_fryzjerski_danica_savic
This look features shoulder-length light to dark lilac hair ombre, and it looks wild! The roots have a white-blonde hue, which can be achieved with bleaching, and the result helps create that unique melting lilac color hair.
The best thing about this ombre lilac blonde hair is it can go wavy, curly or straight, or maybe in an updo like a messy bun.
Blue and Purple Lilac

@fullofsecrets_byhannahedwards
Don't you love this blue and purple lilac combination? It embodies a darker but luscious shade that looks amazing!
To show off the tones in this bluish lilac-purple hair, style the mid-lengths and ends with curls. Leave the top area straight for a more refined finesse.
Dark Lilac Dip Dye

@jocelynwoodhair
Test out the waters with a cute dip dye trend by adding a lilac color to just the tips of your blonde hair. Its beauty sure can complement any hairstyle – a tousled short bob or a long wavy mane.
Ashy Lilac

@studiofixbyalexcarbonell
The ashy lilac shade is a superb gloss for medium-length dark tresses. You can always go lighter without opting for a blonde hue, and the result is still fantastic. Since the lilac color looks soft, it's sure to go well with soft waves, too!
The ashy lilac is about going extremely blonde with the thought of easy maintenance. It was created by hairstylist Alexander Carbonell of Makati, MLA.
"When hair is converted to its palest blonde, it's best to neutralize with cool tones such as amethyst or silver," he notes.
Carbonell says to always follow these tips:
– Wash with sulfate-free or purple shampoo such as Aveda Color Conserve Shampoo and Conditioner.
– Leave leave-in conditioner especially on the hair ends.
– Before night time, apply nighttime repair serum of Balmain, for whole night repair.
– Use Masque 3-4 times a week as hair protection.
Chocolate Lilac with Dark Roots

@andreasstettin_hamburg
This chocolate lilac hair with dark roots proves that brunettes and with dark skin can wear a chic dimension! Waves are always stunning on colored locks, too! The hair color has a very subtle purple undertone with hints of rose gold that add warmer tones and playful detail.
For ladies with virgin hair, feel free to choose a lilac hair dye semi-permanent, so it looks more natural and is less harsh to locks as it won't need any bleach. If your hair isn't virgin, ask your stylist about a lilac temporary hair dye or even lilac hair extensions.
Lilac Highlights on Blonde Hair

@charlottegoodship.stylist
This metallic lilac hue is just amazing for summer! Fresh lilac highlights, toner, and beach waves look gorgeous on a wavy lob. Ask your stylist for a lilac hair toner to achieve this result.
Lilac Purple and Blonde Balayage

@jinniejinniedc
Featuring a pinkish lilac purple and blonde balayage that's sure to blow everyone's mind! That vivid pigmentation of hair follicles carries out a vibrant tone that ladies with a cooler skin complexion can wear.
This lilac balayage proves that going lighter doesn't always mean opting for a blonde hue. It's fun to experiment with pastel purple shades, too!
Silver Lilac Balayage

@honeyhousehair
This beautiful lilac silver hair has a glazed purple ombre hair finish that's one to take note of! Styling such shades of lilac hair with waves complements the blend of color and the lilac ombre hair shines gorgeously under the light.
Short Lilac Hair

@gabycortarte
Such short lilac hair shows a lot of charisma and confidence. Blow-dry the hair to create that undone, textured style and match the color's sassiness.
This is the best lilac hair dye that has a light but loud violet shade that benefits women with a fair skin tone. With its gorgeous tones, you'll love this as your permanent hair dye.
Smokey Lilac Balayage

@glam.by.heather
A glamorous icy blonde lob cut with hints of a lilac purple hair color is a total head-turner! Pair these smokey and faded lilac strands with side bangs for a face-framing effect.
Grey and Lilac

@maryk.hair
The combo of grey and lilac with some shadow roots creates a dimensional grey lilac hair color. Achieve a better result with light curls or a soft wavy texture.
This lilac grey hair trend benefits women with a lighter or olive skin tone the most.
Metallic Lilac

@lovehairbyrose
This pastel shade is a silver lilac amethyst was created by hairstylist Rosalee Rios of Ocala, FL.
If you're thinking about hair coloring, Rios says there are some things to keep in mind.
She explains, "first, the canvas must have a blonde base. Sometimes this takes multiple sessions to achieve a pure blonde that reflects the color beautifully. Not that you can't achieve it on dark blonde tones, they just come out more subtle and not as bright. Next, lilac hair dyes last about 8-12 shampoos."
Lavender and Lilac Blend

@mermeg.hair
A lovely lavender and lilac blend on long hair adds a cool and creamy brightness. Jazz it up with subtle beachy waves, and the texture will accent the lavender hair color's dimension.
To keep the locks' glossy, weekly hydrating masks and conditioning treatments are essentials. Now, this is a great sign and reason why you need to color your hair lilac!
Lilac Pink Color in a Braided Half-Up Style

@mojkahair
The contrast in tones of this lilac hair color dye was created by stylist Joshua of Australia.
"The cooler tones of the pastel lilac hair dye through the roots offset the soft peachy pink of the ends making it pop without overwhelming the skin tones," he notes.
This lilac-colored cotton candy hair creation will suit women who want a softer look for the spring with colors that won't require a change in makeup.
"Maintenance is a little more work," he explains. "To boast violet pigment, a specific shampoo and conditioner should do the trick, but limit hair washing to a maximum of twice a week."
Platinum Lilac Hue

@kellymccormickhair
This shade of lilac is a fun and bright lavender pastel color created by hairstylist Kelly McCormick of Asbury Park, NJ.
"Sometimes lavender can be more muted or silvery, but this is definitely brighter," says McCormick. "Also, you can tell she's still platinum, so it doesn't make her feel like her hair is dark."
She continues, "you definitely have to be blonde to achieve this pastel hair color. Sometimes even if these colors look dark the hair has to be lightened to a certain level to achieve a specific tone."
You have to be open to enjoying every step of the fade. Eventually, it will wash up to your blonde underneath. All colors fade a little differently and purple is usually the safest way to go because it'll leave you with the best blonde color when it's all faded out.
Purple Shade of Lilac on Brown Hair

@poppysunstephens
Here's a purple shade of lilac on light brown hair, and it's giving off a very stylish and eccentric combo of tones. The dimension is so chic and edgy at the same time. It works for ladies who love experimenting with colors.
Good news for women with fair and olive or tan skin complexions, lilac hues like this one offers a cool tone that complements them. As always, a great home care routine for damp hair and dry hair is encouraged.