32 Cutest Long Layered Haircuts Trending Right Now
Platinum Long Layered Hair
Credit: Cara Loren
Extra long hairstyles with layers like this one boast a trendy shadow root and platinum colored tresses that go on for days.
Long Layers with Bangs
@danielmbeauty
This long layered hair with bangs is a gorgeous example of what you can do with scissors and extensions. Stylist and Colorist Daniel Mora did a beautiful job blending the layers and the various shades of golden brown. This is one of the best examples of long layered hairstyles with bangs you'll see this season.
👉See more long haircuts with bangs
Platinum Blonde Layering
@hairandmakeupbynatparker
Long layered hairstyles are perfect for diminishing strong facial features and this one does a great job. The dark roots melting into the white blonde hair really bring out a modern, feminine layered look.
Shaggy Layered Waves With a Side Part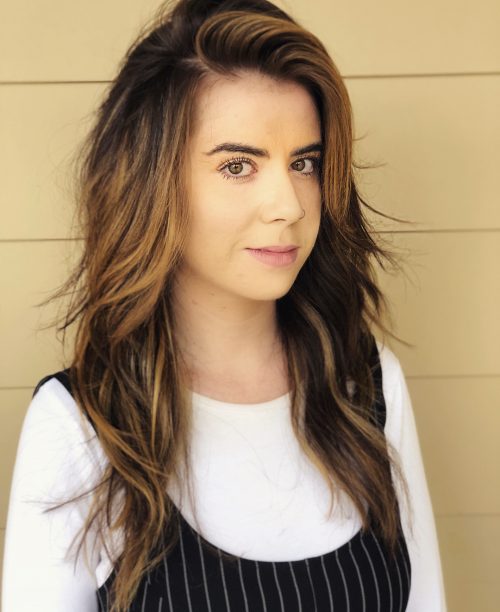 @salondm3
The deep side part of this hairstyle would be a gorgeous Fall season look. For shaggy long layered haircuts, long hair gives lots of dimensions like this one.
Layered and Long with Curtain Bangs
@sambolognese
Very chic and feminine-looking! A chop that's layered and long with curtain bangs can frame the face and accentuate the cheeks. Flaunt it with the golden brown shade, and you'll achieve that beautiful softer finish.
Very Long V-Cut Layers
@kuki_klobucista
Take a look at this hair makeover with a cascade of medium length layers using the step cutting technique. Trendy long layered tresses like this v-cut on long hair adds dimension and body, which is perfect for women with thinner hair.
Elongated Jet Black Tresses
@briandersonstylist
This jet black long layered haircut looks gorgeous on women with darker skin and extra-long hair.
Light Brown with Lengthy Locks
@shearedbysimone
Q&A with style creator, Simone Ulatowski
Stylist @ The Bernards Salon in Bernardsville, NJ
How would you describe this look?
This look is razored long layers on long length hair. The advantage of a razor cut for this look is that you don't have to sacrifice length for movement.
The wispy layers are kept lengthy so that the bottom line is not too skinny, giving the appearance of stringy hair. But cutting with a razor allows the ends to have plenty of free-flowing movement if the hair is blown-out smooth or curled.
This long hair was blown dry with a Mason Pearson flat brush, yet it still has a lot of movement – that is my favorite thing about it.
Any advice for someone considering it?
The maintenance of this cut is minimal, and the shape can work for any face shape. The length of the layers just needs to be adjusted according to the density of the hair and preference of the client.
One thing to consider is whether a client would want their hair cut with a razor or not. Some people have an aversion to a razor cut because they may have had a bad experience with it.
Because of the movement of this haircut, it really works well for someone who blows their hair out every day or for the client who wants to encourage their natural wave or texture and lets it air dry.
Layers for Long Straight Hair
@takeshishukuya
Dramatically layered lengthy tresses with a face-framing center part make this a perfect straight long layered cut for women with thick hair. The swoopy layers are so soft and feminine.
Q&A with style creator, Takeshi Shukuya
Senior Hairstylist @ Koji Toyoda Salon in West Hollywood, CA
---
How would you describe this look?
This is a sun-kissed look with lots of movement that allows for versatile styling. No matter which way you part the hair or style the long hair, layers will always lay beautifully.
Any advice for someone considering it?
For long layered hairstyles like this, it's important to use a good conditioner to keep your hair healthy, shiny, and strong.
Shaggy Long Layers
@sacrificial.combs
Glow up by wearing this gorgeous long layered haircut! This chop offers shaggy long layers for optimum movement and texture. The curtain fringe creates a soft face-framing effect and has enough length to pin it back and out of the eyes. Use a diffuser to dry the hair, then the R Co Motorcycle Gel plus High Dive Moisture and Shine Creme for the final touch.
Edgy Wavy Layered Cut
@danionyourdome
Feeling a funky and edgy vibe? Try this heavily textured, dark brown long layered strands.
Q&A with style creator, Dani Maloney
Stylist @ R Salon PHX in Phoenix, AZ
---
How would you describe this look?
I'm so inspired by bohemian, natural, beachy long layers. When I look at Sierra's hair, that's exactly what I see. Long layered hairstyles just seem to provide that perfect beach-ready style.
I see a wash n go style that's still modern and up to date. I love that women who have a low maintenance style can still have a modern look that works for their everyday life.
Any advice for someone considering it?
If a customer came in and asked for a natural look but also some texture, I would recommend something like this cut, with barely-there layers.
Sierra has a natural wave so we worked with it to create something she can manage with little fuss. I love IGK Rich Kid for an air dry or diffused beach texture. I would then use a 1/12 inch iron and create soft waves. I would finish with a texture spray (Beach Club Texture Spray by IGK), as I finger through the waves to create a natural look.
This style would take very little time in the morning but such a fresh look. Personally, I love this style as second-day hair with a touch of texture spray to freshen up.
Layered Long Shag
@jackie_smithwick
Q&A with style creator, Jackie Smithwick
Hairstylist @ Style Divita in Kill Devil Hills, NC
---
How would you describe this look?
This is a long layered shag that gives you a little more edge than the traditional ones. Joan Jett and Farrah Fawcett were 70's icons that rocked this style with full swag!
Any advice for someone considering it?
Considering this shag with layers, long hair haircuts can be fine or thick hair, and practically for any face shape. It adds extra volume and texture and gives you a modern look.
You can style a shag many different ways. For a sleek look, try an oil or serum when almost dry.
For a more tousled, worn look, use a textured mouse when wet, hit it with a little dry shampoo when dry and let those windows down!
Whether your client is someone who likes to roll out in the morning with a little Powder Play or someone who takes the extra time on their look for the day, this cut is great and can be styled differently for everyone.
For the curly hair shag, get some major curling mouse. My go-to product is TIGI Queen for a Day thickening spray as it gives texture. As you're drying, you can place pieces of hair where wanted, so when completely dry you have movement and volume. I always hit a shag with TIGI Oh Bee Hive dry shampoo once dry to give that tousled modern chic look.
Long Blonde Layered Hair
@vielkisavilahair
Here's long blonde layered hair to showcase your passion for everything glamorous. Beautiful and low maintenance—these are enough reasons to go for this look. This is one of those long hairstyles with layers that appear even better if styled with beach waves.
Collarbone-Length Tousled Layers
@maren.stylist
These delightful espresso brown hair colors on this long layered bob go perfectly with tan skin.
Q&A with style creator, Maren Mahlman
Hairstylist @ BBMA The Salon in Woodland Hills, CA
---
How would you describe this look?
The combination of babylights and balayage makes this layered long bob effortless and classy. The best thing about this is that it's a once every three-month service! It's a very low maintenance color and layered hairstyle for long hair.
Any advice for someone considering it?
This long layered hair is great for most clients, especially for fine hair. 1 1/4 inch curling iron is best for a loose wave. My favorite finishing product is Badlands from R & Co for a little root boost and texture.
Waist Length Texturized Choppy Layers
@yukistylist
Q&A with style creator, Yuki
Dry Cut Specialist & Educator / Owner @ Gavert Atelier in Beverly Hills, CA
---
How would you describe this look?
This layered, waist-length hairstyle can be described as undone, texturized, beachy tresses. I use the dry cut technique in order to see how hair reacts.
When it comes to these choppy layers, long hair gives it more natural and effortless hair trends right now.
Any advice for someone considering it?
This look is great on any face shape. She has fine hair and the beachy waves add a lot of body.
To style, I used a 1 1/4-inch curling iron and curled random section to create the undone waves. After curling, I used Milbon Texturizing Spray to add body and softness.
Loose Wavy Layers for Fine Hair
@studiovangogh
Featuring loose wavy layers for fine hair to let you achieve a look with more texture and movement. The thing about this layered long hair is it helps you keep your beauty while growing out a mid-length chop. Long layers for fine hair are also guaranteed to upgrade your warm blonde ombre.
Curly Layers for Long Curly Hair
@hairondisplay
Wear this long layer cut on any casual event you need to go to. These curly layers for long curly hair can make you stand out as you flaunt your natural texture. It's one of the best layered long hairstyles for women who have fun and lively souls. Moreover, it's one of the ideal layered haircuts for long hair with dark brown and golden blonde hues.
Long Choppy Layers
@bthalia13
Q&A with style creator, Bianca Herrera
Hairdresser @ Bescene Studios in Silver Spring, MD
---
How would you describe this look and what is your favorite thing about it?
This is long straight hair with layers. I like the perfect blend from going natural to long blonde. My client asked me what can I do to grow out my natural into the ash blonde I already have, and that's my favorite thing about this look. The mix between babylights and balayage blonde highlights make it look so seamless. I love that she will be able to wear this look for the next several months and it will still look like she got it done because of the rooted sombre.
What products do you recommend to maintain and recreate this look?
To style, I recommend starting off with a heat protectant on damp hair. I like using Subtil 10 because it has ten benefits to using it! Follow with a straightening balm like the Oribe Balm d'Or to smooth the ends with a medium round brush. Finish off with Oribe Impermeable Anti-Humidity Spray to keep the frizz away.
What type of client would you recommend this look for?
I recommend this hairstyle for anyone with coarse to fine hair. It's just a versatile look for those who want their natural hair color to be a part of their balayage. The brightness and face-framing will open up any part of the face that you feel is too closed off. The cut also help enhance the color creating movement.
I always love creating these looks on people that want to have that updated look or transition to a blonde balayage instead of highlights or lowlights but don't always have the time to come in every six weeks for a highlight touch up. It's so easy to have this grow out and still look like a beautiful, natural sombre. Ombre hair coloring just provides great detail to layered hairstyles for long hair.
Layered Hair with Beach Waves
@rosiepieternelle
If you're going to a formal event and want to flaunt your gorgeous, flowing locks, then this hairstyle will certainly do the job. It's also a youthful and head-turning look for women over 40.
Q&A with style creator, Rosie Pieternelle
Hairstylist @ Mark Garrison Salon in New York, NY
---
How would you describe this look and what is your favorite thing about it?
When it comes to long hair, layered haircut ideas this year are all about beach waves that are sexy and effortless. My favorite thing about this is that it's a beautiful look that can go with any outfit at any time of the day.
What products do you recommend to maintain and recreate this look?
The products that I recommend are Phytokerarine Extreme for heat protection, Phytovolume Actif Intense Volume Spray, and Phytolaque Soie for a soft hold.
What type of client would you recommend this look for?
I recommend this hairstyle to any client regardless of the face shape or hair thickness, but it would look best if the hair is below the shoulders.
Golden Blonde Layered Hair
@payton_at_thehairartiststudio_
This curled golden blonde long layered hair cut and color would work beautifully for a prom or wedding look.
Q&A with style creator, Payton Baxley
Colorist @ The Hair Artist's Studio in Lake Norman, NC
---
How would you describe this look and what is your favorite thing about it?
I would describe this as a dimensional blonde. My favorite aspect of this hair is the blend! It's a mixture of her natural color, a lowlight around her face (where most women show grey first), and a beautiful golden blonde highlight to set the contrast and match her skin tone.
What products do you recommend to maintain and recreate this look?
The product I would recommend is an intense daily conditioner. Saints & Sinners has a great one. My motto is "longer hair is older hair" because it's been around the block a few times and it needs more than a basic conditioner to look healthy. If your hair is fine, make a ponytail and put it on the end of the ponytail, do not touch your scalp area. Without a good conditioner the hair will break.
What type of client would you recommend this look for?
I would recommend this color for a client that wants to blend their grey and has a warm or olive skin tone. The long layers pair well with an oblong, round, square or heart shaped face.
Textured Long Layers
@jacqueline_villa_
Spice up the already stunning long cut with layers and a warm caramel balayage. The textured long layers emphasize the lighter hue, creating a better dimension. For richer and healthier-looking hair, apply a shine-inducing oil onto your strands.
Long and Layered Shag
@__hannahv
Long layered haircuts are so hot nowadays! Remove weight from your long tresses but with style. Here's a long and layered shag that provides a fresher aura. It's a solid proof showing how long layers, curtain bangs, and a blonde shade get along very well.
Long Face-Framing Layers
@thathairthough_
Avoid flat and lifeless look with these long face-framing layers. These layers remove a lot of weight, giving your black tresses added body and movement at the bottom. Layered and long hair needs trimming every 6-10 weeks to keep it healthy and without split ends. Tousled layered cut for long hair like this does magic on straight texture and fine density, for sure.
Layered and Textured Cut
@missyhixhair
Q&A with style creator, Melissa Hicks
Hairstylist @ Image Artistic Salon in Fleming Island, FL
---
How would you describe this look and what is your favorite thing about it?
This haircut is long and layered hair with texture. We used V-shaping in the back then added in her flipped out feathery layers. We did an elevated face frame technique and shattered her ends for a more piecey look.
My favorite thing about this haircut is the way it tapers down. It's not straight across and I believe this adds more character to the style!
What products do you recommend to maintain and recreate this look?
I always recommend a heat protectant first and foremost. Use a root pump mousse on the roots before blow drying, and a texture spray and hairspray for the ends.
What type of client would you recommend this look for?
I recommend this look for anyone looking for something a little different than your traditional layered haircuts for long hair. It's fun and uplifting! It could work for someone with thick to medium hair. I would texturize ends more on the thicker hair. I wouldn't recommend this cut for fine / thin hair because of the intensity of the layers. It would remove too much weight.
Subtle Layers
@caleighmoriahhair
The dark contrasting with the ashy long hair with layers give this a very casual, yet super-stylish look.
Q&A with style creator, Caleigh Giarra
Hairstylist/Balayage Specialist @ Haven Hair Co. in Nashville, TN
---
How would you describe this look and what is your favorite thing about it?
Long hairstyles with layers like this look natural and subtle. The color gives just enough pop and dimension. My favorite thing about this look is the warmth of the balayage. I think warm caramel tones enhance brunettes perfectly.
What products do you recommend to maintain and recreate this look?
To help create these loose waves, the products I recommend are a blowout balm like IGK's Car Service, or a moisturizing hair lotion such as IGK's Mistress. You need just a little something to keep the hair hydrated and protected from heat styling.
What type of client would you recommend this look for?
Long haircuts with layers like this are great for anyone that desires something low maintenance and natural. This color only needs to be touched up a couple times a year and is perfect for a brunette that just wants to enhance her natural color. It's a great look for all types and textures of hair.
Long Layered Hair with Side Bangs
@glamourembalmer
Q&A with style creator, Sandra
Senior Stylist @ The Local Salon in North Hollywood, CA
---
How would you describe this look?
One of my favorites for long locks is face-framing layers that taper into long layers towards the back. Creating an invisible shag around the top crown can be worn in its natural state or styled with extra "Bardot" retro volume.
Her hair is naturally dark, and we gave it two different shades of ash babylights. Really fine highlights give a natural sunkissed look. The placement of these highlights adds fullness and low maintenance upkeep.
Any advice for someone considering it?
My favorite thing about layers on long hair is the versatility! It's easy to style or not style. It can be thrown up in a top knot or low bun with flirty pieces that fall out around the face creating side-swept long layered bangs. It's perfect for wavy hair, hair that's naturally air dried, or hair that likes to be blown out with lots of body and volume. The color adds lots of depth. Whatever you do, your style will look great no matter what!
Long Feathered Layers
@ramseytobey
Short layers for long hair give you a feathering look that's effortlessly stylish.
Q&A with style creator, Ramsey Tobey
Hairstylist @ Beauty Bar Boutique in Wilmington, NC
---
How would you describe this look and what is your favorite thing about it?
I would describe this look as long hair with short layers, as opposed to calling it a "long layered cut." My favorite part about this haircut is all the movement and body it has while still keeping the length. I used my razor to do a razor cut for a lot of the interior layering, then cleaned up the perimeter with my shears.
What products do you recommend to maintain and recreate this look?
For this style, I would use a flexible gel to give it hold while keeping it soft. My favorite gel to use for a blowout is Oribe's Gel Serum. Use it with a round brush and your blowout will last for days!
What type of client would you recommend this look for?
Short layers on long hair can really work for anyone with medium density and medium textured hair. This shape is really good for ladies with round shaped faces because of the length. It elongates the face. It's also a good haircut if you like to play with your style. It's great for long updos and would look beautiful curled with a wand.
Glamorous Blowout with Long Layers
@arconewyork
Whether you're attending a party or going out for a romantic evening, these flowing dark chocolate colors will surely impress. Add a middle part to really let the long hair flow down to show off all of the layering.
Q&A with style creator, Emilio Borrego
CEO @ ARCO Salon in Brooklyn, NY
---
How would you describe this look and what is your favorite thing about it?
We trimmed her split ends and gave her beautiful long layers, adding depth and texture and allowing her to have that effortless glamorous hairstyle. We love everything about this look. Not only is her hair gorgeous, but the integrity and health of her hair and scalp is restored!
What products do you recommend to maintain and recreate this look?
We are an eco-luxury salon and use only holistic 100% vegan hair products, including color. For this look, we used Oway's Bio-Rich water to set the foundation of the cut to add vitamins and protein to the cuticle. We also used Oway's Silk-n-Glow serum and the Glamshine spray to add shine and silkiness.
What type of client would you recommend this look for?
This long hair with layers is for anyone that's wanting that effortless glamorous blowout look. It's perfect for someone with long hair that likes to wake up and go in the mornings for work and goes out after with the girls for happy hour.
Layered U-Shaped Cut
@sagiakosgeo
This type of u-shaped layered haircut for long hair is awesome to keep a bouncy hair while maintaining length.
Layered Wavy Hair
@caitlinchristein
This layered wavy hair, when paired with blonde balayage, makes a stunning go-to look. Wear this long haircut with layers to give your ends more texture. When styling, hold the flat iron horizontally. Then, take wide horizontal sections while curling the hair. This way, you'll get a more wavy hair look instead of the classic, tight curls.
Textured Layering for Long Thin Hair
@amanda_may_artistry
This is how you freshen up your fine tresses with dark-rooted blonde balayage! The perfect textured layering for long thin hair does exist, and it adds lots of texture like magic. This layered hairstyle for longer hair also suits natural wavy texture. To prep long layered hairstyles like this, use a dry texture spray to work on the body and texture.
Choppy Layers for Long Thick Hair
@hair_by_britters
A long hairstyle with layers that works fine with waves and golden blonde highlights! Make your styling a breeze with this masterpiece. These choppy layers for long, thick hair offer tons of texture and boost volume that you'll love.