21 Best Military Haircut Ideas for a Clean and Crisp Look
Beard Faded Taper

@ayuso_mr.lowfade
Beard faded taper is a good haircut for men of all ages. This cut comes highly recommended for men looking for a fresh, trendy look. Make sure to mention to your barber not to go too high on the taper.

@dyedhappy.byholly
A low fade military haircut is a short, tidy cut with a polished finish. It has been taken down to the skin, around the ears, and faded tightly into the top. A strong pomade will keep the hair on top under control and compliment the overall style.
Short Crew Cut for Receding Hairline or Thin Hair

@stylez2die4
A short crew cut for receding hairline or thin hair is almost the only option when struggling with hair loss. A lot of men struggle with these issues and don't know what to do with them. When considering a haircut with a thin or receding hairline, the shorter you go on the sides, the more hair appears to be on top. It is a haircut trick to keep in mind when considering a style with receding or thin hair.
The Regulation Cut

@dimasbarber
The regulation cut is a simplified haircut. It is about one and a half on the sides, leaving a short, clean-cut that is not showing much scalp. It blends into a professional combover on top. It is a perfect military regulation cut for on-duty military men or career men.
The Undercut Hairstyle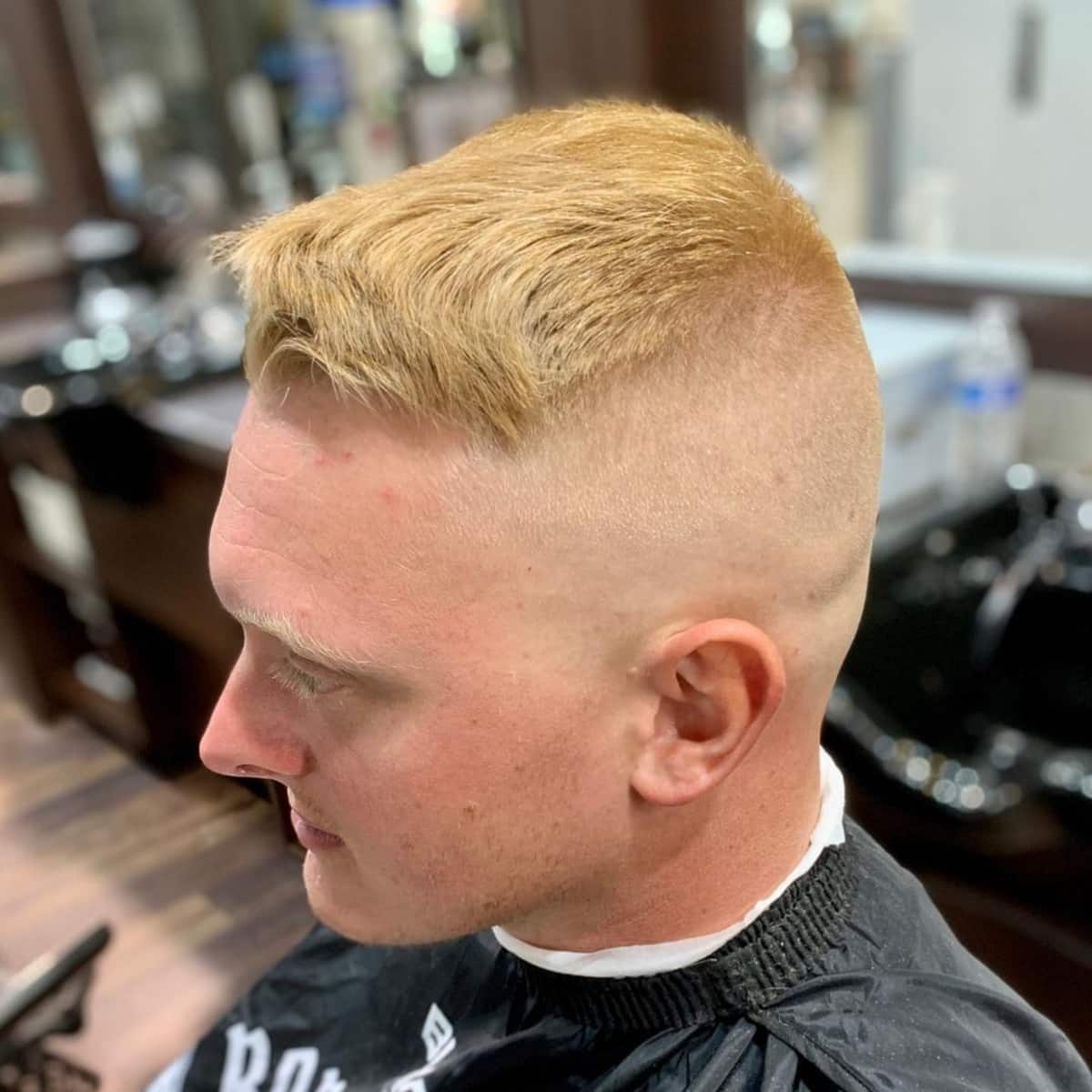 @thejvbarber
The undercut hairstyle is growing very popular among military men. High and tight skin fade along the sides are accepted within military guidelines. I'll recommend leaving about two finger-length of hair on top. It gives a perfect length for styling.
The Regulation Style

@dyedhappy.byholly
The regulation style is a military haircut that falls within regulation rules set for haircuts. The high skin fade gives any soldier a clean look that keeps them looking cool while in the field. Combine that with a comb-over on the top, and you will have a style that will look good any time, any place, from the military field to the office. You'll be ready for anything!
The Induction Hairstyle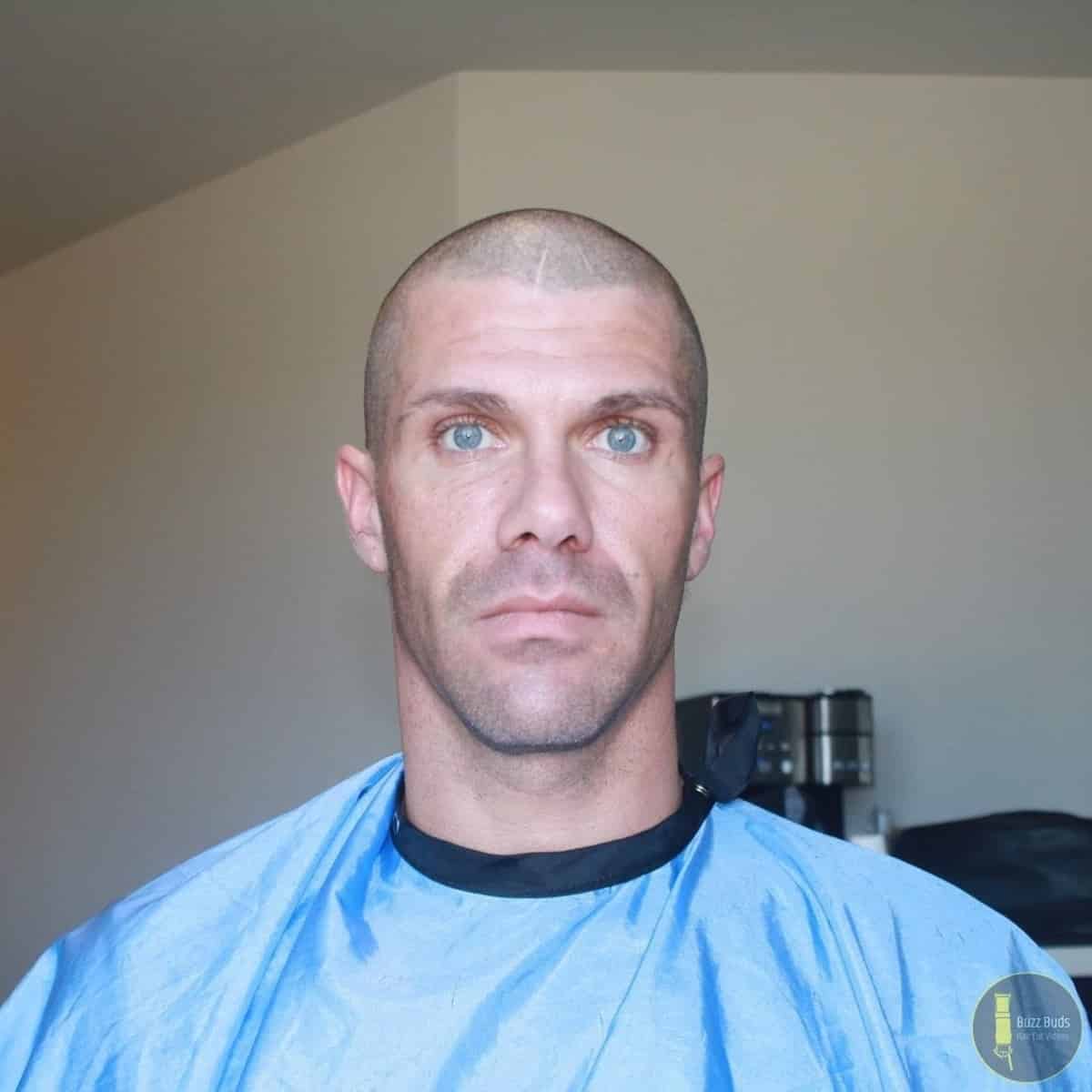 @buzz.buds
The induction hairstyle stands out as the first cut given to new male recruits in the military. A military haircut, in general, may seem like a "one size fits all" solution, but the induction cut benefits military men with a thinning hairline or more chiseled features. The induction hairstyle is easy to manage, easy to cut, and offers longevity because of its short and even length.
The Butch Cut with High Fade

@borys_lee
The butch cut with high fade is the way to go for a low-maintenance and on-the-go military hairstyle. The high skin fade on the sides makes the butch cut low-maintenance, giving any man at least a month in-between visits to their local barber. It's a great option for any man with a hectic schedule with not much time for self-grooming.
The Covert Cut with Beard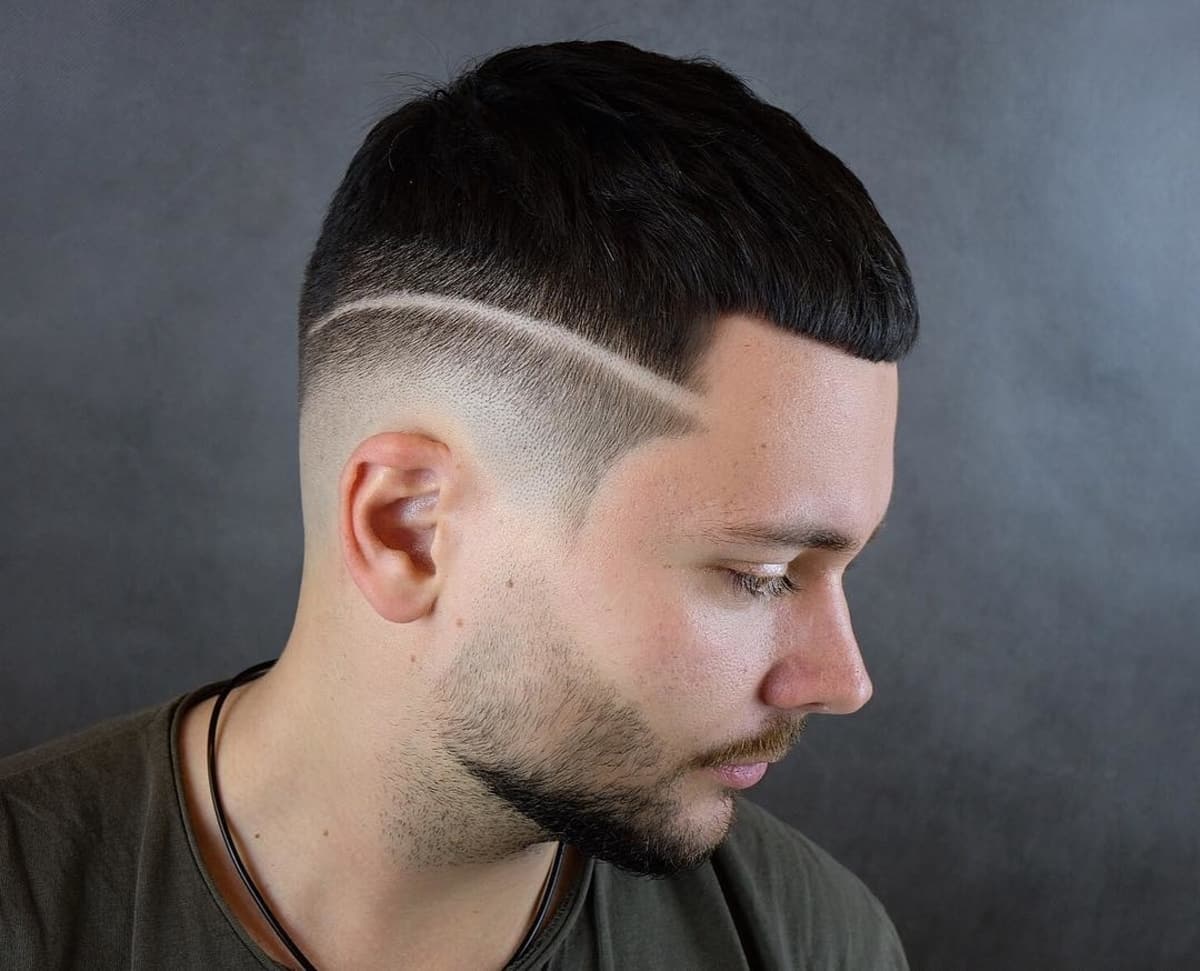 @borys_lee
The covert cut with a beard is an appealing option when going for a skin fade. It starts with skin tight and tapering to a crop cut on top that smoothly transitions from its regular fade, down to the beard with razor-sharp lines. Consider a slightly curved hard part in between the transition of the fade to make the covert cut stand out, making you more attractive.
The Short Buzz Cut with Mid Fade

@sami_barbershop
Opt for a short buzz cut with a short mid fade that's easy to style. Even though it's short and tight, the hair length on top does not need much effort in styling, while the fade gives a clean, edgy feel to the overall look.
Cool Flat Top Haircut
@_deraf_tacchini_
Try the flat top haircut for extra height and volume on straight fine hair. This show-stopping cut is easier to achieve for men with longer hair. It requires styling to keep in place, so try using Aveda's volumizing tonic when blow-drying the hair in an upwards motion. Finish it off with Aveda's Control Force Firm Hold Hair Spray to keep the style in place all day long.
The Military Crew Cut

@luigi_messer_raimondo
The crew cut works great on thick hair types. This army haircut features tight sides that show off a clean finish with plenty of messy texture on top for a super sharp style. No need to add product, but you can try Aveda's Control Paste for an added shine on your hair.
The Messy Brush Cut with Skin Fade

@maxprivilege_
The messy brush cut with skin fade is a trendy spin to a classic military cut. The skin fade is and will always be a popular choice for men. Now, the messy brush cut on top has plenty of texture to make styling fun and easy. It's a trending choice for young adults.
The Burr Cut with Faded Sides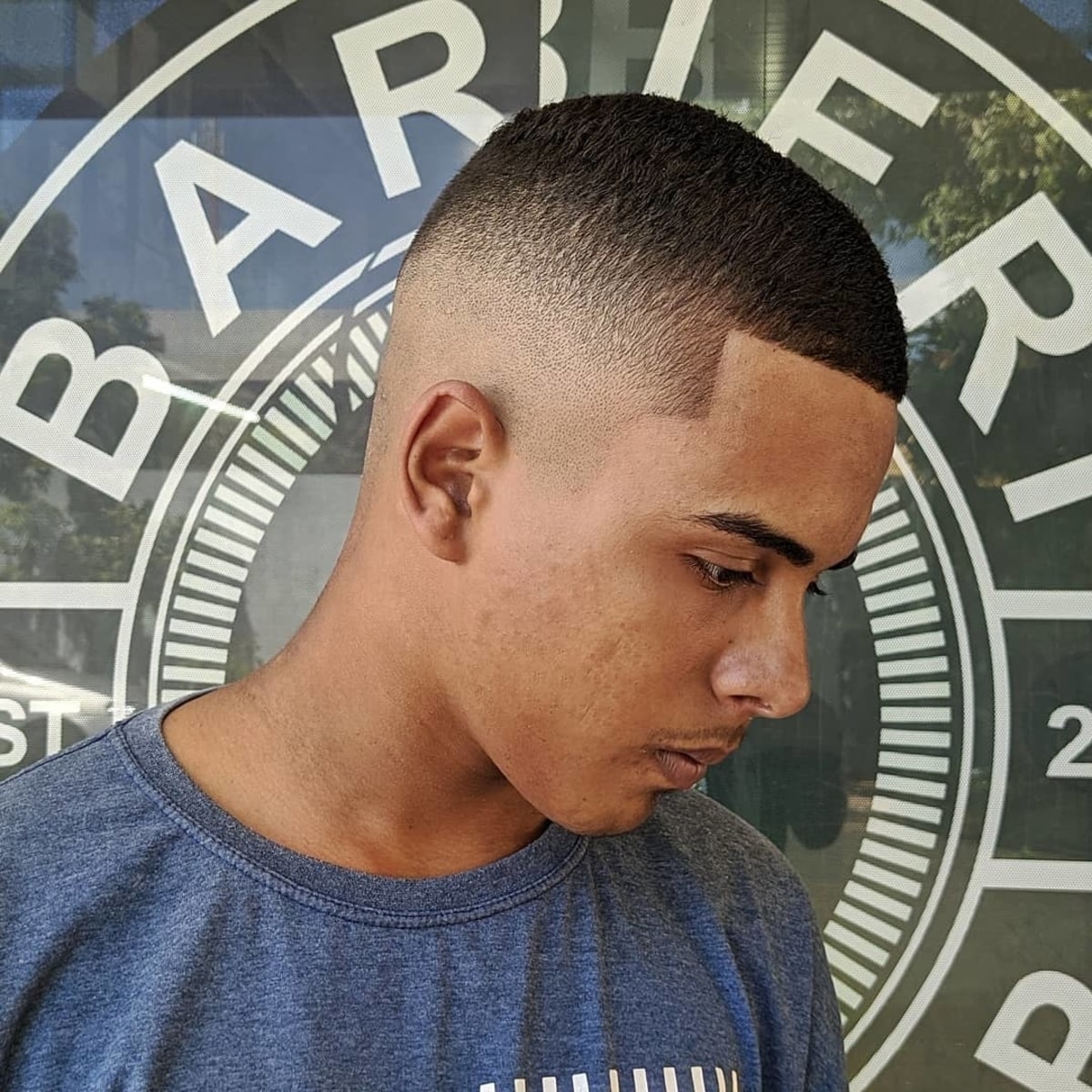 @andersonbarbiieri
The burr cut is a variation of the skin fade that gives men plenty of options to choose from. Finger length on top allows for versatile styling. It can be to comb to either side, forward, or backward. Add a small amount of hair product and style as often as desired.
The Crew Cut + Fade Haircut

@toniicaseyhairstylist
The crew cut + fade haircut is an easy get-up-and-go army hairstyle. The fade gives a nice contrast to any hairstyle, and the crew cut length on top shapes the style. It's the perfect cut for men with an active lifestyle.
The Long Buzz Cut with Skin Fade

@jimthetrim_barbershop
The long buzz cut with skin fade is a great hairstyle when considering a very short and neat haircut. Not every buzz cut is low enough to see the scalp. The long buzz cut is for men with an oblong face shape but versatile to be worn by any guy who prefers it.
The Brush Style

@001_barber
The brush style is a sleek and fun hairstyle. Ideal for teens or young adults. The skin fade makes the textured brush style stand out. A bit on the high-maintenance side considering the style on top, but very well worth it.
The High and Tight Recon Military Cut

@nelsplace
The high and tight recon is perfect for the average military soldier that isn't sold on long hair but still doesn't want a shaved look. A skin fade will always complement any style desired on top. This is for any man that doesn't use products, as it's a get-up-and-go type of style.
Hard Part with Shaved Sides

@bianchicuts
A hard part with shaved sides that lead to the facial hair is a classy look for any working professional. The skin fade into the hard part has a classic edgy look. Throw any desired product in, comb-over from the part, and out the door, you go!
The Classic Short Ivy League Cut

@slickgorilla
The short ivy league cut has a high taper fade that compliments the textured cropped look perfectly. An amazing look for any dapper gentlemen looking for a new style.
The Low-Maintenance High and Tight Fade

@mancaveutc
The high and tight fade is a great choice for guys looking for a low-maintenance style. It's ideal for any military personnel or anyone unable to make regular visits to the barbershop. High and tight fades are a stylish choice for any adult or child.