30 Perfect Hairstyles for Straight Hair (This Year's Most Popular)
80s Feathering for Blonde Straight Hair
@remedysalon115
This 80s feathering haircut looks even better with a bright blonde hue. Show off the feathered layers by styling your locks with a bit of texture.
It's such a chic option that offers movement to a fine straight mane and removes weight from the straight surface of the hair.
A mousse works great when prepping this feather cut for long hair like yours, too!
Edgy Pompadour Style for Women
@allthingslynn_
An edgy pompadour style for women is a cool vibe that adds height to shorter hair. Regardless of how short you want to take the sides of your hair, having a disconnected length on top which is pulled up and back, gives heightened volume and takes all your hair off your face for a lifted feel.
Dutch Braid Style on Straight Hair
@mikyhairstyle1991
Try a dutch braid style on straight hair to not only make your hair look amazingly waved without heat once you take it out, but also it's a great way to add depth and dimension to straight hair instead of tying your hair up.
Straight Short Choppy Haircut
@ayhanonluel
A straight short choppy haircut works well for thin hair and medium hair, but both in different ways. For fine hair, the length is blunt and the choppy layers give a little movement without removing too much weight. On medium hair, the choppiness can be adjusted to remove some heaviness from the length and add texture to a stronger outline.
Straight Blunt Long Hair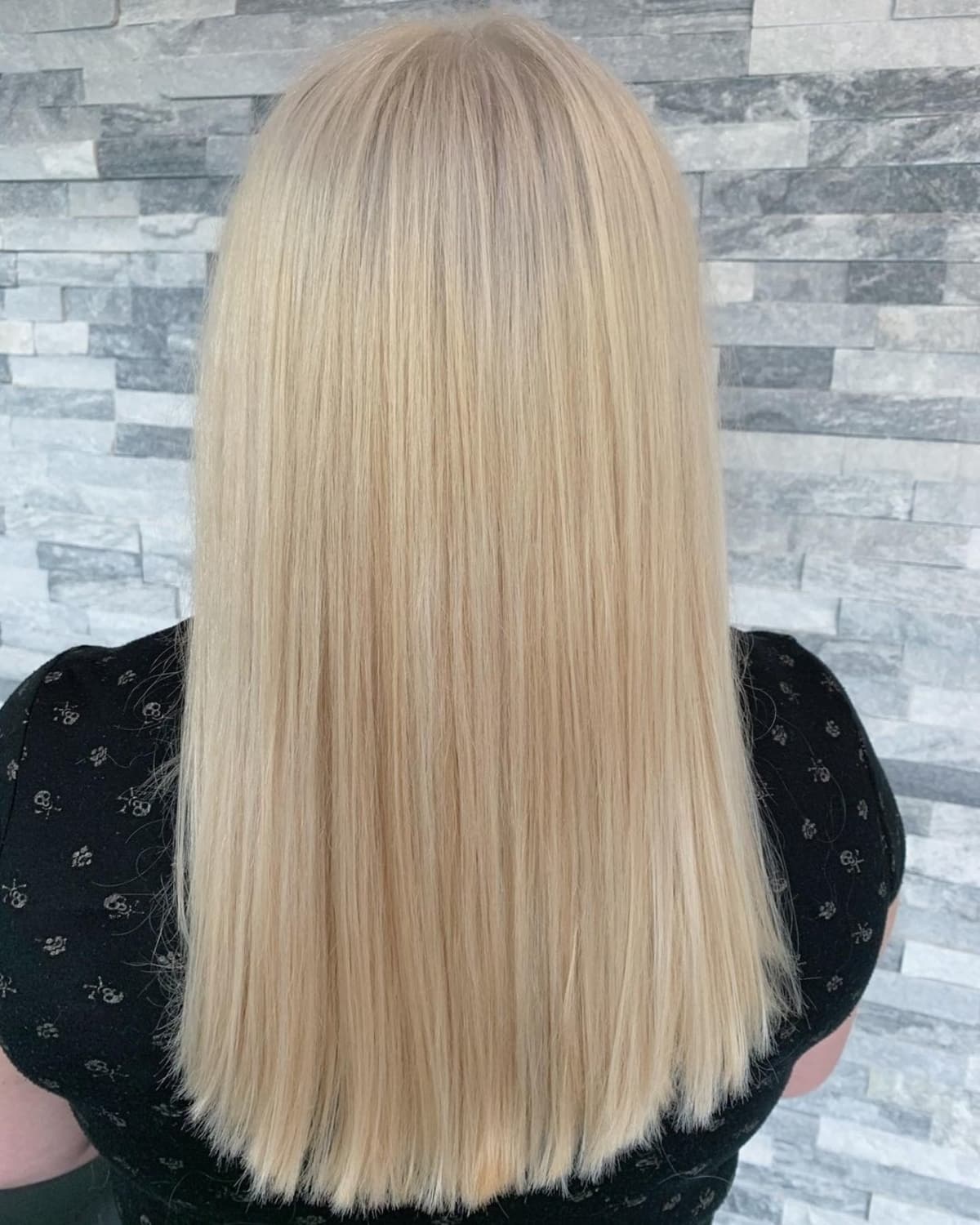 @elyssabethshairlounge
Straight blunt long hair is perfect for finer hair types by keeping the maximum amount of fullness in your length. Layers tend to remove weight from the hair, so keeping a strong blunt line to the outline will always give your hair the fullest effect.
Sleek Top Messy Bun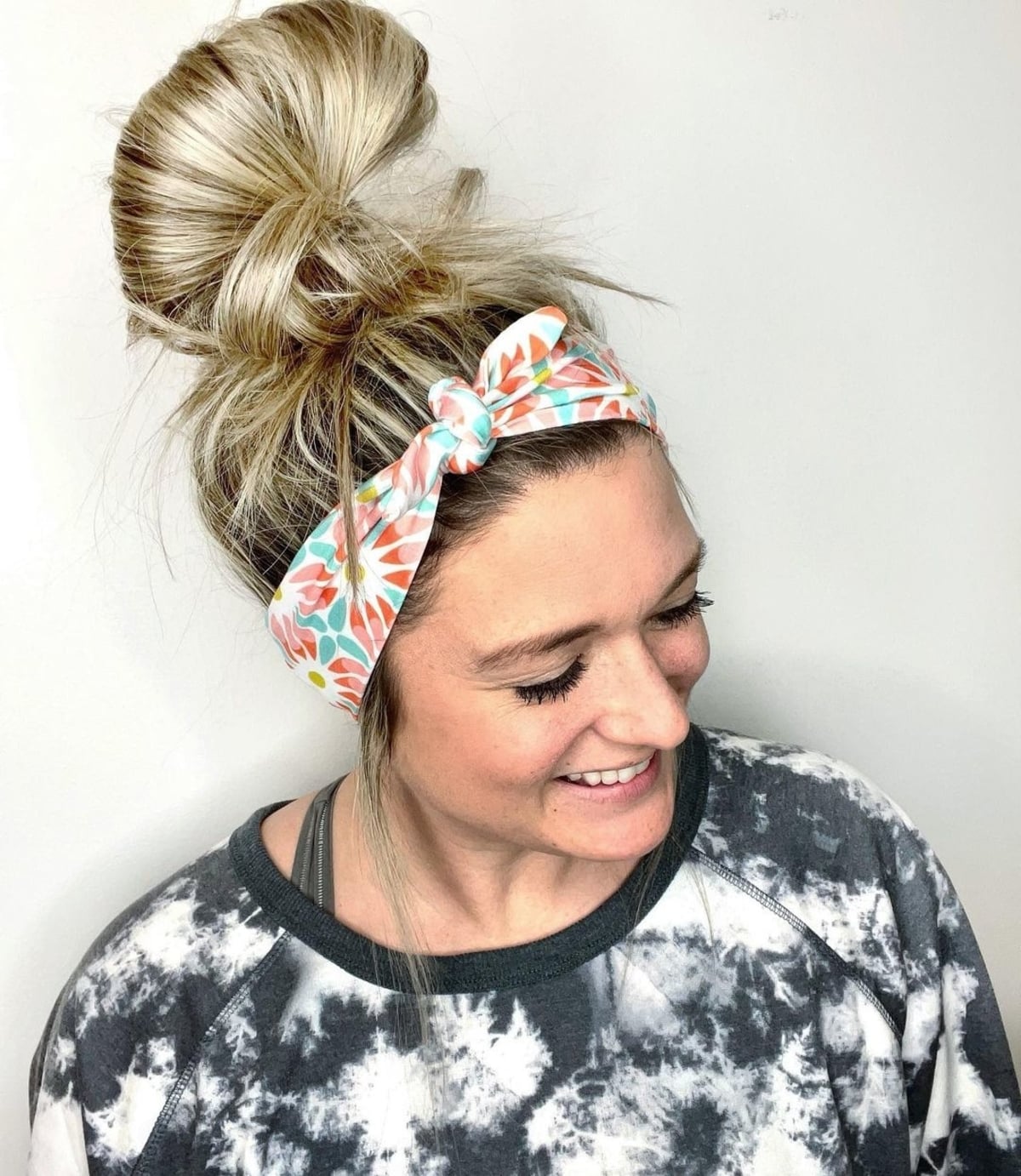 @popnation.me
A sleek top messy bun is the go-to hairstyle for all women. It's quick, easy, and low-maintenance, and there is really no wrong way to do it. Simply leave out strands for a purposeful finish and add a colorful headband for a stylish, not-so lazy result.
Ponytail Hairstyle for Long Straight Locks
@sara_hairstylista
A ponytail hairstyle for long straight locks is a great style for women who want some futuristic vibes with a bubble pony. Pro Tip: Use rubber bands that match your hair color for a seamless updo.
Straight Asymmetrical Haircut with a Side Part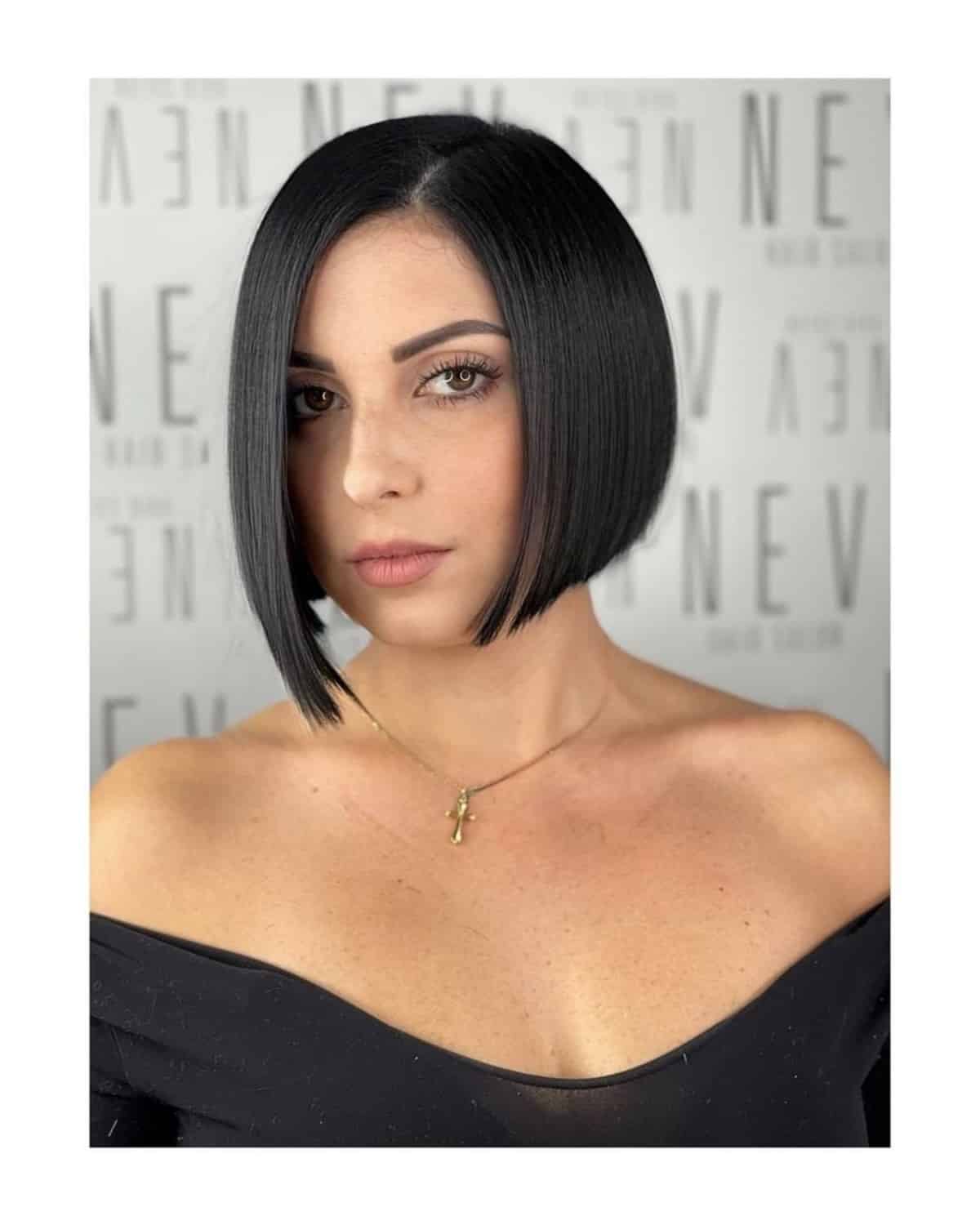 @zammitneville
Enhance your style with a straight asymmetrical haircut. Straight hairstyles can look uber-sleek, with one side being slightly longer than the other. If your hair parts naturally on the side, your cut will be longer on the heavier side of your part. Instead of balancing the lengths, ask your stylist to keep the jaw-slimming longer length on that side to achieve this chic asymmetric bob.
Straight and Sleek Middle Part Bob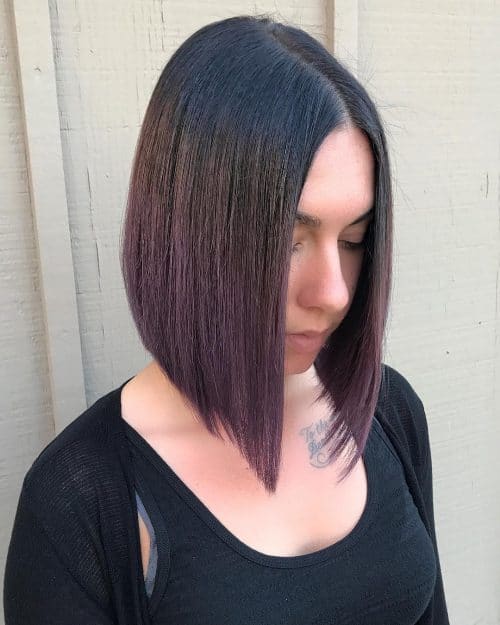 @lynzstyles
This sleek middle part bob features an edgy fantasy color melt. "This straight hairstyle is a classic shape, making it timeless," says hair artist Lynz Russell of Encinitas, CA.
Russell says maintaining this silky straight hair is super easy! "All of my fantasy-toned girls leave with a custom-blended conditioner to keep color fade to a minimum. Leave-in conditioner is key to keeping the hair healthy and soft, and my favorite is Supershine Light from Oribe because it's so weightless," she adds.
Depending on hair texture, any sort of smoothing product is helpful to keep the hair smooth while blowdrying with an air condenser attachment and a large boar bristle brush to help distribute product and oils throughout the hair to keep it smooth.
Finally, if a flatiron is needed to help the smoothing process, Russell believes a good heat protectant should be used to help protect the hair from heat damage. Soft Lacquer from Oribe protects straight hair follicles the best.
Straight Ombre on an A-Line Lob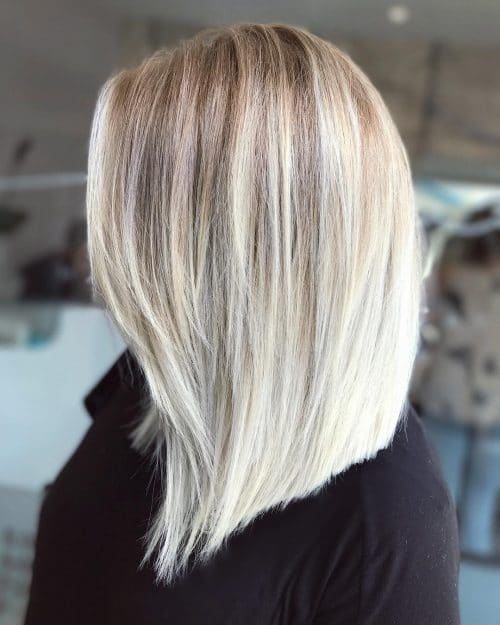 @hwhairdesign
Straight ombre on an A-line lob is a very soft and modern hair type. This cut was created by salon owner Hannah Woodgates of Bude, Cornwall.
"This straight style can work well while smooth and sleek, so a nice serum and shine spray would also do the trick," explains Woodgates.
"It's low maintenance and can still easily be put up in a bun which appeals to lots of straight-haired ladies," she adds. "It's also great for women that like styling their own hair. Plaits, curls, twists, and a ponytail are versatile styles with this cut."
Short and Straight A-Line Bob Cut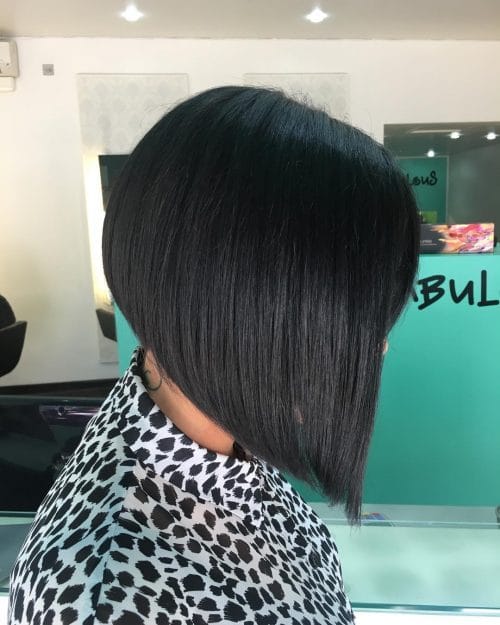 @abfabblackwood
The best haircut for straight hair is this short and straight a-line bob featuring a sharp, dramatic angle. This particular cut was created by senior stylist and salon owner Andrea of the UK.
"Straight hairstyles like this need to have a healthy, luxurious finish," says Andrea. "Use Joico Color Therapy Oil to give moisture, strength, shine, and softness."
A bob can work for all women with straight short hairstyles. A-line bobs can be adapted to suit all straight hair types, face shapes, and lifestyles.
Simple Half Updo for Long Straight Hair
@tfosterhair
For a simple half updo, pull a section of hair from each side and bring them into a loose knot.
Position a pretty-looking hair gem for embellishment and extra security. Now, that's how you recreate this simple, quick half updo hairstyle for straight hair! And, no more boring cut if you give your locks a nice shade of champagne blonde.
Blunt Cut for Straight Thin Hair
@chrisjones_hair
This blunt cut for thin hair does a great job of framing the face and softening your jawline. Straight haircuts like this one can pair with whatever color you have, such as a golden blonde hue.
Long Straight Hair With Bangs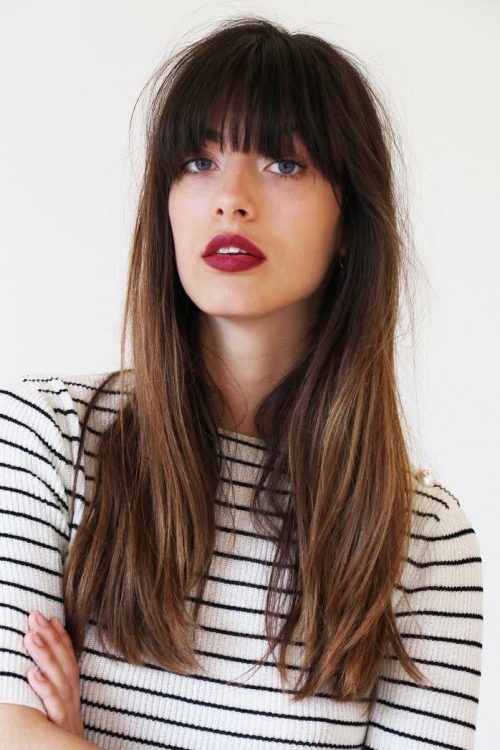 Credit: Ford Models
Long straight hair with bangs is taken to the next level with slight layering and a full fringe. Hairstyles for long straight hair will never go out of style.
Short to Medium-Length Layered Cut for Straight Hair
@hollyatserenitysalon
This short to medium-length layered cut has tons of texture and movement. "It's a layered haircut for medium-straight hair," states salon owner and stylist Holly Knight Sanders.
"This straight haircut is great for all women," she says. "Use a styling cream or blow-out cream to smooth the straight hair out or help with frizz."
Modern Long Shag for Straighter Hair
@jaxhairatx
This modern long shag is a long layered haircut with curtain fringe (aka Bardot bangs). It was created by hairstylist Jackie Stroud of Austin, TX.
"The shaggy framing around the face and curtain fringe is a good idea for women with straight hair," notes Stroud. "Need straight hair with a twist? Wear it messy, look edgy, and on-trend."
Since this bangs style on straight hair is so custom in regards to length, Stroud says any face shape can pull this off. "When long layered hair is cut correctly, it's also very easy to style. Dry completely forward and bend the ends back for a winged 70s look," she adds.
Straight Neck-Length Bob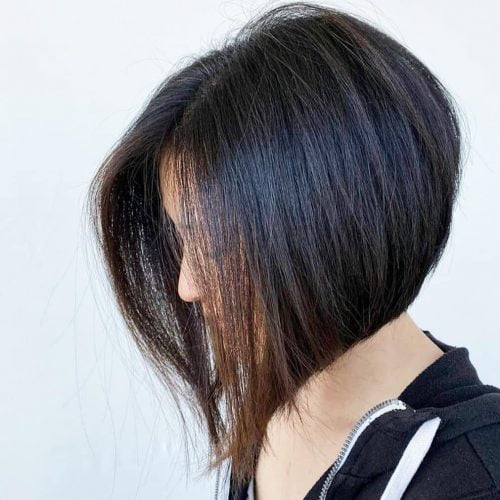 @alice.gandolfi.parrucchieri
This straight neck-length bob is so effortless. This straight hairstyle could use a blowdrying method to boost its volume.
Sleek and Straight for Long Hair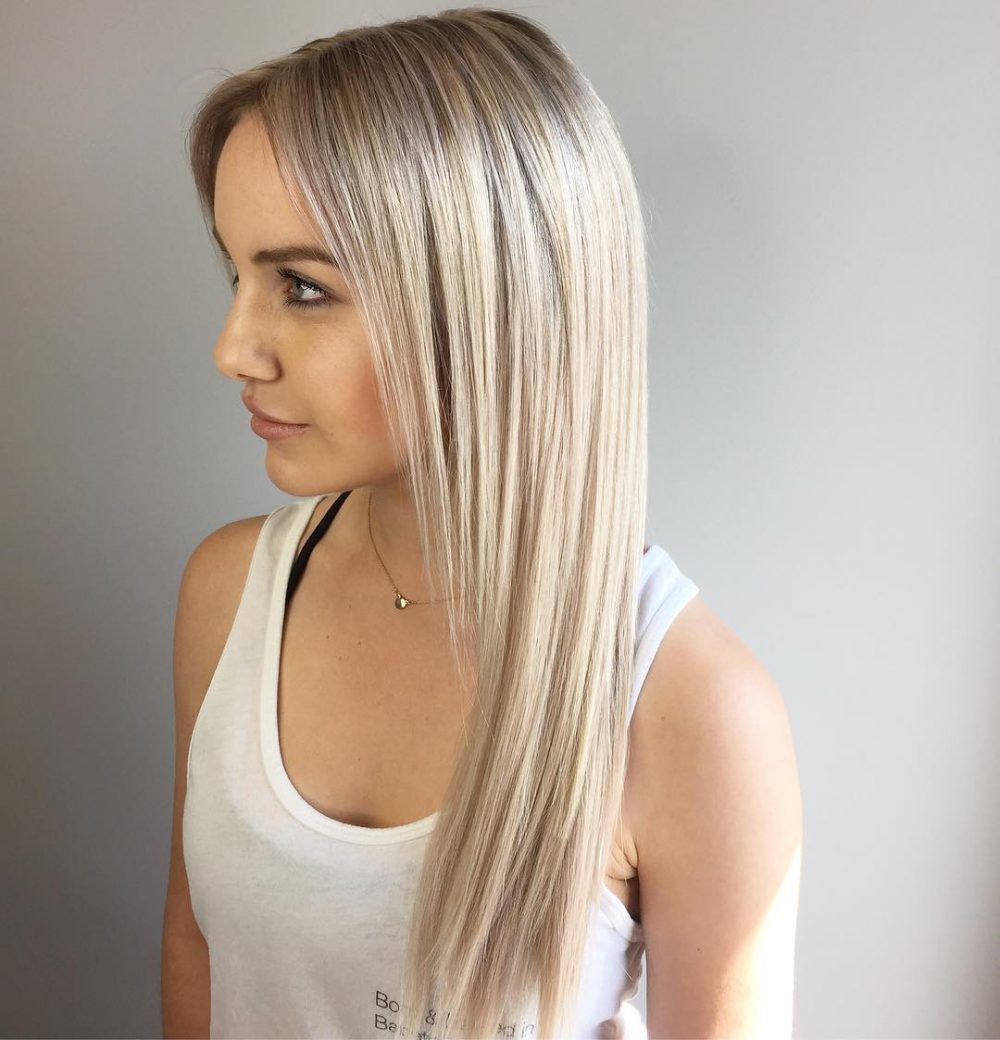 @karenkincade
This sleek and straight for long hair cut features a pearly platinum chic balayage. It was created by master hairstylist and balayage specialist Karen Kincade of Canada.
"This long straight hair is sleek and polished and the straight style includes a center part," says Kincade. "Sleek straight hair is very low-maintenance."
This style is easy to recreate, but product and technique are key. For fine to medium textures, Kincade suggests you use Elixir Ultime shampoo and conditioner by Kerastase. "Coarse hair needs more nourishment, so use Discipline shampoo and masque," she adds.
Blunt Cut for Straight Fine Hair
@kara.d.aesthetic
A classic blunt cut for straight fine hair maximizes fullness. Cutting the length bluntly and at all the same length ensures all the volume is in the baseline. It makes blunt bob hairstyles for fine straight hair give its thickest appearance.
The Pixie-Bob for Short Straight Hair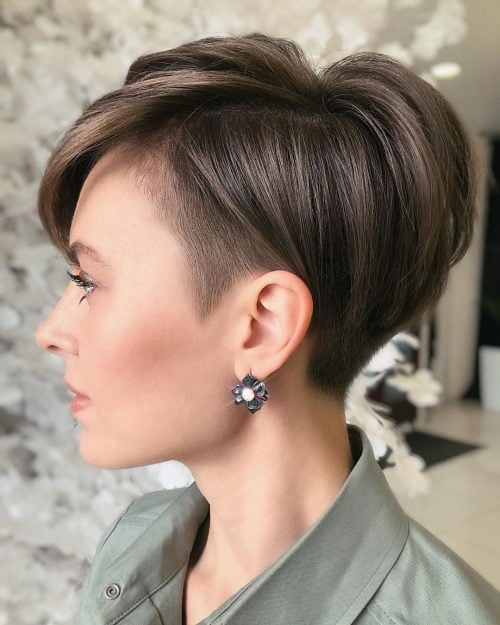 @mila_kryshchykhina
The pixie-bob for short straight hair makes a voluminous style that can match your natural glam. Looks stunning from any angle!
It even looks more flattering with a luscious dark shade. Ask your stylist for this short side-swept cut if you have an oval, square, diamond, or heart-shaped face and short hair.
Straight Lob with Bangs
 @scottywilliamson
"This straight lob with bangs is also called a long bob," says salon owner and stylist Scotty Williamson of Scottsdale, AZ.
"The lob allows you to not have to commit to the shortness of the classic bob with bangs, but have the same style," says Williamson. "Bobs and lobs are empowering looks that exude confidence."
Williamson believes this cut looks great on most women with straight hair. "Medium to fine, straight textured hair is perfect for this cut. If you have a round face shape, try keeping a little more length in front and/or add some asymmetry. If you're a curly-haired girl, leave more length and add layers," he adds.
Simple Cut for Long Straight Hair
 @_dylus_
This simple cut for long straight hair has a sleek look. "Adding volume in the back e.g. with a headband, will result in more straightness," states hairstylist Arzu Dylus of Germany.
To straighten your hair with a heat protectant, Dylus says to use hair products by L'Oréal Professionnel.
"This style is perfect for women who like sleek cuts and clean shapes," adds Dylus. "It's a cool style for straight-cut hair without many layers. It works well with fine hair and gives an amazing look with less effort but much effect."
Cute Braids for Longer Straight Hair
@tzofiakapach
Cute braids are an adorable hairstyle for straight hair. Cute braids around your crown create a braided headband you can wear every day. Apply an oil through your straight strands for a shiny finish.
Ideas for straight hairstyles with braids include a french braid and fishtail braid. Even a waterfall braid would look good on any woman wanting braids on their straight hair.
Medium-Length Hair in Straight Shag Cut
@gayhairday
This medium-length straight shag with curtain bangs has exceptional flair. Tousling the back area to perfection makes a difference.
The light strawberry blonde tone adds a softer finish to this straight hairstyle. It can be the best haircut for straight medium-length hair that you must try at least once!
Shoulder-Length Straight Shag for Older Women
@paradigmpassion
Rock a shoulder-length straight shag for older women if you need to add more life to your locks. Shag styles are great for straight-haired women. You gain movement and shape from the flowing layers curving around the face. The layers also soften the jawline. This makes it one of the more popular straight hairstyles for older ladies.
Straight Hair with Long Bangs for Women Over 30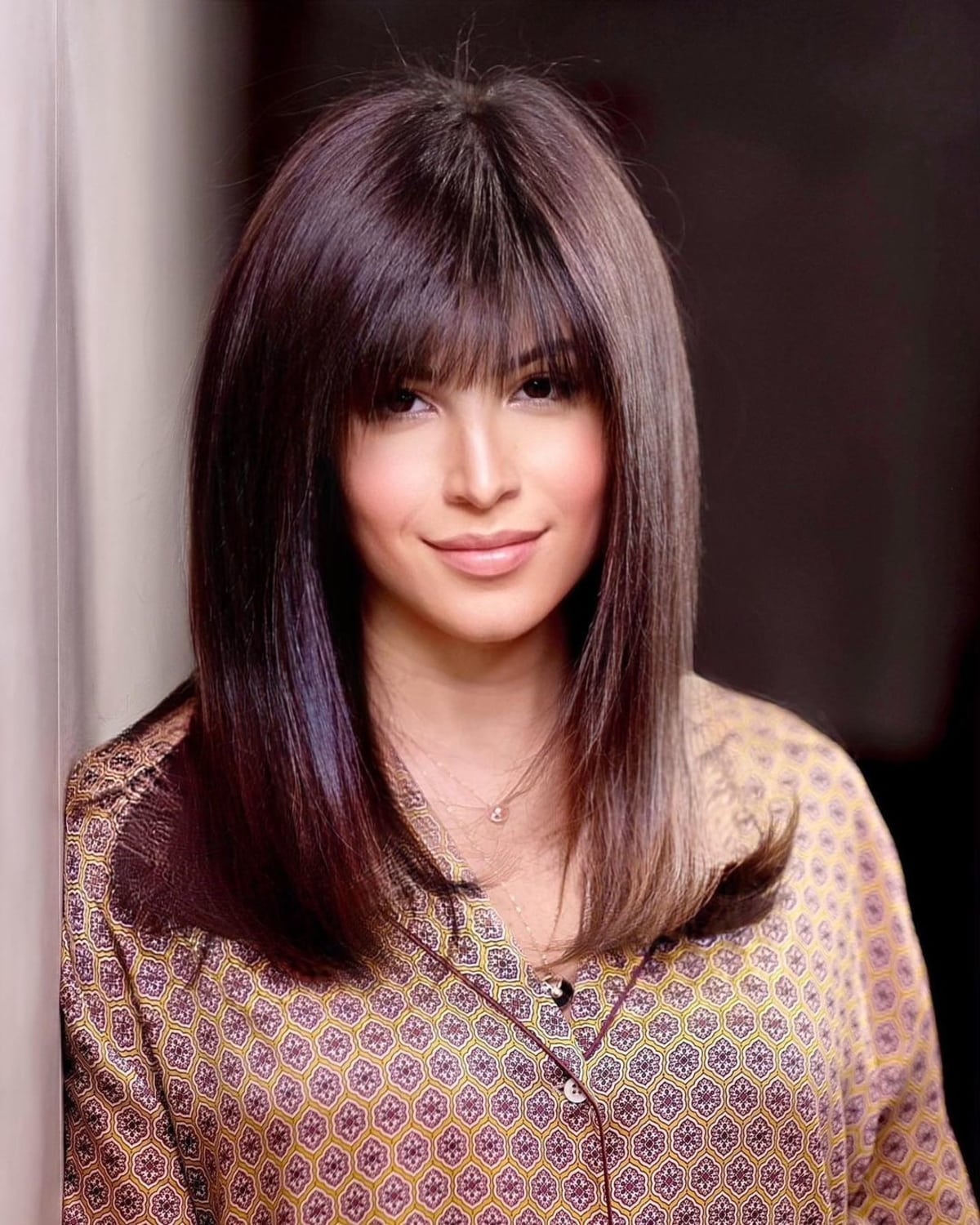 @victorkeyrouz
Opt for straight hair with long bangs for women over 30 if you love a refined style. Longer bangs add a subtle flirtatious feel to hairstyles for straight hair. Keeping the hair one length also keeps the interest at eye level.
Straight Blunt Bob with Blunt Bangs
@charlotterokk
A stunning straight blunt bob with blunt bangs is far from a simple style. The sharp length keeps all the hair one-length to highlight the weight of the edges. Adding a blunt fringe to such a hairstyle for women with straight hair helps the shape frame the face.
Layers for Women Over 40 with Long Straight Hair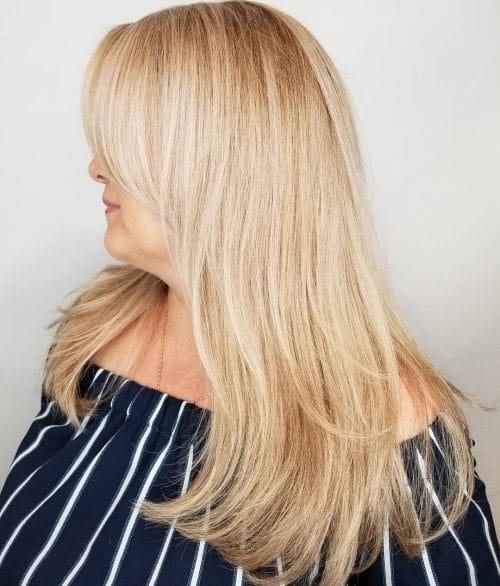 @beautifullife9
Layers for women over 40 with long straight hair are a smooth look when texture is added to it. This particular cut was created by master stylist Maggie of San Antonio, TX.
"The long layers are perfect for women who want their hair long, but conservative," states Maggie. "To keep the smoothness of this style, use Aveda Smooth Infusion Style Prep. This will give you hair frizz control over your straight hair."
The layers work for many school-aged and adult women who enjoy having long hair. It's professional and not too busy to wear or create a distraction.
"This is a great layered cut for women with fine hair," she adds. "The long soft layers prevent the hair from feeling or looking thin at the ends."
Short Bob for Straight Thick Hair
@salondisorelle
A short bob for straight thick hair is a great option for women wanting creative flare. This bob is longer as you approach the front with a rounded back for body.
Long and Sleek Shag
@cellardoorsalon
This long and sleek shag cut works great on straight long hair. In fact, it makes a breathtaking long and sleek shag hairstyle. The look features a fringe to accentuate your eyes and layers to bring out movement. Go extra and paint your locks with a sunflower blonde shade, too!