15 Best Ways to Get The Wolf Cut for Long Hair
Cut for Long Wavy Hair
@rayanaragan
Women with long, wavy hair can (and should) also try a wolf cut. An amazing feature of a wolf cut on long wavy hair is its ability to bring out and enhance your natural texture. So if you're blessed with beachy waves and curls, expect to see some major volume and bounce with this beauty.
Lots of Long Hair In the Back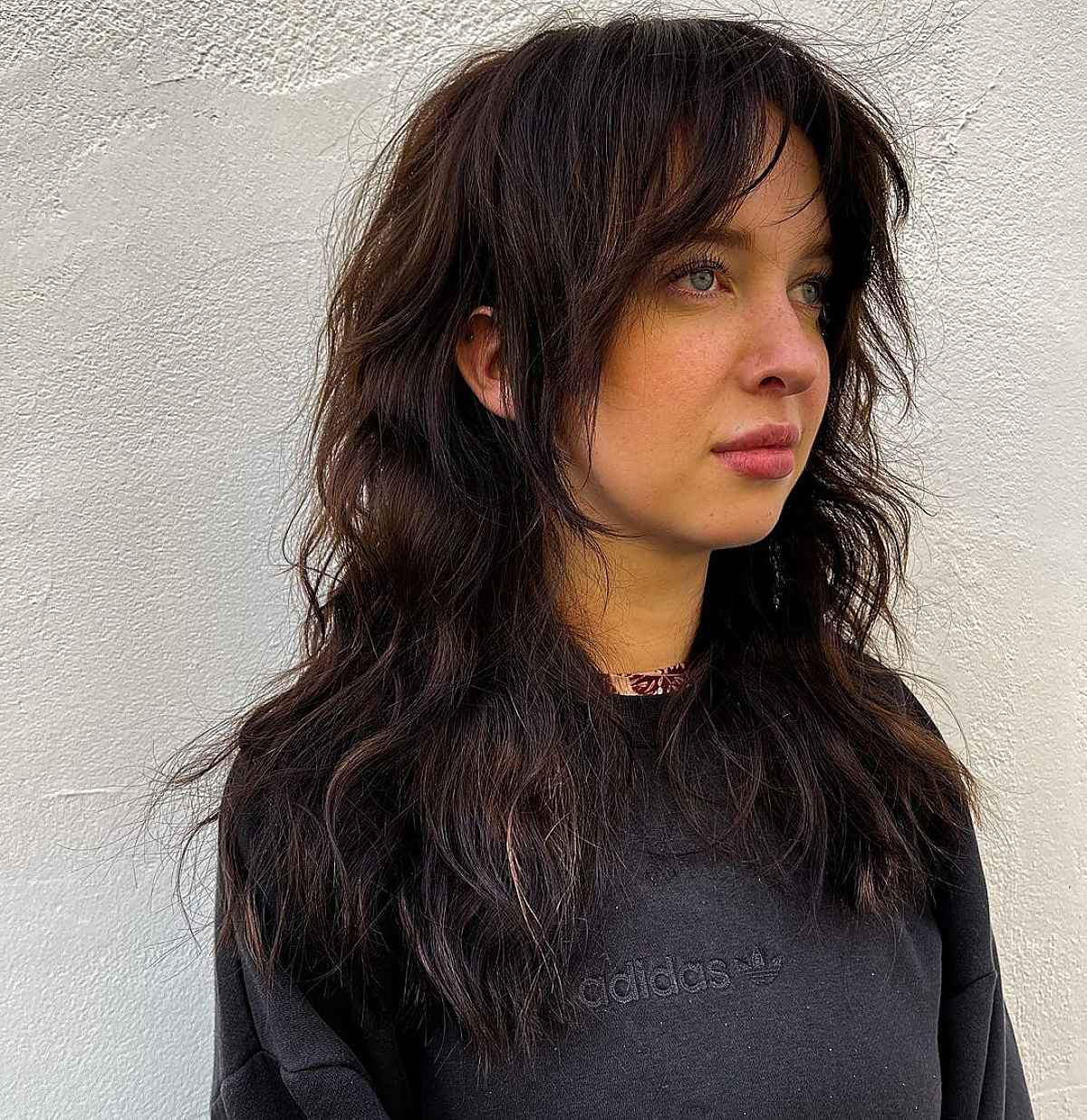 @mariadele.ma
A wolf cut consists of lots of layers that are longer in the back. Long wolf hairstyles are shaggy cuts that give an illusion of length and volume, especially to black hair that lacks movement and body.
Wolf Cut with Bangs
@randa.rivera
A wolf cut hairstyle for long hair looks great on all face shapes, add in bangs and you have the perfect style for square, heart, or round face shapes. The wolf cut gives many shaggy layers to prevent having flat hair. The cut is shorter around the face, which gives the right amount of face-framing desired.
Long and Tapered Wolf Cut
@hairbykarafina
A long and tapered wolf cut with short bangs and thinner ends is hot on the scene and anyone from straight to curly can wear this latest trend. This wolf cut mullet on long hair helps retain the length while providing an amazing texture. Styling can be achieved with texture paste or volumizing mousse.
The Very Long Wolf Cut
@altrhairstudio
Change up your look and keep your length with the very long wolf cut – the best of both worlds. The shorter layers and curtain bangs will completely change the way your hair looks when curled without losing the waist-length hair you've worked so long to grow.
If you want the wolf cut on a long hairstyle, ask your stylist for a short layered shag haircut with bangs that leaves as much length on the ends as possible. If your thick hair isn't as long as you'd like it to be, consider incorporating extensions for the most luxurious shaggy wolf cut anyone has ever seen.
Textured Wolf Cut for Fine Hair
@modestspotcarrillo
A textured wolf cut for thin, fine hair is a great way to add body and movement, giving the illusion of fullness. This mullet wolf haircut really works on medium to long hair lengths.
Long and Heavily Layered
@____anu
Rock a long and heavily layered haircut for an edgy and trendy style. This long wolf hairstyle is said to have originated in the salons of South Korea – it's a great cut for long, thick Asian hair because it adds so much movement and volume. A Korean wolf cut on long hair features short choppy layers that frame the cheekbones and longer fringe.
With Curtain Bangs
@oh_its_m0
If straight across bangs aren't for you, try the wolf cut on long hair with curtain bangs. The wispy curtain bangs on layered hair add a boho vibe that looks great with any face shape.
The trademark look for the wolf cut is lots of volume at the top layers and the natural waves that don't require hot tools to style. Use an air-dry cream like R+Co Cool Wind pH Perfect Air Dry Creme in towel-dried hair and you're out the door in a flash with this low-maintenance cut.
Flattering Wolf Style for Curly Hair
@stylesbytrev
A flattering wolf cut on long curly hair enhances nearly every type of curl or wave pattern. The short layers on top and around the face strengthen the curl pattern and help avoid the dreaded triangle shape with gorgeous height in the crown. Curly bangs add even more fun to this cool-girl cut. Scrunch in your favorite curl products in soaking wet hair and let air dry for defined-not-crunchy curls.
Long Wolf Cut without Bangs
@kayleighadelehair
If you like the idea of a long wolf haircut, but aren't ready for bangs, try out a longer version sans fringe! This wolf cut without bangs crosses back into the traditional shag category by keeping the longer layers more blended. Allowing the hair to not get so choppy makes this look complete with or without bangs.
Long and Layered
@nothingobvious
Another way to personalize a long and layered wolf cut is with a carved-out fringe. This face-framing trim gives off some major 60s vibes with a modern twist. If this voluminous wolf haircut is your style goal, be sure to ask your stylist to razor cut your fringe for that extra sharp and shapely look.
For Long Wavy Hair
@hairabee
Wolf cuts have cemented themselves as a staple for all hair types- long and wavy, super straight, ultra curly, and everything in between. The wolf cut provides movement and bounce that's beneficial to any hair texture. To achieve the complete look you have to dip your hands in some product. Try adding a root lifter or volumizer to your blow-drying routine for extra oomph, or even a dry texture spray to your ends after styling.
On Long Straight Hair
@melanie.s.stylist
Wolf cuts are buzzing right now as they're a super flattering option for long, straight hair.
The main component of this wolf cut on long straight hair is layers. Lots and lots of choppy, chunky layers. This technique lends itself to straighter locks as it creates a texture that the hair doesn't already have.
Long and Shaggy
@melanie.s.stylist
The wolf cut can also be longer, softer, and shaggier- like this more romantic version of the popular crop. This wolf cut with layers is a more "extreme" shag mullet version that goes well with medium-length or longer-length tresses. Depending on how you style it, you can still achieve the bouncy romance of its shaggy, 1970's predecessor.
Hip-Length Wolf Cut
@hairbynadja
This wolf cut hairdo consists of shaggy bangs and many shaggy layers with a combination of a mullet cut on longer hair. This allows for longer hair in the back and shorter in the front, which is perfect for the hip-length hair to achieve more volume and movement it desired. A wolf cut with long hair makes it possible for updos like a high ponytail.