15 Most Amazing Ways to Get Poetic Justice Braids
Short Braids

@estudioblessed
Ready for these stylish short braids, embellished with a golden string and a cuff? This neck-length style offers the right balance of simplicity and gorgeousness. Keep its color as black as your natural hair for a fuller-looking edge that matches your tan skin tone.
Poetic Justice Braids Wig

@myhairgold
Yes, you can achieve a lovely braided hairstyle in a snap! It's so stunning how natural this side-parted Poetic Justice braids wig seems like. Combine a dark brown hue and a collarbone-length chop to keep your hair look fuller than ever.
Charming for White Girl

@braid_salon
Who says protective styles are only for black beauties? These hip-length Poetic Justice braids are charming for a white girl like you. Your natural bright blonde hair will make it look so trendsetting and gorgeous. Don't forget to keep your scalp moisturized by using a leave-in conditioner at home.
Cute Bun

@braidsbybeberva
Who loves something simple and neat? If you do, achieve fuller-looking hair by opting for long Poetic Justice braids. This style is so versatile that you can do a cute bun with it. In case you need to add glossiness to your black locks, utilizing a shine spray is always effective.
Triangle Parts

@hairbymiloo
See that pattern on the scalp? How beautiful! These Poetic Justice braids in triangle parts are worth the try. It's a protective style, which needs low maintenance, and you get to throw a pop of brightness in there, too! A few vivid blonde strands can make a slight but chic difference, for sure.
Bob Poetic Justice Braids

@essenceofqimani
Who's excited about these bob Poetic Justice braids? This is a collarbone-grazing style, which appears great if parted on the side. Finish off the look by allowing a few curly strands to hang for added texturized effect.
Janet Jackson Style

@_ibraid
Looking for a black protective hairstyle with a timeless glamour? If so, you must give these poetic justice braids a go! What makes this Janet Jackson style a head-turner is how thick and long it appears.
Thick Braids

@erica_braidss
Explore a new hair color without damaging your natural curls. These thick braids will look great on black and red shades for a different touch of stylishness. It's always exciting to have these lengthy poetic justice plaits so you can fix it in numerous updos.
The Very Long Look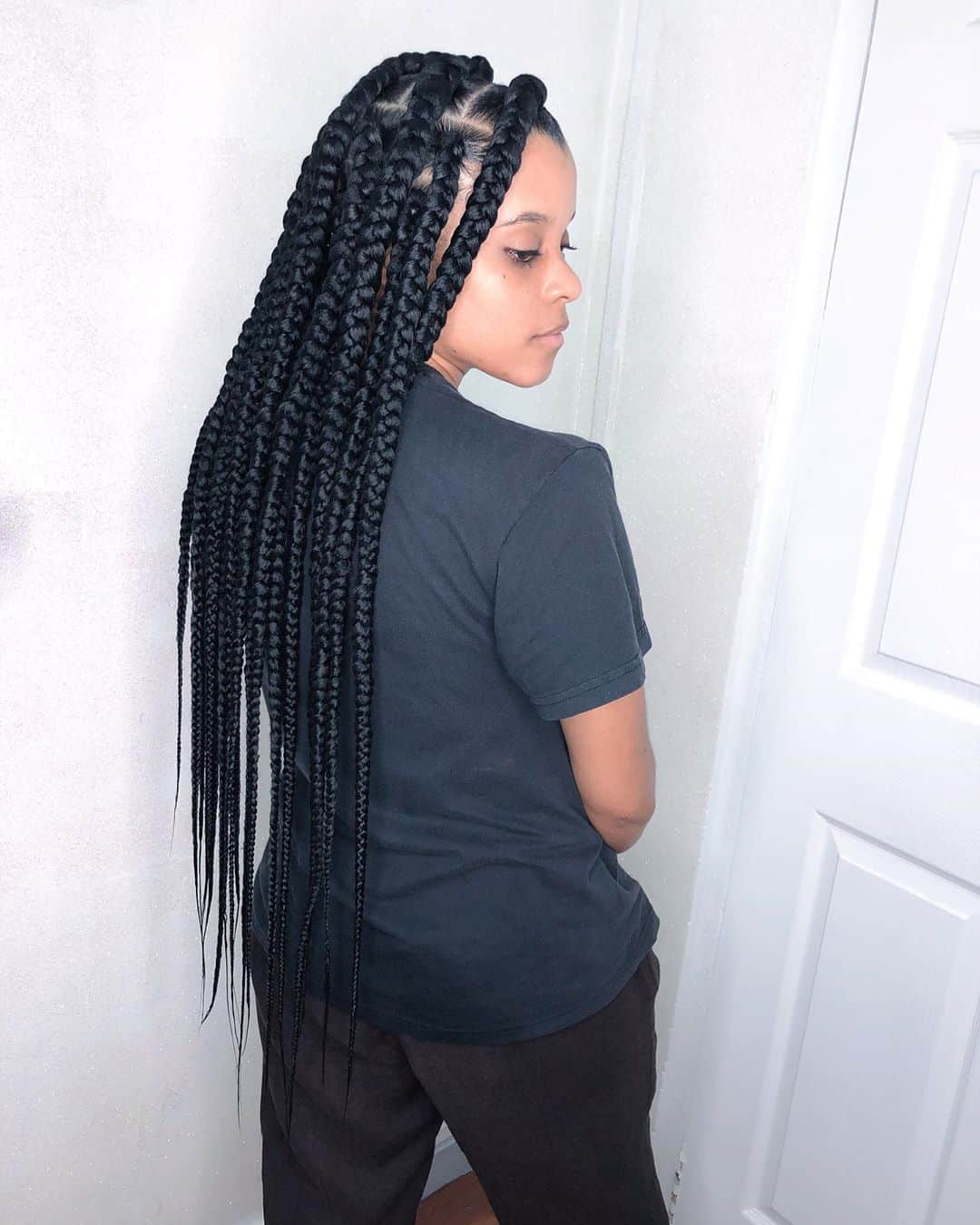 @anelias_glamorous_kreations
Featuring the very long look that offers a lengthy hairstyle with jumbo box braids! The poetic justice trend is everywhere, and you shouldn't be out of the craze. This one has a sassy vibe that can go with your foxy attitude.
Blonde Braids

@_crownsbyvee
Get inspired by Janet Jackson's look from the Poetic Justice film, and level it up depends on your taste. These long blonde braids will not only give you a protective style but also grants you chicness.
The Big Braids

@louina_hairexpress
Achieve a fuller-looking Poetic Justice style by pulling off the big braids, and you'll be a queen! The white string wrapped around a plait is a great addition as the right amount of radiance in your black hair.
Medium Poetic Justice Braids

@dorianterethesalon
Perhaps, there's no other long protective hairstyle that's as precise and neat as this one. Opt for medium poetic justice braids, and you can jazz them up with hair accessories. Its versatility to part to whatever side of your face will convince you to go for this trend.
Side-Swept Braids

@mistified_braids
Look cute and sweet with these long side-swept braids in poetic justice style. The payoff offers a classic beauty that will complement your genuine smile. You can put the right amount of brightness to your dark locks with a white rubber band, too!
Cool Jumbo Box Braids

@hairbykneetay
These are the cool jumbo box braids that you must wear if you're pining for something extra. The length is extremely long that reaches both thighs. The red and yellow colors add flair to what a usual black protective hairstyle. These are the poetic justice braids that look so neat and worth every penny.
Small Braids

@theblissbeautystudio
Protective styles, like the poetic justice plaits, work for various hair lengths. Doesn't want long but doesn't want too short? Then, just go what's in between. Black small braids are guaranteed to match your desired mid-length chop.