23 Best Ways to Have Feathered Bangs Right Now
Cute Short Feathered Bangs

@nikitenko_elen_
Aren't these cute short feathered bangs the best? They look soft on a short haircut. Feathery bangs even add a youthful touch to a classic look. Pairing this chop with a sandy ash blonde is a big plus!
Asymmetrical Feathered Bangs

@nikitenko_elen_
These asymmetrical feathered bangs are so flattering. They suit women with a round face shape. The key to its edgy style is a large amount of shorter strands. The layers add texture and shape to this feather haircut.
Long Feathered Bangs with Long Hair

@victorkeyrouz
Long feathered bangs with long hair? Yes, please! Complete the style by jazzing it up with soft waves. That will add body and more texture to the locks. What makes these wispy bangs trendy and cool is that it works on any face shape.
Feathered Bob with Side-Swept Feathered Bangs

@headmade_helsinki
A feathered bob with side-swept feathered bangs features lots of layers. The cut keeps the texture soft, resulting in a very feminine vibe. When going out, it's essential to use a mist of a flexible hold hairspray. It allows thick hair to obtain bounce and volume without adding weight.
Medium Hair with Feathery Fringe

@shinobuhair
Medium hair with feathery fringe looks sweet with waves. Copy the style by curling the strands to boost the movement and texture. Finish it off with any texturizing spray for an added definition. Such style makes it suitable for finer hair as the shaggy feathery bangs give it a fuller effect.
90s Style Feathered Bangs

@khietluu
In love with these '90s style feathered bangs? We are too! The fringe adds a retro-glam style that most ladies will enjoy wearing. Big, voluminous waves create softness around the face. It matches the classic fringe, for sure!
70s Style Feathered Bangs

@hollygirldoeshair
Blunt bangs may be trendy but the '70s style feathered bangs are classic and glamorous! It's the fringe that radiates a fresher vibe. It suits curly hair, giving it a more defined and voluminous look. When styling, apply hairspray to prevent frizz and boost its body.
Feathered Layers with Bangs

@khietluu
Feathered layers with bangs is a combo that's ideal for fine, thin hair. It looks great with a messy or tousled style. And that allows the tresses to achieve greater density and volume. This haircut frames the face and looks softer with waves.
Awesome 80s Feathered Bangs Style

@j.e.s.s.i.e.n.o.l.e
An awesome '80s feathered bangs style is a perfect match for a layered cut. The combo creates a classic vibe that's truly eye-catching. Copy the look by creating bouncy volume at the crown and curling the ends. This is ideal for ladies with a round face shape.
Feathered Full Fringe with Short Hair

@jarahshair
This hair idea includes a feathered, full fringe with short hair. With a tousled texture, it looks modish and effortless. This haircut also features jagged ends for added texture and detail. Pair the chop with a dark blonde color and get a more lived-in style.
Thin Feathered Bangs for Fine Hair

@_the_ashdoeshair
Achieve these thin feathered bangs for fine hair with a fresh razor cut. For women with a wavy texture, the fringe is worth a shot. It offers a texture that suits the hair's natural movement. The entire style looks incredible and it only requires little to no manipulation.
Stylish Feathered Side Bangs

@scribblebugg
Don't miss these stylish feathered side bangs! This type of fringe is what brings out the softness in a hairstyle. It goes well with fine tresses, cut in a shoulder-level hair length. Amp up the locks with waves and look super chic with these bangs and style.
Low-Maintenance Feathered Bangs with Long Hair

@victorkeyrouz
Feathered bangs with long hair are a great option for round faces. The style of fringe can define cheekbones. With waves, it offers a soft hairstyle that can be pulled off during a formal night event.
Trendy Feathered Curtain Bangs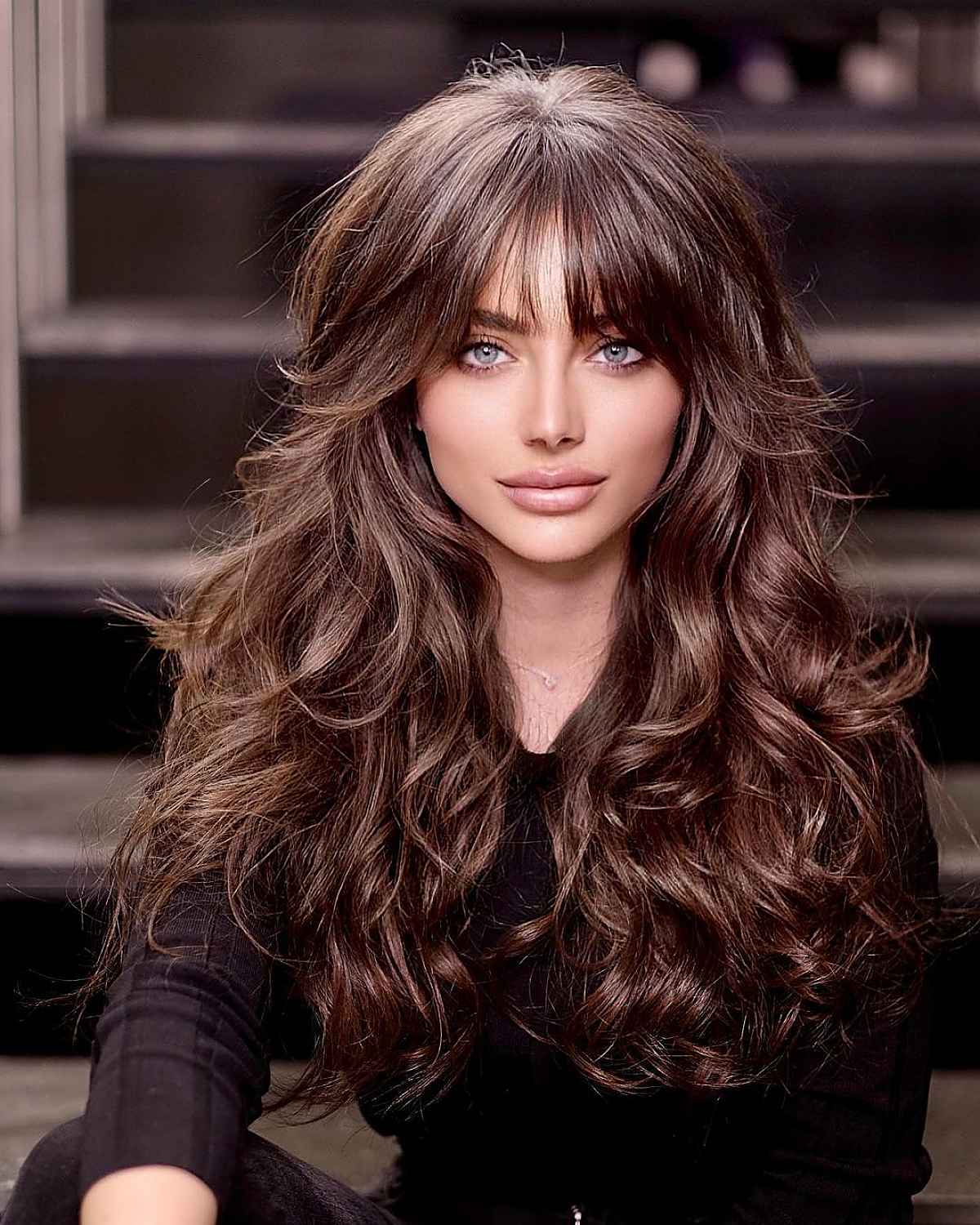 @victorkeyrouz
These long curtain feathered bangs are trendy and such a perfect fit for long, voluminous hair. The waves create a movement that complements such bangs. This hairstyle with curtain bangs is achievable if the hair has a lot of layers and density. It offers a look that can boost any lady's confidence.
Light Feathered Bangs on a Pixie Cut for Women Over 50

@tori_doeshair
These light feathered bangs for women over 50 are such #hairspiration! The fringe has a soft, flattering finish and a feminine vibe to it. Partner it with a short angled pixie bob and get that refined, edgy style.
The feathered bangs and pixie cut, created by stylist Tori Richards of Illinois, were finished with dry cutting and texturizing. The technique ensures you'll have to put minimal effort in while styling yourself.
Richards, on the other hand, explains that shorter styles often result in needing to be maintained more often. "Once your ears are cut out like this, it will bump into the ear as it grows out. Your shape will begin to change, as well as needing to keep your hairline in the back clean," Richards states.
The Best Feathered Side-Swept Bangs

@0_hair_by_eileen_0
The best feathered side-swept bangs pair well with a soft shag haircut. It gives a round face shape a much flattering angle. This layered cut carries out a natural wave and movement to flat-looking tresses.
"The shortest pieces dusting the bridge of the nose and sweeping away at an angle meets the layers of the side," stylist Eileen Sheppard of Peekskill, NY describes.
Shags are very versatile! When asked how to style feathered bangs on a shag, Sheppard points out that if you're using a flat iron or curling wand, always work away from your face. Many types of face shapes can wear this cut with slight adjustments of face-framing layers.
Choppy Hair with Feather Cut Bangs

@hirohair
This choppy hair with feather cut bangs is a modern shag style, designed by LA-based stylist Hiro Ochi. The bangs really pop your eyes.
"When styling a choppy shag with short feathered bangs, use a 1 1/4-inch curling iron. Then, apply texture spray and Sachajuan ocean mist for a natural texture," Ochi recommends.
Feathered Bangs on Blonde Hair for Older Women

@chrismaddox_hair
These feathered bangs for older women are soft and less structured. Stylist Chris Maddox of Greenville, SC paired the fringe with a short layered cut on blonde locks.
Maddox points out that feathered bangs work great on women who enjoy a less structured look. He adds, "It can be flattering on all face shapes, especially if you adjust the length of the bangs to open or close the face shape."
Shaggy Pixie with Feathered Bangs

@heartofglasshair
Look how magnificent this shaggy pixie with feather bangs is! This haircut has micro or baby bangs that add maximum style. It also complements the tousled texture. For added fullness, use texturizing products when styling. Sea salt or a finishing spray will do.
Textured Cut with Feathery Bangs for Fine Hair

@hairpaintingbygiovanna
A textured cut with feathery bangs for fine hair can give an edgy and exciting impression. The finish has a messy, tousled style that allows the tresses to have a fuller effect. If you're a lady with green eyes, wear it with a bright blonde hue to complement the color. The end result is gonna be incredible!
Medium-Length Haircut with Soft Feathered Bangs

@hairdreambytiffany
Pair a medium-length haircut with soft feathered bangs to form a very modern shag. This has a '70s vibe to it, which makes it both classy and classic. It's hairstyle inspiration for women with fine to medium density of locks. When going out, enhance the shaggy waves with a hair balm.
Feathered Fringe on Wavy Hair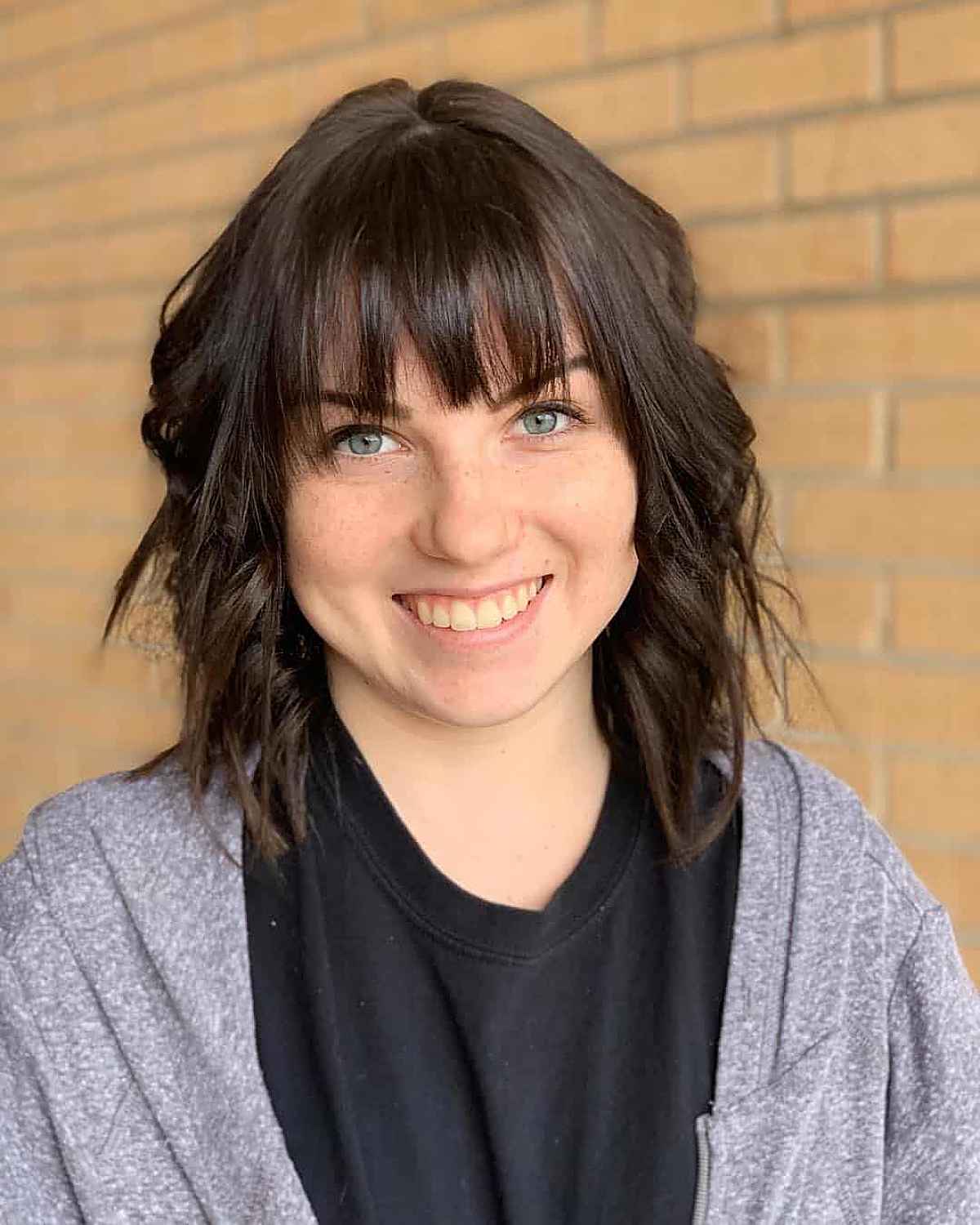 @haily_doeshair
A feathered fringe on wavy hair is guaranteed to be adorable! The sleekness of the bangs and movement of the waves create a perfect balance. This is a hair trend with a face-framing feature to suit round face shapes. Plus, if you have gorgeous eye color, give this a shot. The bangs can accentuate your eyes.
Textured and Layered Bob with Feathered Front Bangs

@glambygabby7
This short layered bob with feathered bangs is a fun, whimsical textured bob. This cut is such a stylish hair idea by stylist Gabby Miller from Fort Collins, CO.
When styling feathered front bangs, Miller states to "use a good heat protectant such as the Try Unite U oil. Buy yourself a good flat iron to create a soft sexy vibe."