24 Trendiest Long Blunt Bob Haircuts for a Sleek New "Blunt Lob"
Long Blunt Bob Cut
@kendallelisebeauty
A long blunt bob cut on this shoulder-length hair is extra special due to its color. The foilayage provides a fresher result to a one-length blunt bob. If the hair needs fullness, ask your stylist about tape-in extensions.
Blunt Bob for Silver, Fine Hair

@peacelovehair13
A blunt bob for silver, fine hair is stylish. Similar to the bob cut, this medium straight haircut is a traditional cut that brings style to your overall look.
Blunt Lob for Thin Hair

@urbanchichairsalon
A flattering blunt lob for thin hair has become the hottest trend. This look will instantly create thicker hair for women with fine hair and will flatter every face shape. A professional tip would be to style this cut using a medium-size round brush or a boar bristle flat brush to straighten.
Blunt Lob with Curtain Bangs

@yukistylist
Consider a blunt lob with curtain bangs if you have fine to medium thick hair. A fringe that rests right around the cheekbone adds softness around the face and falls gracefully into the long textured ends. Adding a root-boosting volumizer before styling gives this cut volume, especially when finishing with a loose, tousled bend to the hair.
Long Choppy Blunt Bob

@hair_by_courtneyheaney
Freshen up a long choppy blunt bob with full head foils. Here, the dimension looks more refined and subtle. It brings out a natural finish, and it's cuter with soft beach waves.
Long Layered Blunt Bob

@beautybyannalargeteau_
A long layered blunt bob with waves appears like a next-level trend. It proves that the bluntness and hair texture make a perfect pairing. The waves give the locks more volume and movement. And, go with a dark-rooted blonde color for a stylish impression.
Longer Blunt Bob

@lewismatthewshair
A longer blunt bob receives a lot of love because of its versatility. This cut looks best on a straight, flat mane because it shows off the perimeter better. However, long blunt bobs can be turned into updos, ponytails, and more.
Long Wavy Blunt Bob

@pinitup_buttercup
Featuring a long wavy blunt bob that looks casual yet stunning! What makes it extra special is the blonde hue painted on the bob with wavy hair. With balayage, the result creates a melting effect at the root area. To reinforce the dimension, create soft beach waves with a curling iron.
Long Blonde Blunt Bob

@scarlethair_
Consider a long blonde blunt bob if you're wanting a refined style. This textured bob is easy to copy and can be worn on any occasion.
Long-Length Blunt Bob

@robynbelikhair
A long-length blunt bob hairstyle is the best option if wanting a trendy, blunt haircut. Opt for a balayage and create a lived-in vibe. Choose a warm tone of blonde to add to the ends, and it will create depth at the roots.
Blunt Cut Bob

@hairbybreewatts
A long blunt cut bob like this is iconic! This long blunt bob haircut is ideal for most face shapes, but especially round faces. The middle part style and the chop's length break up the fullness of a face.
Long Angled Blunt Bob

@valetsalons
A long angled blunt bob and a classic black or brown hair color make a killer combo! The result is classic and easy to recreate with straight locks.
Long Blunt Bob with Fringe

@joahhmendes
A long blunt bob with fringe has a sleek style that works best on naturally straight locks. Ask your stylist about blunt lobs if you're looking for an elegant style.
Blunt Lob with Bangs

@heatherdouglas721
A blunt lob with bangs will last a few weeks to months. Lobs are easy to style and may only need quick ironing to achieve a sleek long blunt bob hairstyle.
Long Blunt Cut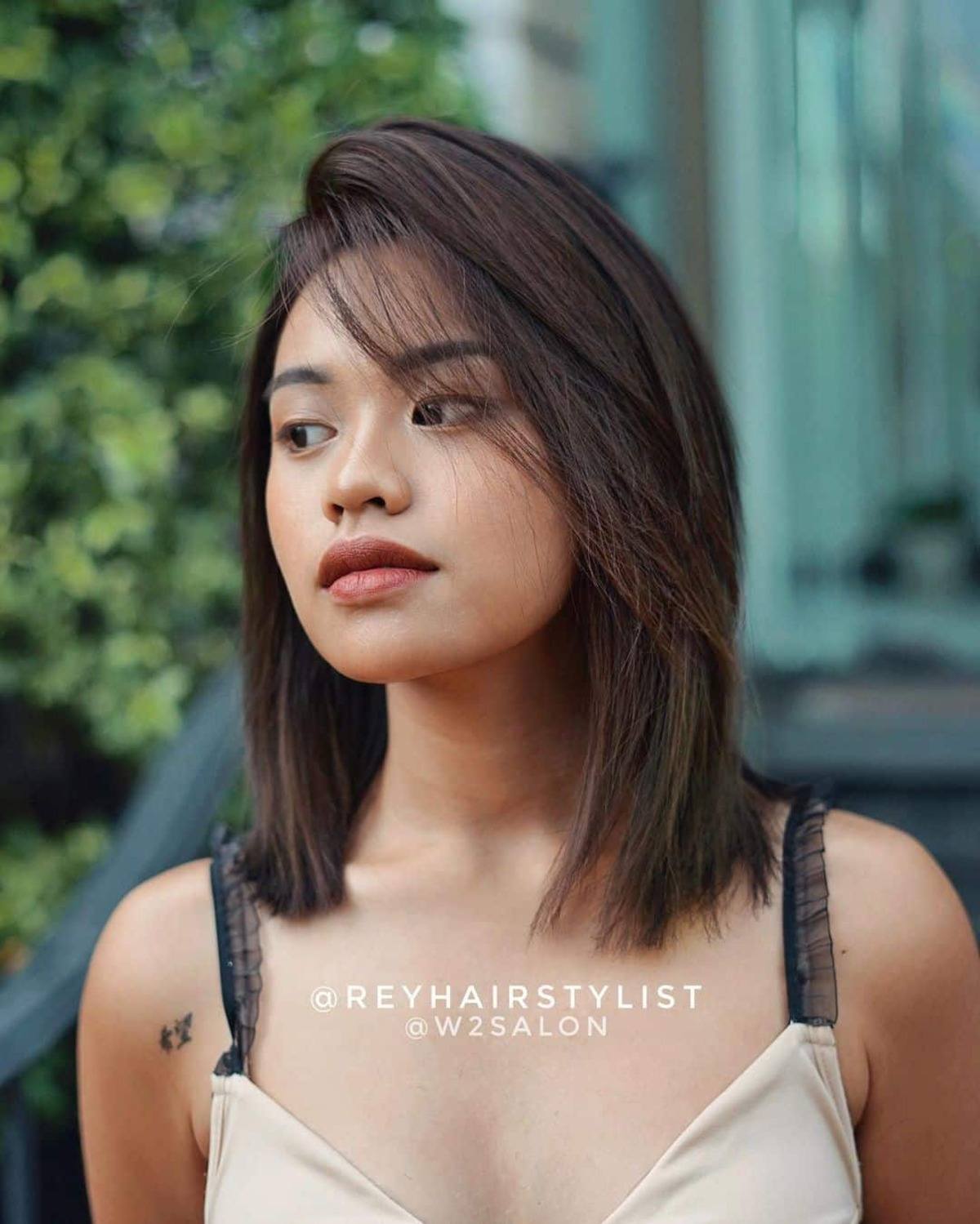 @reyhairstylist
Opt for a long blunt cut that's neat, classic, and aesthetically pleasing. Blunt lob hairstyles go well on straight locks that have a lot of density. Straight hair may appear flat and unexciting, so it's always great to part a lob to one side. This technique adds instant volume to the roots.
Long Blunt Cut Bob with a Side Part

@reyhairstylist
A long blunt cut bob with a side part looks appealing on straight locks. The cut's edges match the flawlessness of the hair's fine density. Plus, if you're wanting a fuller look without chopping off the length, long blunt bob cuts are ideal!
Blunt Lob Haircut

@reyhairstylist
Show off a blunt lob haircut and get that neat, classic style. A chop like this is perfect for women with either a round or oval face shape. It frames the face and creates balance. This lob requires minimal styling when going out, too!
Long Blunt Cut Bob with a Middle Part

@kainandecanine
This messy long blunt cut bob with a middle part is perfect for women who want a new look but are afraid of a drastic change. A shoulder-length wavy lob offers a "cool, stylish girl" vibe.
Blunt Long Bob

@gabrielaguardiaa
Here's a blunt long bob that offers a versatile look. Feel free to part it on one side or in the middle. It appears even more stylish with subtle voluminous waves.
Blunt Lob

@romeufelipe
Pull off a blunt cut lob hairstyle and achieve a new, dramatic look that only offers beauty. Its versatility makes it suitable for ladies with any face shape. This chop is also a perfect match with blonde highlights, creating a chic dimension. It's sure to look divine on straight locks.
Long Textured Blunt Bob

@bardot_official
Go for a long textured blunt bob that looks modern and stunning. With its length touching the shoulders, this bob cut elongates a round face shape. It frames the face when parted in the center.
Long Blunt Cut with Layers
@ravensbeautybook
This long blunt cut with layers is a very slight A-line with a blunt perimeter on the bottom. It was created by hairstylist Raven Lucero of Spokane, WA.
"There is enough of an angle that when the hair is tucked behind the ear it provides the optical illusion of being one length," says Lucero. "The front of the cut sits at the collarbone. There was no face-framing, but some weight was taken out by the nape of the neck."
This length of bob feels both modern and timeless. Grazing the collar bone is the perfect length for trying out short hair. It is important with this haircut to make sure the length does not sit on top of the shoulder. Below the shoulder buys you an extra week or two between salon visits.
Lob with Blunt Bangs
@stacysyrokahair
Add waves to a lob with blunt bangs to achieve a stylish, more polished edge. Let the hair shine even brighter by painting it golden blonde. This lob with blunt bangs was created by stylist Stacy Syroka of Des Moines, IA.
If you have thick hair, Syroka says you're not normally someone who is a good candidate for a blunt cut. She explains, "However, by removing weight in the hair around the nape of the neck, it seems as if this cut is perfect for thick-haired women. It's also much more manageable for an on-the-go lifestyle."
Syroka's key styling tips include:
1. The goal is to create bends, not curls – you can use whichever kind of iron you're comfortable with (flat, curling, wand).
2. Wait until the ironwork completely cools before running your fingers through.
3. Spray the finishing touches on top of and underneath the hair. Pinch with your fingers to mess it up and make it a little bigger.
Very Long Blunt Bob

@caylee_hairkc
Consider a very long blunt bob that's blunt and crisp, like this one created by hairstylist Caylee of Leawood, KS.
"This blunt, long bob is best for women with fine to medium textured hair," says Caylee. "Blunt lob cuts are long enough to put up, but also very cute down or half up half down! It looks great straight to showcase how blunt it is but also looks great curled!"