22 Edgy Choppy Bob Haircuts for an Adventurous New Look
Edgiest Lob Haircut with Wispy Layers

@summerevansstudio
Stand out with the edgiest lob haircut with wispy layers! With a blunt perimeter and sliced-out layers, a choppy hairstyle is great for spicing up any new do. Best styled with a flat iron for that sleek finish. Don't forget to use a heat protection spray such as Mydentity #Mydefender Spray before you style.
Bright Pink Bob with an Edge

@hairbeautyretreatdaylesford
A bright pink bob with an edge brings this classic cut to life! All eyes will be on the pop of color, especially the fun pink falling over a dark, shadowy fringe. Schedule an appointment with your colorist every few weeks for maintenance as vivid colors tend to fade faster. Hair maintenance needs to be done frequently to achieve maximum vibrance. After styling, add a mist of shine spray to bring out an extra spark.
Medium-Length Angled Bob with an Edge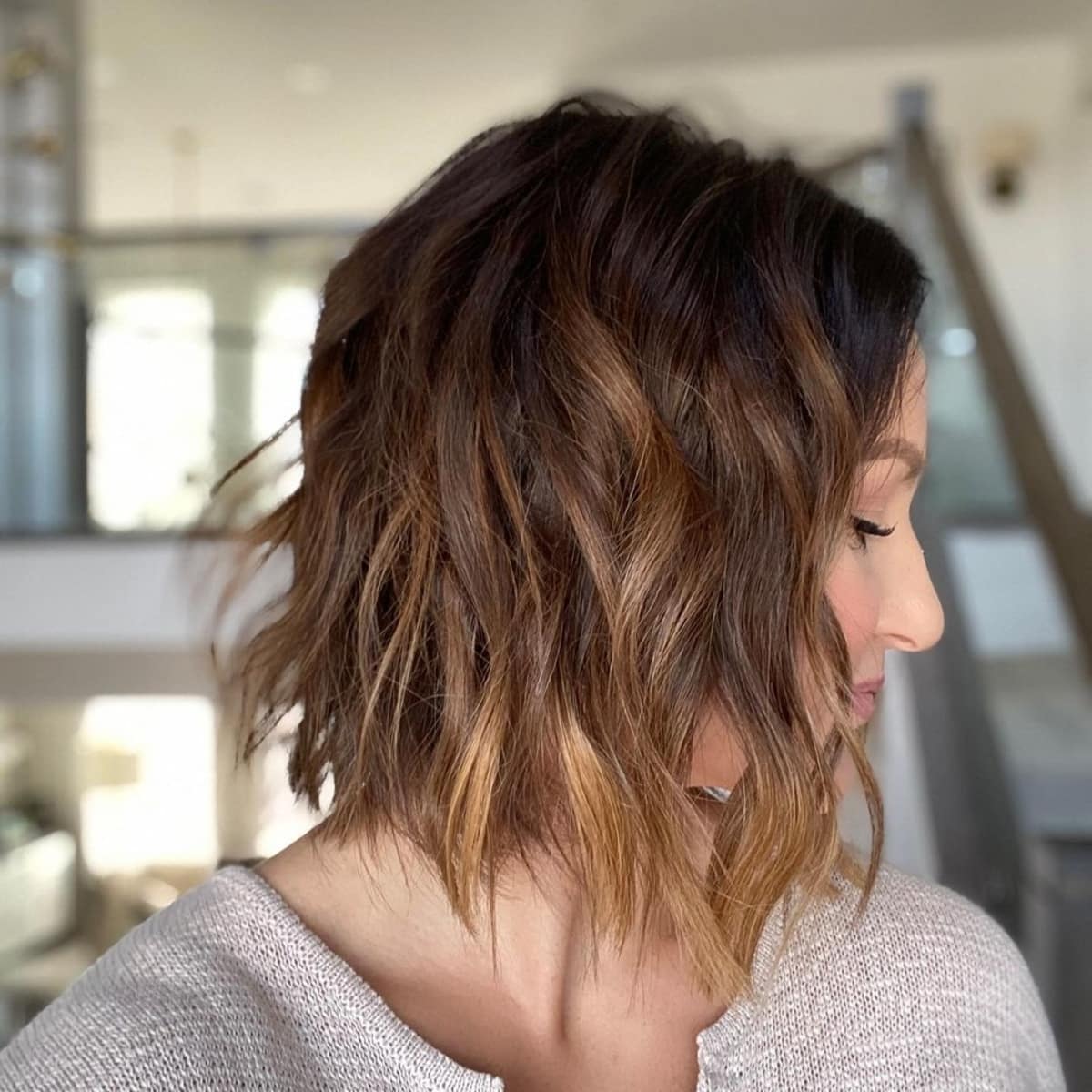 @darlasdailydeets
A medium-length angled bob with an edge is a great style for fine to medium hair. Check out the textured ends. It is an excellent option for those who prefer not to work with too many layers. Keeping the hair around the face and below the chin gives this edgy style an elongated look. Soft waves add dimension and body.
Edgy Shaggy Bob for Wavy Hair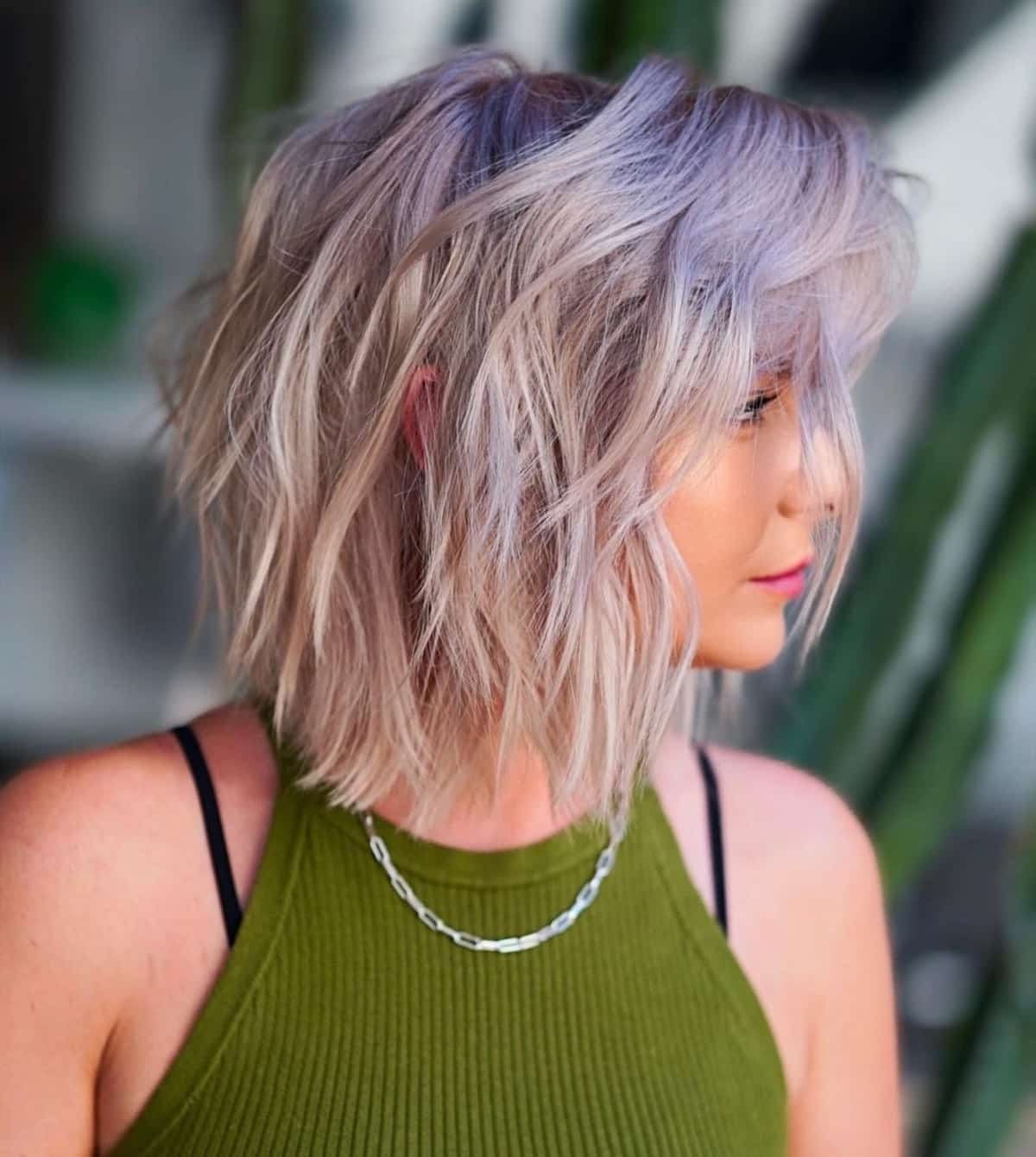 @sagebrush.inspiredbeauty
Consider an edgy shaggy bob for wavy hair. Cutting several layers throughout gives this choppy style a lot of bang for your buck, with just the right amount of shorter pieces around the cheekbone. Add soft beachy waves finished with dry texture spray for a carefree, tousled style.
Shoulder-Length Edgy Bob for Thin Hair

@randa.rivera
Try a shoulder-length edgy bob for thin hair to add volume. Choppy hairstyles with long layers create an illusion of fullness and deep waves. To get this style, add just enough layers to keep the bob interesting. Notice the deep side part for added height on top.
Edgy Short Bob Hairstyle

@mainpointsalon
An edgy short bob hairstyle offers a contemporary take on a classic bob. An extremely blunt perimeter with textured layers and soft bangs creates the perfect combo by framing the face well. When considering a short, blunt bob, keep in mind the maintenance required to keep the crisp edges. It usually demands a retouch every 4-5 weeks.
Super Edgy Blunt Bob for Thick Hair

@bescene
A super edgy blunt bob for thick hair is the perfect cut for thick-haired gals. Blunt ends with invisible layers creates a soft texture while removing some of the bulk of thicker hair, helping it lay nice. It prevents you from getting the triangle-like look that some bobs may give. Soft, lived-in curls transform a blunt bob into an edgy hairstyle.
Edgy Jaw-Length Blonde Bob

@lkhair_chicago
An edgy jaw-length choppy bob is an excellent way to spice up fine, thin hair. A blunt perimeter creates weight in the ends of the hair, giving a thicker appearance. Jaw-length cuts are most flattering on oval or heart face shapes. When styling, short bobs look good sleek and straight. It can easily be switched up with beach waves.
Choppy and Funky Cut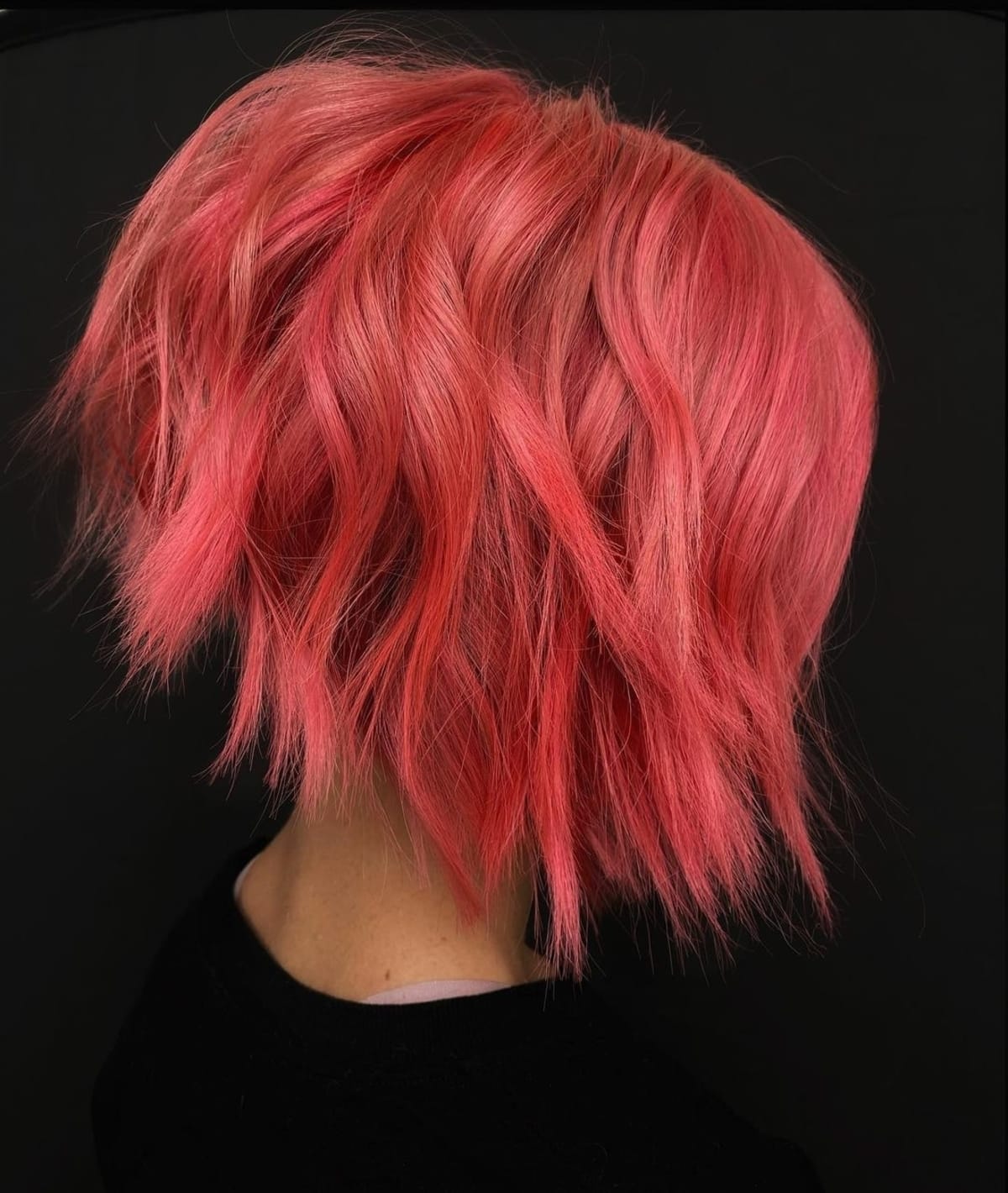 @shmoakin_hair
Try a choppy and funky bob that has the benefit of added texture and movement. It's quite an easy length to maintain and style. You may opt to wear it wavy with natural waves or add some wand waves and hairspray to show off the extra texture and dimension in the choppiest way. It's great for the heart and oval face shapes and those with medium-fine hair density. If your hair is super thick, make sure your stylist feels comfortable doing weight removal to achieve this style.
Choppy Bob with Extra Long Bangs

@nevilleromanzammit
A stunning short choppy bob with extra-long bangs draws attention right to the eyes as the soft fringe brushes the eyelashes. Choppy bangs can be worn down over the forehead or pushed slightly to the side to open up the face more. Either way, blending into wavy layers requires low maintenance and is super playful. A style like this is great for thin to medium hair as it adds volume and bounce. Finish this edgy choppy bob haircut with a light texture cream to add a bit of texture and dimension.
Short Emerald Green Bob

@cozmic.color
A short emerald green bob is an attention-getter! Prepare to make a splash everywhere with these gorgeous green hues. The rich dark roots melt beautifully into brighter strands, showcasing the lightest pieces around the face. If you aren't sure about going green, talk to your hair colorist about different hues to see a good fit for your skin tone and personality. Also, ask your stylist about using a professional color-tinted shampoo between salon visits to keep the hair color vibrant.
Long Inverted Bob

@ovo.salon
Consider a long inverted bob as a subtle way to go a bit shorter without missing the feminine flow of locks around your collarbone. Shorter at the nape, an inverted long bob is for women who want to cut their hair short but feel more comfortable with plenty of hair up front. Its length is great for a low ponytail on scorching hot days. It can be worn wavy and carefree or smooth for the edgiest finish.
? See more long choppy bobs!
Choppy Bob with Micro Bangs

@jackalopebeautylounge
A choppy bob with micro bangs brings attention directly to the eyes, as the square shape of the cut opens up the entire face. It's important to remember that fringe needs to be styled daily to maintain them straight across the forehead. If you aren't a daily hair washer, spritz the bangs with water and blow them out. It's indeed a fun edgy choppy bob hairstyle when focusing on a bold brow is your goal!
The Messy Bob

@hairbymissvictoria
Nothing says edgy like the messy bob! A choppy bob transcends age brackets. It's for women looking to wear a fresh style all day, every day. Edgy bob haircuts are for almost all hair types, especially if you like to keep your morning routine simple. Spray a bit of dry shampoo at the root and around the hairline, then add a few messy waves with a curling wand, and you're ready to go!
Edgy Shattered Layers for Straight Hair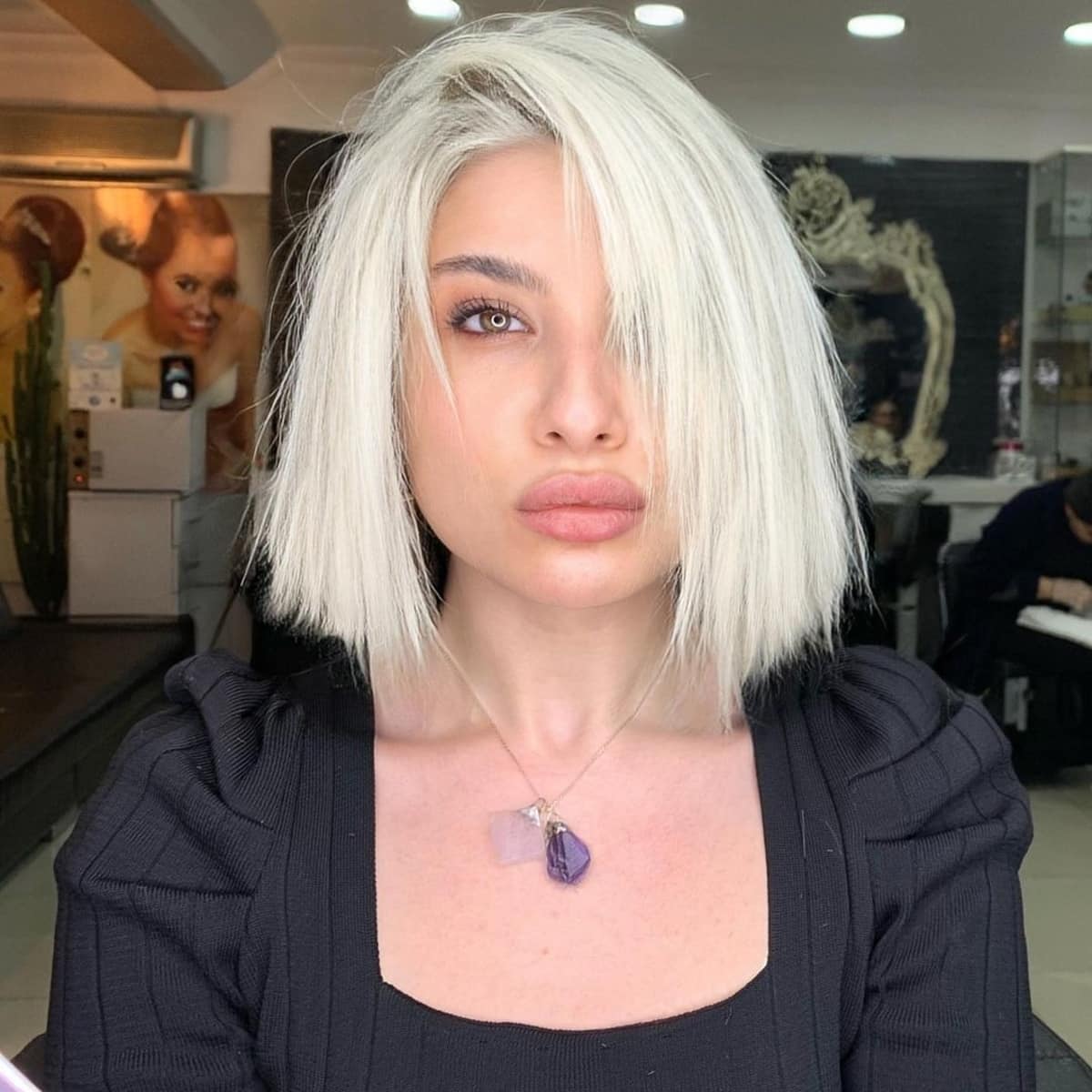 @ayhanonluel
Edgy shattered layers create a beautiful piecey yet soft look to your style. If you like wearing your hair straight, it will show off the sharp texture. Grabbing some pieces with a texture paste will show the definition in the ends. It's a great edgy choppy bob cut for all hair textures. Your hairstylist can take out more hair if it's thick, or texture the ends just a bit if it's fine.
Rainbow Mid-Length Bob

@militia.lee
A rainbow mid-length bob is perfect for women looking to add a full spectrum of color to their tresses. The upkeep will be about 6 weeks to keep the tresses looking fresh. Bright colors tend to fade quickly and hair growth will be more noticeable. A color-safe hair care routine is a must. Cool water keeps the colors bright for a longer time.
?? See more rainbow hair color ideas.
The Choppy Undercut Bob

@sassy_sarah_b
The choppy undercut bob is fierce and edgy. Style edgy choppy bob cuts with wide curls with a curling iron to create added volume and texture.
Heavily Textured Blonde Bob for Fine Hair

@shmoakin_hair
A heavily textured bob for fine hair gives volume and a disconnected touch to the blonde hair. In styling, use BaByliss styling tools to create messy waves and added texture.
The Edgy Pixie Bob

@nikitenko_elen_
The edgy pixie bob with a sidecut is beautiful for women who want practicality. Short hair is practical in everyday life and easy to style.
A Very Asymmetrical Bob

@nikitenko_elen_
A very asymmetrical bob can match all types of hair and faces. Combine with side bangs, and you have yourself a delicate haircut.
The Platinum Jagged Bob

@ayhanonluel
The platinum jagged bob is perfect for women who want edgy choppy bob haircuts that add lightness and sophistication. When styling, apply mousse or wax to wet hair and scrunch to add a chopper texture.
Sharp A-Line Bob

@kissysbombshellbeauties
Get a sharp A-line bob, styled with soft waves, if you have an oval face shape. The edgier cut is customizable, so you can do bangs, more layers, or curls to frame your facial features very well.
Idaho-based stylist Kisandra Taylor started with a graduated haircut to achieve this look. "I used texture shears and a feather razor. Layers are cut at a 45-degree angle with tons of texture," she states.
Taylor notes that you will need to visit the salon every 6 weeks to keep up with the style.