17 Shaggy Bob with Bangs Haircut Ideas for The Modern, Retro Girl
Shaggy Bob with Side-Swept Bangs
@mainpointsalon
Try a shaggy bob with side-swept bangs and get that stylish, versatile hair trend. Recreate the shag by parting the hair on one side, then style it with bigger waves. The idea is to give the hair a voluminous result. It's sure to appear perfect on women with rounder faces.
Shaggy Bob with Fringe for Curly Hair
@mommas.curls
Shaggy bob with fringe for curly hair is a very trendy haircut. Shaggy bobs are often created using the razor-cut technique to add choppy and textured layers. Curly hair is best cut using one of the many "curly cut" techniques. This is done on dry, styled hair to allow even layering.
Blonde Shaggy Layered Bob with Bangs
@rute_boazhair
This shaggy layered bob with bangs looks sassy! Such a haircut features jagged ends to create more texture and movement. That makes this chop suitable for fine or thin hair. Meanwhile, an added dimension is noticeable when paired with a bright blonde hue. The finish of this shaggy hair looks soft and edgy.
Brown Shaggy Lob with Bangs
@timm.morrison
A brown shaggy lob with bangs is an ideal option for ladies with straight, flat hair. The haircut offers an edge that's packed with lots of texture. It looks effortless when spritzed with a mist of sea salt spray.
Shaggy Bob Cut with Bangs
@espaciolasalvaje
This shaggy bob cut with bangs has more of a rebellious, edgy style. The recipe to get that feathered effect of layers is by cutting the strands with a razor. It's perfect for thick hair as this technique can reduce weight and bulk.
Shaggy Lob with Bangs
@uskova.tatiana.official
Shaggy lob with bangs together with voluminous hair and fringes from the 70s has peaked yet again. This cut has conquered celebrities, influencers, and the like. Everyone's swoon over by this cut for creating a stripped-down vibe without compromising its elegance.
Shaggy Bob with Baby Bangs
@rute_boazhair
Rock a shaggy bob with baby bangs if you have thin, fine tresses. This haircut offers lots of movement to allow for more of a perky finish. Enhance the texture by curling the strands if needed. The shaggy bob with bangs hairstyle can soften square face shapes, for sure.
Shagged Bob with Bangs for Fine Hair
@madcarsonhair
Here's a stunning shagged bob with bangs for fine hair! It's a neck-grazing cut that keeps the fullness visible. Thanks to the beachy waves—they enhance the shag cut very well, creating movement and texture. The fringe makes a fresh and stylish addition to the style. Opt for an ombre or balayage to enhance the style even more.
Shaggy Bob with Middle-Part Bangs
@hollygirldoeshair
Pair a shaggy bob with middle-part bangs to get that flirty, sassy style. A great shag depends on the hair's body and texture. If the tresses are missing these factors, feel free to curl the ends. Brush the strands out for effortless movement.
Mid-Length Shag Bob Cut with Bangs
@yukistylist
Flaunt a mid-length shag bob cut with bangs, especially if your hair needs texture. This shag has subtle layers, creating a soft and effortless texture. When choosing the best fringe to define cheekbones, opt for curtain bangs. They look soft and open up the face.
Shaggy Choppy Bob with Bangs
@salsalhair
A shaggy choppy bob with bangs is achievable if the mane is straight and fine. Such a hair type is perfect and allows the bob cut to appear edgy. What's best about this trend is it suits women of all ages. Both older and younger ladies can pull this shaggy bob cut off!
Shaggy Bob with Curtain Bangs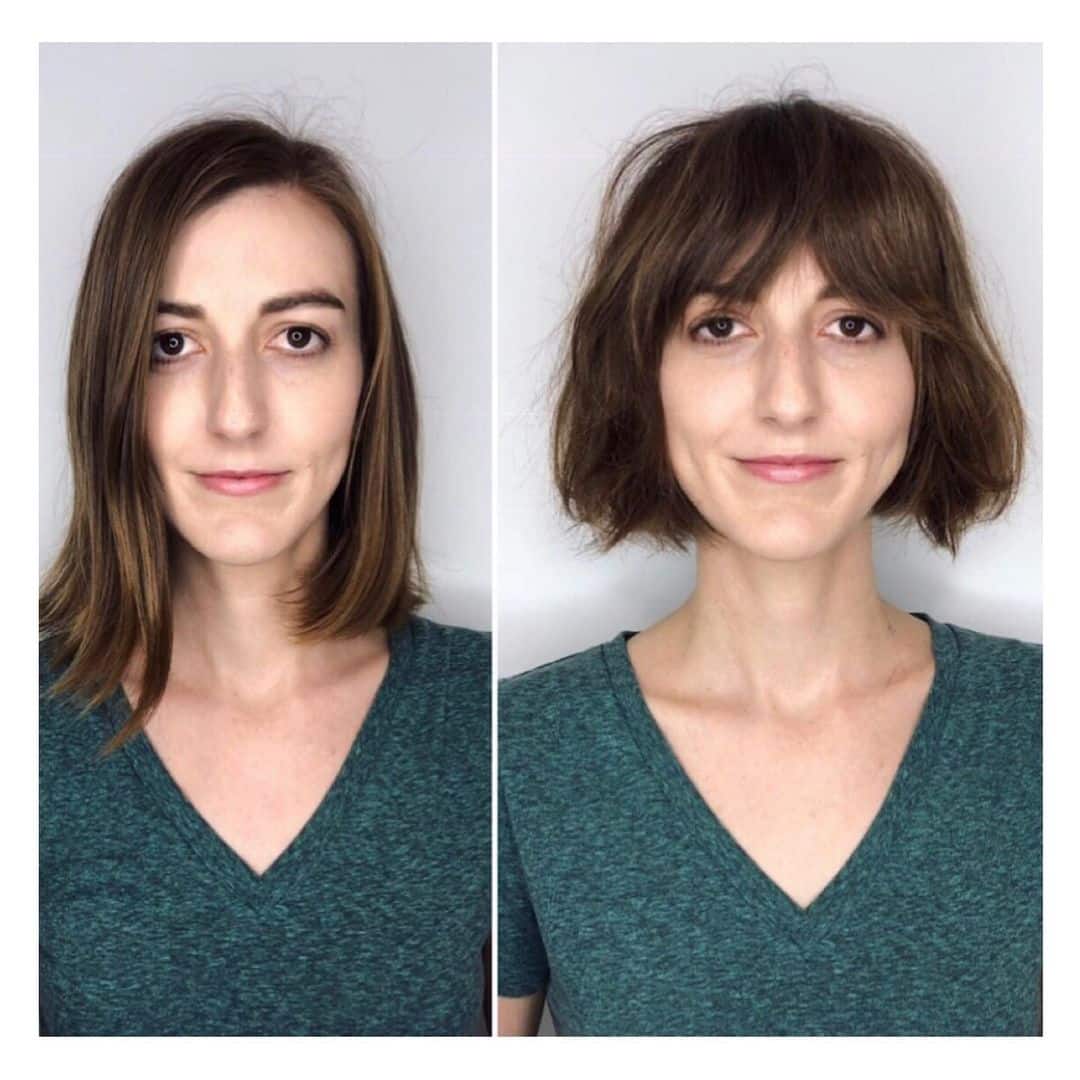 @jpattonsalon
This shaggy bob with curtain bangs is sure to add more texture to fine hair. Its length stops at the jaw area to complement an oval face shape. It's easy to style and can make any woman look fresh every day!
Shaggy Copper Bob with Bangs
@hollygirldoeshair
Wear a shaggy copper bob with bangs when wanting a fresh cut without compromising your hair texture. The chop's length grazes the shoulders for an added stylishness. It also features a fringe to flatter and frame a round face shape. Modern and chic—this hair trend is a must-try!
Short Shaggy Bob with Bangs for Wavy Hair
@kateconveryhair
A short shaggy bob with bangs can flatter diamond and heart face shapes. It frames the face and enhances facial features. This gem is easy to style as long as the hair has its natural wavy texture.
This trendy shag bob with bangs is a shorter modern shag or a shaggy bob. "It's styled minimally just using hands and Hairstory hair balm," says master stylist Kate Convery of Providence, RI.
"All women can wear some version of this shaggy bob shape," notes Convery. "You would tailor the length and shape of the fringe according to where it's most flattering for you. This cut is perfect for women looking for an effortless style."
Messy Short Bob with Bangs
@chloescissorhandz
Consider getting a messy bob with bangs if you're looking for something cute and stylish. Its shaggy layers look great in a straight style, but it's even better when wavy.
This shaggy bob with bangs cut is a very long pixie-esque. It was created by stylist Chloe Anan of Saint Augustine, FL. "This bob with bangs was created wet with a razor, instead of the dry-cutting technique," explains Anan.
This bob cut is well suited for heart-shaped faces, to accentuate the smaller features. The fringe creates a nice balance. This haircut is suited for fine to medium density hair and can be worn on straight-haired women. If your hair has a lot of slip to it, Anan says to start by using a salt spray on your roots. "Add a quick mist through the ends for a little grit. Follow it up with a light-hold, mousse-like Kerastase densifique for more staying power."
Textured Bob with Fringe
@eblackdoeshair
A textured bob with bangs suits fun and adventurous women. This is a shag haircut, done by a razor cut to enhance the texture and movement. It's perfect for making fine hair appear livelier than ever! When styling, hair balm does a great job.
This shaggy bob with bangs haircut is a short version of a razor shag. "It has heavy bangs, lots of texture, shorter crown layers, and lots of front face-framing fringe," states salon owner and hairstylist Erin Black of Denver, CO.
Black believes a bob cut can be achieved on women with lots of hair to women with finer hair and everyone between. "For styling, sea salt sprays, curl serums, and texture sprays are going to be your go-to products. But that's dependant on your hair texture and density," she adds.
70's Shag Bob with Bangs
@hairwithintent
"This 70's shag bob with bangs was done with a razor cut shag/bob technique. This method gives lots of movement and texture," explains hairstylist Rita Contreras of Houston, TX.
"If you're is looking to get a shag or razored haircut just know they are customized to you," notes Contreras. "Use Hairstory products on your shaggy bob with bangs cuts because they're non-toxic and great for the environment."