16 Gorgeous Braided Bun Hairstyle Ideas That Are Easy to Do
Braided Bun With Bangs For Black Woman

@miami_braids_by_kuneesha
A braided bun with bangs for a black woman is something you wear high and proud! The braided bun hairstyle comes with straight bangs, giving it more edge and chicness. This works on both a casual and formal date night.
Braided Ballerina Bun

@norwegianbraider
A braided ballerina bun is an excellent hairstyle for anyone who likes to have their hair up out of their face but doesn't want just a ponytail. Young girls and athletic women would be the perfect candidate for using braids in buns as it keeps the hair in place and adds extra detail to break away from the same upstyled hairdo daily. Use a shine spray or hairspray to smooth flyaways and make the look more sleek and elegant.
Big Braided Bun With Weave

@braidsbydesign
You can achieve a big braided bun with a weave. The intricacy of this braided hairstyle adds edginess to a woman's vibe. When deciding where to place the high bun, it's best to always align it with the cheekbones.
Stylish Double Braided Bun Updo

@ecbridalglow
One plait is enough, but you can also go for two! Consider a stylish double braided bun updo for an elegant finish.
Braided Bun With Loose Side Braids

@styled.by.morgan__
Display your naturally textured blonde with a braided bun with loose side braids. This bun hairstyle with braids offers is perfect for your wedding day.
Braided Half Up Half Down Bun

@rachel.justine
Twist your hair back and pin it into this braided half-up, half-down bun. Add extra volume and texture with curls and face-framing strands.
? See more half up half down hairstyles.
Easy-to-Wear Braided Bun

@sasha__esenina
Here's an easy-to-wear braided bun that works best on fine, blonde tresses with face-framing pieces. Form a flow in your hairstyle by combing the strands to certain sides until you make it a bun.
Cornrow Braids Into a Bun Hairstyle

@baje_hair
Turn your cornrow braids into a bun hairstyle, and combine them with Marley twists. It's easy to manage and very fashionable.
Gorgeous Braided Low Bun for Long Hair

@alexandralee1016
Pull off a gorgeous braided low bun to highlight your bronde color melt. You don't need texture or waves to achieve elegance.
Box Braids Bun For Natural Hair

@braidsbyrah_
Add some streaks of blonde to your box braids bun for natural hair. The best thing about braided protective hairstyles is that they add length to your mane. Plus, it's versatile enough to wear it up.
Cute Braided Bun for Little Black Girl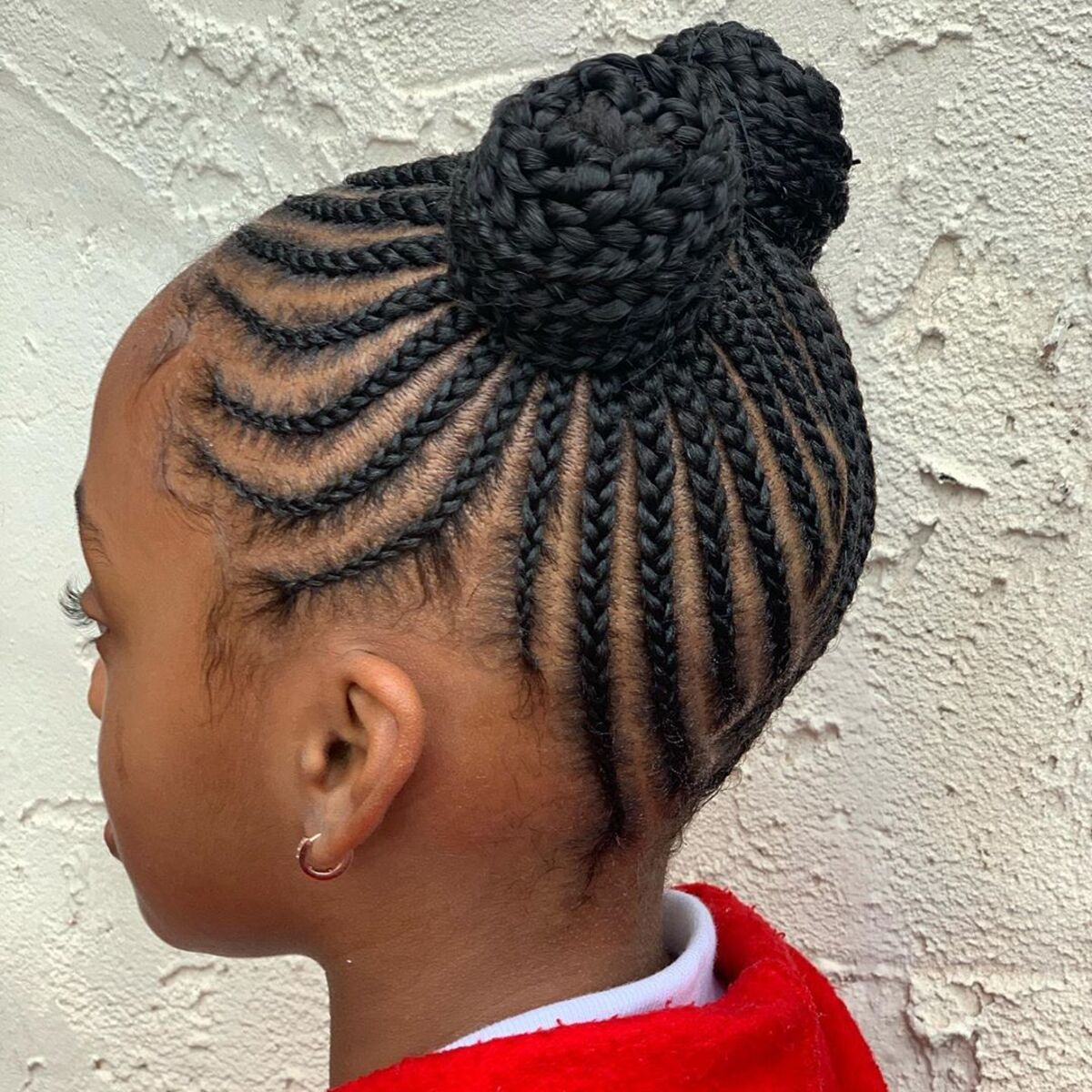 @forever_mrspowell
Opt for a cute braided bun for your little black girl! The feed-in braids and plaits are one size, following certain directions for a creative finish.
Braided-Up Bun for Black Hair

@thevicstyles
A braided-up bun for black hair looks gorgeous, especially with your natural texture. Ask your stylist or professional braider which products you'll need to maintain a bun with braids at home.
Braided Top Bun for an African-American Woman

@michelaysbeautybar
If having buns with braids is your thing, ask your stylist about an updo. A braided top bun for an African-American woman lets you flaunt your black curls nicely.
Double-Braided Messy Bun

@sabrinadijkman
Romantic braided hairstyles like this double-braided messy bun will make your light brown tresses shine the brightest. A bun that's braided into a textured updo works well with face-framing pieces.
French-Braided Bun Chignon

@braids.blowouts.styles
Consider this gorgeous French-braided chignon bun if you're attending any formal event. Though it works best on long and dark tresses, you can use golden brown hair extensions to recreate the look. Leave a few strands hanging on both sides of your face for a softer look.
This braided bun up-style was created by stylist and braider Megan Ellis of Windsor, ON. Her favorite part of this look is the braid and how it's been pulled out and styled.
"With a braided bun style like this, there are many tricks to help with creating the braid and to help create the illusion of thickness," says Ellis. "Depending on the vision the client has, I would recommend extensions to help the stylist when the client has overly soft or short hair."
Lace Braided Bun For Kids

@hairstylistserena
This lace braided bun was created by hairstylist Serena Einarsson of Vancouver, WA.
She says, "It's called such because the braid is created similar to a French braid where small sections of hair are added with each row until every section of hair is incorporated. This bun is braided, but it's a simple style with something extra to make it look more put together."
A few other things you'll need are bobby pins, a hair elastic, a bun maker (matching the hair color you're working with), medium to strong hold pomade (matte or shiny), and hairspray. This style is fairly quick and simple – it took about 10 minutes.