26 Straight Layered Hair Ideas for All Lengths and Textures
Straight Layered Long Bob for Women Over 40

@g_deodato
Try a straight layered long bob for women over 40 to take years off your age! Ask your stylist to lob it off at the shoulders and keep the layers longer for a flowing shape. This style can be worn with a partition in the middle or on the side. The simplicity of straight haircuts with layers offers sophistication, versatility, easy upkeep, and quick styling.
Long Layered Hair with a Brown Balayage

@locksbymahek
Hang on the last bits of summer and flow into fall with long layered hair with a brown balayage. This straight layered cut is brought to life as rich roots settle into subtle highlights. Use a large styling wand or big barreled curling iron for soft waves, and finish with a texture spray.
Sleek Middle-Part Bob with Layers

@martafeschuk
A sleek middle-part bob with layers offers a modern take amongst layered straight cuts. Simultaneously soft and full, this haircut is a perfect choice for a new style where the cut grazes the collar bluntly with blended layers.
Edgy Chop with Choppy Layers

@ayhanonluel
Go for an edgy chop with choppy layers for your next haircut! This cut has a blunt perimeter and deeply textured layers. A layered straight cut is ideal for women who wear their hair straight but prefers an added flair.
Asymmetrical Bob with Short Layers

@angelicagrechkina
An asymmetrical bob with short layers adds volume and compliments your facial shape. Straight layered cuts like a bob haircut enhance the natural texture of your hair. Having the hair length that suits you is vital as it will frame your facial features quite well.
Medium-Length Straight Cut with Ombre

@studiomdh
A medium-length straight cut with ombre is an understated, yet powerful trend. In the realm of layered straight haircuts, this one has the most blend between the layers and the length, with the hair color creating a perfectly melted brilliance toward the ends.
Mid-Length Shag with Razored Layers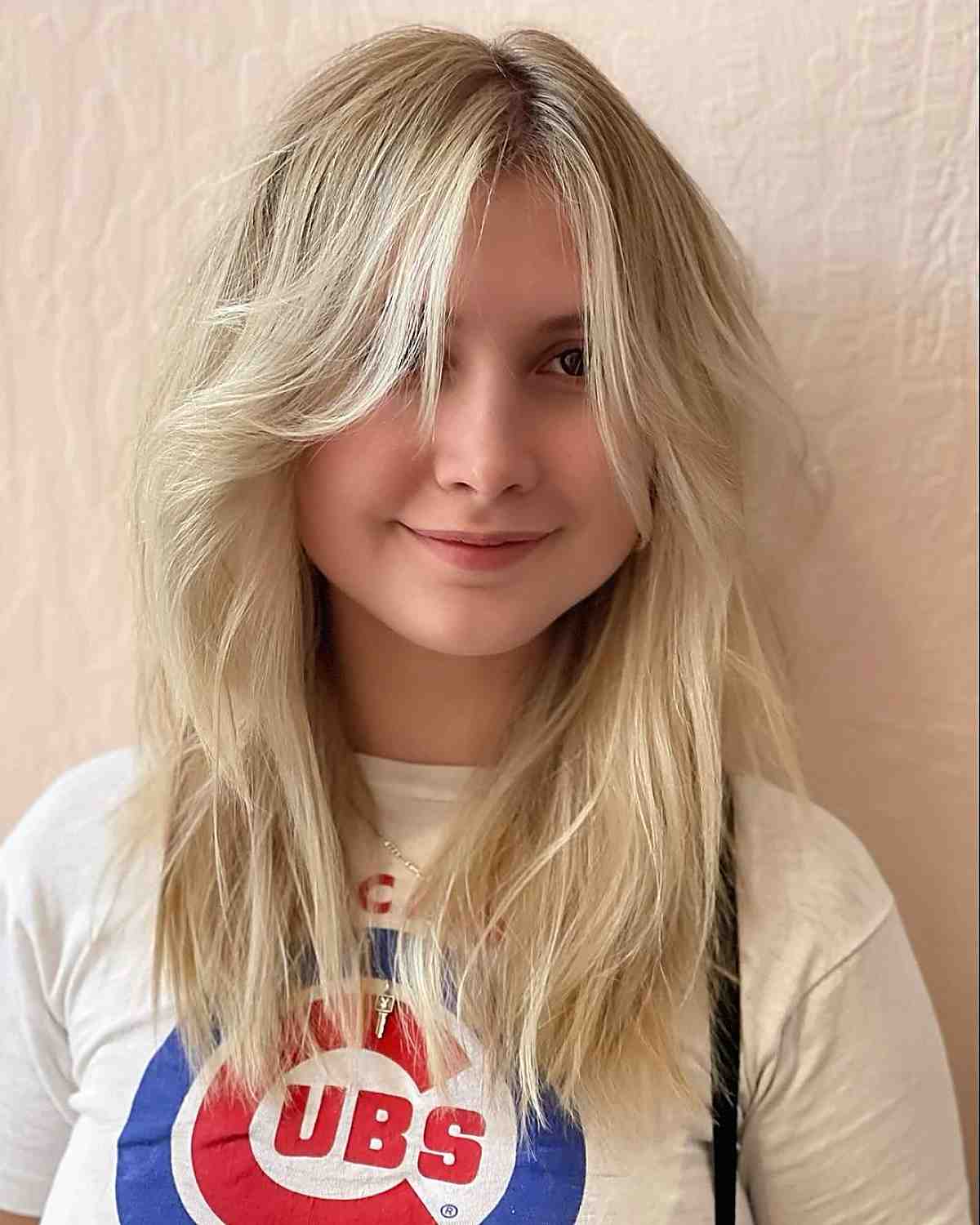 @susiegeda4
Step out with a mid-length shag with razored layers next time! A layered straight hairstyle gets an update with the layers starting around the eyes, gradually gaining length to frame the face. Make sure to ask for some seriously softened ends to keep them blended!
Straight and Sleek Cut for Older Women with Glasses

@blondriot
When looking for a straight and sleek cut for older women with glasses, consider a short haircut. Keep in mind to account for eyewear, especially on the sides above the ear, in order to decide what length might be best.
Asymmetrical Bob with Layered Side Bangs

@trendpittsburghsalon
Go off-kilter with an asymmetrical bob with layered side bangs! This style especially caters to a straight haircut with layers, cut to expand the shape and create some volume. All the layers are softened with a point-cutting technique or with a razor to avoid any blunt texture.
Related: See more layered hairstyles with bangs.
Short Pixie Bob for Older Women with Straight Hair

@hairismyart_a
A short pixie bob for older women with straight hair is a go-to option for those looking for a fresh take. This is a straight hairstyle cut with layers to keep the hair lightweight and moving. Leaving the ends on the blunt side will add some texture as well. Try it out at your next appointment!
Shoulder-Length Layered Shag for Straight Hair

@sashamoonsalon
Opt for a shoulder-length layered shag for straight hair to keep a tousled, didn't-try-too-hard mane. The straight layered haircut is achieved by cutting square layers, short enough to give the top some textured volume. Make sure the ends are point cut to keep your medium hair piece-y!
Longer Layers for Women Over 50 with Straight Hair

@tekapassarin
Longer layers for women over 50 with straight hair are fitting to create a beautiful, loose silhouette. A haircut on straight hair with layers adds volume in the front while allowing the hair to bounce and flow.
Related: See more various hairstyles for women over 50.
Long Straight Layered Hair with Long Curtain Bangs

@bailiekate_hair
Stay away from short or medium-length hair and rock long straight layered hair with long curtain bangs for a cut with a vibe! Ask your stylist to create lots of piece-y, textured layers to remove weight and add a bunch of movement. Style it with a dry finishing spray to keep things from looking too blended!
Related: See more layered hairstyles with curtain bangs.
Short Pixie with Layers for Women Over 60

@maddiecallowhair
Consider a short pixie with layers for women over 60. The uber-short cut is perfect for layered short hair, creating tons of texture and easy daily styling.
Long Straight Hair with Long Layers

@roberts_lauren
For long straight hair with long layers, choose a cut that maintains fullness at the bottom. A straight layered hairstyle gets refined with some point cutting, which will ensure blended ends and makes styling easy and flexible.
Straight A-Line Bob for Women Over 30

@chelsea_cuts
Set the bar with a straight A-line bob for women over 30. Straight hairstyles with layers are a popular choice to add volume at the crown and keep the haircut from getting too wide. Slim sides are the key to keeping this haircut looking fabulous!
Feathered Cut for Straight Hair

@nikkirichhairandmakeup
Get inspired by a feathered cut for straight hair. This haircut may be a nod to famous straight layered hairstyles of the past, but definitely has an updated feel with some proper curtain bangs. Ask to keep it loose and moving, with lightweight, feathery ends.
Related: See more straight hairstyles with curtain bangs.
Short Bob for Straight, Thick Hair

@yukistylist
Try a short bob for straight, thick hair. Anytime thick hair is in question, straight layered haircuts provide a welcome answer. They remove lots of heaviness while creating a punchy, bold style!
Straight Graduated Bob Hairstyle with Shorter Layers

@annie_masterdesigns
A straight graduated bob hairstyle with shorter layers creates a beautiful and chic style. It's best to blow dry this with a large round brush to achieve smooth, rounded ends and to create lots of volume through the crown. Be sure to request that the layers are softened to avoid any blunt lines!
Low-Maintenance Straight Layered Hair

@anisa_chami
For low-maintenance straight layered hair, ask for some soft, face-framing layers in front. This haircut is especially versatile, complimenting women whose hair may range from thin to thick. Far from boring, layers on straight hair can add so much texture and interest!
Straight Layered Hair with Balayage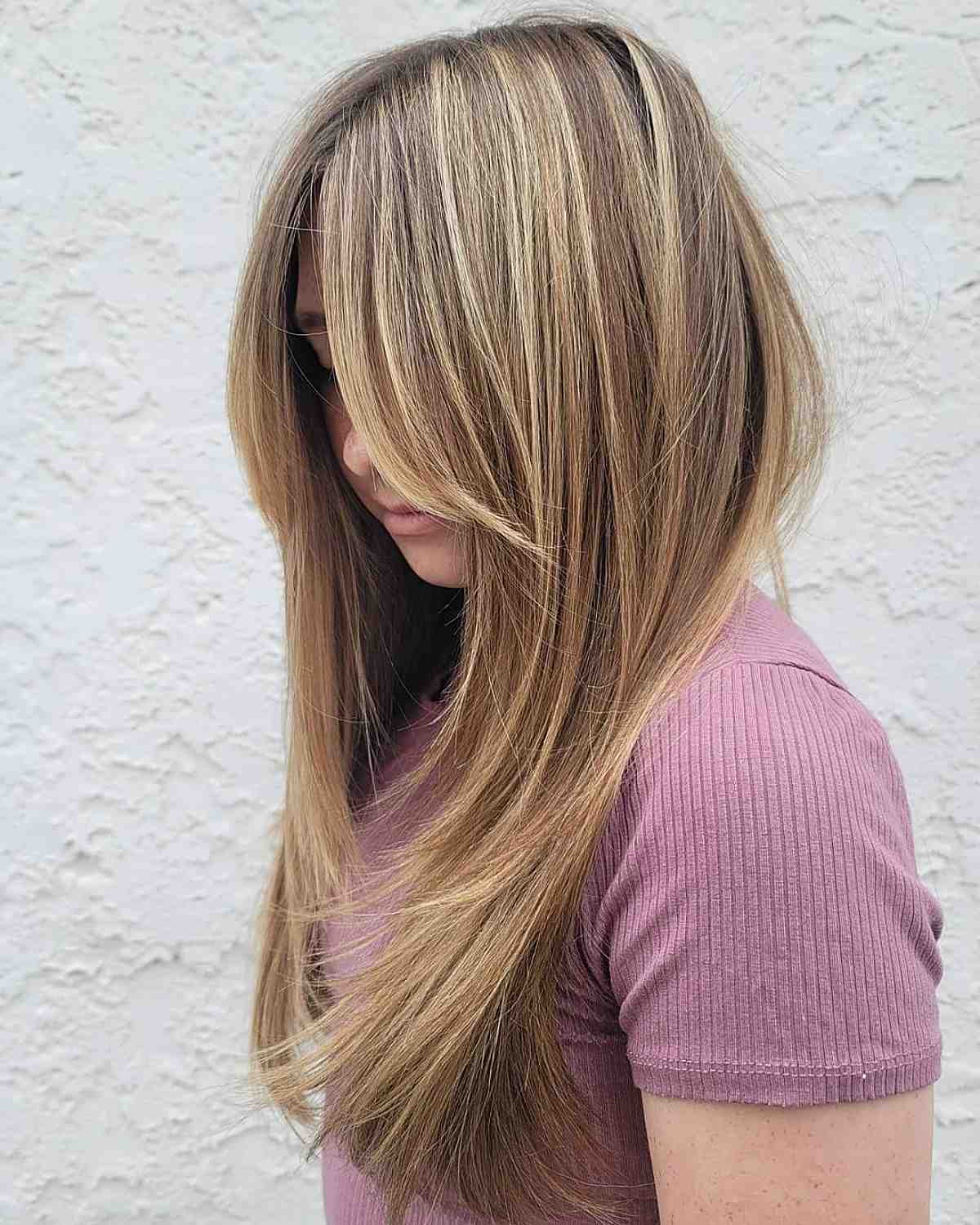 @lauren_g.hair
Straight layered hair with balayage adds movement to the hair while accentuating sun-kissed ends. The haircut is shorter around the face, with layers beginning as short as the jawline, point cut to be soft and blended. Style the front with a bit of a swoop for a nod to curtain bangs!
Straight Razored Shaggy Haircut with Layers

@madisonvillohair
A straight razored shaggy haircut with layers gives texture and movement to long hair. A razored cut is the best way to achieve a soft layered look. A razor cut is good to use for almost all hair types and textures, but don't forget that curly hair and razors don't mix well.
Styling is super simple when the cut and layers are done correctly, as the hair will lay perfectly with the added volume. Make sure your stylist is comfortable with a razor cut and has prior training with it.
Short Layered Pixie for Straight Hair

@kortri
A short layered pixie for straight hair creates added texture and fuller-looking hair while keeping the softness and sleekness. It adds volume and dimension. The best way to create layered straight hairstyles is by using a styling cream and or a smoothing cream to give a luxe finish.
Medium Layered Straight Hair for Women Over 70

@chanhair_mobile
When creating medium layered straight hair for women over 70, consider creating layers for straight hair to create a beautiful shape and add extra dimension and texture.
Shoulder-Length V-Cut for Straight Thick Hair

@asiang_salon
A shoulder-length V-cut for thick hair is hair that is straight and layered. It opens up the face with layers while forming a v-shape at the tips, seen at the back portion of your hair. Face-framing layers help take away heaviness, creating movement toward the back and adding more shape to the style.
Long Haircut with Black and Blonde Hair

@colorsmechass
Consider a long haircut with black and blonde hair for women who want to stand out from the crowd! If you want long, beautiful, dark-colored locks, hair maintenance is a must. Protein treatments will help keep your hair silky and shiny. They can be added during your coloring process.
Hair trims are also an imperative part of keeping your layered straight haircut looking healthy. Remember that in order to achieve this black and blonde hair color, you might need multiple visits to your salon and frequent visit thereafter to maintain it. It will be worth the investment and you'll get tons of compliments with it.