26 Straight Bob Haircut Ideas for a Simple & Chic Look
Medium Bob for Thick, Straight Hair

@hair.helga
A medium bob for thick, straight hair is a haircut that requires little to no upkeep. It is suggested that trimming be done in between two or three months to maintain the shape of a bob haircut for straight thick hair.
Straight Lob with Fringe for Women Over 30

@hair.helga
A straight lob with fringe for women over 30 consists of a body precisely cut in the same length, creating a modern, elegant finish. Bob hairstyles for straight hair flatters women with triangular or oval-shaped faces. If you want longer hair, opt for a lob (long bob).
Straight Layered Bob

@kadirdonmezofficiial
A straight layered bob can be cut in the chin or shoulder level, depending on the preference and suitability of the clients. Bob haircuts for straight hair consist of a same-length cut that creates that impression of added volume.
Wash-and-Wear Bob for Women Over 60

@colorqueensalon
Wash-and-wear bob for women over 60 has a longer length on the front and a shorter length in the nape area. This cut offers a lived-in finish with zero effort in styling. The straightest of hair needs trimming to avoid unwanted split ends.
Asymmetrical Straight Bob for Women Over 40

@emerson_ferrazoficial
An asymmetrical straight bob for women over 40 is an edgy yet versatile piece. Bob cuts for straight hair are defined further using a flat iron, creating a polished and alluring finish.
Related: See more short hairstyles for women over 40.
Blunt Long Bob

@hair.helga
A blunt long bob is a straight cut with its length residing on the shoulder area. It's frayed softly at the ends for added movement and texture.
Straight Inverted Bob

@rambutbob
A straight inverted bob offers several styling options. The easiest style to recreate is styling bobs for straight hair using a flat iron, leaving a chic, polished finish.
Edgy Angled Bob for Straight-Haired Women

@headrushdesigns
Edgy angled bob for straight-haired women leaves hair with movement and a differentiated texture. Bob for straight hair is a perfect choice for women who want shorter tresses with an edgy twist.
Related: See more straight hairstyles for short hair.
Shaggy Bob for Straight, Fine Hair

@skipdoeshair
A shaggy bob for straight, fine hair has a concentrated volume effect on the top of the head, creating a volumized, lived-in finish. To recreate this look, use volumizing powder and apply it on the top of your head.
Straight Long Bob for Women Over 50

@alex.moiseeva
Consider an asymmetrical straight long bob for women over 50 for a big change to your look. A bob cut for straight hair has a deeply parted collarbone-grazing side while the other side is cropped close to head. The extreme variation in lengths is a visual showstopper. Talk to your stylist about scheduling regular trims to keep your look fresh.
Layered Bob for Straighter Hair

@sjiekenschede
Try a layered bob for straighter hair to achieve movement and texture. Longer layering softens the perimeter and gives the right amount of lift in the crown. Face-framing layers sweeping the jaw remove sharp angles for an overall balanced bob haircut.
Shoulder-Length Long Bob for Straight Hair

@domdomhair
A shoulder-length long bob for straight hair makes quite an impact without the need for a big chop. Medium-length straight bob haircuts are versatile and look beautiful on women with straight or natural hair textures. To achieve piecey separation, try Amika's Got Grit Dry Texture Paste.
Straight Stacked Bob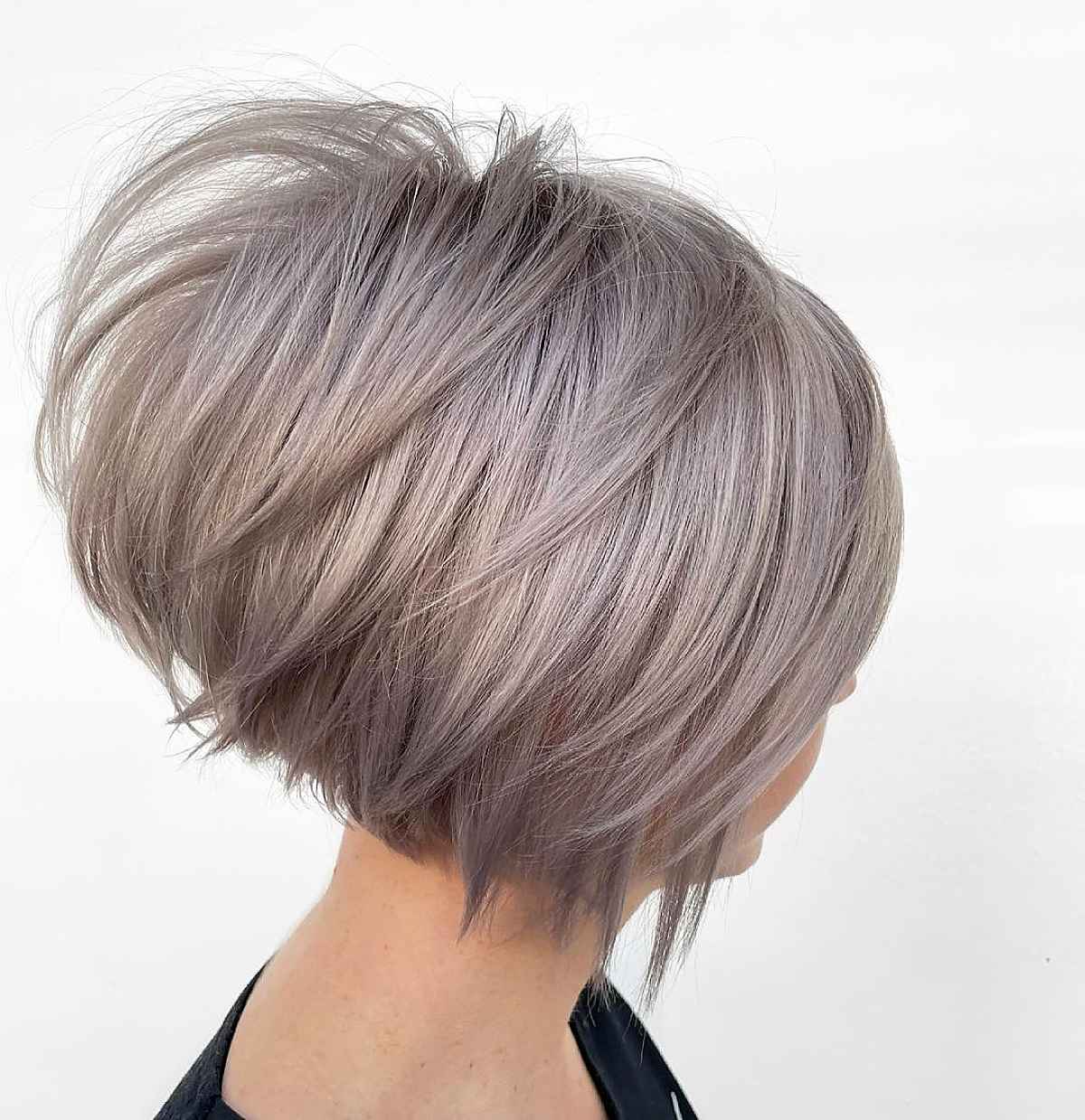 @headrushdesigns
A straight stacked bob is a cute go-to short hairstyle for women of all ages. The rounded silhouette effortlessly shows off the side-sweeping texture and volume in the crown. You will want to visit your stylist every six weeks to maintain the shape.
Low-Maintenance Blonde Bob for Older Women

@hairbytristamae
Go for a low-maintenance bob for older women with a soft, textured bob cut. Low graduation and a straighter neckline create a seamless flow from back to front.
Classic Bob for Women Over 70
@andrea.esalonhair
A graduated haircut is a classic bob for women over 70. Graduation helps remove bulk from the perimeter and adds volume to the crown. For a youthful touch, add a side-swept fringe or some grey blending baby lights.
Sleek Lob for Thin Hair
@rebekahaumannlineaotyv
Try a sleek lob for thin hair to add more volume and structure to your tresses. A straight bob hairstyle is perfect for women with fine strands wanting to give the illusion of thicker hair. If you prefer to go a few days without shampooing, opt for some undone beach waves and finish with Davines' Hair Refresher.
Straight Blunt Bob Cut
@darlenedoesdallas
A straight blunt bob cut is a classic haircut with clean lines. Straight bob hairstyles that fall at chin-length compliment oval face shapes best. Ask your hairstylist about texturizing if softer ends are preferred.
Straight Asymmetrical Bob
@yasinatalayinn
A straight asymmetrical bob is a modern approach to the classic bob. Asymmetrical straight bob cuts have a longer side, falling at the jawline or below. Consider amplifying this haircut with buttery blonde dimensional highlights.
Short Bob Haircut with Bangs

@systemabybeglar
Try a short bob haircut with bangs for a timeless hairstyle with a bit of flair. A long, textured fringe balances the crisp lines on straight bobs. For optimal fullness, blow-dry with IGK's Beach Club Bouncy Blowout Cream and finish with IGK's No Limit Dry Volume and Thickening Spray on your dark brown tresses.
Undercut Bob for Thick, Straight Hair

@coolikovastudio
An undercut bob for thick, straight hair is a good option for women who want to make their faces look thinner. Adding a fringe gives a more delicate detail to the haircut.
Brown and Blonde Balayage Bob

@hair.helga
A brown and blonde balayage bob is a haircut designed for women who like geometric strands with a very straight base. The straight bob haircut enriches a smooth texture and gives a modern look.
Sleek Graduated Bob Cut

@bailey_aesthetics
A sleek graduated bob cut is ideal for women with fine hair textures that aspire to have an extra layer of volume to their tresses.
Layered Lob for Straighter Hair

@ocorteperfeitoo
A layered lob for straighter hair conveys attitude and a super authentic personality. A bob hairstyle for straight hair can have the ends frayed to give more lightness and bounce.
Straight Bob with Bangs and Glasses

@paintedbyhannah
A straight bob with bangs and glasses is a timeless piece. It's a short haircut with perfect symmetry that never goes out of style. Try varying the eyewear to give the straight bob cut a modern look.
Straight Pixie Bob Hairstyle

@lkhair_chicago
A straight pixie bob hairstyle is perfect for lengthening a short neck. The neck is a part of the body that is usually exposed daily. Creating a cut that highlights the neck presents a chic and polished look.
Chin-Length Bob for Straight Hair

@demetriusschool_eng
The chin-length bob for straight hair with a pin-straight base looks beautiful with elongated bangs. Straight bob styles look modern with the ends slightly turned inwards, with the help of a blow-dryer and round brush.