23 Edgy Short Haircuts for Women Wanting a Bold, New Style in 2023
Short Gothic Asymmetrical Cut
@demetriusschool
Short gothic asymmetrical cuts are extremely unique. Sharp lines and soft transitions create the edgiest shape. Try adding a dark fashion color to enhance the gothic appearance when opting for edgy and short haircuts like this.
Modern Inverted Bob with Edgy Colors
@createw.cait
A modern inverted bob with edgy colors brings a dramatic style to the traditional bob cut. Long face-framing pieces and a fuller, more bodied shape at the back creates a gorgeous, more flattering look without the extra weight.
Edgy Short Cut for a Thin Hair Type
@nikitenko_elen_
An edgy short cut for a thin hair type creates added volume, texture, and dimension to thin hair. It is a cut that has the perfect balance between messy and sleek.
Very Short Asymmetrical Bob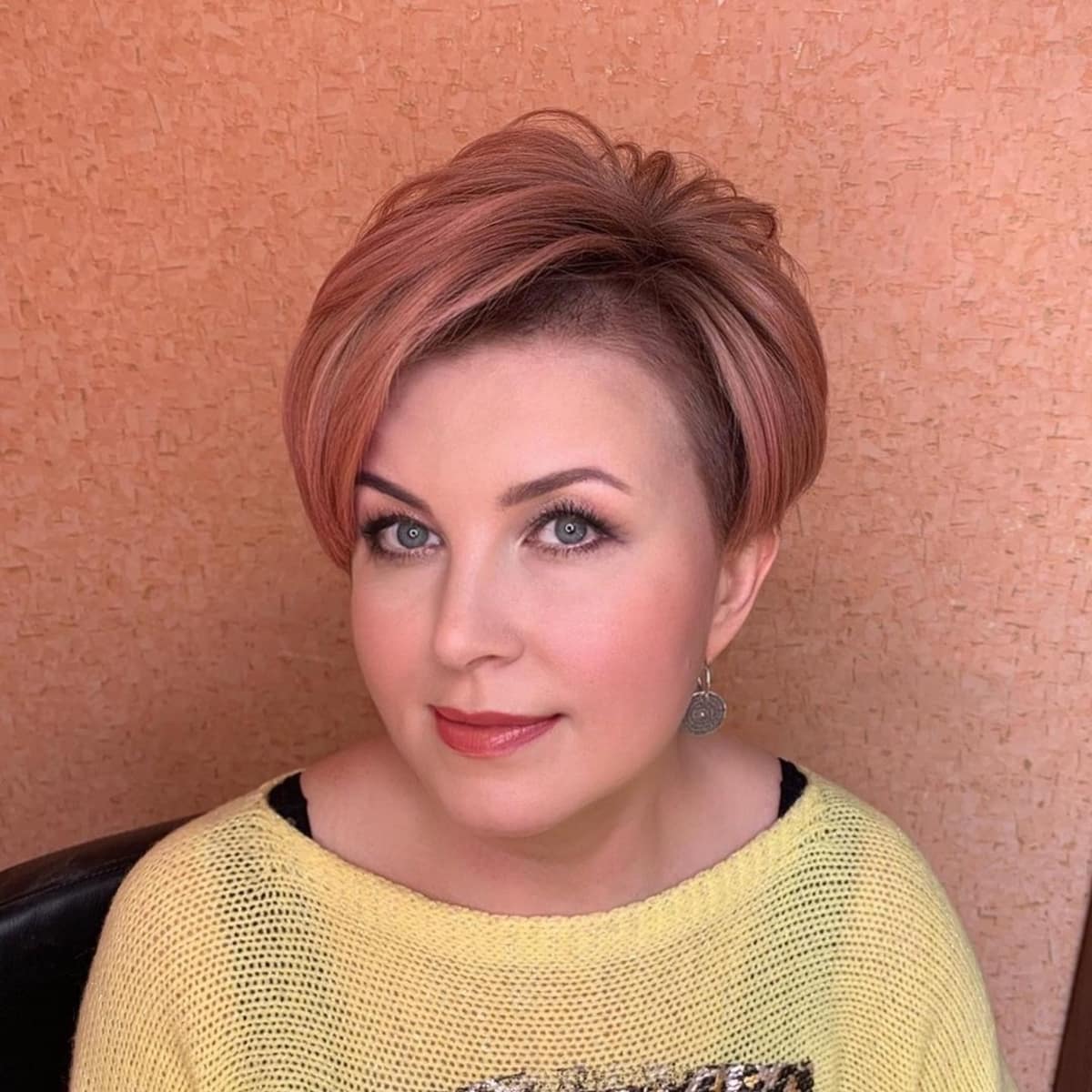 @nikitenko_elen
A very short asymmetrical bob creates volume, showcases edginess, and can be a great way to remove bulk for thicker-haired women. Adding an undercut and super short layers lightens up the hair and giving it more of a feathery, piecey look.
Short Spiky Hair
@lavrenova_olya
Short spiky hair is easy to maintain and accentuates a woman's best facial features. A styling paste is the best product to have on hand when working with a short pixie. Fine hair or thick-haired women can both benefit from this edgy short haircut.
Sassy Pixie with Edgy Feathered Bangs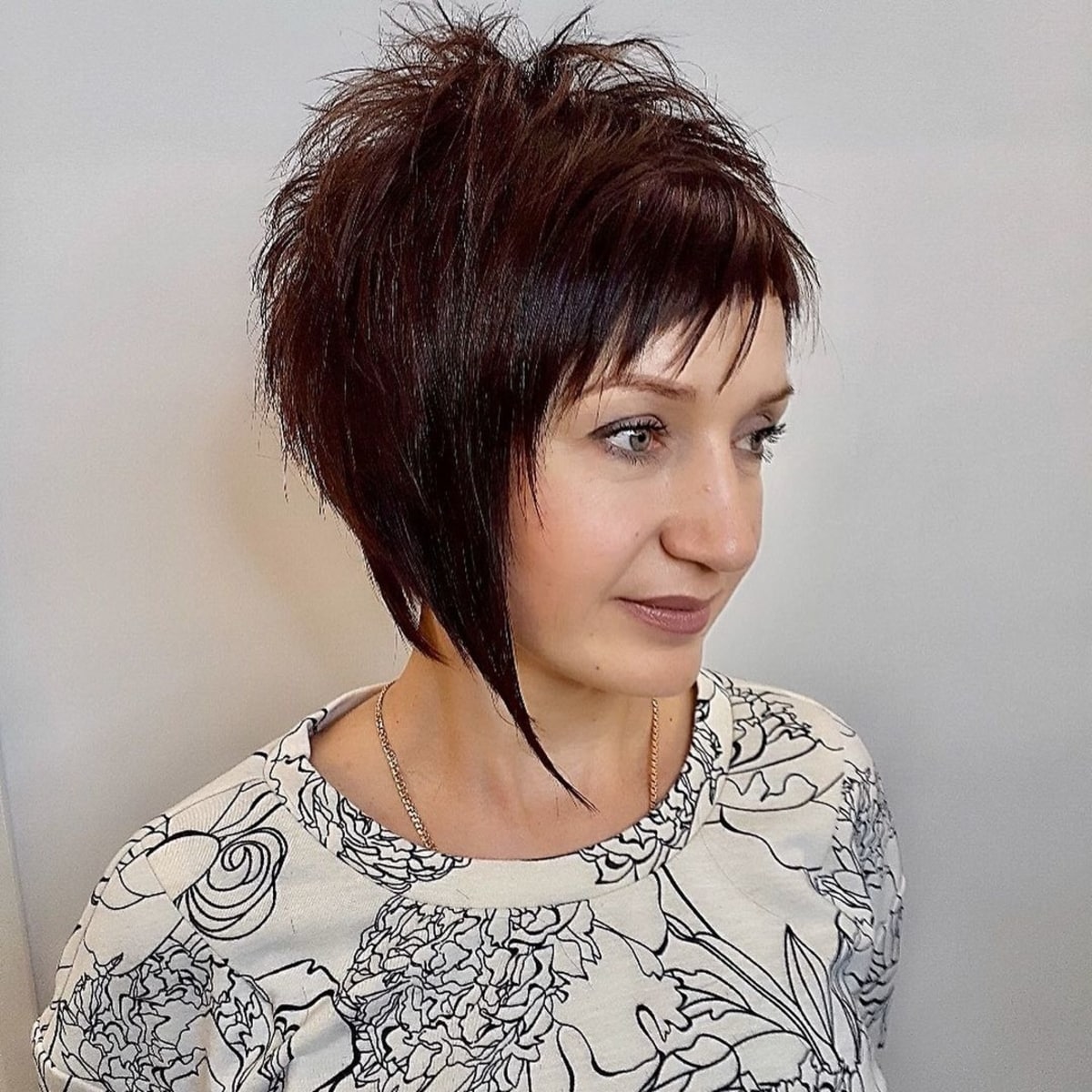 @oksanagromysheva
A sassy pixie with edgy feathered bangs is a great choice if you're needing a 180-degree transformation. The trendiness of asymmetrical cuts can be a good choice for adding more movement to the hair and discovering new ways of styling it.
Short Choppy Haircut
@amandatua_hair
Try a choppy and edgy bob haircut for short hair if you are looking for a cool new hairdo. The choppiness is achieved by point cutting or razor cutting on long layers. If you are afraid to go chin-length, this short edgy cut can be done slightly longer as well. Curl with a curling iron to achieve that popular messy, lived-in finish.
? See more razor-cut hairstyle ideas.
Short Razored Pixie with Side Burns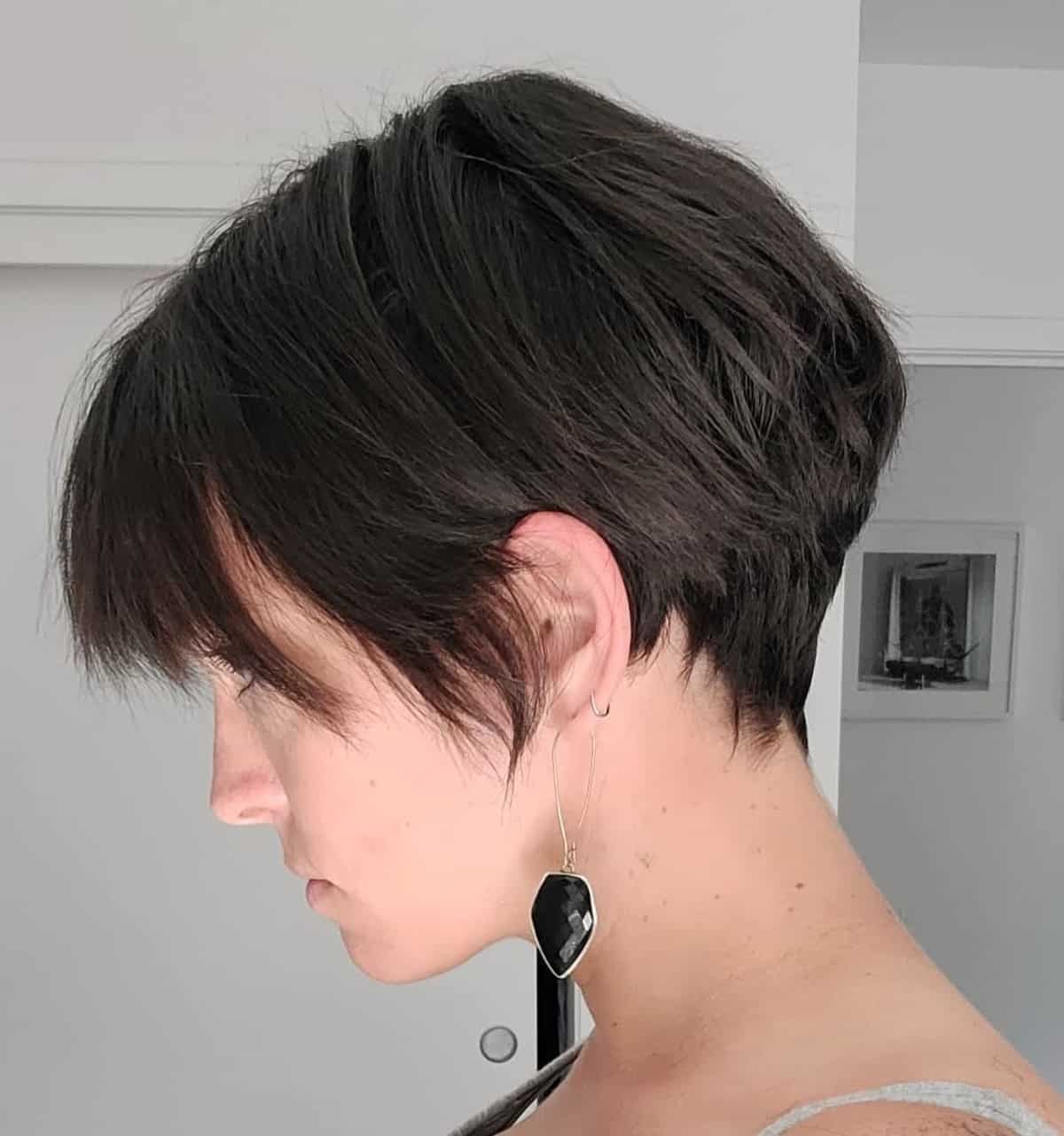 @mayolsonpdx
Short razored pixies with sideburns are a great way to start a pixie haircut journey or a great transitional cut when growing a shorter pixie back out. Make sure your stylist has a new and sharp razor to successfully achieve this edgy hairstyle for short hair.
Edgy Piecey Bob Haircut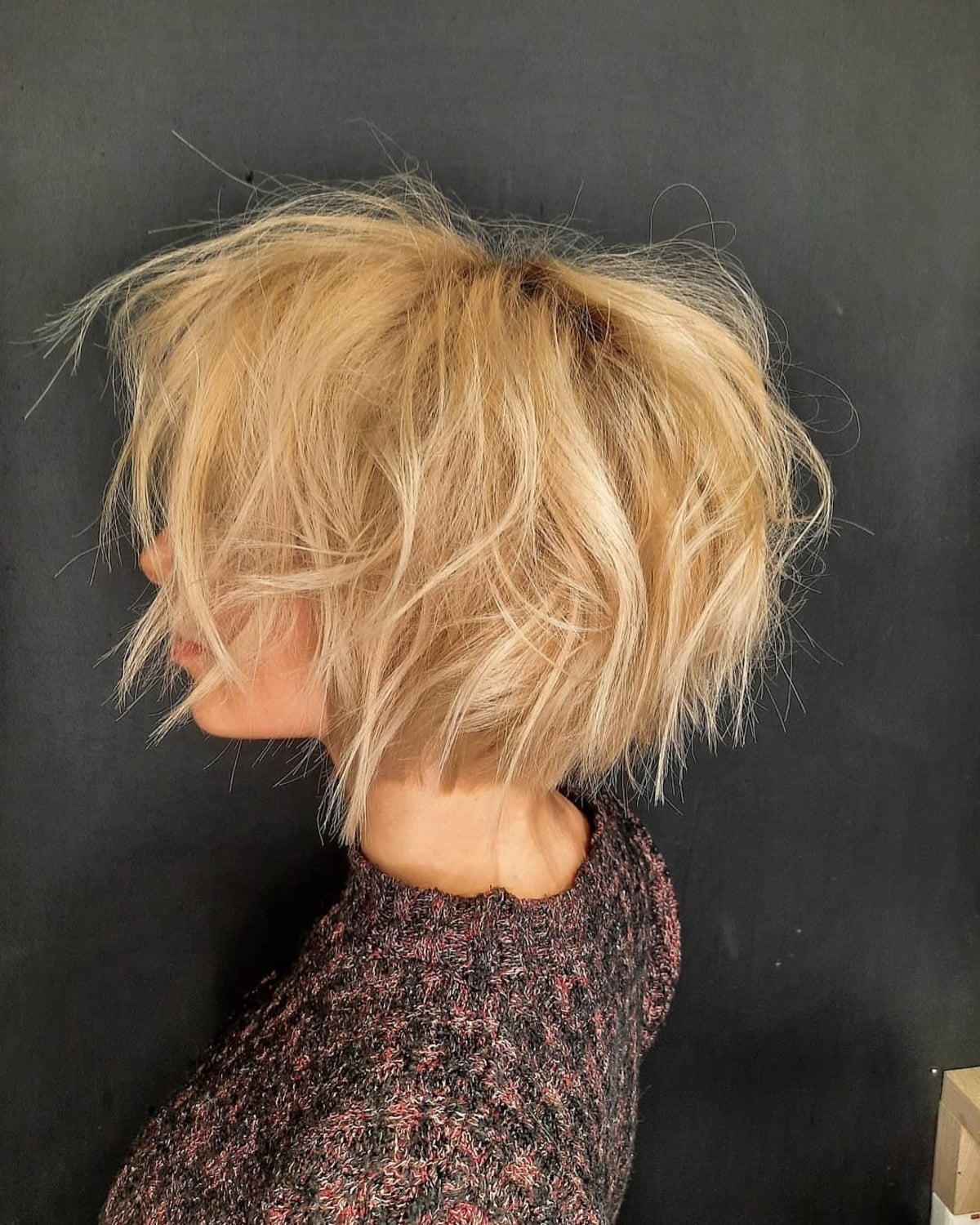 @mikerovstylist
An edgy piecey bob is well-suited for women who prefer an undone and edgy style with tons of layers and movement. To create the perfect wavy hair, start with blowdried hair, add in some messy curls, finish it off with a texture spray, and fluff to the desired fullness.
Short Blunt Cut with Blunt Bangs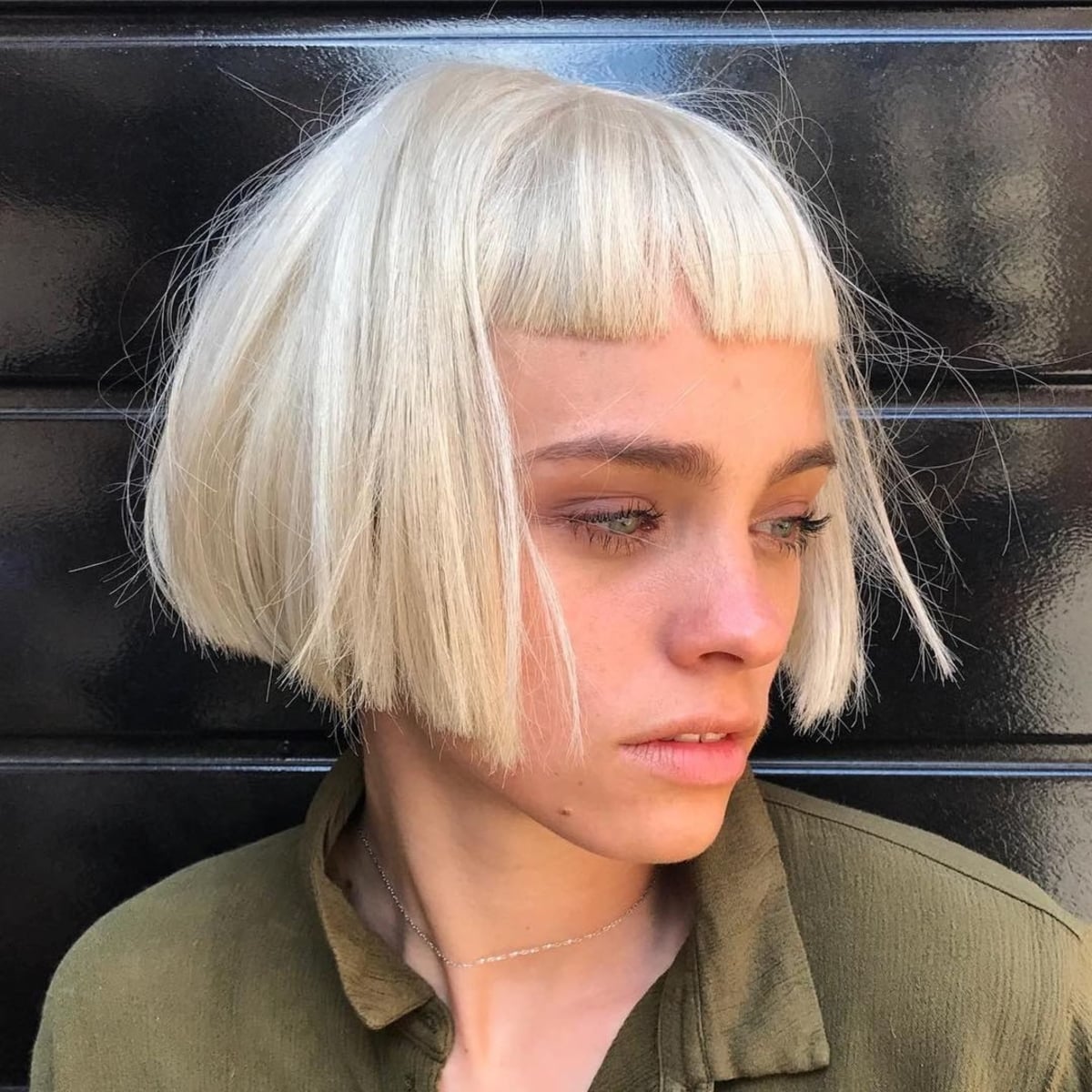 @gianniscumaci
A short blunt cut with blunt bangs is the best choice for women who want to experience a completely different take on a bob. Sharp ninety-degree angles create the perfect crisp and sleek edgy short hairstyle. With blunt bangs, schedule bang trims every 3-4 weeks to maintain the style.
? See more blunt bob with bangs haircut ideas.
Cute Short Shaggy Pixie Cut
@nikitenko_elen_
The cute short shaggy pixie cut is shaved on just one side of the head. It's ideal for women who want to reduce the volume of hair while rocking a short edgy hairstyle.
Undercut with Edgy Designs
@nikitenko_elen_
The undercut with designs is perfect if you're considering short edgy hair. The fade and the designs offer individuality to your whole look.
Asymmetrical Pixie with Highlights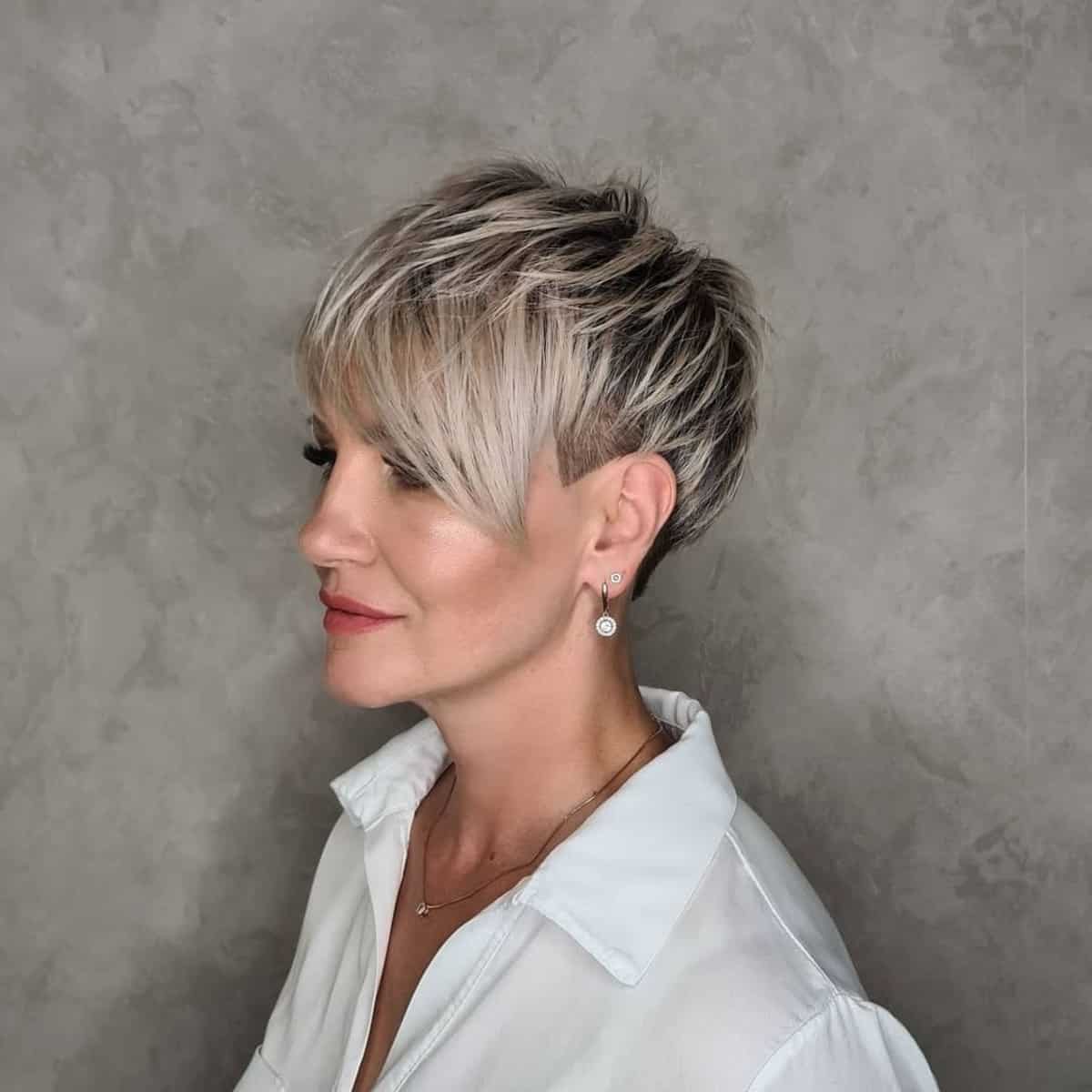 @angelicagrechkina
An asymmetrical pixie with highlights is the perfect choice for women over 40. The asymmetry in the front hangs over the face to soften your features. The highlights can help hide grey hair and root growth. It's a super easy short haircut to style, too.
Messy and Edgy Shag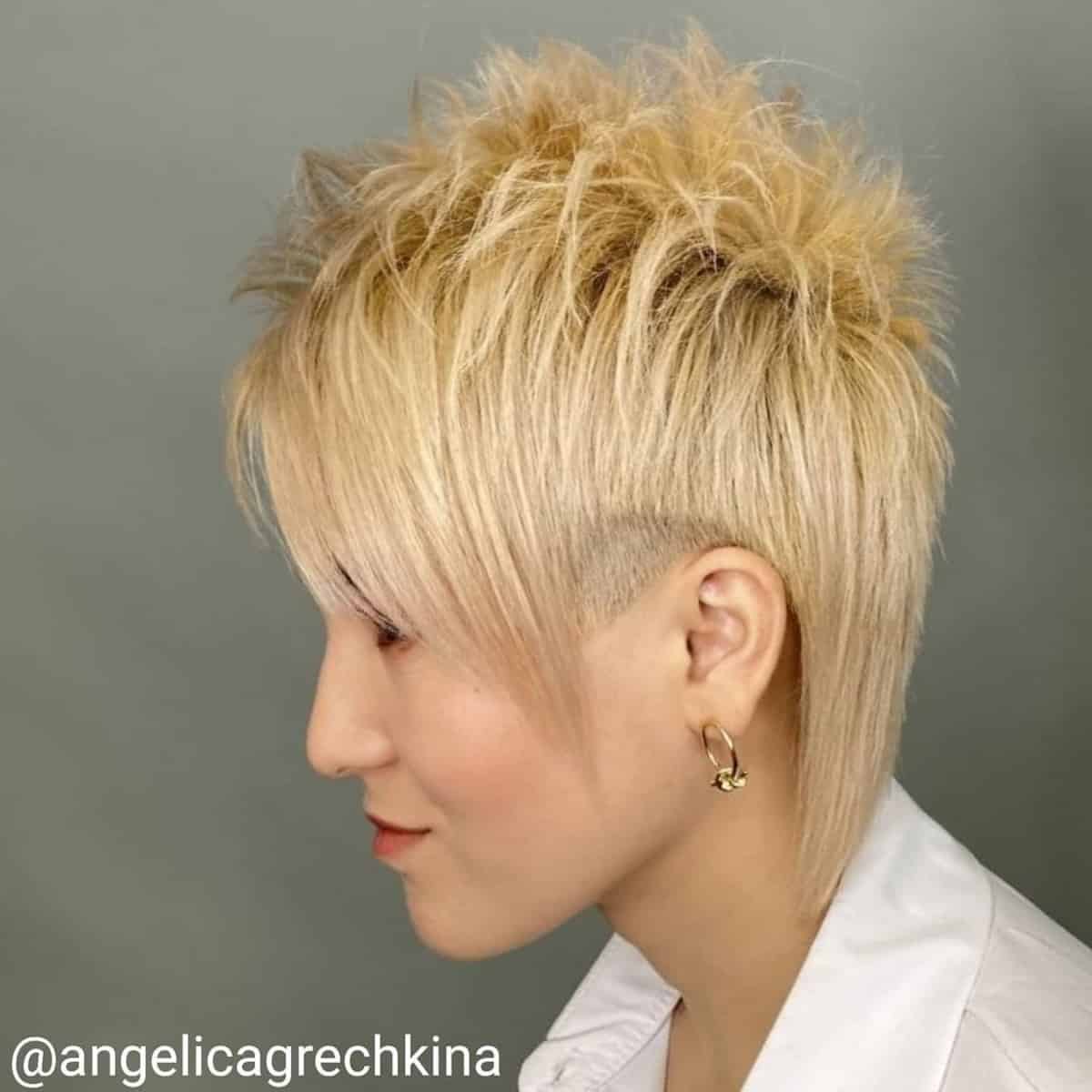 @angelicagrechkina
Consider a messy and edgy shag if you would like to stand out from the crowd. This shag is one of those edgy short hairstyles that has lots of layers and longer lengths left at the bottom. Creating all those layers allows you to punk it up with some styling wax.
Funky Bob with Side Bangs
@paintitblonde
A funky bob with side bangs is not your average cut. Soft layers and texture add a messy vibe to a bob. Longer side-swept bangs give you a playful, edgy hairstyle. Add vibrant color and some styling putty for the ultimate short haircut that's edgy.
Edgy Haircut with a Side Part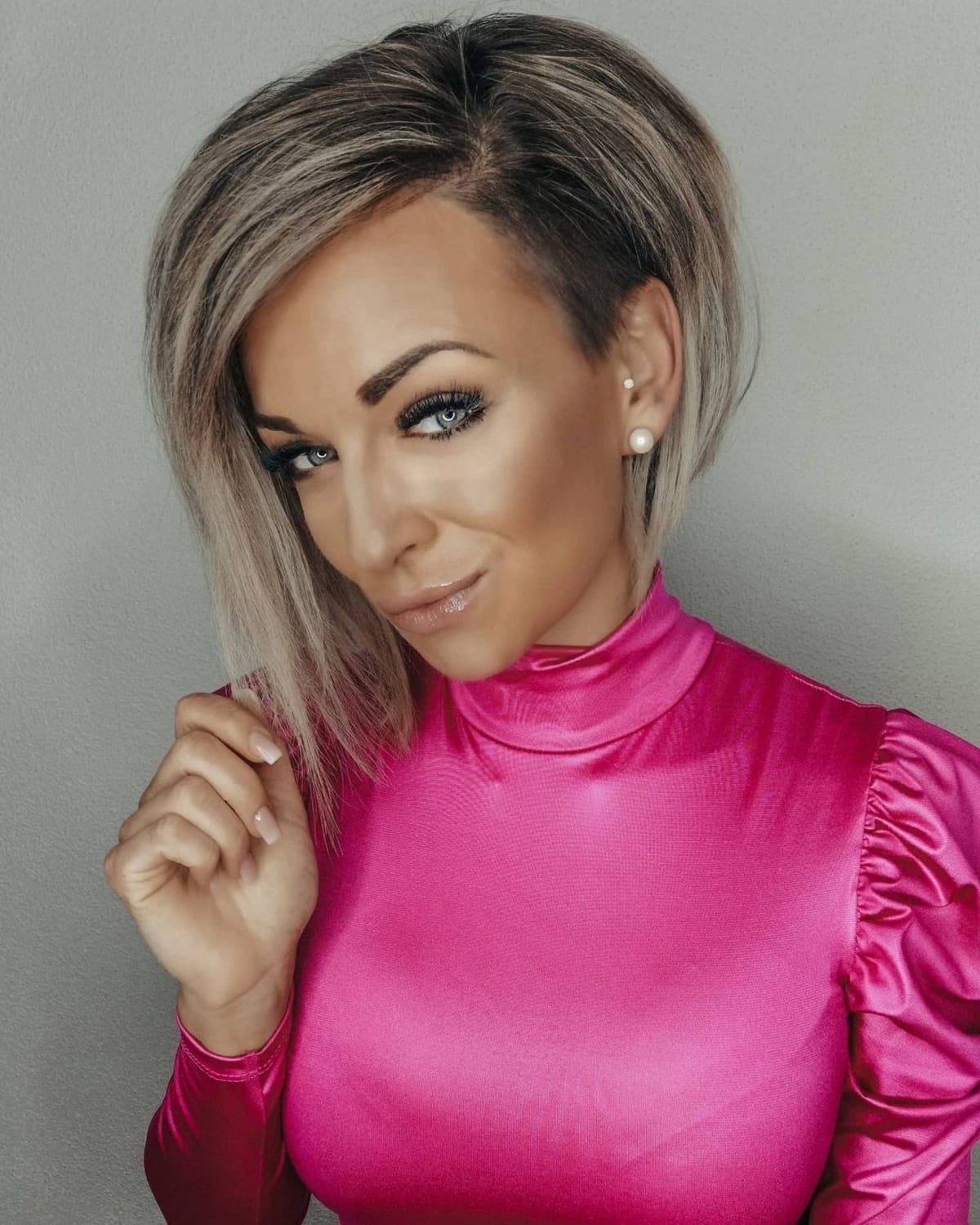 @julia.eberl
An edgy, texturized asymmetrical bob with a side part is an uneven cut, where one side is longer than the other. A textured bob is cut specifically to soften the bluntness of the bottom while allowing extra volume with added layers. An edgy short cut like this can be styled in multiple ways and can be customized to look beautiful on a variety of face shapes. For example, longer face-framing layers help narrow a wider face shape.
Two-Toned Pixie
@dudkazhenya
A two-toned pixie is a popular haircut. The edgy short style is achieved with clippers on the bottom leaving a strong weight line. If you really want this style to shine, make sure you choose a stylist who is experienced in this type of cut. It will need to be cut every 3 weeks, too.
Short Hair with Shaved Sides for Older Women
@dudkazhenya
Short hair with shaved sides is a fun style. It can be worn tucked to show the shaved undercut or straight down to hide it. Just make sure the top lengths are long enough to cover your buzz cut. The shaved sides will grow out fast, so they will need to be cut every 3 weeks. Add a little color on the long portions to really take it up a notch.
? See more edgy cuts for older women
Uneven Pixie with an Undercut
@sillyboys_shorthair_isforgirls
If your looking for short haircuts that are edgy, an uneven pixie with an undercut is for you. This style is fabulous if you have lots of hair because the sides and back are shaved, ridding you of all that hair. It will work on fine hair, but make sure your stylist leaves enough hair up top. Having some length on top allows you to be creative with the styling.
Choppy Short Bowl Cut
@jcx28
A choppy short bowl cut has many layers with a subtle fringe. Short edgy hairstyles like this are very sophisticated and look best on oval and heart-shaped faces.
Edgy Pixie Bob with One Shaved Side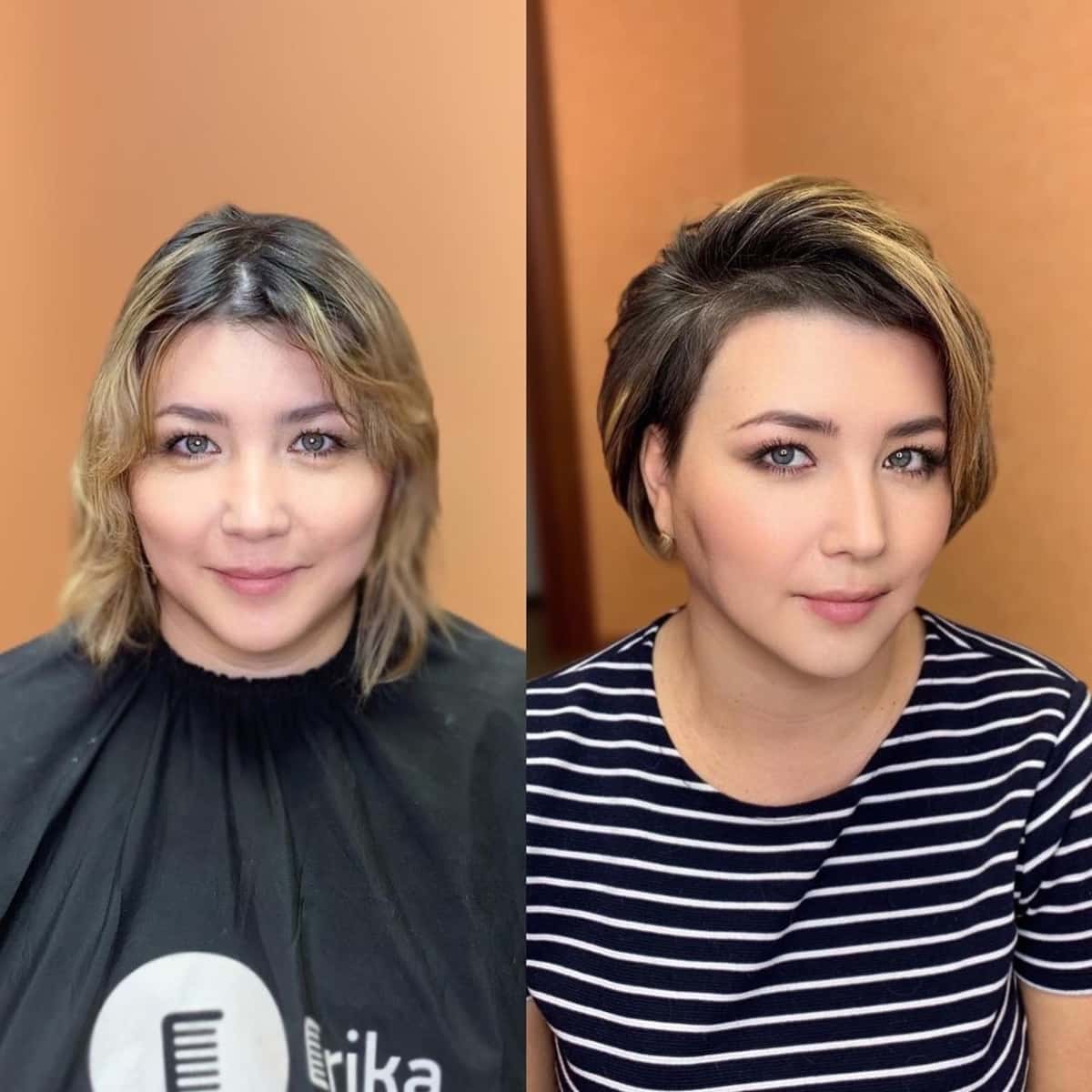 @nikitenko_elen_
An edgy pixie bob with one shaved side has a very bold statement and looks stunning on heart-shaped faces. A short edgy bob has a variety of layers to create volume and dimension and may look better on thick hair.
Short Punk Rock Shag Hairstyle
@barcalessandro
A short, punk rock, shaggy hairstyle is heavily layered, chiseled, choppy and very texturized. This makes it a perfect haircut for fine hair, especially if you're looking to channel your inner punk rocker!
? See more punk rock hairstyles.
Short and Edgy Shag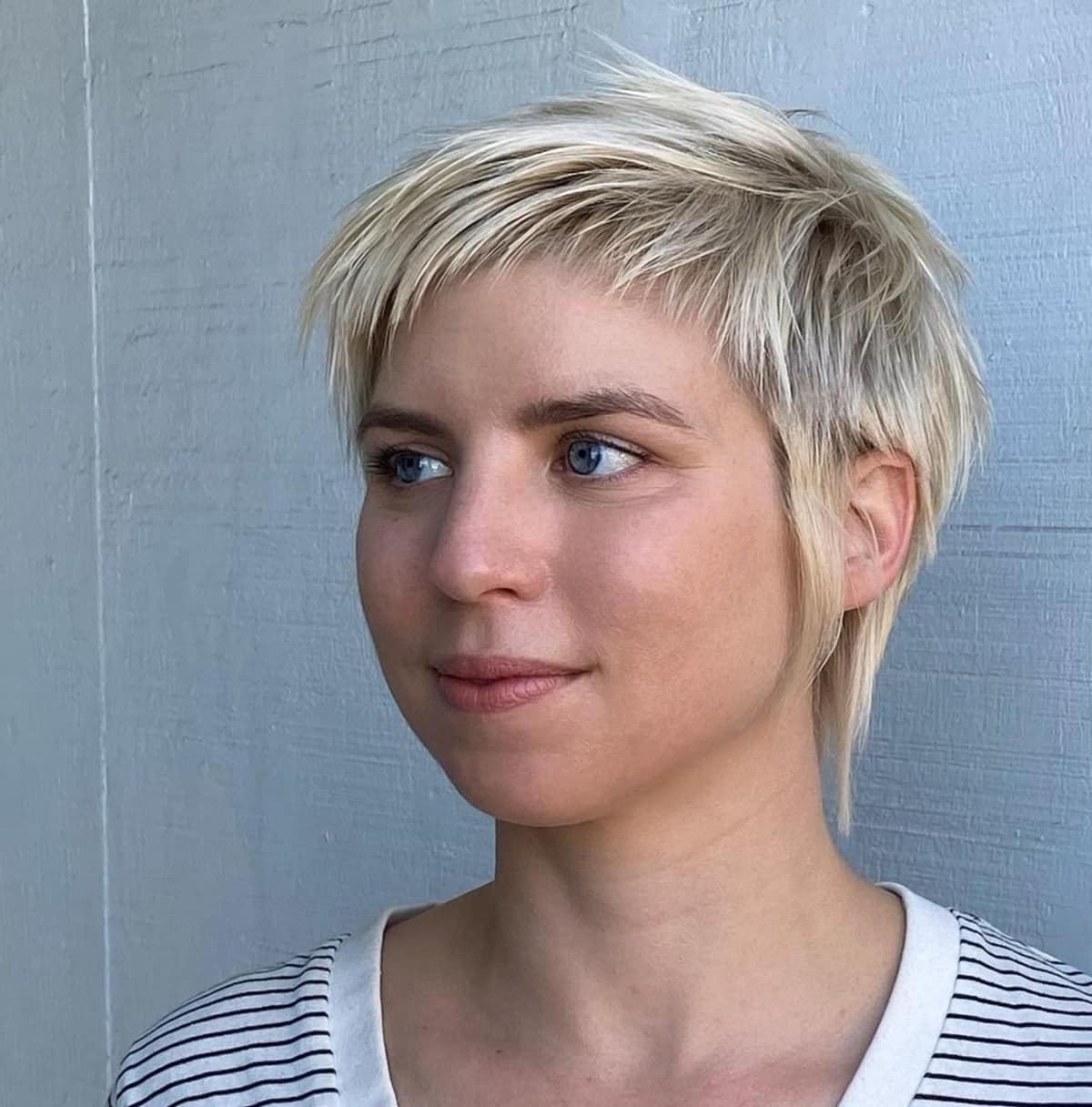 @trpzeboy
Short and edgy haircuts like this shag can give sleek, straight hair tons of texture. Stylist Eryk Brian of California was even able to upgrade this short chop with a beautiful shade of blonde.
"Since this edgy, shaggy pixie has a strong shape, we did a full bleach and tone to reach its maximum blonde hair," he notes. It's always good to add a root shadow for depth and to soften the grow out of short hairstyles that are edgy."