22 Best Beard Fade Haircut & Hairstyle Ideas for a Modern, Rugged Look
Mohawk with Beard Fade

@ali_heydari_org
Mohawk with beard fade gives plenty of options for men to style. You should leave no less than three inches of hair on top for styling. Don't forget to tell your barber to taper your beard to make a seamless transition from the beard to the haircut.
See more mohawk fade haircuts and hairstyles.
Short Curly Top and Shaped Beard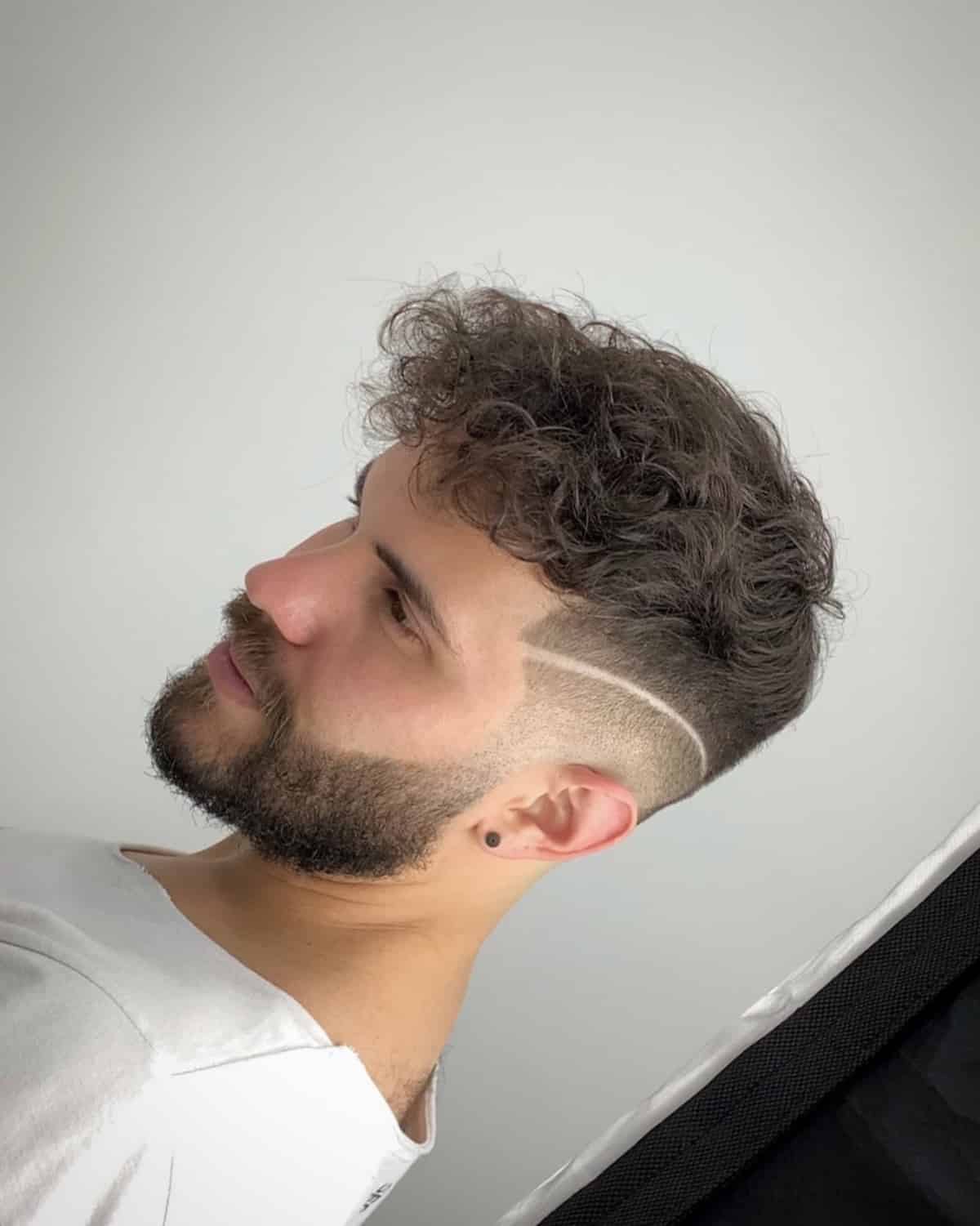 @rogerioaraujobarber
A short curly top and shaped beard is a good choice when considering a new curly top haircut. Curly hair can be hard to maintain at times. Tapering the sides to a shadow is an option to explore for men with curly hair.
Blurry Fade with Beard

@the_real_ayydot
Blurry fade with beard is a tricky yet great haircut for men to try. I suggest having a well-experienced barber execute a blurry fade. It should have a flawless transition from the skin to the desired length, leaving no room for any blending flaws. A razor-sharp hairline takes this blurry fade to the next level of excellence.
Beard Fade into Goatee

@chechecuts
Turn your beard fade hairstyle into a goatee, and see the unique flair it can provide you. What makes it unique from the other beard styles is the pointed facial hair on the chin part. It'll even allow your cheeks to look neat and stylish, which is perfect with a sharp faded haircut.
High Top Fade with Sharp Beard Neckline

@omithebarber_
Want to flaunt your medium-length kinks with style? Here's a high-top fade with a sharp beard neckline to give prominence to your black hair's natural texture. The sides and nape gradually fade to suit the shape of your neat facial hair.
Full Beard and Undercut Fade Hairstyle

@barber_gin
The full beard and undercut fade are an excellent combo for men with mid-length black hair on top. It's a modern take on what a manly beard style looks like.
Beard with Mid Fade

@junior___barber
The refined finish of a beard with a mid fade will look dope on you. Styling it with texture gives your black hair a fuller-looking payoff.
Low Beard Fade

@_cristianbarber
Let your natural texture do its job. A low beard fade is sure to work nicely on your black and wavy hair. For maintenance, a good beard trimmer is a must-have.
Bald Fade with Beard

@nik_hairdesign
Consider a neat faded beard cut for your fine brown hair! This bald fade with a beard will provide you a dapper edge that's very easy to maintain.
Medium Fade Haircut with Beard

@re_malia
Working best on thick and black hair, a medium fade haircut with a beard is very masculine! Texture forms flow and movement, creating contrast between the hair on top and the sides.
Low-Maintenance Buzz Cut with Beard Fade

@barberodessa
A shape up with a full beard haircut will not harm your entire style. Ask your barber for a buzz cut with beard fade to show off how stylish your black hair can be.
Comb Over Fade with Beard

@17cuts
Go for a comb-over fade with a beard if you're thinking of trying a sleek style. Part your hair to one side, comb it into place and put it together with gel. Now, that's how you rock a modern men's hairstyle.
Beard Fade for a White Guy

@joey_shakes
If you're a white guy, consider a beard fade that puts emphasis on the dense, black hair on top. Add a little texture for a more handsome style.
Beard Fade for a Black Man

@aaronmybarber
There's always a perfect beard fade for a black man. Get this toned-down look by trimming your hair neat and short. Your curly hair will form waves, creating dash and charisma to your style.
Taper Beard Fade

@khalife.stylist
Grab the opportunity to pull off a taper fade. All it needs is a taper beard fade plus a well-styled and textured hair on top.
Beard with Temp Fade

@jeffthebarber
Deal with every mood of yours by wearing a beard with temp fade. Its sharpness and dapper-looking finish suit whatever vibe you're going for.
Curly Hair with Beard Fade

@barbermour
There's a lot of movement going on here. Opt for curly hair with a beard fade to flaunt your innate texture. Your black hair contrasts with the skin fade sides nicely.
Short Beard Fade

@rikzothebarber
Tapered sides that complement shaped-up facial hair makes one short beard fade with a tight and neat neckline. Black hair on top shouldn't be too short or too long — just enough length to result in a textured look with short bangs.
Drop Fade with Beard

@aztroo
You got to love the gradually faded sides in this cut! Partnering a drop fade with a beard like this will level up your styling game.
Hairstylist Enrique Tapia from Hesperia, CA created this haircut. "This is called a mid fade with hooks on the side, a textured top, and a beard lineup. I would describe this cut as being easy to style as the top has been point cut and follows the theme of a rugged choppy texture look. My favorite thing about this cut is how the fade radiates a clear contrast in length that stands out to the eye. It is the focal point of this cut," states Tapia.
"I would advise a dude who's interested in beard fade cuts to first consider going with a shadow fade (a fade without going skin) in order to avoid a tan line on the skin. After having a shadow fade, you can slowly work your way down to a bald mid fade. From experience, this will make the transition appear more gradual in the long run. Overall, beard fade hairstyles are very popular and currently trending," Tapia explains.
High Beard Fade

@jazthebutcher
Pull off this high beard fade with enough length of hair on top for easy styling. This look is called a 0.5 fade into the beard with a spiked back top by barber Jaz Bailey of Toronto, ON.
"My favorite thing about the look is the seamless transition from the middle of the head from light to dark, going both ways. The hair fades into the top as well as the bottom," Bailey notes.
The advice that Bailey would give to a man who wants this look is to consider the top of the hair. He adds, "I work on trying to see how we can get the top looking exactly how they want it, whether that is through texturing or styling with blow-dry and product."
Long Beard Fade

@zaebis.haircuts
Merge a long beard fade with a delicate faded cut to spice up your brown hair.
Created by stylist Gleb Morozov of Russia, this is the look of a modern hero, a man who cannot afford to spend a lot of time caring for his hair. "I really like that despite the simplicity of the design, this bow has its own details, and the density and structure of the hair and beard allow you to add personality to the image," Morozov emphasizes.
What's great about beard fade haircuts is their versatility. Morozov explains, "By combining the beard shape and the haircut shape, we can achieve the perfect balance on any head with any bone structure of the face, and the fade of the beard will emphasize the accuracy and character of the person."
Skin Fade with Short Bangs and Beard Fade

@eseesvita
The short bangs are what make this skin fade haircut full of spirit.
This beard fade cut is called a crop fade with a beard fade, designed by barber Gabriel Silvagnoli of Ponce, PR.
"I first saw the crop fade in European men. The best part is that it's really not time-consuming to style at home. If you have a fast life and consider yourself edgy, bold, and fashionable then this style is for you," says Silvagnoli.