22 Best Mohawk Fade Haircuts for an Edgy Yet Modern Look
Mohawk Fade on Thick Hair

@milenobarber
Make a high-contrast hairstyle happen! A spiky mohawk fade on thick hair will help bring out your stylish vibe. Your black, dense hair will work well with sharp sides and a shaped-up beard.
Wide Mohawk Fade

@handsome_ransom
Get a fresh wide mohawk fade for one dramatic look. With a touch of texture added to your hair, you'll get that striking finish and you'll stand out from the crowd.
Mohawk Fade with Line Hairstyle

@nik_hairdesign
For a hundred perfect dapper look, this mohawk fade with a line is a must-try. The shaved part creates a clear contrast between the skin fade sides and enough hair on top and nape area. Styling it with spikes will break the soft look of your brown hair color.
Faux Mohawk with Mid Fade

@sami_barbershop
Faux Mohawk with mid fade is perfect when considering a faux Mohawk style. Men can never go wrong with a properly executed skin fade on the sides. On top, a little bit of texturizing shears will do wonders! Get the help of hair products to make this cut easier to style and maintain.
Wavy Mohawk Fade for Long Hair

@get.faded.by.erica
Flaunt your punk rocker side in a modern way! If you're always down to try something different, get yourself this long mohawk fade. Clean sides and slick-looking, wavy, brown hair appears wild when merged.
Mohawk Fade on Afro

@gustasouzabarber
Pull off this mohawk fade on afro to keep your hair easy to maintain. Wear it to show everyone how a short haircut suits you well.
Mohawk + Drop Fade for Curly Hair

@midas_irv
Mohawk with a drop fade and curly, dark hair? Oh yes, that's straight-up suave. The sides look sharp with this neat faded mohawk cut, which matches the fluffy-textured hair on top.
Mohawk Fade on Short Hair

@13byblackstar
A short hair mohawk fade is the haircut for every rocker. The contrast is evident, separating the neat sides and the medium-length hair on top. No one can resist short bangs and soft spikes on dark hair.
Mohawk Fade with Design

@katya_barber
A mohawk hairstyle is cool, but try to make it cooler with a shaved design on the nape area. Jazz up your black hair by pulling off a mohawk fade with a design.
Low-Maintenance Mohawk Bald Fade

@theneighbourhoodbarber
A neat mohawk bald fade is hard to beat if it's as fly like this one. This is the kind of low-maintenance haircut you'll love, for sure.
Mohawk Fade on Straight Hair

@barberobengie
A mohawk fade on straight hair looks so sleek and fine. If your hair is a shade of black, the result will appear fuller and perfectly shaped.
Black Man's Mohawk Fade Haircut with Beard

@blue_thebarber93
Ask your barber for a black man's mohawk fade with a beard. The sides will give you a neat finish to balance out the edginess of this look. A well-kept faded mohawk hairstyle like this suits a manly guy.
Mohawk Fade's Back View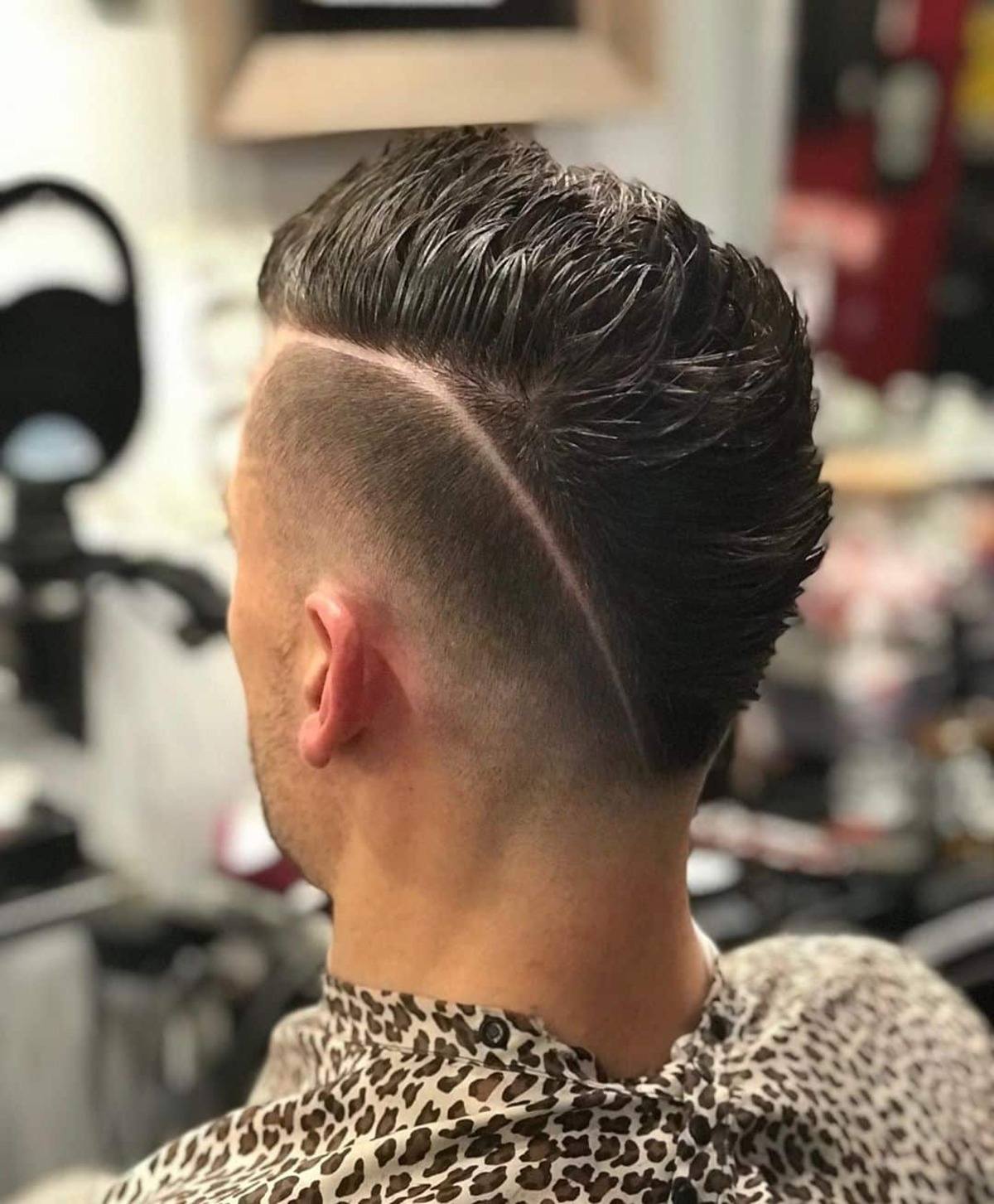 @melodyzazueta
Here's a mohawk fades back view that's full of suaveness! The hard part forms a disconnection between the sides and the lengthy black hair on top.
Skin Fade Mohawk

@michaelthomas123
Consider a skin fade mohawk that will enhance the fullness of your brown hair. Adding texture will not hurt; in fact, it'll bring out the best in your mohawk faded hairstyle.
Mohawk Mullet Fade

@aprilgivesgoodhair
Wear an exceptional mohawk hairstyle if you're one of those guys who are bold enough to try something different. Showcase the retro side of yours by pulling off this mohawk mullet fade. LA-based stylist April Virgen utilized Paul Mitchell's Reformer to create a natural-looking texture.
Mohawk with Taper Fade

@asaad_almudhafar
Incorporating a lot of details into your look? Not a problem. This mohawk with a taper fade features spike, texture, and volume to jazz up your black hair. The shaved lines right at the temples plus the on-fleek beard look creative, for sure.
Mohawk + High Fade

@noelblends
It's a modern mohawk style that's more of a new generation type of mohawk. Barber Noel Sanchez of Texas says, "The best thing about it has to be the shape of the hairstyle and how it all comes together with a beautiful blend."
To recreate the style, use pomade for that strong mohawk look. Sanchez adds, "Do lots of blow-drying, if not then it won't ever come out the same."
Mohawk + Low Fade

@al.the.barber
Give this mohawk low fade a shot if you want your sides to be clean, and with longer hair plus shaved lines at the nape area. It only needs a little bit of styling powder for texturing your black hair, and the end result will be dope.
This mohawk with a fade is a modern combover with a little touch of a fohawk as described by Alondra Rodriguez, a stylist from Caldwell, ID. "You can mix this faded haircut up a little bit and adding a design in it gives it more of a look! It's business in the front and party in the back," Rodriguez emphasizes.
Note that this is a maintenance haircut. You have to be able to style it and have the motivation to do it.
Curly Mohawk Fade

@elevatedundercuts
Try a curly mohawk fade to add an element of excitement to your dark hair.
"I love this look because it gives you a fresh feel with the sides that are faded tight around the ears and temple. There is a lot of texture and movement throughout the mohawk which gradually becomes longer as you move towards the neckline," says stylist Samantha Cummings from Chesapeake, VA.
Cummings also mentions, "All face shapes and hair textures are welcome in this fading mohawk hairstyle. If you like the look of the curls, I would definitely consider getting a perm, as it helps form structure and height to the haircut."
? See more faded hairstyles for curly hair.
Temple Fade on Mohawk Haircut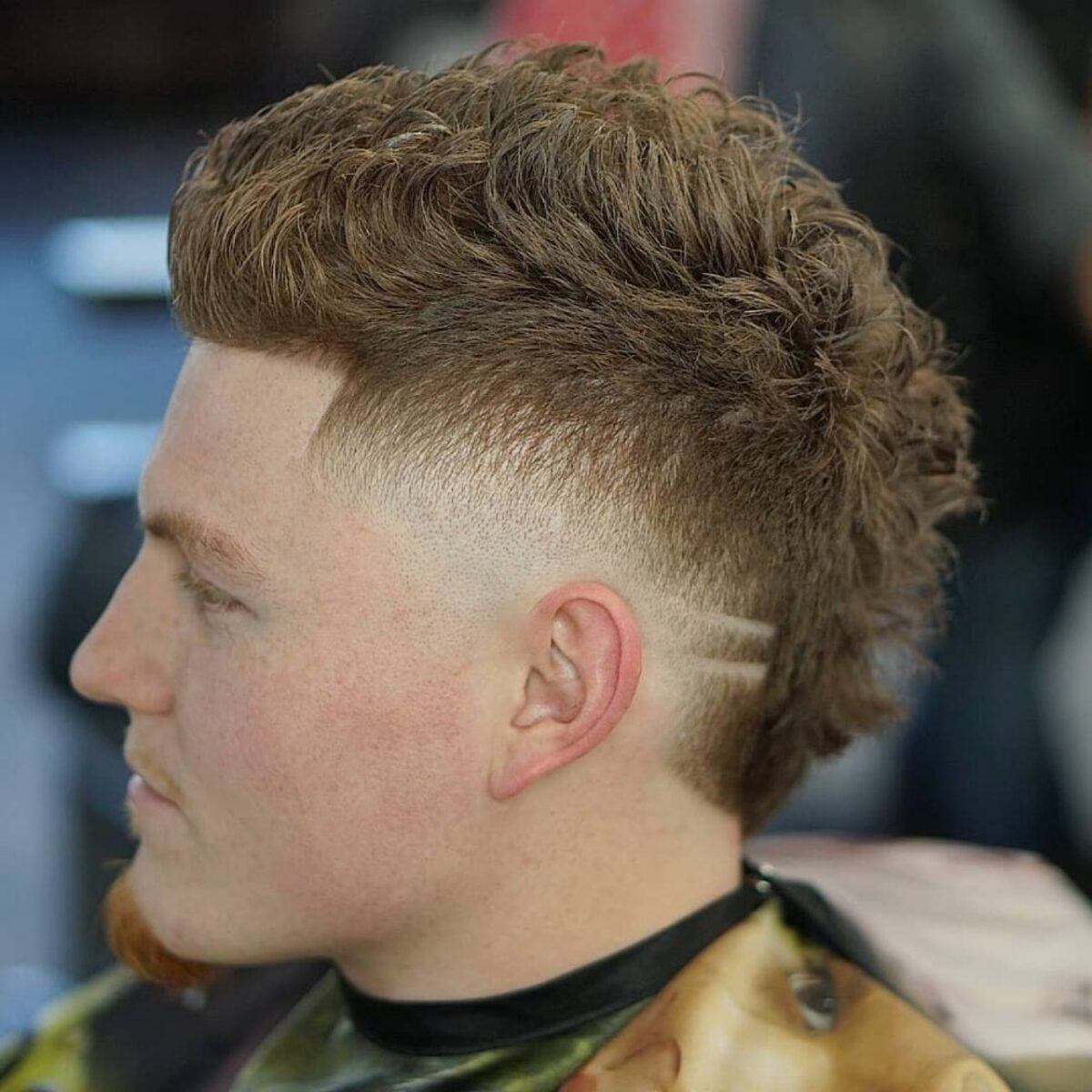 @peteyrock_thebarber
Take out the best hair wax and spray you got there because a temple fade mohawk haircut will require these.
Barber Petey Rock of Troy, NY describes this cut as a clean well-balanced mohawk. "My favorite thing about this style is the hair placement on top with 2 clean lines to set off the fade, giving it a very updated look," Rock explains.
Any dude looking to get this style should grow their hair out, allowing the barber to sculpt the hawk shape properly.
Low Burst Fade On Wavy Mohawk Hair

@javcutsyou
Got a thick, black hair with a trace of natural movement? Well, you're one lucky man because you found the perfect cut and style for you. Your effortless waves are sure to carry out texture without a hitch in this low fade mohawk.
This haircut is known as the South of France fade or burst mohawk fade.
Florida-based stylist Javier Hernandez explains, "It's like a traditional mohawk but less dramatic. I like that it's fun and versatile. It allows you to stand out while still looking clean and classy. I enjoy doing them, as it allows me to use many different skills on one haircut."
He adds, "When posing for a photo, slightly turn head to give a profile of your awesome haircut."
Burst Mohawk Fade

@mmichaeljoseph
Craving a haircut to enhance your black, dense hair? Here's the mohawk burst fade to satisfy your thirst!
As California-based stylist Michael Joseph describes, "It's a burst mid fade on the sides with a textured mohawk that ends with a V-shape in the back. It's not like your traditional punk mohawk, but it's more seen on some professional athletes such as soccer players. We have more of a wider section through the top and the back versus the skinny hawk."
Joseph recommends touching up the sides every two weeks, no more than a month. The top and back maintain the length you want and get that V or square shape in the back.