26 Low-Maintenance Bob Haircuts for Women Over 60 with Style
Classy Bob with Bangs for Older Women

@alanna.oropeza
If you're at an age over 60, a classy bob with bangs for older women offers a youthful-looking radiance. It's a fun hairdo to style and looks great on women of all ages, including seniors. Embrace your age, ladies!
Grey Asymmetrical Bob for Thin Hair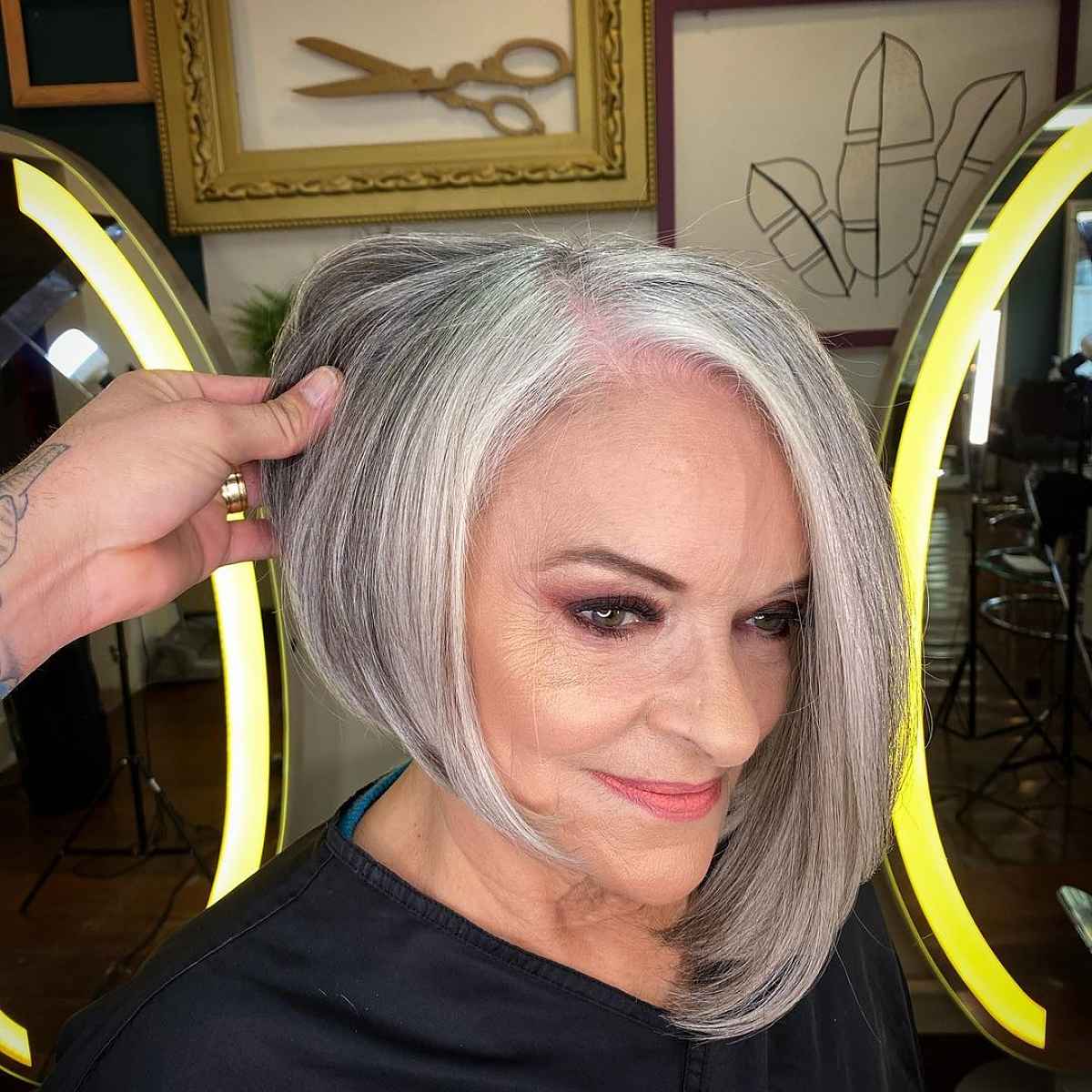 @nellcarmo
A grey asymmetrical bob for thin hair follows a more classic style. As the years go by, women get thinning hair due to hormonal issues. It's best to bet on finishing products that create intricate textures on each graying hair strand.
Related: See more hairstyles for women over 60 with grey hair.
Shaggy Bob with Feathered Bangs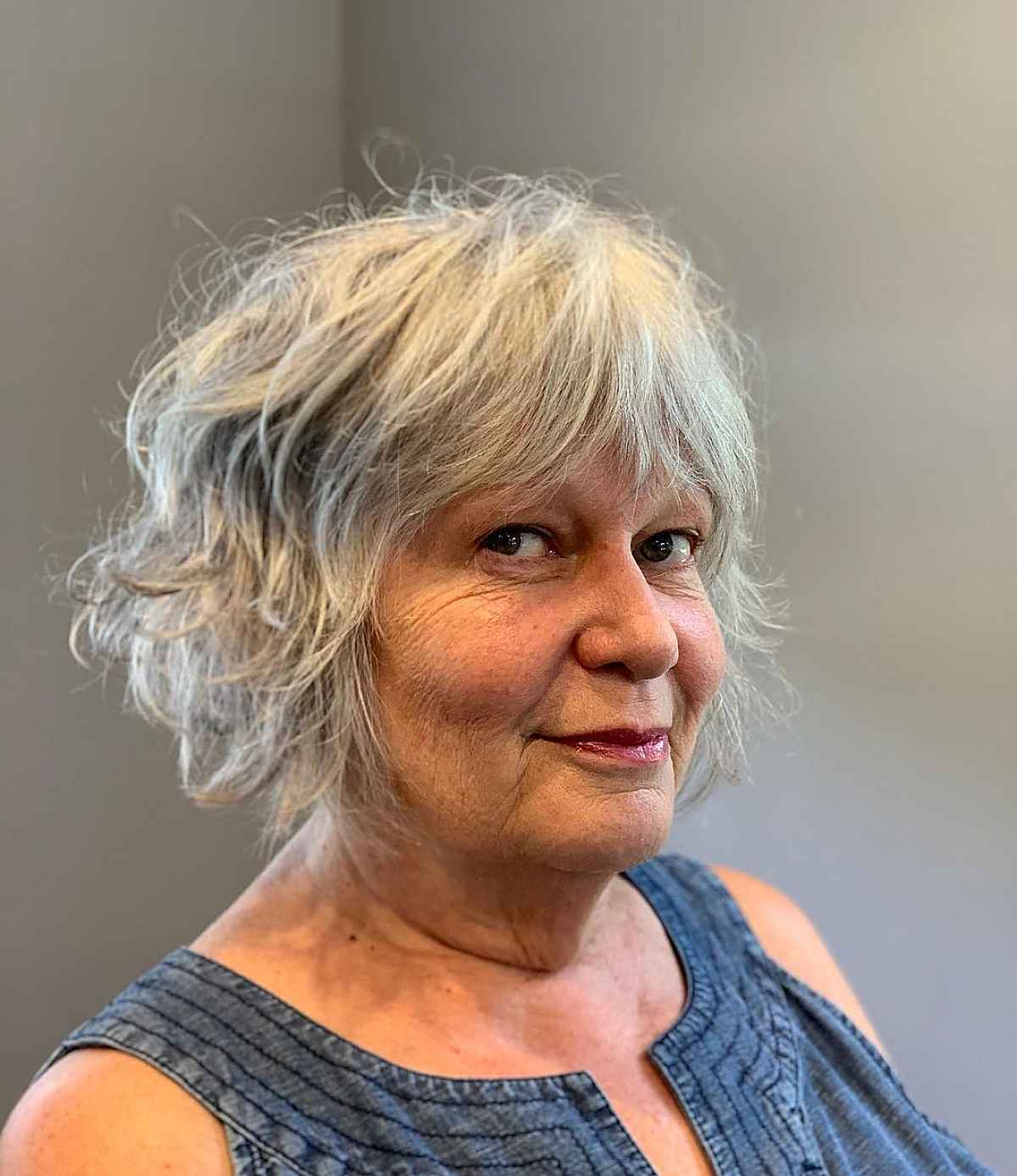 @moorelarkspurhair
A shaggy bob with feathered bangs works wonders when you aim to create added volume. It works wonders on women with fine hair, creating the illusion of fuller-looking tresses while concealing any signs of your big forehead.
Classic Inverted Bob for Women in Their Sixties

@gemmalouisehair
A classic inverted bob for women in their sixties is a timeless piece that can enhance your overall appearance. A bob style for women over 60 looks great when worn pin-straight or styled with some curls. It's flattering for women of all ages.
Voluminous Pixie Bob for Fine Hair

@believe_me_studio
Get a voluminous pixie bob for fine hair and create a new you. You'll want to ask your stylist to leave a bit of length in the layers on top. It's imperative to make the hair look thicker and less see-through.
Remember to style this shape forward or sideways, not back. This blow-drying tip will make a huge difference in such a way that you will not be able to see your scalp. Grandmas, get ready for your pixie cut and feel younger and stylish than ever!
Classic Bob with Bangs for Women Passed Their 60s

@hairby_ebonyjade
A classic bob with bangs for women passed their 60s is a good haircut for women who want to hide wrinkles. The fringe helps cover the forehead, leaving a youthful look.
Chin-Length Bob for Older Women with Glasses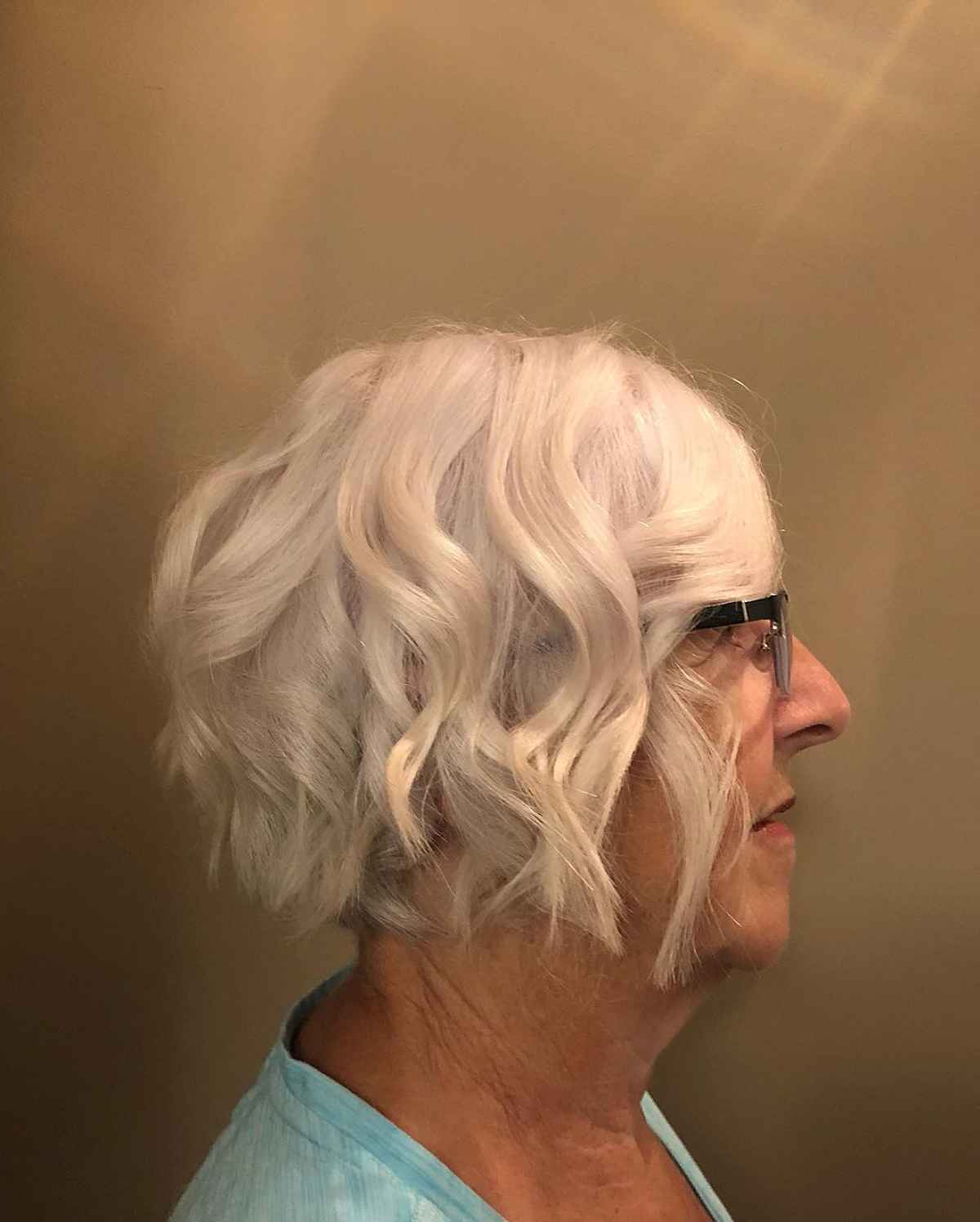 @toned.by.em
A chin-length bob for older women with glasses can translate for your eternal inner youth. You can create a modern look by adding eye wear with colorful frames that make the look versatile yet stylish.
Related: See more short hairstyles for women over sixty with glasses.
Younger-Looking Pixie Bob for Older Women

@ginahairwitch
A younger-looking pixie bob for older ladies has several volumes and layers. A youthful haircut is stylish and frames your face beautifully in the right measure.
Youthful Bob with Feathered Layers

@jodytaltonforhair
Styling a youthful bob with feathered layers entails the use of a hair mousse and volumizing spray. Bob styles for women over 60 are easy to style and need trimming every 45 days to keep the length short.
Stacked Bob for a Sixty Year Old Woman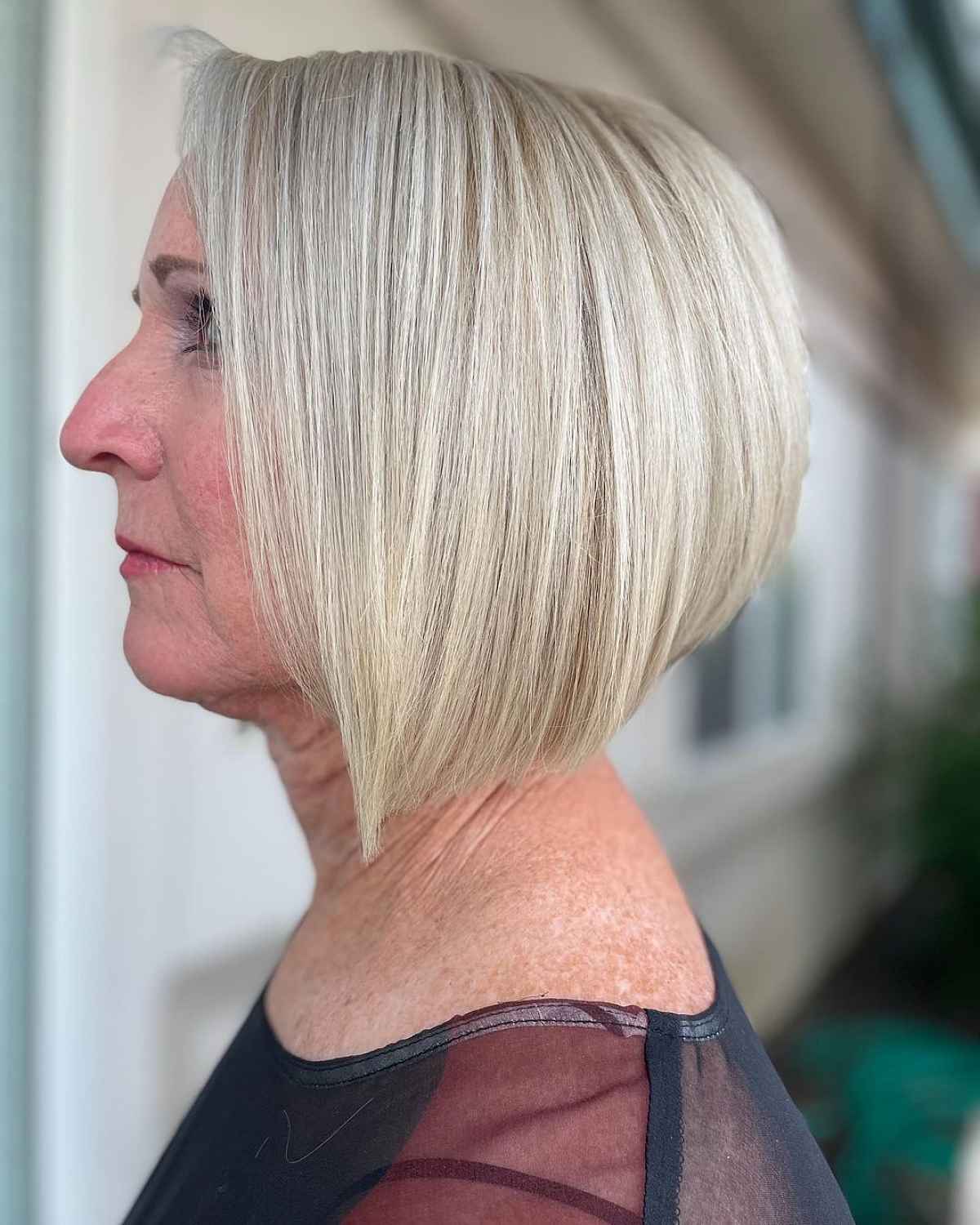 @boisebalayagegirl
A stacked bob for a sixty-year-old woman offers high elegance on mature ladies who like a classic look with a daring touch.
Wavy Bob Hairstyle for Women 60+

@frank_zarcone_hair
The wavy bob hairstyle for women 60+ is a haircut that is stripped-down with peaked and irregular threads. Bet on youthful haircuts with messy texture to make you look half your age!
Wash-and-Wear Bob for Women Over Sixty

@honey.comb.hair
Wash-and-wear bobs for women over sixty have fuller strands without as many frays for the sensation of more volume. This youthful hairstyle values the hair texture attributes, bringing modernity and practicality to your daily hair routine.
Salt-and-Pepper Bob Cut for Mature Women

@_alexdartistry
A salt-and-pepper bob cut for mature women is a bold choice of a haircut. An elderly lady begins to feel a change in her hair structure with loss of hair volume due to hormonal changes. Therefore, women 60 and up must pay attention and adapt this cut in a way that would flatter their facial features and make them look half their age.
Long Bob with Long Layers for Women Over 60

@bec_posehairdesign
A long bob with long layers for women over 60 is a good option for those who want to look 10 years younger because of the messy and stylish texture it provides.
Rounded Bob Cut for a 60-Year-Old Woman

@jessfrazerhair
A rounded bob cut for a 60-year-old woman is a good way of softening strong, sharp jawlines. A soft fringe diffuses the starkness of an open forehead and creates a flattering frame for the eyes.
A bob cut for women over 60 is the ideal cut for fine hair textures. Rounded bobs are easy to style while effortlessly creating volume with a round brush and volumizing mousse.
Curly Bob for Women Over 60 with Curly Hair

@heydayhair
A curly bob for women over 60 with curly hair is a good choice. The style effortlessly creates volume, balancing the facial features and giving the face a natural lifting effect.
Curly bobs are a great way to camouflage hair loss. When the curls are carved out, the hair will spring up, blending the thinning areas. It's important to note that special care should be taken to keep the curls hydrated.
Gray Graduated Bob for Senior Women

@haus22hairroom
A gray graduated bob for senior women refurbishes your natural gray hair color. The natural glisten of silver strands pops when the haircut is blown smooth and silky around the face.
The graduated bob elevates layering in the nape region by debulking the weight, elongating the neck. This cut also softly smooths out any fine lines, making the bob haircut one of the youthful hairstyles suitable for women over 60.
Low-Maintenance Shaggy Bob

@emhaircreations
A low-maintenance shaggy bob is an adorable way to make a youthful statement. Soft, bouncy hair textures come alive when coupled with a choppy, razored haircut. Fringe on women over the age of 60 will be a great asset in seamlessly hiding wrinkles away. A thick, short, texturized bang will add volume and some delightful spunk to this haircut.
Related: See more shaggy short haircuts for 60-year-olds.
Short Pixie Bob for Old Ladies

@hair.by.mariaelena
Short pixie bobs for old ladies come highly requested. With this haircut, thin and fine hair textures are fuller-looking and fall over sparse areas of the head, while thick and highly textured hair types are manageable by creating layers and removing weight. Don't forget to pay close attention to the detailing that you prefer on this cut.
Blonde Bob for Women Over 60

@hairbytristamae
A blonde bob for women over 60 is a beautiful way to transition or blend grey hair. Bob hairstyles for women over 60 offer a mixture of chic and comfort. Consider if layering the blonde hair or soft weight removal is what you desire when getting this haircut.
The top part of this cut is shorter than the under part. The difference in its lengths is apparent. Removing weight from the hair should be a subtle blend of contrasting lengths. It seamlessly creates the effect of the hair curving or tucking in on the ends.
Grandma-Inspired Short Bob for Women with Glasses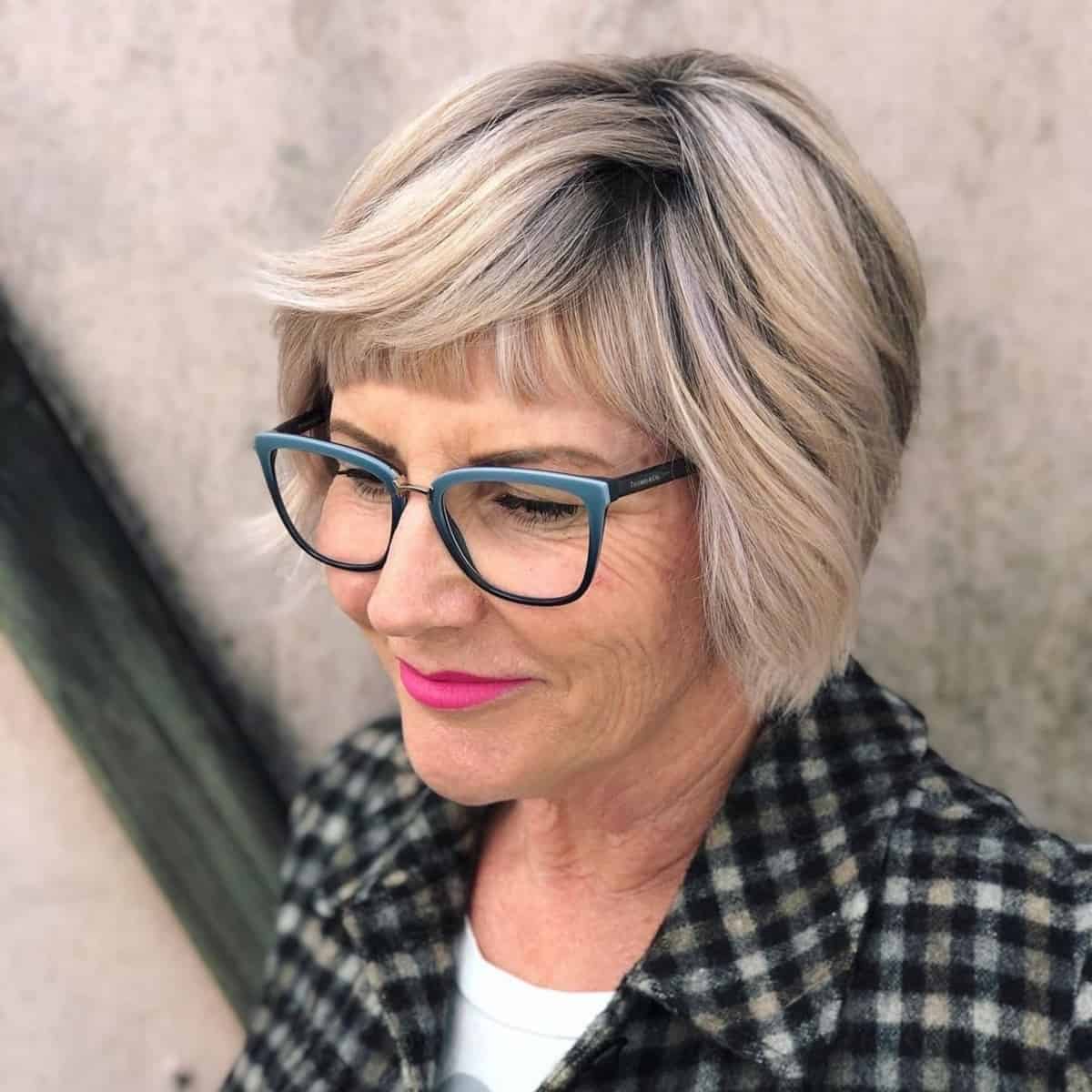 @hayleypullynhmua
When looking for a grandma-inspired short bob for women with glasses, consider the feathery fringe area as well as the over-the-ear lengths. Wearing glasses can push long fringe lengths to fall over the eyes, so keep the fringe short.
When the style is clean and paired with bright, chic rims, the style brightens the face and draws attention to the eyes. Subtle loose waves that fall chin-level soften the chin lines, creating enough length for glasses to be worn with ease.
Long Bob for Women Over 60 with a Round Face

@styledbyslevia
A long bob for women over 60 with a round face is a timeless piece that counterbalances and adds symmetry to the face. This bob offers a slimming effect and styling versatility. When consulting with your hairstylist, be sure to discuss the overall desired effect.
The cut creates either a soft layering or a clean blunt look. Light debunking while not sacrificing its blunt perimeter is achievable by light using texturizing shears or gently sliding the shears along the lower section of the hair. A good paddle brush is a tool for styling this cut to add extra swing without too much roundness.
Layered Bob for 60-Year-Olds
@masakonders
A layered bob for 60-year-olds is a fantastic way to add body and soft movement to your tresses. Natural hair texture is revived by adding texture and removing weight from the short hair. It brings a youthful element to the traditional bob hairstyle.
Styling bob hairstyles for women over 60 can be easy. To encourage natural texture, use a hair diffuser on the blowdryer and pair it with a curl-defining foam or mousse. Place the diffuser up to the hair as the hair is tipping away from the scalp. Then, move the diffuser around the head as the hair dries.
Short Bob with Bangs for Women in Their 60s

@hairheaven_by_jessica
A short bob with bangs for women in their 60's is a chic, timeless haircut. Bangs are a fantastic way to cover the forehead, hide fine lines, and emphasize the eyes. Bob cuts for women over 60 have come highly recommended over the years.
Bobs bring the hair up to the face, elongating the neck, softening facial features, and adding extra volume. Bob cuts are a great way to maintain length without sacrificing style.
Bob Cut + Pixie Cut Combo for Ladies Over 60

@blondesbaker
The bob cut + pixie cut combo for ladies over 60 consists of several layers which help create volume, body, and fullness. Along with precisely cut face-framing pieces, a bob haircut for women over 60 has endless possibilities and looks beautiful on all face shapes.
Timeless Short Bob for 60-Year-Olds

@jules_mygreyjourney
A timeless short bob for 60-year-olds with thick hair can have minimal to no layers. A precisely cut, slightly angled bob is bound to bring out your inner youthfulness.
Related: See more types of hairstyles for women over 60.