21 Gorgeous Bridesmaid Hairstyles for The Brides Big Day
Waterfall Braid with Curls and Waves

@hair.we_go_
Opt for a waterfall braid with curls and waves for those bridesmaids which have shorter hair. The half up waterfall braid works so well on shorter lengths which can sometimes be trickier to up style. The braid falls perfectly into the waves in the hair, and looks instantly wedding ready.
Tousled Side Braid

@hairbyhannahtaylor
The tousled side braid is a great look for those with thick long hair for easy styling. Thick long hair can be a little more difficult to up style, so wearing braided hairstyles in a tousled fashion really show off their luscious locks and allow for the look to stay all day. Top tip is to not braid too tightly and then when fastened start loosening the braid by gently pulling at the edges.
Florals in a Fishtail Braid

@alexandralee1016
Florals in a fishtail braid can add an element of uniqueness and give a boho feel to any braid. The floral bridesmaid hairstyle can be added to twists and braids using the flowers from your arrangements to keep a running theme. They are also a perfect addition to softer, looser looks, pull out a few hairs around the ears and hairline to get the perfect finish.
Side-Swept Curls

@adnomoreira
Try side-swept curls hairstyles for a bridesmaid give an updo extra life by swinging the hair over the shoulder. Hairstyles for a bridesmaid don't all have to be identical, and for those with longer lengths can sweep there lose tendrils to avoid bulky updo styles.
French Braids for Bridesmaids

@karschruder
Go for french braids fro Bridesmaids for a classic elegant feel to the hair which suits the majority of lengths below the shoulder. French braids give keep a soft feel to the hair and are an easy look to recreate on the big day. Play around with the look of the braid whether worn on the side or at the back of the head in keeping with the dress for your perfect bridesmaid styles.
Loose Curls for Black Hair

@bridalbydaniela
Try loose curls to add definition and volume to your shiny jet-black locks. This loosely waved, full-volume hairstyle enhances the shape of your dark base, which gives an overall luxe finish.
Shoulder-Length Side-Swept Hair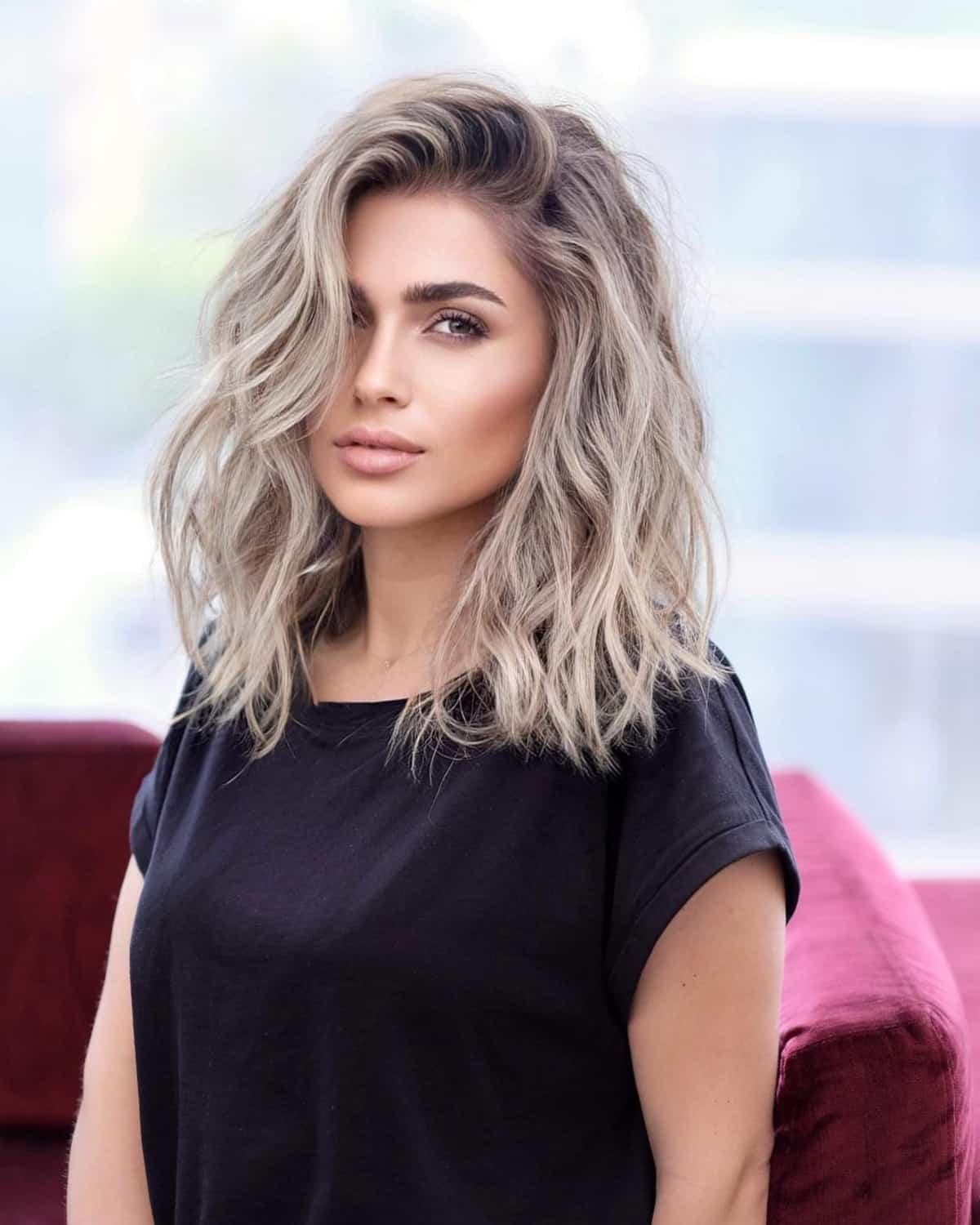 @victorkeyrouz
The shoulder-length side-swept hair is stunning and lifts volume around the face. The deep part swept over creates extra height and entices a lifting and slimming effect on the face. Whether your tresses are wavy, or straight, this would look great on all hair types.
Boho Crown Braid with Accessory

@hairbysueee
A crown braid with an accessory can be your go-to wedding hairstyle when achieving full-on boho vibes. The loosely braided hair works best on longer hair lengths, which aren't heavily layered to get a seamless result. Add some cute fresh flowers or add some glitz with a diamante clip to finish off the boho style.
Loose Curls For Thin Hair

@hairby_samaaayy
Opt for loose curls for thin hair to get a volumizing effect on your tresses. Curling creates more volume and bounce, making the thinnest of hair look fuller than ever.
The Gatsby Look for Bridesmaids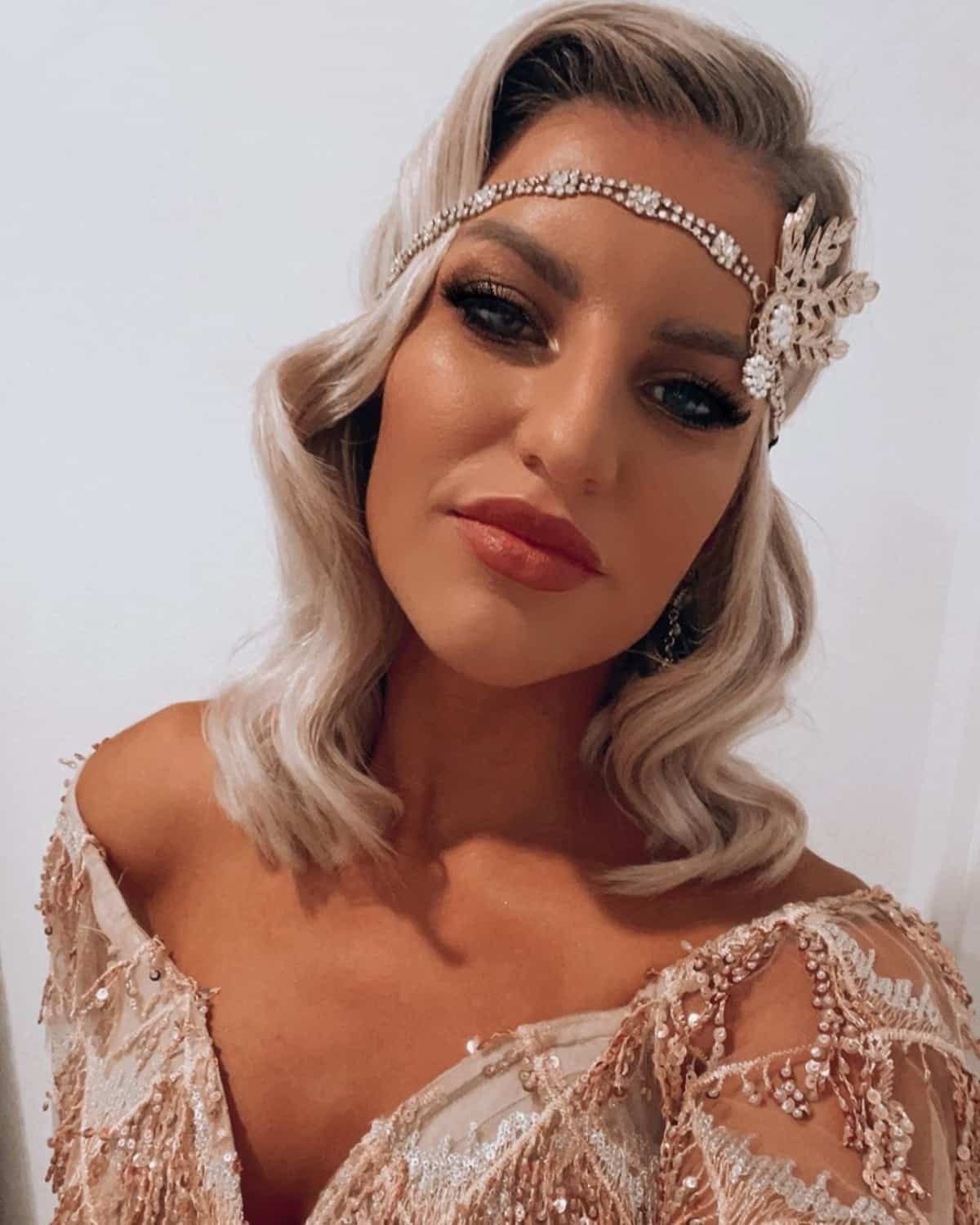 @hairbyallykondratyev
Bring a modern twist to the gatsby look. Pair it with loose waves on medium-length hair. The perfect way to curl the hair is by waving it all in the same direction and brushing the hair, so it sits in the signature glamour Hollywood waves.
Easy and Low-Maintenance Side Ponytail Hairstyle

@500milcoisas
An easy side ponytail with a messy texture gives extra detail to long-length tresses. The style is low-maintenance, too. It starts by twisting two separate sections together and then allowing the long hair to stay in place all day. Easy-breezy!
? See more wedding hairstyles for long hair.
Top Knot for Black Woman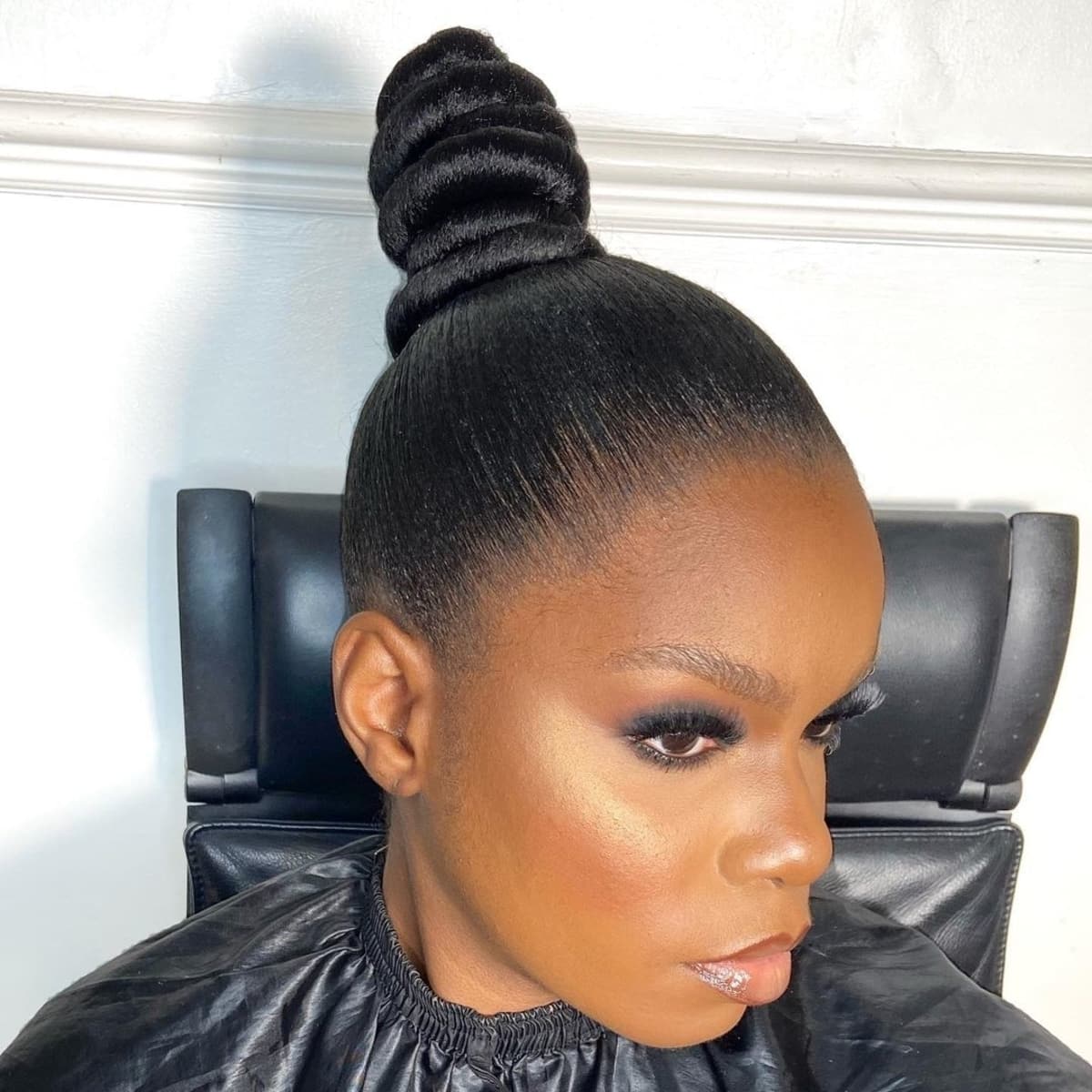 @f.dhairandbeauty
A top knot for black woman is a fierce look. The slick silhouette puts all the focus on the face and gives a long-lasting hold. Be playful with how you finish the top knot by adding twists, braids, or wrapping colored string around the bun to create a volumized shape.
Cute Crown Braids

@crownhairroom
Cute crown braids are so beautiful at any length. The hair flows through the back and looks best in a loose wave, letting you show off your dress with gorgeous detailing.
African-American Romantic Updo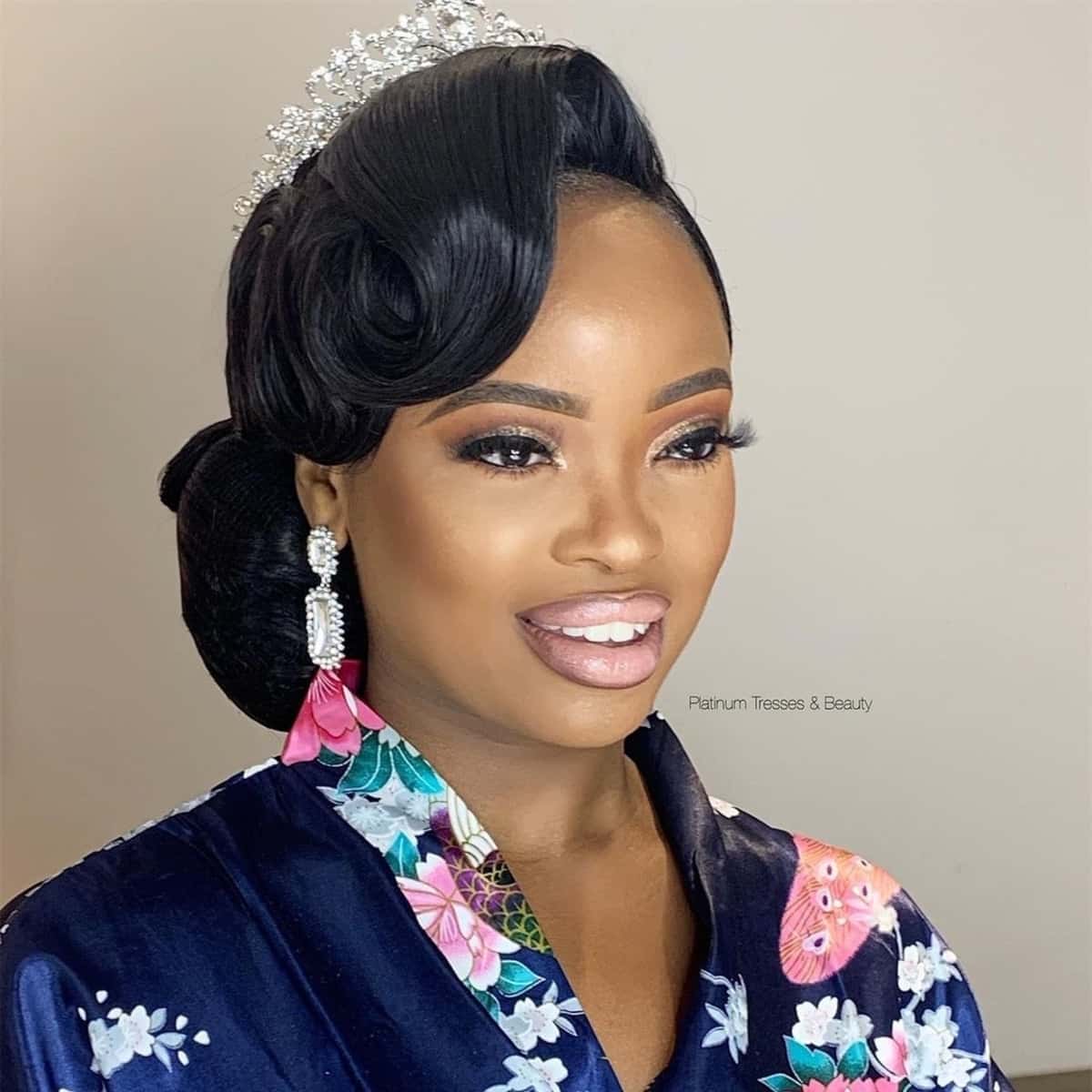 @platinumtressesbridal
Try an African-American romantic updo for full-on glamour for the big day. Stunning height and perfected waves contour the face in all the right places, completing a sleek and shiny look.
Side Bun Wedding Hairstyle

@lisaalgeracademy
Be playful with a low and loose style like this gorgeous side bun. It's perfectly fitting for side partings. The side bun transitions from the side parting to allow a softening feel to the face. It's also perfect for women who like the security of their hair around their face.
Sleek and Straight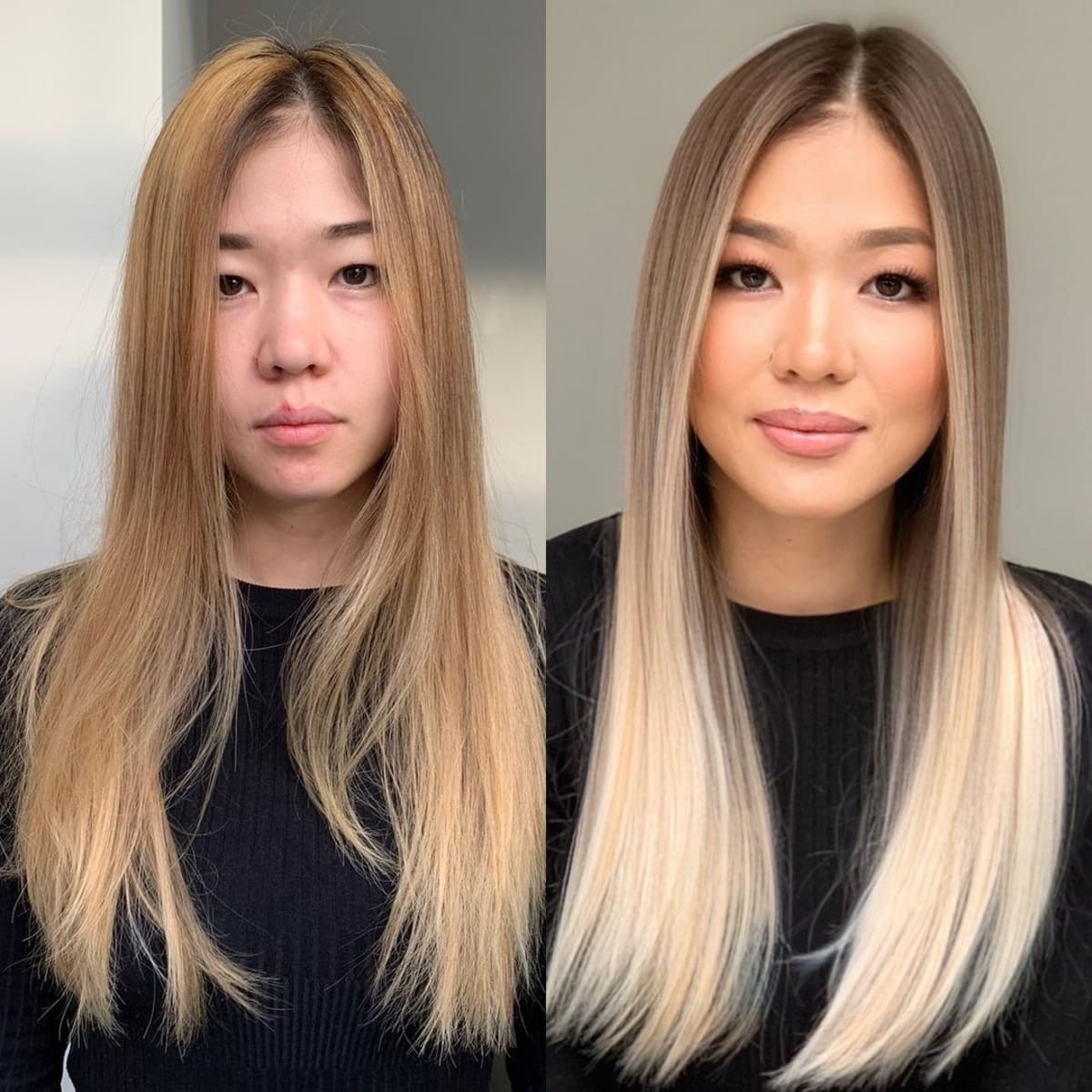 @igorkhonin
Why not try sleek and straight hairstyles for bridesmaids to show off a mirror shine on your locks. Using ceramic straighteners will keep the hair slick and sharp. Try applying Aveda's brilliant emollient finishing gloss to keep flyaways at bay and attract more shine.
Mid-Length Soft Waves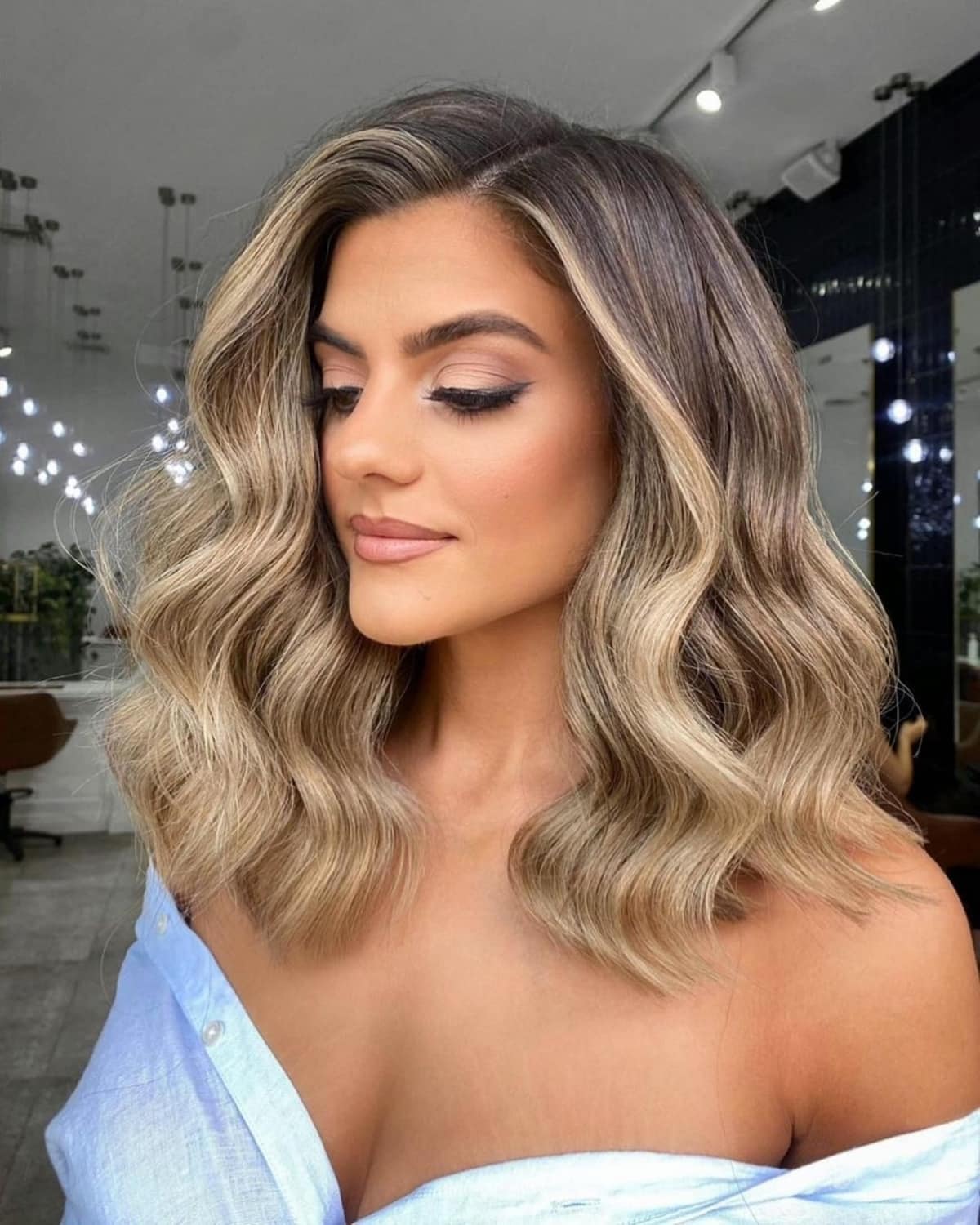 @natalieannehair
Mid-length soft waves are stunning for bridesmaid hairstyles. This style is suitable for any hair type. The mid-length sits grazing the chest with beautifully loose waves that work with any bridesmaid dress.
Short and Textured Waves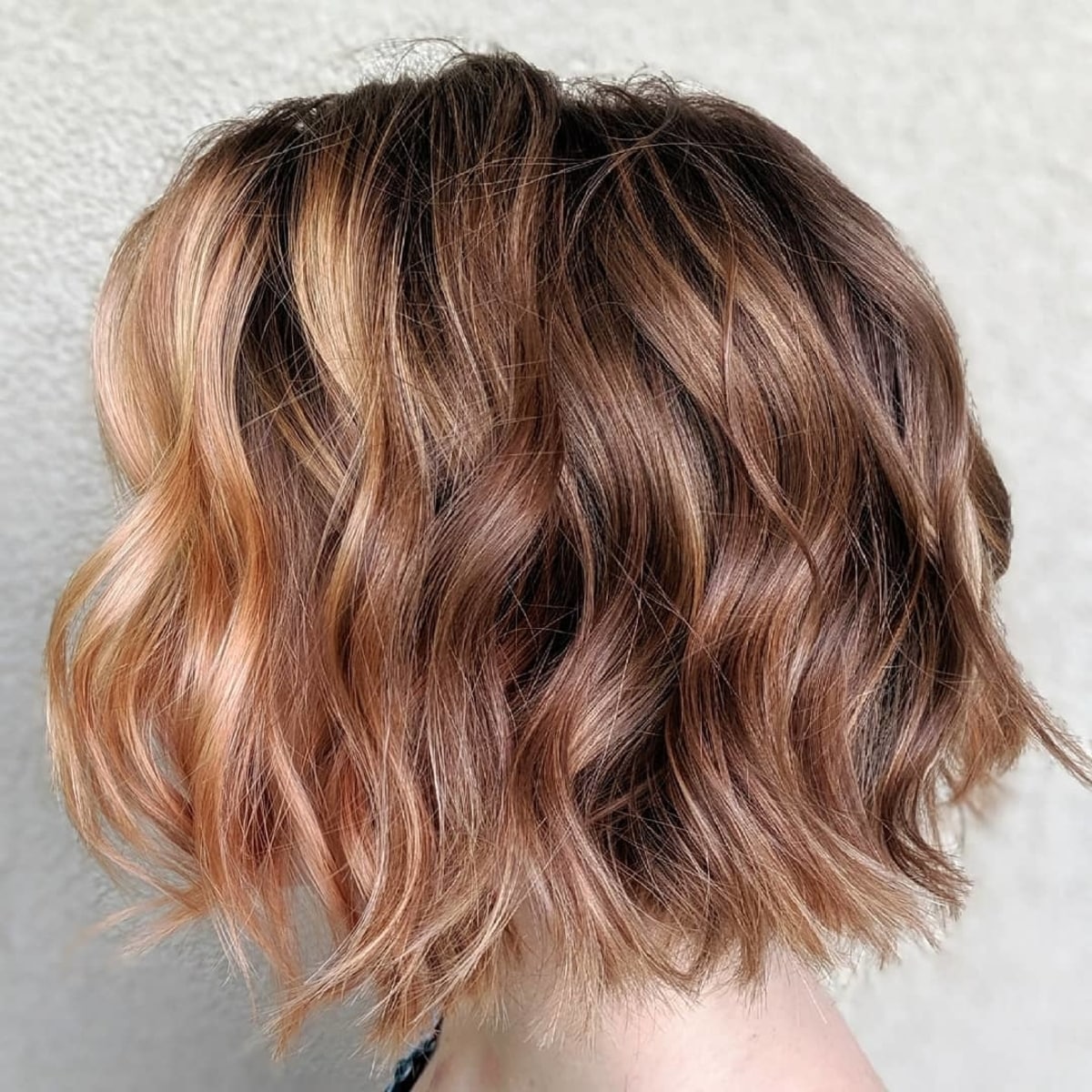 @bloomorganicsalon
Short and textured waves create a classic yet modern style for any formal event, such as a wedding. Florida-based stylist, Renee Ramirez, used a combination of techniques for this haircut.
"This bob was created using precision cutting and point cutting for the perimeter and vertical layering. The deep point cutting technique was used for the layers, too," Ramirez notes.
For styling, choose Davines Volume Building Mousse or Volu Spray to add volume to the hair.
? See more wedding hairstyles for short hair.
Curly Updo with Headpiece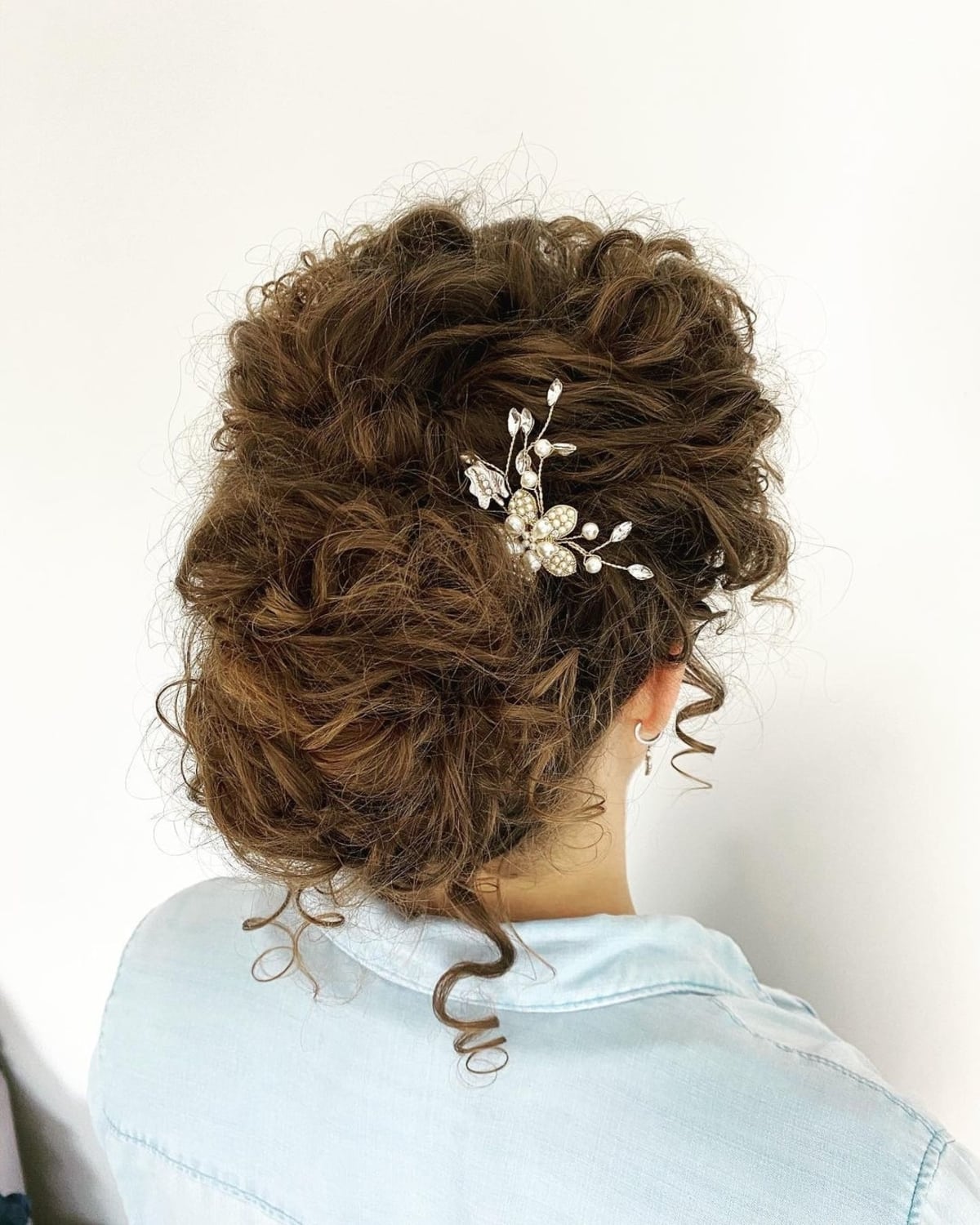 @dp.hairworks
A curly updo with a headpiece is for women with a natural curly texture. It would look effortless and stunning on tousled curls. Netherlands-based stylist Jacolien Van Den Berg shares how this style was made.
"I diffused the hair for optimal volume. Using a bun creates an excellent base for pinning the hair and preventing it from falling out during the day. I pinned in the hair accessory to finish the updo off with a more festive touch," Van Den Berg explains.
Elegant Twisted Updo

@stormemakeupartist
A twisted updo makes a more relaxed and romantic hairstyle. It's great for ladies with any hair type and length.
To achieve the look, stylist Storme Webster of England started by creating the volume and height.
She adds, "I finish the look by sectioning the hair into two. I wrapped it by twisting and pinning and pulling out to create this elegant low bun."
Long and Simple Half-Up, Half-Down Hairstyle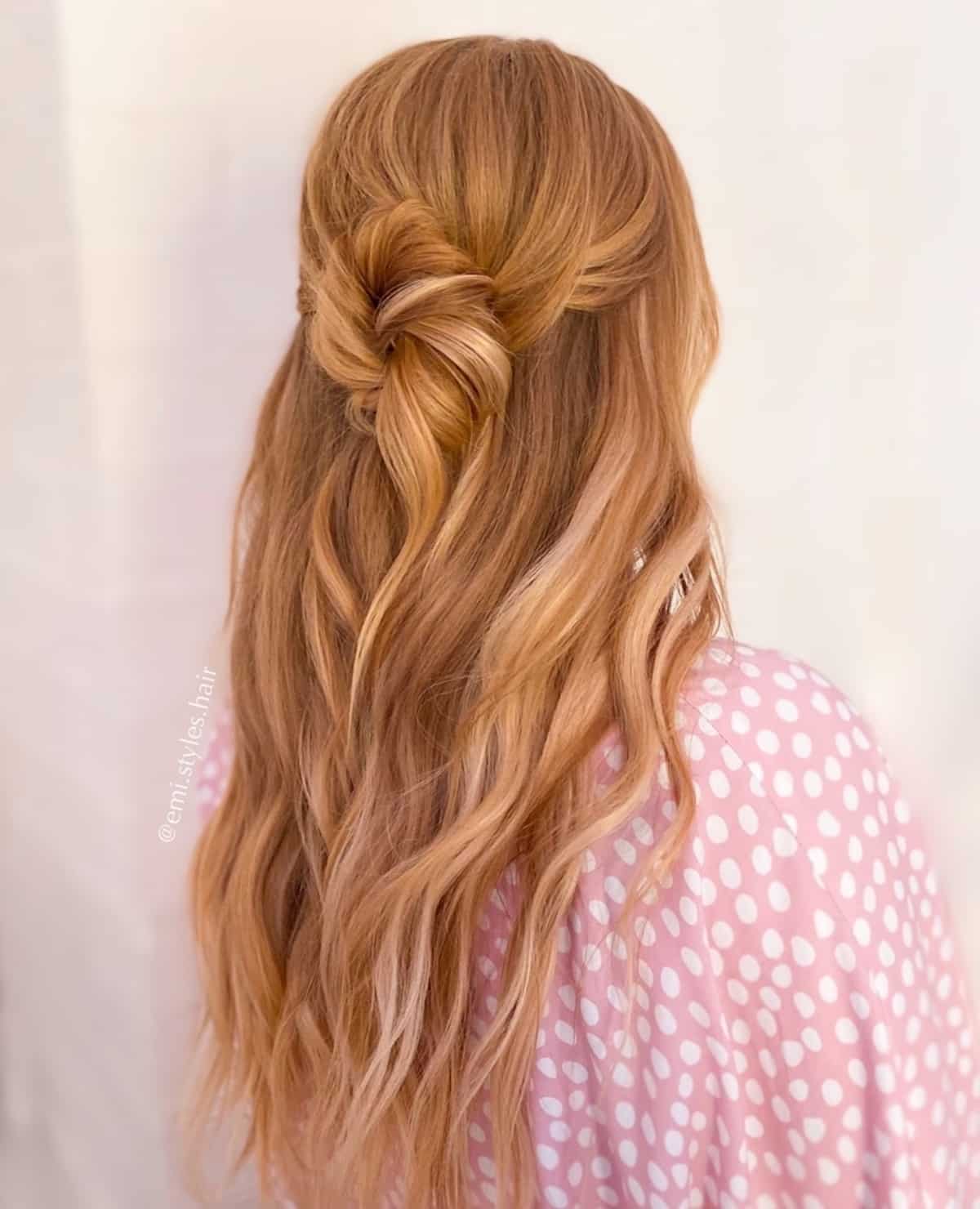 @emi.styles.hair
The long and simple half-up, half-down hairstyle gives a fun, contemporary twist to your look. Australia-based stylist Emi Styles finds it very suitable for bridesmaids and wedding guests.
"I used a 26mm curling iron to put a loose, stretched-out curl through the lengths of the hair. I combed through the hair to break up the curls, which gave them an undone, tousled look," Styles explains.
The twisted baby bun was also added for the finishing touch.