14 Fresh Crew Cut Haircuts for Men Right Now
The Modern Crew Cut Trend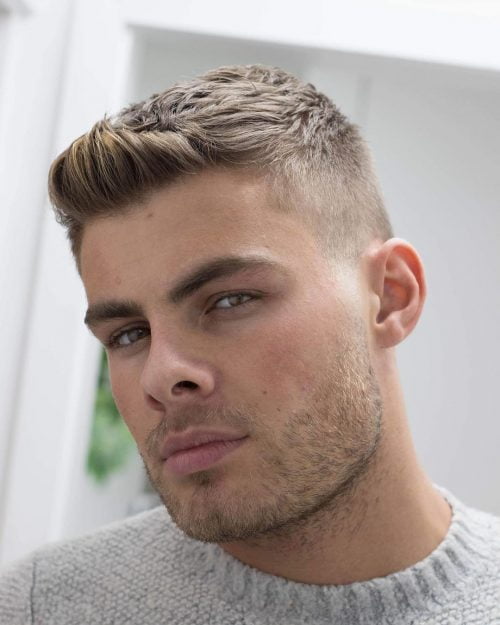 @olliefosterhair
When it comes to modern crew cuts, this is it! It's the perfect look for the college guy who wants that clean, sharp look.
Side-Swept Crew Cut Style
@mozambeak
Another fade cut is this side-swept crew haircut, but more on the casual side, with a natural look for the top portion and medium to short hair to match. This creates one of the most well-balanced side-swept crew cut haircuts for men.
The French Crop Crew Cut
@horatiuthebarber
This French crop crew cut is becoming more popular. The texture on top, combined with the straight, forward-facing bangs, really gives this a clean and easy-to-style look.
Crew Cut with Surgical Line
@lieanne_
Like the famous Japanese paintings of waves, this short crew cut haircut with a surgical line keeps everything low and trimmed. This then directs attention to the front side where a gush of hair goes across.
Side Part Crew Cut with Hard Part
@hectormachadobarber
This side part crew cut with a hard part is simple yet effective. It's paired with faded sides and does a great job at getting attention to your top hair. A side-parted crew cut like this allows you to look dope as always.
The Modern Crew Cut with High Fade
@stell_the_talent
Tidy up your look to achieve that professional form with this modern crew cut with a high fade! It fits the criteria of being sleek, stylish, and somewhat sexy.
The Classic Crew Cut with a Beard
/ @featherfades
This classic crew cut with a beard is clean and versatile and can be styled to a man's liking. "It can be styled over to either side or up in the middle, making it easy and looking good," says look creator Heather Euting of California.
For styling products, Euting recommends trying the Hudson and Hammers Alchemy, which is a mix between pomade and wax that creates a satin shine.
The barber adds, "any pomade with a sheen will do. This haircut caters to the modern man looking for something clean and easy to style. Whether you're looking for men's or boys haircuts, this classic crew cut hairstyle suits all!"
The Ivy League Crew Cut
/ @rasegz
The Ivy League crew cut styles are clean and polished. "An Ivy League cut is precise and sharp and showcases facial features. It is a no-fuss cut that still makes a statement, similar to an undercut," this is how Kentucky-based stylist Reva Segnitz describes this particular haircut.
Speaking of "no fuss," this hairstyle only needs one product to make it look polished and done. According to Segnitz, "use Kevin Murphy Easy Rider on all of your short men's cuts. It dries with a natural finish. Any hair creams would go a long way in this cut. It can be very kempt, or roughed up and tousled for a casual day."
This cut is for a variety of men. If a man is a little on the thinning side, it can help a man's hair look thicker. If he does manual labor or plays sports, it's a haircut that breathes and doesn't trap sweat and heat.
Taper Fade Crew Cut with Mid Fade
/ @freshwontons
This is a men's crew cut with a taper fade featuring a mid fade. It was created by barber Anthony Lieu of Canada. "With the touch of a fade and the man's opinion on how they want to line their sideburns (i.e., pointed, square, or tapered), the haircut will still stand out," he remarks.
This haircut is suitable for most guys since it compliments most head shapes. Lieu explains, "The styling also depends on how their hair grows. The direction of the hair will be the judge on which side it would be best combed towards. This crew-cut hairstyle is also quite versatile. If the barber or stylist decides to leave more length on the front, the dude would be able to pull that part up as they style to give them a pompadour look."
The Military Crew Cut Fade
/ @claytonkennethschmidt
The military crew cut is characterized by short back and sides and hair length on top that is about one or two inches. The longest hair generally begins at the front hairline and gradually shortens toward the crown area. The back and sides can be as short as skin.
Crew cut hairstyles are for any guy who wants a low-maintenance hairstyle and/or holds a vocation or position that may require certain hair length regulations. "This cut is recommended for guys who hold what some call white-collar jobs because it exudes confidence," says Schmidt.
He adds, "This haircut can be designed to look good on nearly any face shape. For instance, the cut can be fitted nicely for someone with a round face shape by maintaining squareness in the area of the parietal ridge of the head, where the sides meet the top of the head."
Men who want crew cuts should ask their barber or stylist to design their crew cut so that it gives the most oval shape to the face as possible. This is usually done by preserving length (or "squaring up") where the sides of the head meet the top and by leaving the appropriate length on top.
The Long Crew Cut
@johnyvecito
This is a neat and long crew cut hair by barber Alexander Semjonoff from Russia. "I like it because it's easy to style and looks fresh," he notes.
are best for men who prefer a shorter haircut. It suits all hair types. Semjonoff suggests using a good matte pomade like Byrd Matte or Reuzel Clay pomade when styling.
Tapered Crew Cut with Fade
@maddiebstylist
This is a tapered crew cut fade designed by Wisconsin-based stylist Maddie Braun.
"It's short on the sides, so the cut could show off the facial features. There's enough length on top where he can get different looks, too. When you have a lot of length and texture up top, depending on how you cut it, it can give you that messy sort of "model" look that you see in the magazines, or you can sleek it down more to be more conservative," Braun states.
If you're getting this cut, Braun advises products such as 18.21 paste. She adds, "If you don't, you won't get the look that you're looking for. It takes at the most 2 minutes to put in the product."
Textured Crew Cut with Mid Fade
@hairhousebyadamchan
This textured crew cut with a mid-fade is classic and energetic at the same time. Adam Chan of Hong Kong is the promising barber behind this haircut.
"There's lots of texture in the evenly chopped layers on the top. The uniform layers were cut short, giving the top some movement and thickness that is very easy to manage," Chan explains.
If you have thick hair, crew cuts will soften and lighten the top while still appearing thick to show the fade well.
For men with a receding hairline and thin hair, this artificial horizontal fringe can cover the receding hairline very well. The barber just needs to be aware of the part that needs to be kept to form the thickness covering the receding part.
Chan also mentions, "many face shapes can suit this cut as long as we control the height of the conjunction well. For example, a rounder face would look good with a mid to high fade, while a long thin face would look good with an even lower mid-fade."
Short Crew Cut with Hard Line
@kyla_detoursalon
This short crew cut, made by stylist Kyla Rose of California, features a variety of personalities. The short edgy skin fade with a hard line gives it an edgy look while having professionalism at the same time. It has a bit of a greaser feel to it as well as a traditional military feel.
"Something to think about for this classic crew cut is maintenance," Rose emphasizes. "Go in to see your barber every three weeks and once in between for a neck trim cleanup. Product is something necessary for this crew cut for men. That's because most of us have cowlicks and different hair growths that will require some maneuvering to achieve the desired outcome," she adds.
Most men who get edgy crew cuts are usually guys who need that strong impression. When it comes to face shape, this cut can be worn on almost any guy. Rose points out, "It just is a matter of bone structure and how high up to bring the initial fade levels on the skull. The hard-line can be brought up higher or lower depending on the temple shape and curvature of the head."