17 Incredibly Gorgeous V-Cut Hair Shape Ideas
For Super Long Hair
@bycallieanne
This v-shaped haircut is the perfect way to end thick, full hair! The loose waves add organized texture that keeps everything bouncy.
Mid-Length Wavy Hair
@untangledbyharley
The waves highlight the blonde balayage in this even more! The V shaped cut also gives a nice fringe that softens the face.
Simple Ponytail
@beyondhair_justinemaggio
Timeless, like your favorite jewelry or that nostalgic movie you continuously watch. That's what a ponytail is.
Choppy Hair
@sheerperfectionbyalisha
As shorter chops are used to create layers and body, the strands achieve a thicker look and is easier to style.
For Thick Hair
@hairbycindypatino
Thick tresses could use an angular cut for building layers and volume.
Medium Length Hair Curly Hair
@jordanraehair
Take it back to to 70's! The curls are the life of the party while the v-cut is the dancefloor!
Layered V-Cut
@a.krysztopolska.hair
This layered haircut partner really well with a v-cut, making for a tousled look, great for minimal styles like a ponytail.
For Thin Hair
@chopshopondoecke
Because of the cut, graduation is created, giving the whole look a thicker appearance.
V-Cut with Bangs
@erinkayhair
Layers can be created while having v-cut ends. The bangs give it a friendlier look.
Ultra Layered
@hairzombee
Q&A with style creator, Michael Harber
Hairstylist @ Luxe De Vil Salon in Denver, CO
How would you describe this look?
I love this cut for people who have a lot of hair. With a lot of layers blown out, it's probably my favorite haircut because of how the hair stacks (it's a smooth transition without being too choppy).
It can also work for people with straight hair, but I'd only recommend it if they like layers close to the face. I would only do this on hair about mid-back length or longer.
Any advice for someone considering it?
If you tend to go a long time between haircuts or braid your hair at all, I wouldn't advise getting this kind of cut due to all the different lengths either poking out or splitting and making your locks look more damaged overall. It's also not the best for thin hair, as it will make the ends look very wispy.
Beach Wave
@kristy.hair.stylist
Q&A with style creator, Kristy Patullo
Hairstylist @ Kristy Patullo Hair Stylist in Bendigo, AU
---
How would you describe this look?
Everything about this style screams low maintenance, natural, and effortless. The dimension in this style makes the blonde and the layers pop!
I love the balance in this style – the shorter layers around her face give this long style shape and will allow her to be able to create more volume.
With this haircut, you can have the best of both worlds. You can have long hair but still have shape, volume, texture, and it won't weigh your curls down.
Any advice for someone considering it?
This cut is perfect for someone wanting to keep their longer hair but wanting some style and volume. Perfect for finer hair.
I think this style looks its best when it is styled imperfectly. So perfect for someone who is not wanting to spend a lot of time styling or is unsure how to. If you curl in different directions, comb it all out and then add some dry texture spray. You can achieve this beachy style easily.
For Short Hair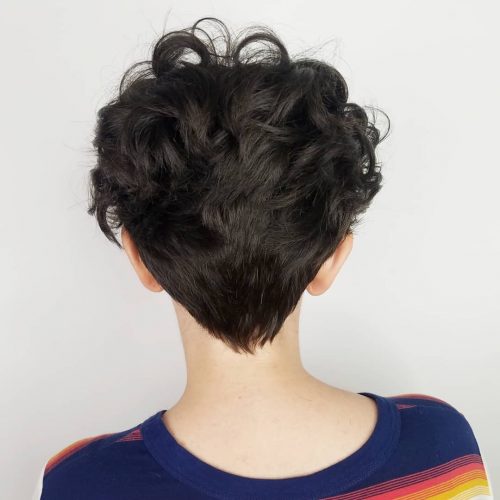 @hair_by_emma_worthy
Q&A with style creator, Emma Worthy
Hair Stylist / Colorist @ Hair by Emma Worthy in North Carolina, US
---
How would you describe this look?
This cut is a pixie for wavy/curly, dense hair. One of my favorite things about this haircut is the difference in movement. It's fun, edgy, and super cute!
I also love how easy it is for the client to style at home. All she has to do is put a little product in, scrunch, and go! In this picture, I used my 1.5-inch wand to style her hair to show her another faster, simpler way to style it. This ensures she can wake up each day, spend a minimal amount of time to snap into her style, and bring a smile to her face when she looks in the mirror.
Any advice for someone considering it?
It's the perfect cut for someone who has natural curl or wave and is looking for a little edgy change while still wanting a low maintenance style. The "V" gives you a nice clean, sharp look, while still having that stylish wavy texture on top! If you're a person who likes diversity in your haircut, this is the perfect balance of movement allowing an easy flow into that nice, clean shape.
This shape is best for dense hair! The weight of their hair will hold that nice "V" in place with very minimal styling. I would suggest either using a curly hair product while it's wet then scrunch and go or blow-dry it and style it with a wand so you still have that wavy texture!
I would recommend a wand that stays the same width that does not get skinnier. This helps create the wavy texture instead of a tight curl. My go-to curly haired products are the Curl Cream, Curl Revitalizer, and Dry Texturizer Spray by Davines. The Dry Texturizer is my all-time favorite product! You spray it all over the head once it is dry, and it gives a super cute, piecey look. It's not sticky or crunchy – it really just helps to enhance the movement!
I think the "V" looks super cute with someone who has softer features. The sharpness of the "V" looks really nice right up next to some roundness. The balance of sharpness and roundness is beautiful. It can also be really cute with someone who has a heart-shaped face – it really enhances those features!
Medium V-Cut Hair with layers
@the.hair.medium
Q&A with style creator, Magan Truesdale
Hair Stylist / Colorist @ High Fidelity Hair in Vancouver, BC
---
How would you describe this look?
This cut features a long layered shag, lots of texture, and a V-shape baseline. Most of the layering occurs around the crown and apex of the head to create volume and movement with very little effort.
I'm really loving the modernized 70's/80's shag styles coming out right now and this hair was basically asking for it to happen.
The photo is my client's naturally straight hair with minimal blow-drying. She is in the process of growing her hair, wanting to maintain length but definitely needing some shape hair back in her life.
This was the outcome of our vision. It should grow out quite nicely for her, and I really love that about a good cut.
Any advice for someone considering it?
Shags are awesome! They will suit so many face shapes and can be altered in a number of ways. In any case, it's good to consider how you wear your hair on a day to day basis.
This is a great cut full of style potential. However, the layering and texture can sometimes make braids, up-dos, and "conservative" styles more difficult though not impossible. Keeping in mind the length of your current hair and how much length you are willing to lose to the layering process will play a major role in the outcome of your desired look.
A shag can be subtle or extreme. The one shown is somewhere in the middle. If you are of the wash and wear variety with an edgier style and a few products on hand then a shag is definitely for you! If you have wavy or curly hair, try one at least once as you may never look back.
I love to use Evo's Haze Powder to bump up the roots and Shebang-a-bang Dry Spray Wax for creating a heavily textured, high volume look! For beachy waves, spray in some Salty Dog or use Liquid Rollers for a softer feel. Whatever you do, do it with style!
For Shoulder-Length Hair
@hairbymariagarcia
Q&A with style creator, Maria Garcia
Master Stylist @ Gordon Salon in Highland Park, IL
---
How would you describe this look?
My goal was to create lots of movement in her hair with texture. I used a razor to achieve this with lots of details. I wanted her hair to reflect her edgy personality. In this picture, she tilted her head to the right for me to capture some of the layers better. Her perimeter is a slight V-shape cut.
Any advice for someone considering it?
As the summer in Chicago starts getting here and with all the rain we have been getting, I recommended the new Aveda Rinseless Refresh. It fights humidity and maintains the hair and scalp feeling fresh. It's a great alternative to dry shampoo.
Heavily Layered
@onlyfursthair
Q&A with style creator, Kelly Furst
Hair Stylist / Colorist @ Chroma Salon & Spa in Albany, NY
---
How would you describe this look?
This look was inspired by the greats of our industry, Chris Baran & Sam Villa. I aspired to have their precise melting technique and eye when it came to the "V" shaped layered cut. It propels the hair away from the face creating a fantastic and easy, loose curl effect if styled with a wand or 11/4 inch curling iron.
Since the shag is trés chic right now, this look can also be outstanding on straight hair as well, allowing the eye to travel side to side when styled straight or up and down when curled. One design – two outcomes for our everyday gal.
Any advice for someone considering it?
It's important to mention that the point or the longest perimeter will tend to lack density by the second to the third appointment. Especially, if we want to leave the perimeter and just take up the movement (layers) on top.
Second, the density within the top of the head can become bulky and unmanageable with textured hair. For my textured hair clients, I like to leave the length longer throughout to prevent a Christmas tree look with a tail. For fine hair clients, the shorter the layers, the thinner the hair appears. Most of the time, this wouldn't be the ideal design for fine hair, but it can be customized for every head.
For Straight Hair
@ac_created
Q&A with style creator, Angela Yates
Hair Stylist / Colorist @ Salon Millan in Yardley, PA
---
How would you describe this look?
This look is a very classic and clean V-cut. What I love most about this haircut is the versatility! My client pictured actually has incredibly curly texture, but in order to capture the best photo, I blowdried it smooth and sleek.
This haircut is amazing because you can wear it curly, waxy, sleek and straight, or natural and it'll still look good! My client wanted a trim but due to her natural texture, layers would have made her hair too big, and a one-length blunt cut was a bit too boring.
That's why we came up with the idea of giving it a nice V-shape haircut that would be easily maintained no matter how she decides to wear it! As for color, my client has never colored her hair, and I don't blame her with that beautiful, rich brunette!
Any advice for someone considering it?
There really is not much to worry about! I love this haircut best on longer hair, as it still gives it shape but doesn't lose any length. It's a great alternative to someone who doesn't necessarily want layers but needs a little something to give it life. Anyone can have this cut though if your hair is shorter and you love the V shape. Just know that it requires angles around the face, and if you have a longer face shape then you may want to consider that!
Deep V-Cut
@indramichelbeauty
Q&A with style creator, Indra Michel
Hair Stylist / Colorist @ Indra Michel Beauty in Westchester, IL
---
How would you describe this look?
This is a sexy, sleek, rich style. The sexiness of the haircut comes from the V which makes the waist appear thinner, really exaggerating the hips so to speak. It's an illusion of an hourglass figure with a haircut. I made sure to smooth her hair out with a blow-dry followed by my flat iron.
Any advice for someone considering it?
This haircut is definitely for someone with longer hair who wishes to keep their length yet add layering and plenty of face framing. If someone with shorter hair were trying to achieve this haircut, it would not look like a V but rather a U.
I advise that the clients with finer hair refrain from this haircut due to the massive amount of seamless layering. Finer haired clients need the illusion of thicker fuller hair, therefore, I recommend a cut leaning towards the blunt side.