28 Best Hairstyles for Square Faces
Short Stacked Bob
@arsentovmasyan
A short-stacked bob is one of the best short hairstyles for square faces because it creates lightness to the face shape.
Shag with Curtain Bangs
@jess_stanski_hair
Opt for a shag with curtain bangs for a full-on framing shape on a square face. The beauty of curtain bangs is that they curve around the widest part of a square face and flick outwards, this blends into the layers of the shaggy haircut, giving balance to your face shape.
Long and Sleek with Feathered Layers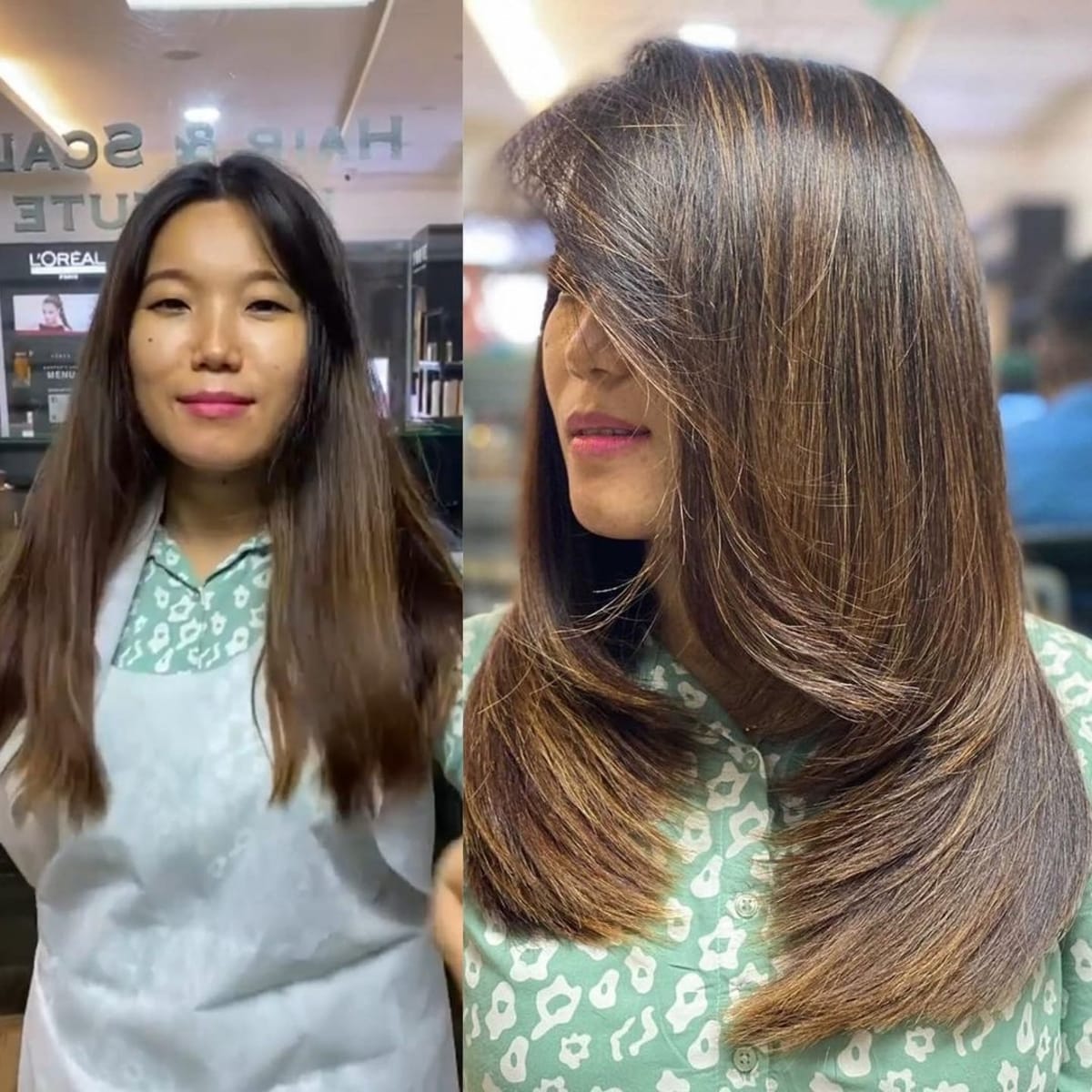 @melvinsirus89
A style that is long and sleek with feathered layers is very face-flattering. A beautiful angle is cut around the face creating interest and softness. Blowdry towards the face with smoothing oil and a large round brush for a sleek shiny finish.
Textured Pixie for Ladies with a Square Face Shape
@ayhanonluel
A textured pixie is for ladies with a square face shape and especially for women who have strands at the height of the neck. The fray starts from the cheekbones and goes down the diagonal to the end of the length.
An Effortless, Perfect Updo on a Square Face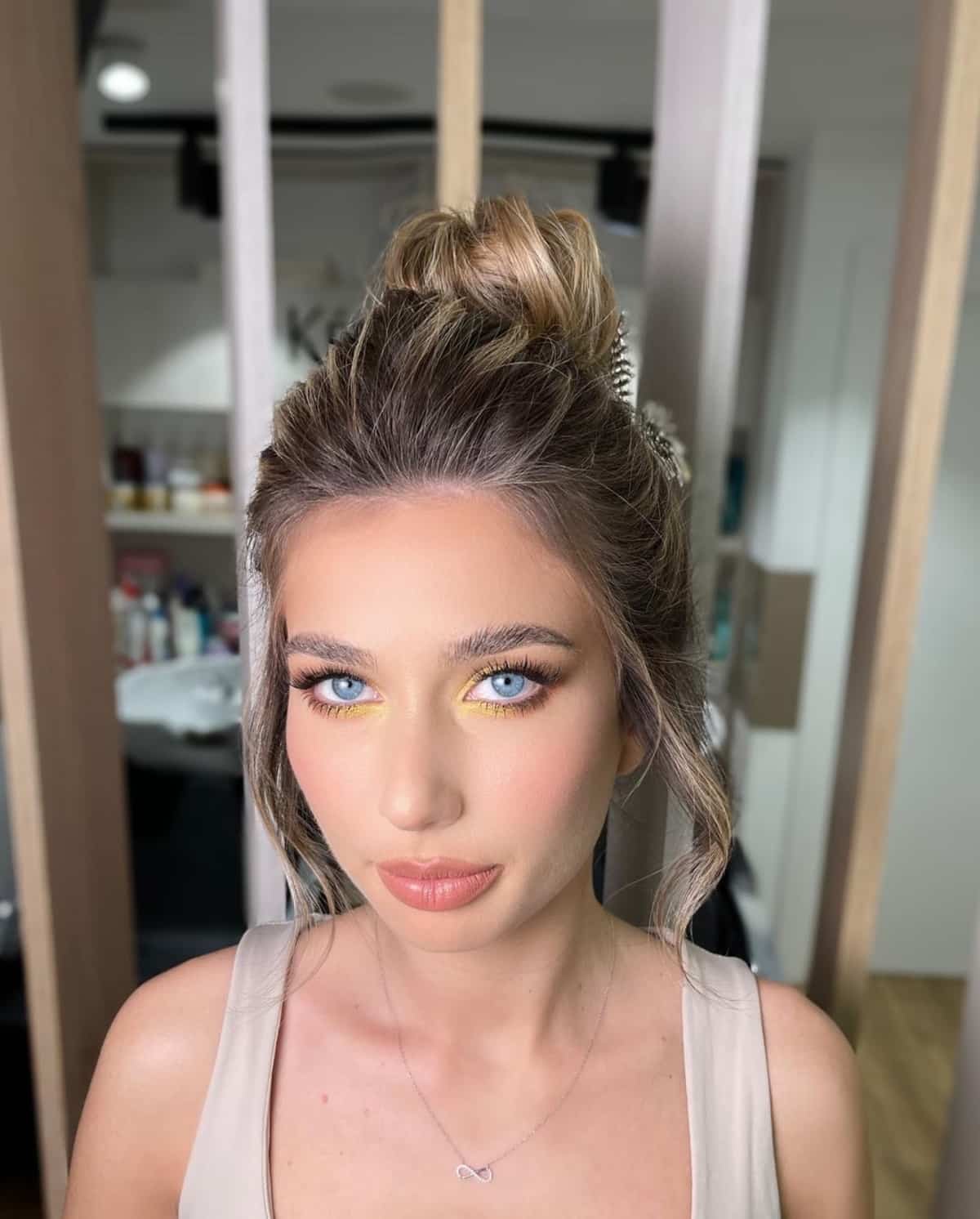 @roxanastefann
Add volume to an effortless, perfect updo on a square face to give you height, which will instantly give length to your structure. Keeping the hair a little textured and messier is a great approach to an updo, let some layers around the face fall out for a real chic effortless style.
Medium-Length Haircut with Side Bangs
@diegomarcsant
A medium-length haircut with side bangs adds a dash of seductiveness to contour a face. To create an illusion of an oval face shape, aim the length of the bangs to sit around the cheekbone area. This will create a perfectly square face haircut. A mid-length chop is also versatile, ideal for a busy lifestyle.
Medium-Length Style for Curly Hair
@ashadoeshair
Go for a medium-length style for curly hair to enhance all your volumes. This hairstyle best suits those blessed with square faces. The medium-length with shorter rounded layers allows the hair to bounce up and soften sharply angled faces. Thereby, bringing balance back between your face and hair.
Collarbone Cut with Soft Waves for Fine, Asian Hair
@salsalhair
A collarbone cut with soft waves for fine, Asian hair appears classic and pretty. Thanks to the layers, it makes the best haircut for a square face. The movement softens the jawline and draws attention to the cheekbones.
Collarbone Cut with Soft Waves
@kanebowenhair
"For this collarbone cut with soft waves, face shape plays an important role," states salon owner and stylist Kane Bowen of Seattle, WA. "A blunt bob on a woman with a very strong jawline can often look too boxy. So go with a mid-length lob and dry cut for visual texture and movement. Then style it with subtle beachy waves," he explains.
Bowen says this collarbone cut is quite versatile for those with fine to medium hair. "Finish the wavy style with a texture spray to increase volume and separation," he adds.
Long Layers on a Side-Parted Lob
@belximenes
A side-parted lob haircut with long layers is a popular length style. Long bobs are a great choice for women with squared face shapes. The hair hits in all the right spots. Keeping the bangs chin-length also compliments the face shape. Long layers are the key here.
Lob Cut for Square Faces
@borisboriswho
Try a smoldering lob cut to add height and slim down a wider face. A common belief is shorter cuts tend to widen the face, however, it's about the shape that's added to the style. A deep part to a shoulder-skimming length gives height to a square face. This long tousled bob elongates the appearance of the face shape.
Stylish Pixie Cut
@juliana.key
Here's a stylish pixie cut matched with a diamond blonde hue for square-faced women. This hair trend is the epitome of elegance and boldness. It's ideal for confident ladies who don't mind exposing their neck and shoulders. Another good feature of this pixie cut is how easy it is to style.
Cute Short Hair
@bel_pipsqueekinsaigon
Rocking cute short hair can be done with any face shape—it's just getting the balance right! Short hair for square faces is about getting the length to sit under the chin to skim the sides of the face. Adding a little shape just past the cheekbones elevates the style to a super chic one.
Deep Side Part for Long Hair
@martafeschuk
A deep side part for long hair on a square face is always a great choice. That's the style that gives the mane volume on the roots. Jazzing it up with long waves can soften and complement a square facial structure. Try painting the tresses with a beige blonde shade for a much glamour edge.
Short Bob for Women Over 60 with a Square Face
@studio_marteena
The side-parted short bob for women over 60 with fine hair suits a square face shape the best. It opens the face and draws attention to the cheekbones instead. An ideal short hairstyle for women over 60 is something textured. That makes the tresses appear fuller and better.
Edgy Angled Bob with Bangs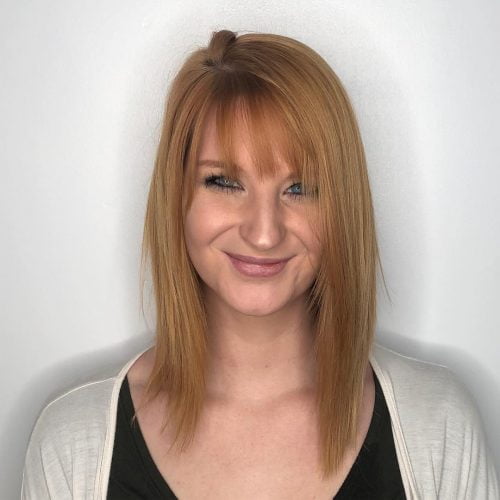 @wayne.french.77
An edgy angled bob shoulder-length haircut plus choppy side bangs are what you all need when you have a square shaped face. Golden hair color suits ladies with fair skin perfectly. What's crazy about this is that it gives a spotlight to your collarbone, too.
See more angled bob with bangs hairstyle ideas.
Tousled Medium Layers with Bangs
@brianaguilarhair
A few tousled medium layers make another lovely hairstyle for square faces. Enhancing the movement of the hair with waves covers the wider shape of the face. This haircut with textured layers also offers a fringe to help elongate a square face shape.
Mid Length Cut with Blunt Bangs for a Square Face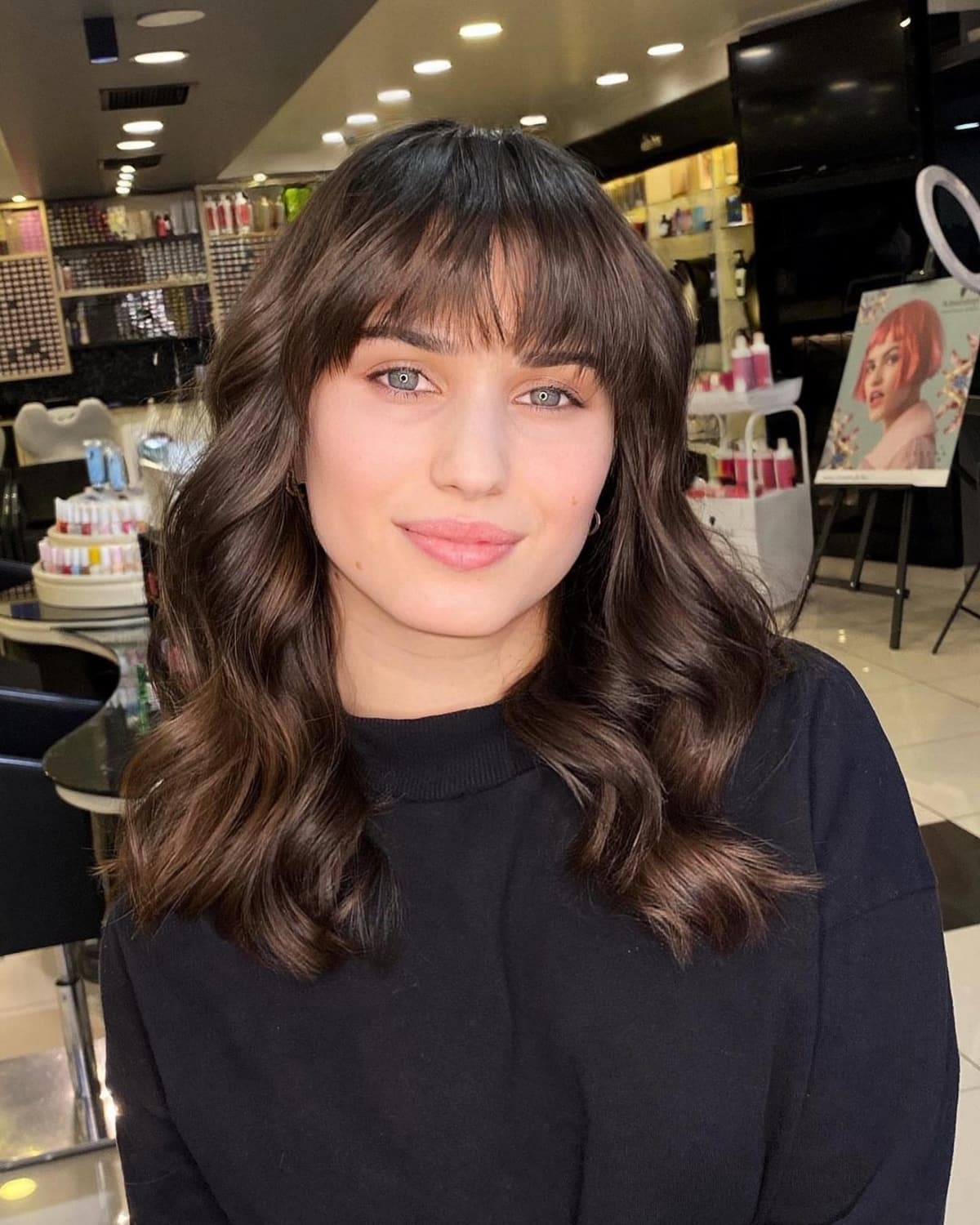 @atakangelisli
Ask for a mid-length cut with blunt bangs to add balance to face symmetry. Bangs skimming the eyebrows can make your face look longer when you have a smaller forehead. Keep the softness within the mid-lengths, creating a trendy hairstyle for square faces.
Medium Hairstyle with a Middle Part
@chris.hill
A medium hairstyle with a middle part is a popular and effortless cut. The center part is perfect for square-shaped faces. If you need hair texture simply apply sea salt spray on damp hair and let dry. If your hair is super straight you may need to scrunch it with your hands to give it some texture.
Layered Bob with Full Fringe
@rayvoltagebeauty
Choose a layered bob with full fringe to suit a square face. Fringed bangs have an almost airy feel that sits its softest over the forehead, which balances a stronger jawline. The addition of a layered hairstyle for a square face will skim the width for a slimmer effect.
Shoulder Length Wavy Hair
@stebunovhair
Shoulder-length wavy hair is a great haircut for a square face because the curls soften the cheekbones and jaw. The layers create movement and width, making it a great hairstyle for women with square faces. Long bangs can be added for an extra special touch, too.
Face-Framing Long Layers for Square Faces
@yukistylist
Those face-framing, long layers are a trendsetter! Looking sophisticated, this is a long hairstyle for a square face shape. The wavy layers around the face are what softens the sharp jawline. It's cute no matter where it is parted like centered, off-centered or side-parted.
These face-framing long layers for square faces have lots of internal texture. The cut and style were handcrafted by dry cut specialist Yuki of Beverly Hills, CA.
"It was dry cut and styled with a 1.5 inch curling iron. Dry texturizing spray by Milbon was used to finish," Yuki explained. "These face-framing layers work for women who don't want to spend a lot of time styling their hair. It's also for women who have natural long hair and want to keep the length but has no movement. "
Flattering Graduated Bob
@satorisalonspahi
Try a flattering graduated bob if you are a woman with a square face shape. Hair falling just below the chin will soften the edges. Soft bangs are also a great idea . A graduated bob works well on any hair texture and is easy to style.
Modern 60s Shag Cut
@rute_boazhair
The modern '60s shag cut has face-hugging layers on point for a square face shape. With square faces, it's ideal to slim down the cheek to jaw area. So, add movement with layers to trim the face in all the right places. Allow the hair to air dry after scrunching in a foam mouse for added texture, too!
Free Flowing Long Hair with Long Bangs
@victorkeyrouz
Free-flowing long hair with long bangs is another perfect match for a square face shape. Achieve the style by adding long layers, which flow from the long curtain bangs to shape the face all the way down. This doesn't only slim a wider face but enhances an elegant style to the tresses.
Modern Shag with Side Swept Bangs
@salsalhair
This modern shag with side-swept bangs has a structure that suits the square face shape. Layers and waves provide a natural-looking movement, which softens a strong jawline. If styled with a little texture, this shag cut looks super cute without even trying.
A-Line Bob for Straight Hair and Square Faces
@curtinhobrasil
An A-line bob for straight hair creates effortless volume. This is an ideal haircut for a square shaped face. The illusion of thickness makes the face seems slimmer. The cut's perimeter can even soften a sharp jawline!
Modern, Lived-In Shag for a Square Jaw
@stacie.saltstrands
A modern, lived-in shag for a square jaw will skim the face to soften any angular areas. A classic center part and added texture from soft layering will add width to your lengths. It keeps an overall balance in your locks to ensure you have the perfect square face shape haircut.