38 Light Brown Hair Colors That Are Blowing Up Right Now
Light Brown Hair to Blonde Ombre
@maremaredoeshair
If you love subtle and smooth transitions, this hairstyle is sure to sweep you off your feet! This is also ideal on ladies who always have dark or black hair and now wanting to try blonde hair for the first time. Perfect on lengthy locks, this style incorporates depth easily.
Light Brown With Natural Red Undertone
@aaashleee
Combining dark roots with white blonde ends is a marvelous way to create beautiful contrast and depth. The dimension that this light brown with blonde streaks makes is sure to work with any length of hair. Styling is made easy as the hair already has an innate dimension to it!
Golden Honey Highlights
@prissyhippiebeautyshop
Light brown and blonde go so well together! This dark chocolate base melted into a light caramel hue is definitely noteworthy! Placing some pieces of caramel tones in front can frame the face and give a brightening effect that completes the whole look.
Hot Rich Cider and Light Brown Tones
@viphairandmakeup
The right balance of warm and cool tones in a nut brown mane is to die for! This lovely hair appears natural and healthy and at the same time full of depth and gorgeous volume.
Glossy Gold
@ryan.weeden
This smooth and warm mane that starts off with darker roots is absolutely pleasing to the eye. It's very exciting to style hair like this as every wave and curl is greatly enhanced by the gloss of this divine golden blonde color.
Soft Rose Gold on Light Brown Hair
@ultrafadebyrich
A fresh and modern color – this metallic peach-mocha hair gives off an impeccable shine that accentuates waves and textures so beautifully!
Light Brown Auburn Ombre
@selmagaldinohair
This one features a lighter and more natural shade of the reddish brown family that is known to complement complexions with pink undertones. It's warm, romantic, and is sure to make you stand out in a crowd.
Medium-Length Light Brown Hair with Dark Ash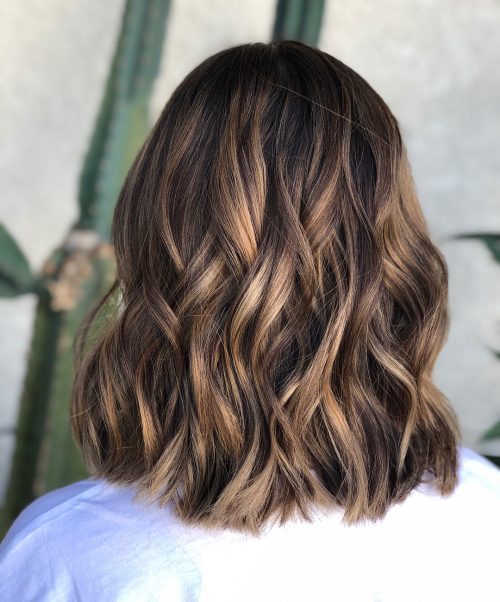 @rootedhairstudiolq
Smoky hazel pieces appear amazingly on a darker base. This easy combination gives a high contrast finish that works perfectly on any textured hair. Show off those lighter brown highlights even better by styling the hair with beach waves.
Tan Undertones
@erinm_hair
Uneven tones on your tresses can add superb dimension and depth, especially on waves. This one's an effortless yet fabulous way to spice up natural brunette hair.
Bronzed Brown with Highlights
@melangethesalonbopal
A bronzed brown with highlights is an easy-to-manage hair color, done with a bronde balayage. With this shade, "there's no toning required after a month or two," says stylist Eesha Vakharia from India.
Vakharia shares with us how she achieved this color. "I created valley and shaded near the roots to give it a dimensional effect with a diagonal back section. I left some natural pieces in between."
For maintenance, use color-protecting shampoo, masks, leave-in creams, and serums regularly.
Mushroom Brown with Lighter Ends
@hairby_juliap
A mushroom brown with lighter ends makes a perfect hair color when you can't decide whether to go blonde or dark. It's created by a salon owner from Vancouver—Julia Popenco. "What's beneficial about it is it stays ashy even if your natural level is super dark," explains Popenco.
"Ashy colors need to be lifted 1 or 2 levels lighter, then toned," Popenco points out. After toning the hair, she recommends a blue shampoo when washing it.
Warm Light Brown with Caramel
@kchairdesigns
This look is a honey blonde balayage. It was created by hairstylist Katie Reaka of Florida. "I left the length long and added some long layers to give her movement and body. I love how natural these caramel-hued waves look," says Reaka.
This hair color looks best on medium brown hair. Reaka says a good thing to remember is the darker the starting hair color, the warmer the blonde will be. "Lightening with this natural looking balayage technique will give you weeks and sometimes months longer between appointments than traditional foils. This low-maintenance style is perfect for someone with a busy lifestyle," she adds.
Reddish Light Brown Hair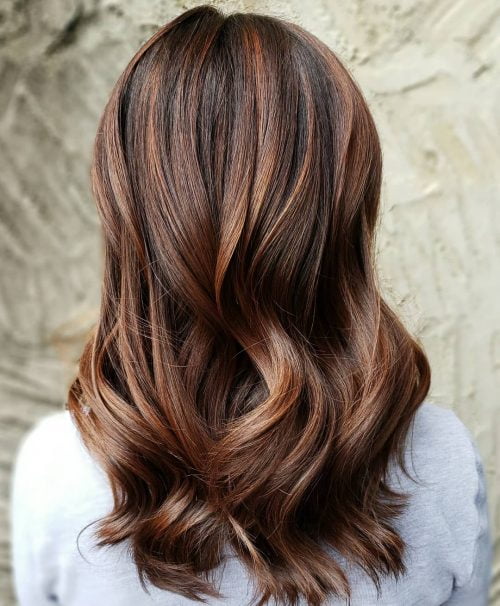 @kyylieruush
"This reddish light brown hair has the blend of the cool tones, which gives it the smokiness and the warmth to bring in and catch the light," says hairstylist Kylie Rush of Camp Hill, PA.
"I would describe this look as coppery rose brown waves," says Rush. "The loveliest about this color is how it beautifully implements copper tones into a natural brunette head of hair without necessarily making her a redhead."
Rush wants you to make sure you're informed about the maintenance it will require. "Since the coppery rose color was applied over top of previously lightened hair, it will fade over time. Setting up a follow-up appointment about 8 weeks out would be a good time to reapply the semi-permanent overlay to ensure the coppery rose color stays fresh," she adds.
If you're frequently out in the sun or if you swim a lot, a color like this will fade and brighten up much more quickly. You can wear a sun hat outdoors to protect your color from the sun, and avoid chlorinated water if possible in order to extend the lifespan of your color. Make sure your at-home regimen of hair care products are color safe as well, especially if you frequently shampoo your hair.
Lightened Golden Copper Highlights
@un.rooted
This is a bold, dimensional balayage that embraces the natural warmth that exists in darker brown hair colors. "It has copper tones, similar to Jessica Alba's," states hairstylist Emily Grangaard of Denver, CO.
"This has a perfect shade for a woman who wants a light standout color that is fairly low-maintenance," says Grangaard. "This can be easily maintained with toners and a few foils at the hairline to keep up the brightness around the face."
Grangaard recommends this golden hair for brunettes who want to enhance their natural color while keeping damage to a minimum.
"A professional hydrating color safe shampoo and conditioner, like Kevin Murphy Hydrate Me, is key to preserve the vibrancy and shine of the color and ensure the lightened ends don't get dry and brittle," she adds.
Brown Hair and Caramel Highlights
@hairbyamybee
This brown hair and caramel highlights were created by hairstylist and colorist Amy Baugh of Fruita, CO.
Baugh describes this color as a warm-toned, brunette balayage. "My favorite thing about warm shades on brunettes is how natural it looks. Balayage is meant to mimic what the sun naturally does to our hair when we've been outside all summer long, and for brunettes, that means natural warm tones."
"I always say good hair is 60% what the stylist does at the salon and 40% what the client does at home," she adds. "Balayage is wonderful because it is so low maintenance, which is great for all lifestyles, but in order to keep it that way, you have to make sure you aren't trashing your hair at home with products that dry out the hair and strip out the color/gloss. As long as you're taking care of your strands at home, this look would be great for anyone with brunette hair!"
Light Sandy Highlights Color Melt Hair
@jessicascotthair
This light sandy brown hair is full of volume with extra pops of brightness. It was created by master stylist Jessica Scott of Easton, PA.
"Balayage is a good route to go for someone who has a busy life or schedule," states Scott. "It's seamless to grow out, so whether you have darker roots and want to be blonde on the ends, you can totally rock that look without coming to the salon every 4 weeks and can go months without getting a color touch up!"
Scott recommends using Olaplex in all color formulations to keep the hair healthy and shiny. She loves to finish with all Pureology products, too.
Chestnut Highlights
@gem.hair
"A fusion of chestnut and darker browns that create a dimensional, sun-kissed color," says curly hair specialist Grace Macduff of Kennewick, WA. "The cool brown chestnut colors add that extra "pop" but still have the element of subtlety!"
"It's easy to have these light brown locks to turn out as a really warm copper or brassy tone," says Macduff. "Keep the chestnut brown color cool-toned, especially with those who have more olive or red complexions."
Depending on execution, maintenance should be easy. Macduff recommends appointments every 3-5 months to maintain the color, with glazes and root retouches for grey, if necessary, in between.
Chocolate Caramel Brown Ombre
@jenniferklipper
This look is a cross between an ombré and a balayage with much warmth in it. It was created by hairdresser student Jennifer Strågefors of Gothenburg.
Strågefors' advice to women considering this dark-to-light brown ombre would be that even though it is low maintenance in terms of color upkeep, it's crucial to keep the hair healthy. "Good products and tender lovin' haircare are key, especially if you already have damaged or naturally dry hair. A healthy glow really makes all the difference," she adds.
"This exact chocolate brown hair color with light brown ends would best suit a woman with naturally dark, thick hair, but can, of course, be adjusted to match the women's own tones," she explains. "What's important is daring to go much lighter on the lengths than the roots to create contrast and depth."
Light Brown to Platinum Hair Color
@mashytaters
This light brown hair color is a deeply rooted balayage ombre with bright beige ends. Ashley Carroll, a stylist and blonde specialist in Fitchburg, MA created this beautiful cut and color.
"Anyone looking to achieve this color may need several sessions in the salon before getting the ends this bright," states Carroll. "But, once they're at the desired level this is a very low maintenance look!"
"A toner every 6-8 weeks is suggested to keep the color looking fresh, but a balayage session would only need to be done every 3-6 months," she adds.
Light Nutmeg Highlights
@nataliewalls_hairartist
"I would describe this hairstyle as a light sun-kissed brunette. My favorite part of this look is the balayage highlights that complement light skin tones," says hair artist and master colorist Natalie Walls of Orillia, ON.
"If you are looking for this nutmeg hair color, it's an easy up-keep, no layers and long enough to tie back," describes Walls. "Ask your stylist to use a neutral toner for a more natural balayage highlight tone."
Mocha Swirl on a Bob Cut
@theosmomdoeshair
"Light mocha swirl is what I like to call this color," says independent stylist Carrie Murtaugh of Berlin, OH. "My favorite thing is the fact that this particular color works well for blondes who are wishing to try a brunette. It's not too dark or warm, therefore it is easy to get back to blonde once summer rolls around," she explains.
For this color, Murtaugh highly recommends the Kenra Professional Bronze Metallics Series color.
This light color is pretty versatile as it doesn't exactly fall into a warm or a cool category.
Murgaugh's best tip to recreate this light brown bob is to "ask your stylist for a soft mocha brown with neutral blonde accents on a short haircut."
Light Natural Brown Hair
@novembersalongen_sussi
"This is a natural look that is close to the customer's own natural brown color. She can let it grow out without having to come into the salon very often," states hairstylist Sussi Svensson of Sweden.
"I think this light natural brown color is good for those who need color but want to look uncolored," she explains.
Dimensional Bronde Light Brown Hair With Lowlights
@shears_for_fears
This is a dimensional bronde, the perfect alternative to all over blonde in the winter. It was created by hairstylist Jordyn Lindsay of Windsor, Ontario. "It's lower maintenance than your standard rooted blonde, but still packs a punch with dimensional highlights and paneled lowlights throughout," says Lindsay.
"I think this light color works best on women with neutral tones in their skin, as well as on women whose hair is naturally within two shades of the end result," she explains. "The color and style are very well suited to finer hair because the placement of the lowlights under the brighter highlights adds some depth to hair that can otherwise look flat otherwise."
Because this look is on the ashier side, maintaining the brown shade with regular toning or glossing treatments in salon is important. Lindsay recommends a purple-toned shampoo for at home maintenance to all lightened or blonde women to keep brassiness out. "Regular maintenance in the salon and at home will keep the brown color looking fresh and ensure that the tones don't become washed out and drab," she adds.
Ashy Ombre Hair
@edu_ardo_sampaio
This ashy brown hair was created by hairstylist Eduardo Eulalio Sampaio of Brazil.
"To keep the hair high quality, the use of professional brands like Wella, Loreal Professional and Schwarzkopf is very important," says Sampaio. "This style and color work with all hair types and skin tones. It is a great option for those with darker hair that want to lighten things up."
"In my professional opinion, the color gradient is what makes a light brown like this perfect. To maintain this color, always use a moisturizer cream," he adds.
Hair with Pops of Light Golden Brown
@style_session
This soft golden look with pops of light golden brown that also look like honey blonde was created by hairstylist Jasmine Cardenas of Downey, CA.
"The golden brown hair is versatile and women with light to mid-brown tones can rock this brown hue," explains Cardenas. "As far as hair types, I would say straight, wavy and curly types can pull this look off. The trick is the placement of the lighter pieces for each of these hair types."
Cardenas' best tip in recreating this brown color is to analyze what undertones and color you already have. "We don't want to add more gold on top of red or light auburn tones because it will make it too warm. This is a soft gold which means the gold is controlled," she adds.
Shoulder-Length Soft Spice
@cheleganti_hair
This romantic and naturally soft light brown hair was created by stylist and salon owner Charlene Buonaccorso of Australia. "What I love most about it is the light color texture of her hair. The tones blend well, giving maximum shine and dimension to fine hair," explains Buonaccorso.
This brunette shade is best suited for cooler skin tones because the color really makes those skin tones glow. Warmer skin tones may be too much for the skin and clash.
"Visit the salon every six weeks for a touch-up maintenance as colors lose their hue if left much longer than that," she adds. "Also, a home care regime is ultra important in maintaining your salon colored hair in its best condition."
Warm Fawn
@hairby_gina95
"My favorite thing about this light brown color is how natural it is," says hairstylist Gina Eldridge of Somerville, MA.
"Toner wasn't used to achieve this brown hair," explains Eldridge. "That being said, I believe just a sulfate-free shampoo would help maintain the color until the next salon visit."
This light colored haircut would be best for women who are very low maintenance and don't come to the salon very often. "I believe a balayage like this only needs to be done once or twice a year, so this would be perfect for women who have a busy lifestyle and cannot commit to coming to the salon as frequently," she adds.
Warm Toffee to Honey Ombre
@hairbycarissaraia
"I love this light, warmly toned balayage because it looks like the sun just kissed it," says hairstylist Carissa Raia of Rancho Cucamonga, CA. "It is low maintenance and boasts tons of dimension. The toffee to honey brown color change is beautiful."
Raia says this look is for the dark-eyed and warm-toned beauties who are on the go. "Pureology Color Fanatic Leave-In will keep the ends moisturized and frizz down for a flawless hair," she adds.
Light Ash Brown
@hair_amor_byjamie
A glorious blend of smoky gray-brown hues created this light ash brown hair color. The contrasted brown colors bring each other out.
Light Chocolate Brown Sun-kissed Hair
@dhairdi
"This is a balayage on virgin, medium brown hair," says master colorist and stylist Diana Lopez of Miami Beach, FL. "The look adds warmer natural tones without any harsh lines, increasing the dimension and density of her hair. We blended with three color levels lighter from her natural color, giving it a true light sun-kissed feel."
To create this sun-kissed brown hue, Lopez used Wella Freelights with 20vol and Uberliss bond protector to maintain the integrity of the hair. "I toned with Wella Illumina 8/37 and 9/ 1:1 + 1.9 vol 1:2. I also recommend Uberliss bond sustainer at home to keep hair moisturized," she explains.
Balayage is a win for women who desire a low maintenance and subtle change with enhanced dimension. It's also a great color lightening technique for those wanting a gradual color change.
Cooler Brown Babylights
@paigeahair
These cooler brown babylights were created by hairstylist Paige Argentieri of Santa Monica, CA. "You can't tell where the babylights start and stop because of how fine they are. I am all about blend and having my color look as natural as possible."
Argentieri used Redken's Flashlift lightener to achieve the soft brown shade. "To maintain, I definitely recommend a purple shampoo to keep away any unwanted brassy tones," she adds.
"I enjoy using this method of babylights on my clients who have a lot of dark, thick hair," she explains. "If you take smaller sections, you'll get a better saturation and better lift. I also love the super blended lines from all the micro small highlights. The grow out on this look is amazing, making it perfect for girls who don't want to be in the salon all the time!"
Seamless Caramel Hue
@britblends
This seamless caramel hue was created by stylist and national Redken artist Brittany VanDyke of Joplin, MO. "I recommend a Shades EQ Gloss Service every 8 to 12 weeks to provide shine and to keep the color from pulling too brassy or becoming dull," says VanDyke.
Use PH Bonder to upkeep the results at home. "Redken's Color Extend Magnetics and Exreme are my go-to lines to provide necessary moisture and proteins after a color service," she explains. "I especially recommend Extreme Length Sealer and Primer for all my girls who want to be light on their ends and grow or maintain mermaid lengths."
The brown tones that are present naturally tend to be the easiest to achieve and maintain and look best on your skin tone. This color is great for all women, but it's especially flattering on women who have a warmer or olive skin tone. Just tweak the brown tones depending on the color of your eyes and skin tone.
Light Blonde Highlights on Bronde Hair
@patriciajhair
"I would call this a sun-kissed bronde (a balance of being a brunette and blonde)," says hairstylist Patricia Jastrzebski of Canada. "I love that this specific bronde is natural and soft with some face-framing pieces to brighten her complexion."
Jastrzebski always recommends a clarifying shampoo and a purple shampoo to keep the tone in this light brown hair with blonde highlights bright and help minimize unwanted warmth.
This is the perfect hair for the woman who is brunette and thinking about transitioning into a blonde. This allows you to do so without compromising the integrity of their hair and eases you into it if you're nervous about the change.
Warm Walnut Brown
@dani7thestylist
"I would describe this look as different shades of brown with warm dimensions," says stylist Danielle Hruza of Hackettstown, NJ. "It is the perfect highlighted summer look on darker brown hair. My favorite thing about this look is the warmth and different tones of the highlights," she adds.
The products Hruza uses to maintain this look is Strong Sexy Hair shampoo and conditioner. She explains, "the Strong Sexy Hair line has mango butter that provides great nourishment for the hair and aloe vera to help stop breakage and keep the hair strong."
Hruza recommends this shade of walnut brown hair for women with darker hair that are looking to go lighter but don't want the maintenance of having blonde highlights.
Light Brunette Meets Blonde
@hairbymarissashafer
These babylights with hair painted pieces create the perfect "brunette meets blonde" blend. "I love the lived-in look and flawless transition that this duo gives," says hairstylist Marissa Shafer of Las Vegas, NV.
Shafer used Kadus 5N + 20 vol for the base color and Kadus Lightener for the babylights. "I then went through and hand painted a few pieces that were left out of foils. I toned with a 7P and 9V in Redken Shades EQ," she explains.
This light brown hair is universal and is perfect for busy women that crave the low maintenance upkeep while still allowing them to be trendy with the lived-in look.
Long Brown Hair
@bellezzahairstudio
Mousy brown color represent! Flattering for everyone, it never goes out of style and is guaranteed to bring elegance to your long hair.
Wavy Short Brown
@flirtwithjoy
"I would call this look a beachy and textured look, using balayage to paint her sun-kissed pieces," says salon owner and stylist Joy Ishii of San Diego, CA. "I love being able to see the blended highlights and bright ends, plus the dark brown color at the roots is excellent."
Ishii recommends a sulfate-free shampoo to protect this multi-tonal brown hair. "As for styling products, Bumble and bumble's HIO Primer and Surf Foam Blow Dry Spray are musts before you blow dry. After the hair is dry, I would spray Dry Spun Finish to add more texture," she adds.
Tan Skin Ombre
@tessataylarhair
This tan skin ombre was created by Tessa Woods, a stylist in La Jolla, CA. "I love the sun kissed balayage and chic style," she states.
Woods recommends using Oribe Bright Blonde purple shampoo and conditioner to keep the hair from getting brassy as it grows out. Plus, this product is great for hydrating the hair and giving it shine. "I would also recommend Davines' All In One Milk as a leave-in spray to help nourish and protect the hair from thermal heat," she explains.