23 Incredible Examples of Blue and Purple Hair Colors
Blue and Purple Hair on Black Hair
@hairbydiane1996
This is black with streaks of purple and blue colors done right by colorist Diane. Those beautiful colors just peeking through jet black hair works wondrously.
Silver, Blue, and Lilac
@dbellx22
Glittery pastel tones of silver, blue, and lilac shades are the new trend! Bold colors such as these in one mane take time and patience to achieve, but it's so worth it! Keeping the top area dark enables a more natural grow-out.
Pink and Blue-Purple Galaxy Colors
@therainbowhairartist
Amp up your hair with streaks of pink, purple and blue tones. Now, this is what pastel dreams are made of! Mixed magenta, teal, and lavender colors create that rainbow-inspired look. Hair colors like this would look great with braids to show off a unique and very vivid dimension.
Electric Blue and Bright Purple Hair
@shakslovely
Brighter blue purple hairstyles are in! Electric blue-indigo hues look much edgier on an ear-length short cut with bangs.
Purple and Blue Ombre
@nealmhair
This purple hair and blue gradient is mystified and just so magnetizing! The shine and the big ombre curls complete the wow factor of this style.
Green, Purple hair and Blue Mermaid Hair
@hairdressa.nessa
Surprisingly, the green adds a nice touch of earthy color to the vibrant blue hues. What a brilliant way to flavor platinum hair!
Teal, Purple, and Midnight Blue
@kimberlytayhair
Teal, purple hair, and midnight blue stir up a fun, lively shade variation for long hair. The vividness it offers from roots to ends is undeniable. Perk up an ombre style like this with beachy waves for added movement and texture.
Peekaboo Blue and Purple Hair Underneath
@flynndoeshair
Shake up your hair with hidden streaks of violet and blue. These peekaboo highlights work well on blonde hair.
Pastel Blue and Silver Purple Hair
@beyond_vivids
This is a bold lavender look created with Pulp Riot's semis by salon owner and stylist Lindsay Medrano of Baton Rouge, LA.
"The bottom area is lighter, creating a subtle gradient effect," says Medrano. "I love how this will be faded back out to blonde over a few months."
This pastel blue and lavender are for women who have very light blonde hair and don't mind a high-maintenance color and refresh often.
Half Purple and Blue Hair
@kimberlytayhair
This half purple and blue hair was created by hairstylist Kimberly Ibbotson of Los Angeles, CA.
Ibbotson wants you to understand the maintenance. She says, "creative colors like neon blues or purples are more on the high-maintenance side and require attention every 6-8 weeks."
This bright blue and purple color will evolve and fade in that period of time but there are products you can use at home to maintain maximum vibrancy – custom colored conditioner would be a perfect example," she adds.
Blue, Plum, and Vibrant Purple
@honeyhousehair
Blue, plum, and vibrant purple are classy and fun hues that are worth trying. These vivid colors are unnatural as if you're in a fantasy world!
With such hues, stylists are advising to embrace the fade. Proper maintenance and salon visits are the keys to a gorgeous fade-out effect. The combo of these shades upgrades a style while staying true to colors that are fun to flaunt.
Light Blue, Pink and Purple Highlights
@addiesowellbeauty
The fusion of light blue, pink, and purple highlights creates a unicorn-inspired color.
Hairstylist Addie Sowell of Cullman, AL shares a few tips about this color. "Find a stylist that specializes in this type of service. It's very intensive and requires someone who's patient. If you don't mind the maintenance, then absolutely go for it," Sowell states.
Magenta, Royal Blue, and Light Blue Hair
@hair_princess_steph
This magenta, royal blue, and light blue hair idea has loud colors and a bold and edgy finish. The fusion of beautiful indigo and vivid blue shades creates a unique type of dimension. If painted on long tresses, it'll be easy to style this beauty.
Hairstylist Stephanie Lawrence of Londonberry, NH created this blended style. "You take small sections and melt multiple colors on each to get a seamless blend of colors," she notes.
This type of blue and purple hair is great for women who like creative colors! This can be done on short or long hair, fine or coarse, or thick or thin hair, too!
Blue and Purple Dip Dye
@hairbyjelena
This blue and purple dip dye was created by hairstylist Jelena of Laguna Hills, CA.
She explains, "I'd describe the look as galaxy hair – the vibrant blue and rich purple tones remind me of some of the beautiful images taken from space. I completed the look with a long layered cut and soft mermaid waves."
Electric Blue and Dark Purple
@ladylizhair
These electric blue with dark purple fantasy colors were created by salon owner and cosmetologist Liz Rivera of Wendell, ID.
She says, "I love that the colors blend well together and when you wash it they won't mix and look bad. And, I love how you can see the length and the blues from root to ends of the hair."
Rivera recommends using Argan oil, coconut oil, or Moroccan oil to keep it hydrated after lightning it. "Also, hydrating hair masks once every 2 weeks is recommended. This color fits any personality especially if you are fun and are not scared to try different things," she adds.
Lavender Light Purple with Blue
@lo.rean
Radiance of lavender light purple with blue looks so marvelous and fun to pull off! This is a beautiful deep lavender/periwinkle shade with a lighter tone at the ends. The darker shade at the roots makes the edges pop even brighter.
Achieving this masterpiece means getting a heavy balayage or babylights. When it comes to upkeep, cool water helps the color stay in a little longer. But it's still crucial to see a professional every 4 to 6 weeks to keep the beauty of this blue-purple hair.
Metallic Purple and Pastel Purple
@kimberlymariestylist
From a sun-kissed balayage to a metallic unicorn, this purple hair color takes a step into the wild side.
Created by hairstylist Kimerbly Marie, she says, "I love using these deeper violet colors because the hair doesn't need to be lifted to a bright blonde before applying the color."
If you are considering this pastel purple, keep in mind the maintenance and proper at-home care. Colors like this are considered high-maintenance and depending on your current color history can take several hours to achieve.
Unicorn hair is accepted more now than ever before, giving women a chance to express themselves and have fun with their look!
Denim Blue & Dark Blue
@albee_hair_colorist
The dark and light colors of blue were created by hairstylist Albee Chan of Singapore.
"For the ombre/balayage technique, it's recommended to do some styling like a wave or curl to increase the movement and dynamics of the hair," says Chan.
She also wants you to understand that the hair needs to be bleached 1-2 rounds to achieve the color (especially Asian hair). Chan adds, "the damage caused by bleaching will make the hair drier or even cause breakage."
Blue, Green, and Purple Balayage
@kristine_olive
This blue, green, and purple balayage were created by hair color specialist Kristinine Gibb of Canada.
"I loved creating these hues of green with blue-purple hair art. I chose to use yellow to give to created depth in key areas. These direct dyes allow for so much creativity," she explains.
She adds, "in my experience, I find that the young tend to like the very loud bright colors whereas middle-aged women prefer deeper tones that are still very fun colors. For mature women, I find they tend to choose pastels, which is fantastic because they don't typically last for very long making it uncommitted fun."
Red, Purple, and Blue Hair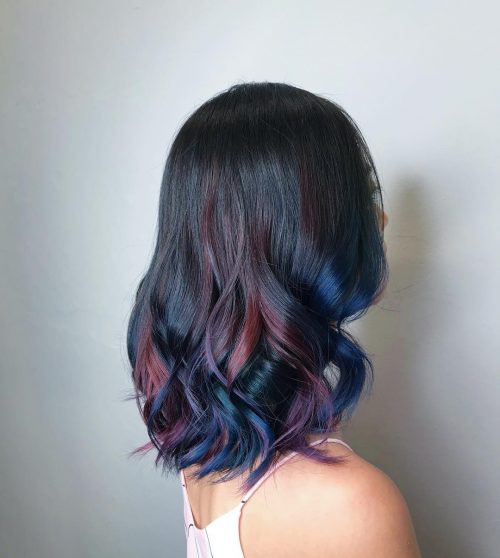 @lucascchew
This red, purple, and blue hair was created by stylist Lucas Chew of Singapore.
"I always like to do advanced multi-color for my girls, which includes this kind of red-purple-blue galaxy hair color! It always gives women with dark hair a new look," says Chew.
Purple Hair with Blue Highlights
@briannastags4
Blue and purple hair ideas like this are a very bold color. Hairstylist Brianna Lynn of Lancaster, WI says, "the curls show off the color variation a little better, but it can also be worn straight."
She continues, "chunky blues thrown into the beautiful purple tone show a little more dimension. I just love how the colors complement each other and create an electrifying look. The blue highlights are just enough to create a color mesh."
Dark Purple and Bright Blue with Dark Roots
@karlalalahair
This is a custom designed metallic blue-purple hair color by hairstylist Karla Arechiga of Brea, CA.
Arechiga wants you to understand the importance of home hair care products when wearing blue and purple highlights, and to make sure to make time for the color maintenance.
She explains, "this look requires sulfate-free and paraben-free color safe shampoo and conditioners to ensure the richness of the color remains as long as possible. These vivid colors tend to wash out a bit faster than permanent color resulting in more frequent salon visits to keep it freshened up."
Lilac and Silver Blue
@themanemichael
The color is the dark depth of the galaxy transition with the stars and the purple cosmic rays going throughout. It was created by balayage specialist and stylist Michael Bargallo of Chesapeake, VA.
"Creative coloring needs to be maintained every 6-8 weeks to keep the color refresh," says Bargallo. "You also have to consider the hair type and the condition of the hair! Always ask for a 2-year history of the hair to see if the hair can achieve the color the client is looking for."