32 Prettiest Brown Hair With Blonde Highlights
Natural Brown Hair with Golden Blonde Highlights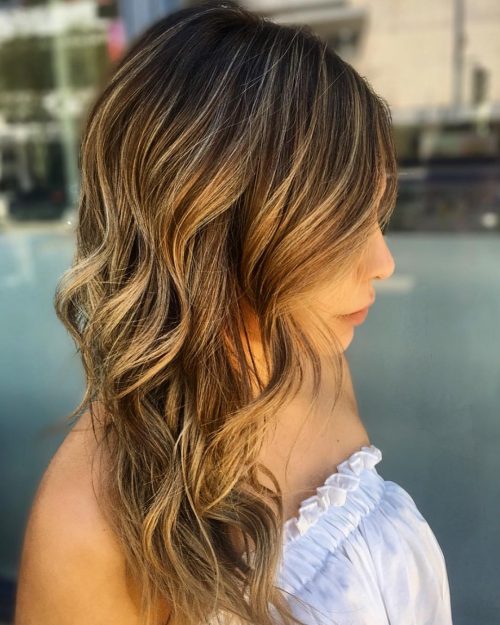 @laurenaliciahair
Work your long beach waves and natural light brown hair with golden blonde highlights in brown hair.
These streaks of blonde look like the California sunshine beach blonde style everyone wants right.
If you're considering going this shade of blonde all through your hair, these golden highlights are a great first step on your natural hair.
Golden Brown and Blonde Highlights for Older Women
@liz_lewis_hair
Golden brown for older women is the perfect choice for those wanting to spice things up a bit. This stunning color combination will have heads turning. Tapping the root with a gloss will also make the grow-out more seamless.
Brown Hair with Blonde Ombre Hair
@yeseniaresendez_salonandspa
Brown hair with blonde ombre hair is a great option for women who want a low-maintenance color. Adding a few babylights around the front and sides can complement the look to make it even more natural for a "lived-in look"
Brown Hair with Blonde and Red Burgundy Pieces
@cherryblossomssalon
Brown hair with blonde and red burgundy pieces is well-suited for those who are looking forward to adding some spice to their hair. The burgundy pieces help create contrast and vibrancy to your overall appearance.
Dark Brown Hair with Blonde Highlights and Lowlights
@garciapeluqueros
Dark brown hair and lowlights is perfect for women who crave dimension and more pops of brightness. Lowlights help soften the amount of blonde in the hair by having a colorist match closest to the natural hair color.
Chunky Blonde Highlights on Brown Hair
@hairbyhaileyclark
Chunky blonde highlights on brown hair go hand in hand when tones are similar. Bolder blond pieces create optimal brightness for women who want more ribbon-like effects on their hair.
Dark Brown with Beach Blonde
@lindsay.magyar
A dark brown with beach blonde highlights is perfect for women with a naturally darker base than normal blondes. It gives a natural but contrasted result that looks bright with loads of dimension. Style with waves for beautiful reflection as light hits the hair.
Icy Mocha Brown Hair for Women Over 50
@jleighhair
Icy mocha brown hair for women over 50 compliments those looking to show off their grey and have a little depth added in. You'll want to add a lowlight to your color and maybe a few highlights as well. Tone your highlights with an ice toner like Schwarzkopf blonde me "ice".
Medium Brown Hair for Women Over 60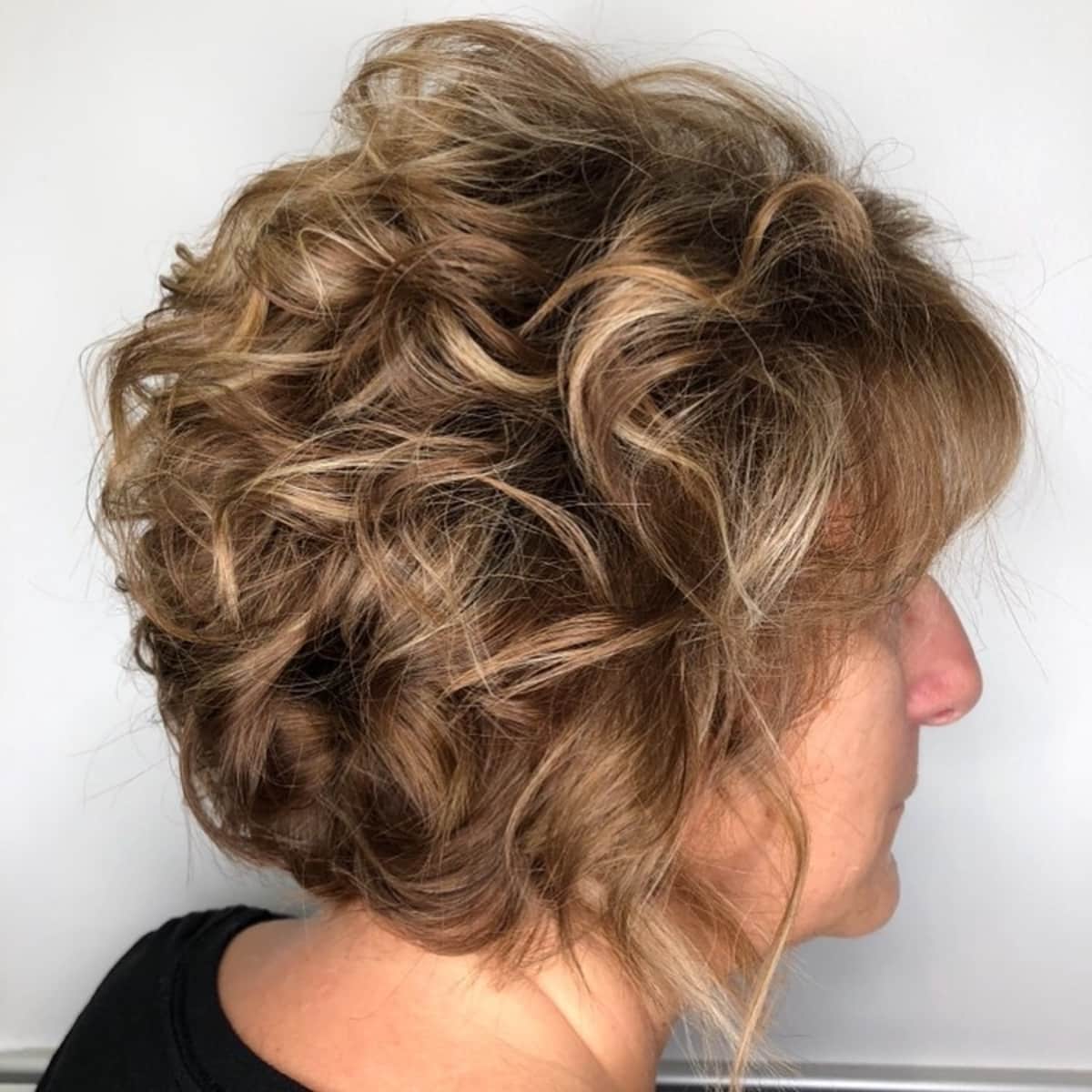 @rene.teresa.hair
Medium brown hair for women over 60 offers a youthful vibe. If you're looking to have brown hair as you age, then you'll want to pick a shade that is soft and warm. Adding highlights give it dimension and brightness. You can do highlights every other touch-up so you don't get over blonde. Touch-ups will be every 3-5 weeks depending on your natural grow-out color.
Dark Brown Hair with Platinum Blonde Highlights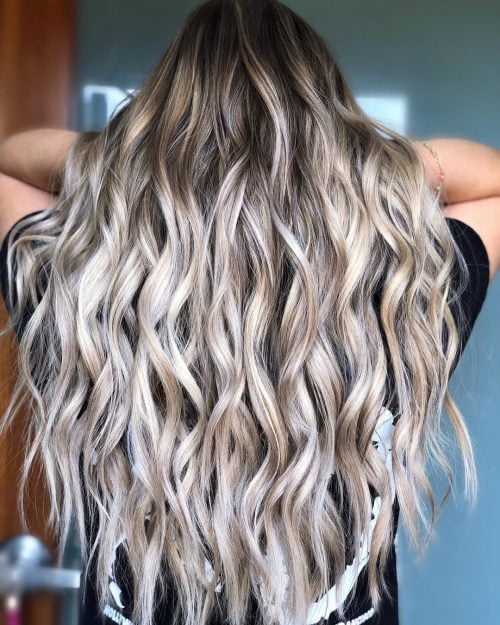 @nataliedmakeuphair
If you want to know how to lighten hair, adding platinum highlights on long wavy hair looks stunning!
Dark brown hair is a gorgeous bombshell combination.
These hair colors are highly requested because it's the perfect mixture of brown and blonde and has a ton of dimension!
Ashy Brown Hair with Honey Blonde Highlights
@laurenaliciahair
Adding honey blonde highlights on ashy brown hair is a cute way to add a subtle visual change.
If you were born with a natural blonde haircolor, then this is easier to add brown tones to the hair. Ask your stylist for a money piece in the front for extra oomph!
Very Dark Brown with Platinum Blonde Highlights
@thehairfaerie
Very dark brown hair with platinum blonde highlights is a gorgeous way to have highlighted hair.
Naturally brown hair highlighted with blonde is the best way to get more depth and dimension from your haircut.
When it comes to platinum highlights, this is the best example for women who have mid-length brown hair.
Curly Brown Hair with Blonde Streaks
@thlybeauty
Brunette locks and blonde streaks offer the best of both worlds!
Stylist Thalia put a mix of brown and blonde hues with textured hair that breathes life into the curls.
Medium Chocolate Brown Hair with Caramel Blonde Highlights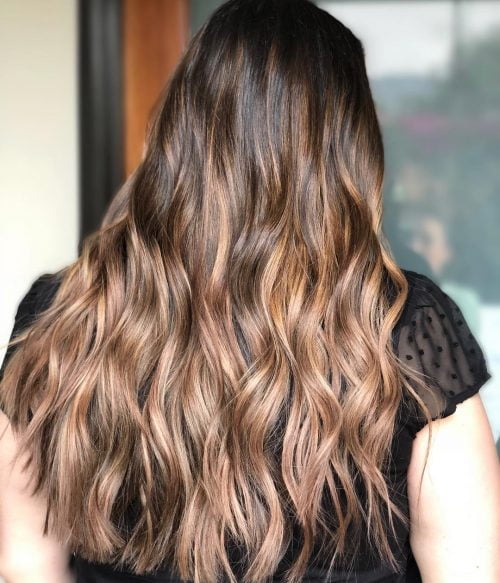 @nataliedmakeuphair
Long brown hair painted with sweet caramel blonde hues in a smooth transition is always flattering on a fair to neutral skin tone.
It's quite important to consider a dark hair color that will complement your complexion.
Deep Brown with Chestnut Blonde Highlights
@aureliosalon
Coloring brown in brown hair can result in a unique glow.
Deep brown with chestnut is a stylish look if you're hair is mostly brown.
Auburn Brown Hair with Red
@hernameismel.hair
Adding blonde hair highlights for brown hair that's almost auburn brown is a subtle way to enhance your natural color.
Using blonde highlights has a dimensional effect on auburn hair that gives it a copper hue. To stand out even more, ask your colorist for chunky highlights.
Medium Brown with Rose Gold Highlights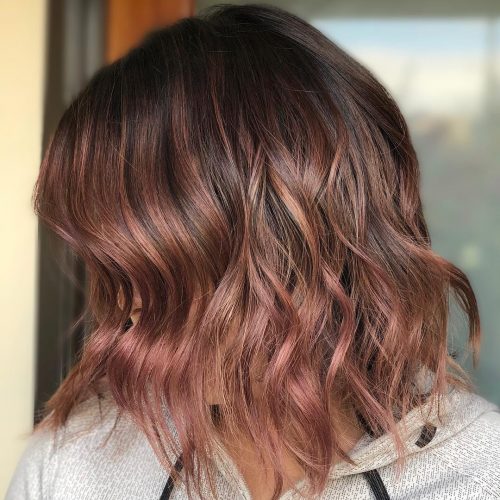 @nataliedmakeuphair
Medium-brown hair looks incredible when they have a red tint that gives it more of a rose gold hue.
If you keep your naturally brown roots, then adding hair highlights like blonde will make the grow-out phase more flattering.
This trendy shade of brown hair highlights warm skin tones.
Dark Espresso Brown with Strawberry
@the_saltymermaid
Women who are going from having hair that's just brown to blonde highlights have been adding more strawberry.
brunette hair go perfectly together.
If you have naturally dark brown hair, then this darker hue will be the perfect transition color with lower maintenance.
Light Brown Hair with Light
@studiokivimaki
Opting for light brown hair with light blonde highlights is one way to go vibrant and fab! If the hair is naturally dark brown, this is a smart option to lighten it without going full blonde.
With enough blonde highlights on lighter brown hair, it makes a sun-kissed dimension. For a low-maintenance finish, ask the stylist for dark roots.
Mahogany Brown Hair with Beige
@divinestudio_
Rather than dye your hair completely blonde, first try out having mahogany brown hair with beige.
This set of brown will add a bit of fun and depth to your hair.
Ash Brown Hair with Silvery-Blonde Highlights
@ashleenormanhair
An ash shade of brown pairs well with silver-blonde highlights to add more texture for women with thin hair.
These are almost icy blonde highlights that can go well with all shades of brown hair.
Sandy Brown Hair with Sun-Kissed
@liam_paul
Give this sandy brown hair with sun-kissed a shot now! It radiates a glowing transformation for ladies who are ready to go lighter from a medium brown mane. The perfect distribution of highlights and lowlights makes the flawless dimension. Ask the colorist for a little depth on the root area to really pop out the warm blonde tones.
Short Brown Hair with Butter
@dolledupbydalia
Dark, short hair is a beautiful way to lighten up your dark brown hair.
Shoulder-Length Brown Hair with Ash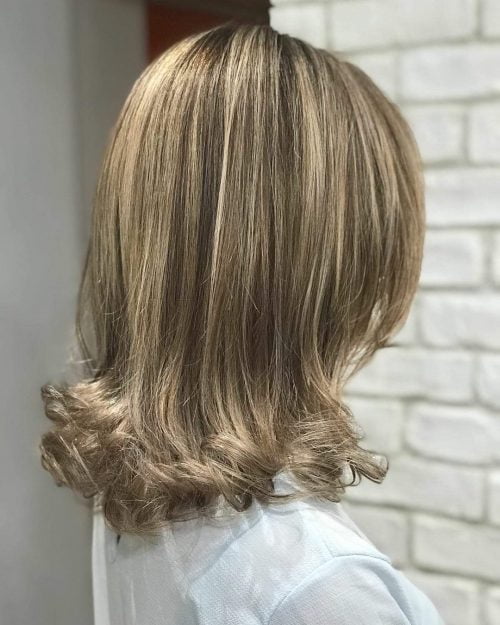 @fatal.studio
Add some pop to your brown base with ash blonde highlights. Ash-blonde highlights for brunettes give shoulder-length hair the perfect amount of contrast and depth. Opt for curly ends for an extra cool factor!
Brunette Hair with Light Blonde Highlights
@hairbymia
Brunette hair with light blonde highlights and soft waves brings out a chic result! The stunning golden blonde highlights with multiple tones offer a bright, sun-kissed dimension. Brunette hair and a light blonde shade work well together. The combination is sure to benefit women with olive skin.
Chocolate Brown with Almond Blonde Highlights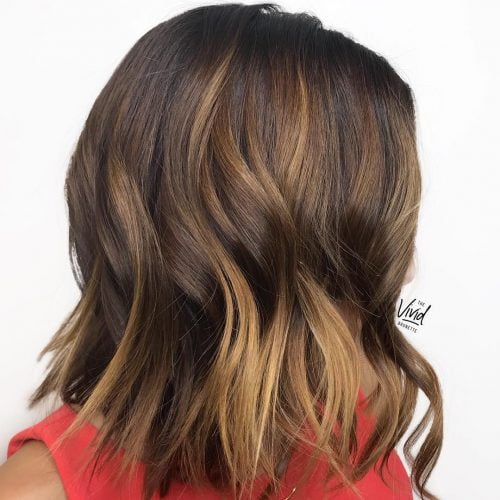 @thevividbrunette
When your natural color is brown, then for these highlights, the blonde tone gives off an almond hue with these highlights.
A balayage brown hair color and blonde highlights is a high-impact way to lighten up your strands of hair.
Mocha Brown Hair with Dark Blonde Highlights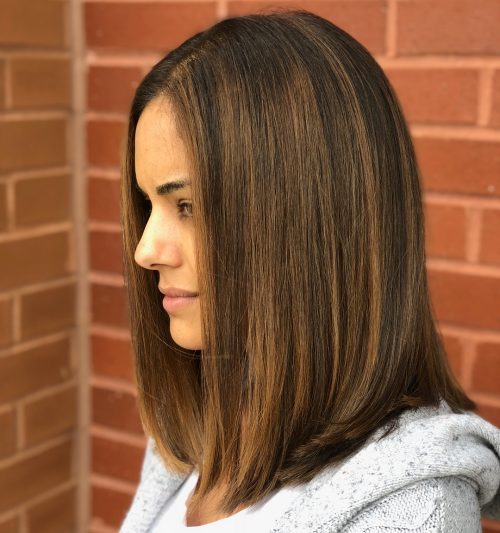 @rachelcskipper
Dark blonde highlights on brown hair are a more subtle way to transition to a brighter blonde.
If you have beautiful rich, mocha brown hair color naturally but wanted to brighten things up for summer, painting artful caramel blonde balayage highlights! Blonde highlights on dark brown hair are achievable!
The blonde balayage hair coloring technique is done by hand. It's a newer alternative approach to highlighting hair blonde. See more blonde balayage highlights.
Medium-Length Toffee Brown Hair with Butter Blonde Highlights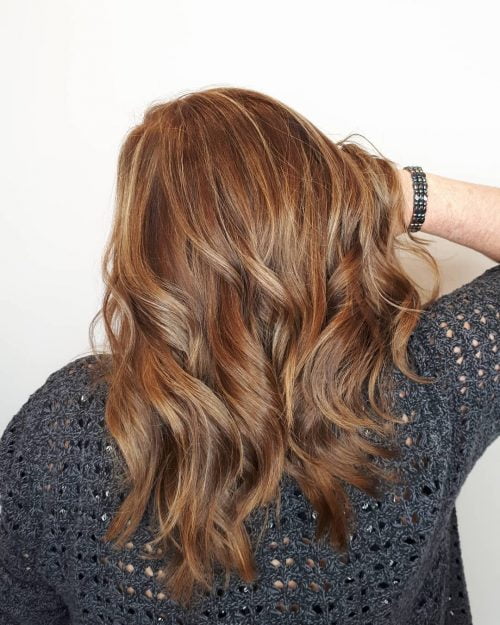 @eliserhair
Toffee brown hair with highlights has buttery tones that are warm and golden, which creates the appearance of naturally beautiful medium-length hair.
The blonde highlights also go well with walnut brown hair if that's what you have.
Chestnut Brown Hair with Soft Blonde Highlights
@yarisart_
Chestnut brown hair with soft blonde highlights create a dimensional balayage trend. It's a chic way to give tresses instant shine and warmth. The set of the brighter, softer blonde streaks go very well with the richness of the chestnut brown color. Women who have thick and wavy hair—this is the one you must try!
Dark Chocolate Brown with Creamy Blonde Highlights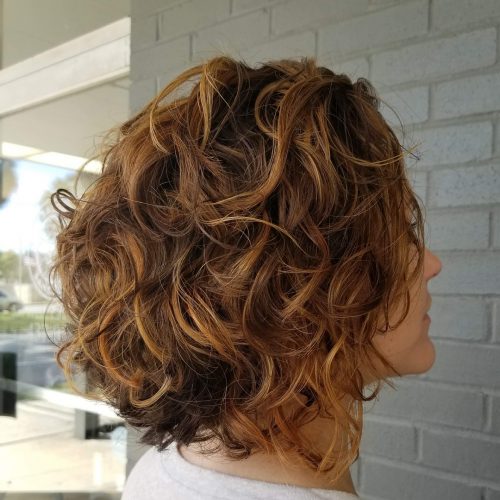 @j_martin.hair
What a seamless blend of dark chocolate brown hair!
Blonde and brown hair has always been the perfect base for creamy hue.
Light Brown Hair
@hillarykeene
Pair the light brown hair for a natural-looking shine! Notice how the streaks of caramel blonde color add warmth to the brown locks. Long hair ideas for brown hair and blonde highlights are a lot. Even a short chop can enhance the light brown hair.
Straight Cappuccino Brown Hair with Subtle Blonde Highlights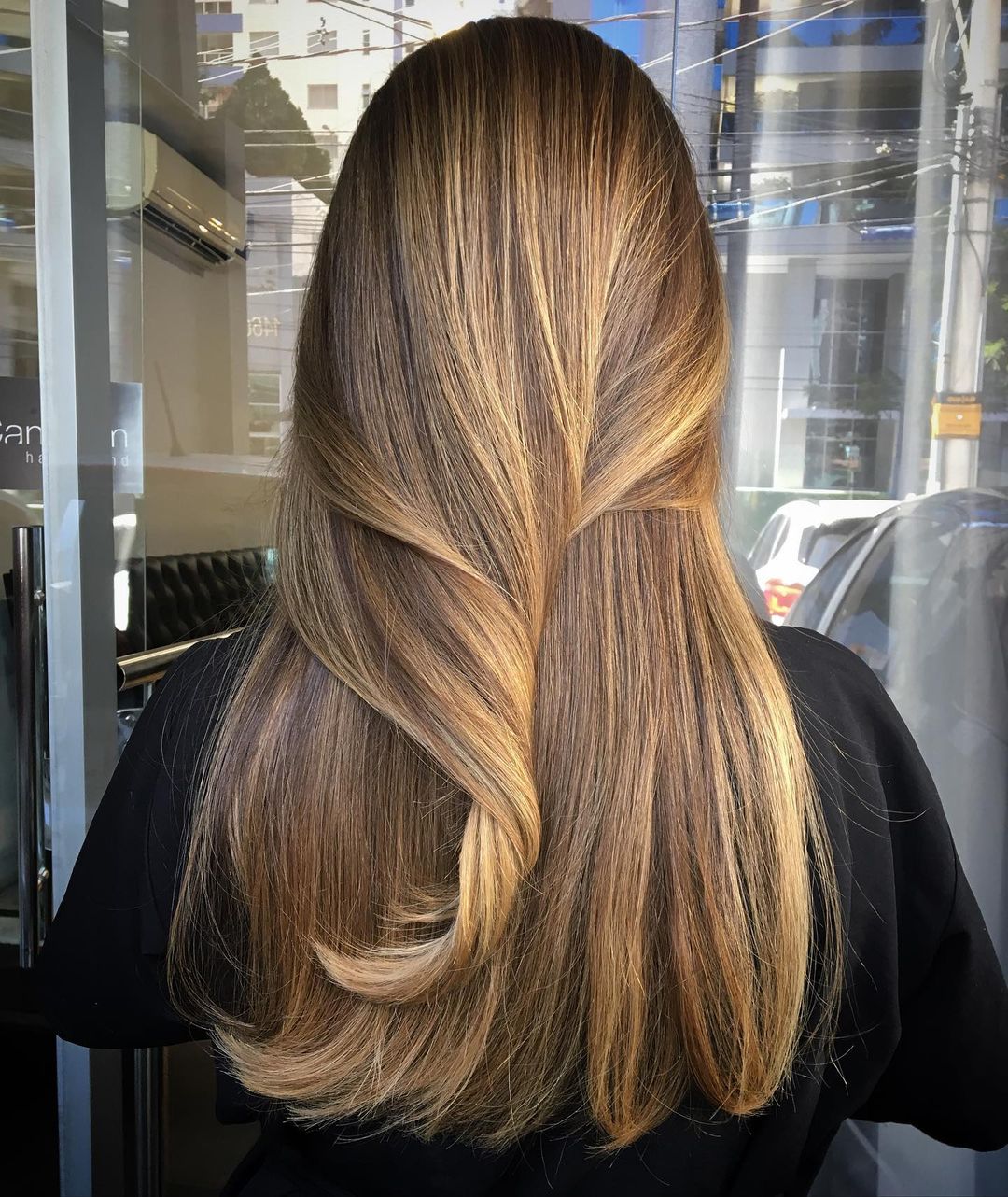 @studiokivimaki
This straight cappuccino brown hair with subtle blonde highlights is for morena beauties! The blonde highlights on cappuccino brown hair may be subtle, but the result is striking. They create a shiny effect and a dimension that adds life to tresses. Both blondes and brunettes will love straight hair with highlights like this!