19 Coolest Blue Black Hair Shades
Blue Black Bob
@azza_salon_jessica
This natural black hair color goes great with subtle midnight blue highlights. The short bob has great reflective beauty as the shades have a slight twist in hues more noticeable with movement. If you have naturally black hair color, adding highlights can offering some flattering but not extreme changes.
Perfect Black Blue Ombre
@styledbynati
---
Going from black to lighter hair color for an ombre can be hard to achieve so many people chose darker shades for a smaller transition. This icy blue is opulent with the black color from the top.
Bob With Blue Highlights
@beautyrejennarated
---
This short bob hairstyle combines the natural black root color with some blue hair dye and foiling to create panels of color. Adding the color to the bangs is a great touch as well.
Short Blue Black Hair
@beautyartistrybyariana
Q&A with style creator, Ariana Fernando
Hairstylist @ Pure And Couture Salon in Destin, FL
---
How would you describe this look?
This look is dark but still with pizzazz. The cut is created using a blunt bottom edge with a slight texture on the face and a little internal wearing throughout the head to give it that textured look. For styling, I use a 1-inch baby bliss chrome and alternate my curls holding the barrel parallel to the head but keeping the ends out.
Any advice for someone considering it?
Consider your own hair type whether it is fine, medium, coarse, or curly and realize that those will play a key factor in with this look or any look. This client has medium to thick hair but very dense and sticks straight. She is in the process of growing it out but wanted to have some fun while in transition.
Considering a blue-black color for yourself? In my personal opinion, I love it on more olive skin tones. To maintain your blue-black can be a little different than you may think. Blue being the smallest color molecule can dull out easily. Choosing the right shampoo and conditioner or even color tinted treatments can help maintain your blue sheen.
Pastel Blue Highlights on Black Hair
@hairartist_annakim
The pastel blue highlights on black hair can make a very eye-catching look. It offers dark roots, allowing you to visit your hair colorist less than needed. For a more textured and dimensional finish, soft waves will do the trick.
Intense Blue and Black
@michaela_hair_portfolio
Q&A with style creator, Michaela Davenport
Hairstylist @ Bishops in Milwaukie, OR
---
How would you describe this look?
This look is subtle and bold at the same time. The blue hues are intense, but against the black, there is not a huge contrast. Until the blue fades, this color is most noticeable in the sun and certain lightings. For Cherie, the woman in the photo, that is exactly what she wanted. Something different and fun, but not so "in your face."
Any advice for someone considering it?
This look was perfect for Cherie because she already had almost black hair, so as time went by, she did not need to touch up the black at the base. This look is relatively low maintenance. The hair is lightened in a way that grows out really well, so you might not need to get it touched up for a few months. The blue is easily maintained at home with a color depositing conditioner.
To maintain a bright color, it is recommended you wash with cool water and no more than twice a week using color safe shampoo and conditioner, as well as the color depositing conditioner when needed. If you heat style your hair, I recommend you use your iron at no more than 350 degrees F with a heat protectant spray. This color is perfect for a laid back person who wants to have some fun without necessarily being the center of attention.
Braided Blue Black
@maloriemhair
Q&A with style creator, Malorie
Hairstylist in Atlanta, GA
---
How would you describe this look?
I love that this is edgy and bold yet in certain lighting, it doesn't appear as vibrant. The braid gives the whole style a softer appearance.
Any advice for someone considering it?
Be ready for the upkeep! This shade can/will turn green quickly if not taken care of properly. A direct dye in your shampoo/conditioner is a must.
Black and Cobalt Blue Balayage
@nikkibuchicchio
Q&A with style creator, Nikki
Hair Colorist & Hair Artist in West Palm Beach, FL
---
How would you describe this look?
It's definitely a dimensional cobalt hue. If you look at the individual locks of hair you can definitely see the different tones of depth in between.
What I love about it is that it's definitely the perfect tone without any traces of green. Which happens when trying to achieve this tone if you don't get it to the proper canvas. This will fade to a beautiful pastel tone over time.
Any advice for someone considering it?
Blue is a long-lasting color and tends to be on the stubborn side even though this is a direct dye. You definitely want to use a professional sulfate free shampoo or a cleansing conditioner with cool to cold water to preserve any direct dyes, limit sun exposure/salt water/pool water.
This color isn't for someone who would want it to rinse out in a few weeks. I would stick with purples and pinks instead!
Long, Thick Black Hair with Blue Highlights
@jacobhair
You can't deny how stunning this hair trend makes! By flaunting your long, thick black hair with blue highlights, your presence will glow up. Complete the style with beach waves and apply a texture spray for a much natural effect.
Q&A with style creator, Jacob Lee
Hair Stylist / Colorist @ Sola Salon Studios in Richmond, VA
---
How would you describe this look?
This long thick black hair with blue highlights is called a Blue Balayage.
The highlights on top have a blue-black color that fades down with more of a  teal/turquoise color on the ends.
Any advice for someone considering it?
Pulp Riot products is a great hair product for balayage and semi overlay.
This type of balayage can be high maintenance, so be sure to ask your stylist for any tips to keep the color around for longer.
The Darkest Steel Blue Black Bob
@anastasia_kesidou94
Not your ordinary dark hair! This is the darkest steel blue black bob that works so fine on thick, straight tresses. Considering the perimeter of this cut that stops at neckline, it looks even fuller. Ask your colorist for a gloss treatment, so you can keep your black and blue hair shiny and luscious.
Black Swan with Deep Blue Highlights
 @thepaintedbunny
Q&A with style creator, Erika Lupercio
Hairstylist / Assistant Salon Director @ J & Frank Professional Hairstylists in Yuma, AZ
---
How would you describe this look?
I called this look "Black Swan". This look is can be referred to as a "shy vivid" because it's perfect for people who want to enjoy an unnatural shade while still being workplace appropriate.
My favorite thing about this look is how it changes in different settings. It looks like a deep black indoors but in the sunlight, it has the slightest tone of blue.
Any advice for someone considering it?
To achieve this type of look, the hair needs to be previously lightened for the color to adhere to the hair properly, as well as for the pigment to show. To maintain the color, I created an Olaplex color bomb for this client that can be used every wash to redeposit the color every time.
Onyx Black with Subtle Blue Highlights
 @ash_mclay
Q&A with style creator, Ashley McLay
Master Stylist @ Vintage Hair Loft in Anderson, SC
---
How would you describe this look?
This look would be an onyx black. My favorite thing about this look is that it's versatile. She can be edgy and professional at the same time while having subtle hints of navy.
Any advice for someone considering it?
Invest in a color-safe and sulfate-free shampoo. This will keep that color vibrant.
This is truly a great color for just about any skin tone, whether warm or cool porcelain. With the onyx, it allows any black to radiate.
Bright Blue Highlights on Black Hair
@keracolorhair
Pops of these bright blue highlights on black hair make a dramatic dimension, and we're here for it! This is the look to go for when you're afraid to cover your entire locks with the blue shade. It's sure to give your straight, mid-length tresses the excitement it needs.
Long Jet Black Hair with Strips of Blue
 @leta350
Q&A with style creator, Laoreta Ismaili
Stylist & Make-up Artist @ Dawns Pizzazz in Danbury, CT
---
How would you describe this look?
I love the shine, vibrancy, and contrast in this beautiful color! I get excited when a guest wants to be fashion forward and adventurous.
Any advice for someone considering it?
She will have to re-glaze every five to six weeks to maintain the vibrancy and use color-protecting products to maintain the integrity of the hair and color.
This look is fun, flirty, and vibrant. The type of person who can wear this look is someone who is creative and edgy with a strong personality. It's perfect for the person who likes to stand out from the crowd and be that "wow" girl!
Straight Black Hair with Subtle Blue Highlights
 @hairbykirst
Q&A with style creator, Kirsty Richey
Salon Owner / Hairdresser / Makeup Artist @ Chelleon for Hair and Beauty in Woodend, VIC
---
How would you describe this look?
This look has attitude, and it's strong and fierce!
I love that it's not just a plain old black color. It has edge and personality to it! The high shine and quality color are what make it perfect.
Any advice for someone considering it?
Any client wanting this color needs to know the commitment blue black requires. It is one of the deepest colors you can go to, and to remove it is very difficult.
For those dark-featured clients, it's so easy to maintain. Pair it with an edgy blunt cut for a professional look that speaks volumes. With natural black hair, adding some shine spray will definitely improve the overall look.
Black Midnight Blue Color
@tammy.ethan
This black midnight blue color offers a perfect balance of radiance and depth. It suits a medium-length cut, enhancing the fullness of wavy-textured hair. Applying oil, shine spray and hairspray onto the locks will give this blue black hair color an added glow.
Q&A with style creator, Tammy and Ethan
Hair Stylist / Colorist @ Hair by Tammy and Ethan in Melbourne, AU
---
How would you describe this?
There's so much richness in this Midnight Blue tone from GuyTangMydentity. It's very forgiving, but also a unique color.
When it's under stage lighting or outdoor lighting, it shows the vibrancy of this tone whereas under normal indoor lighting it's a smooth deep blue.
Ask your stylist for a tease foliage technique to blend the color and allow your natural color blends while it's regrowing.
What's your best advice?
For achieving this black and midnight blue color, ask your stylist to lift your hair to a level 8.
Use a color securing shampoo and conditioner and wash your hair with cooler water.
Style your hair under low heat and with heat protection products.
For home maintenance, we recommend taking home the MyHero Collagen treatment and Olaplex No.3 to keep your hair strong and healthy.
Rich Blue and Black Hue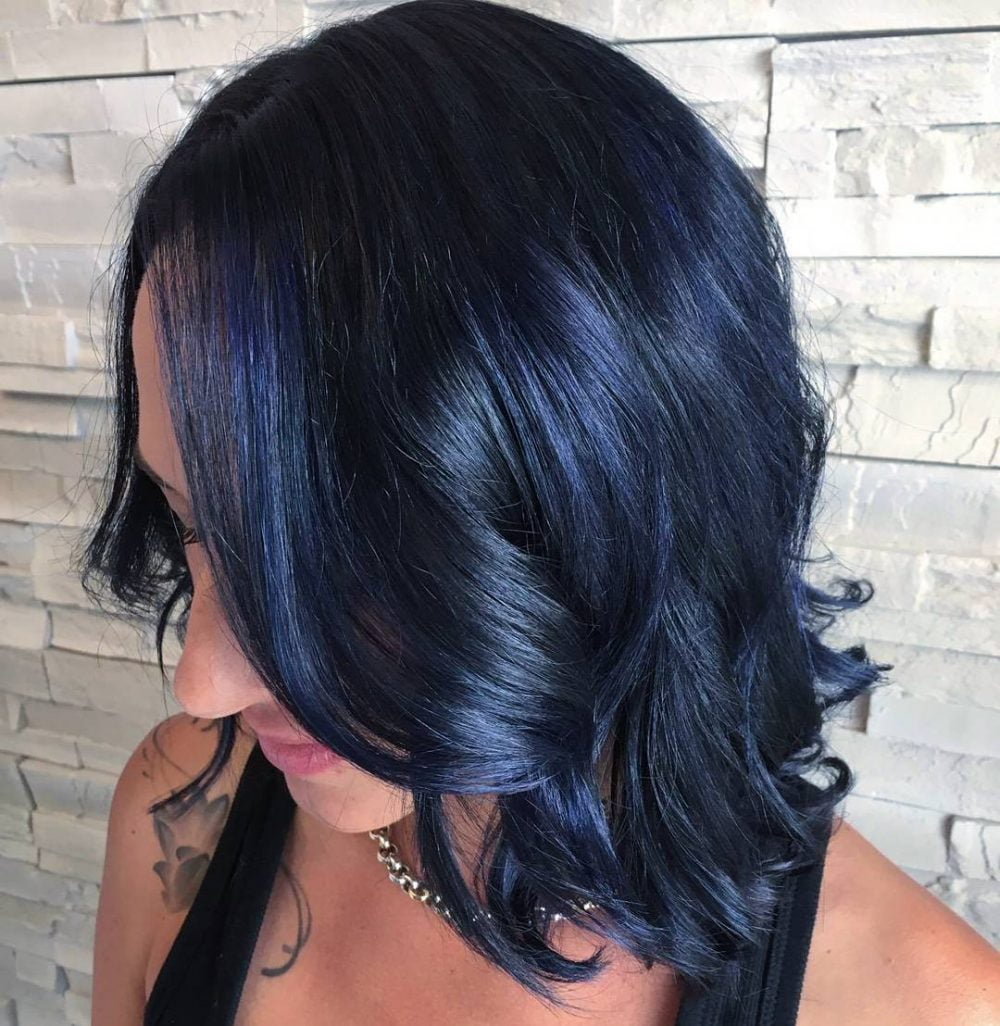 @kailee.halifax.hairapist
Q&A with style creator, Kailee Slaunwhite
Master Stylist / Colorist @ Lift Salon and Spa in Lakeside, Nova Scotia
---
How would you describe this look?
This look is so rich and classy and will turn any head. Blue (no matter what tone) has a very cold background, so black is its best friend. Black is rich, inviting, and will complement just about any eye color. If you suffer from rosacea or feel as if your skin pulls warmth (reddish), you may not think it, but black against your skin will cool it off and will leave you looking foxy!
Any advice for someone considering it?
Upkeep is VERY important with any color. In today's world, there are so many pigmented shampoos so there is no excuse for your hair color to fade quickly. For this client, I recommended Blacklight blue shampoo, Olaplex No.3, and Red E To Go. She also struggles with frizz, so we used Bedhead After Party for a more sleek style.
This shampoo is marketed for blondes to counteract any yellow tones, but don't kid yourself, this heavily pigmented shampoo will keep depth in any hair color.
Blue and Black Dimension
 @kaylakrommerhair
Q&A with style creator, Kayla Krommer
Licensed Professional Cosmetologist @ Salon LA in Cincinnati, OH
---
How would you describe this look?
This look is one of my favorite looks/colors to create as a hairstylist. This color is perfect for someone that wants a very modern and classic look, but still wants a little vibrancy, dimension, and an extra pop of color.
My favorite thing about this creation is that it is still acceptable for a professional work environment but in certain lights, especially the sun, will give you a bunch hues within your elegant, black colored hair.
Any advice for someone considering it?
I personally feel that anyone can try this color, no matter what face shape or skin tone you have. Although changing your hair color to black can be intimidating, it may be rewarding in the end! Hair color can always be changed, so if you are thinking about trying this, I would say go for it!
This is an easy color to maintain and even apply, which is great when you don't have a lot of free time to spend at the salon. I definitely recommend a color-protecting shampoo and conditioner (I use all Paul Mitchell products) to keep the hair color long lasting, shiny, and vibrant.
To create this look, I used Paul Mitchell XG: equal parts 4AA and blue intensifier with 10 vol for the most deposit of color to the hair.
Dark Blue and Black Hue
@caissie.rachelle
Loves to try a different hair trend? Does your short bob cut need an upgrade? A blue black hair dye will save you! Combining dark blue and black hue will add more zest to your cut. Style it with subtle texture, and the color pops even more. For more drama, a few streaks of a lime green near the hairline work wonder.