28 Incredible Examples of Blue Ombre Hair Colors
Royal Blue to Ocean Blue Ombre on Long Hair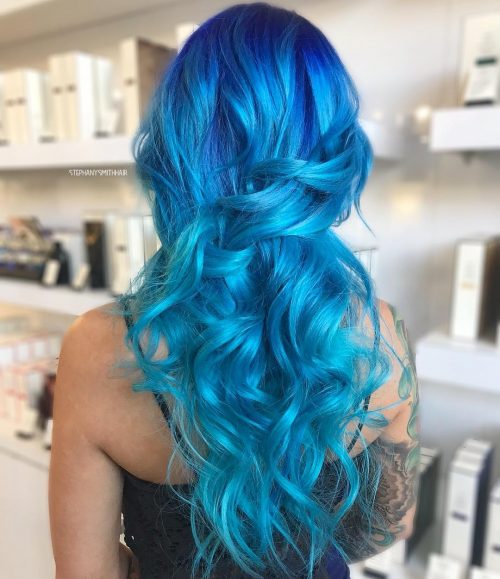 @stephanysmithhair
This royal blue ombre on long hair can be very tricky depending on the hair/canvas that is being worked on. This particular shade was created by stylist Stephany Smith of Huntington Beach, CA.
"Any hint of yellow in the hair will fade green once the blue is applied. So in order to create a beautiful fade-out, formulate several shades of blue (Pulp Riot with Brazilian Bond Builder) for dimension," says Smith.
She goes on to explain, "the best thing about blue ombre's is how many different blue tones are in the ombre. Every style and wash shows variations of the royal blue hair you didn't know was there! In the style shown, there's a depth of the base next to the vibrancy of her ends."
When it comes to blue hairstyles, think about maintenance. How often do you visit the salon? Talk with your stylist or colorist about the budget, health of hair, how often you change it, etc.
Melted Turquoise Blue Hair
@presleypoe
Melted turquoise blue hair will have people obsessed! The blue color combination gives off some serious mermaid vibes. The blues are melted to perfection, showcasing its beautiful luster and shine.
Bright Blue to Mint Green Mermaid Ombre
@kayla_boyer
Drool over this enchanting ocean waves of bright blue-green ombre! Make the most out of your lengthy locks and show off a softly transitioned azure blue ombre locks like this one!
Anime Blue Ombre
@deflikewhat
Have a dose of the sea on your hair when you wear these super cool aquamarine blue ombre locks! Notice the difference between each section of this blue hair that creates a brilliant dimension.
Black to Blue Ombre with Braided Top Knot
@mandicolorshair
We're in love with this artistic creation that features a nicely done dark to blue azure transition. Play around with the dimensions of this blue ombre style by styling your long locks with a half-up braid bun. What's fun about this black to blue ombre hair is the nice transitions available for both light and darker shades.
Subtle Baby Blue Ombre for Straight Hair
@anna_althair
Get into the mood with these baby blue ombre strands! Painted on a simple straight mid-length mane, Stylist Anna totally slayed this subtle ombre blue hue!
Blue-Green Ombre
@hairbykatierose
Blue-green ombre is a vivid hair color that flatters women with cool and olive skin tones. Stylist Katie Rose of Ohio says it's great for low-maintenance people who only wash a few times.
"All women can have this color as long as the maintenance is doable for them. Wash once a week with ice cold water, use dry shampoo and heat protectant, and avoid chlorine," Rose advises.
Blonde with Blue Reverse Ombre
@kelseylajohnson
Go for a blonde with a blue reverse ombre if wanting to try a vivid color for the first time. To achieve it, a combo of teasylights and hair painting would do the trick.
"The teasylights make sure you have a soft grow out," says color specialist Kelsey Johnson of Joplin, MO. "When painting the blue, make sure to create depth by leaving some blonde out in the mid-section. This helps avoid any harsh lines."
Sky Blue to Platinum White Ombre
@stephanysmithhair
Have the power and beauty of an ocean nymph with this charming sky blue hair color melt! The roots start off with an azure hue melting down to an almost white end.
This blue ombre hue has a soft fade from blue to blonde and the dimensional tones in between. It was created by stylist Stephany Smith of Huntington Beach, CA.
"It's extremely hard to rinse the hair without getting blue on the ends of blonde, usually because of the porosity of the hair," she explains. "Clip-in extensions were used to complete this style to give it the extra contrast."
Ombre blue shades are a very high-maintenance color. It can turn/fade to green depending on the stylist's formulation and/or the level of your hair. Make sure you are ready for the upkeep which is time-consuming and expensive, but totally worth it when you have this dreamy mermaid hair!
Dark Brown to Blue Ombre
@hairbyjordanscarlette
"The coolest part about this galactic dark brown to blue tips balayage is that it's a tasteful way to have vivids with less upkeep," says hairstylist Jordan Hoisington of Minneapolis, MN.
She explains, "with the deeper shades of blues and violets, the hair didn't have to be lifted that far, which is a great option for women with darker hair to enjoy fantasy colors! To achieve this look, ask for Olaplex infused Pulp Riot shades. The hair was originally lifted with Joico Blonde Life, paired with Davines Flamboyage meshes, to keep the hair in place for painting."
The maintenance for this ombre blue hair is cold water with sulfate-free shampoo and conditioner. Pureology and Davines are a quality protective shampoo and conditioner! Do minimal washing with lots of dry shampoo for longevity.
Hoisington also says, "wash the hair as normal, but avoid a harsh scrubbing over the vivids. Squishing the shampoo through the ends is a lot more gentle and keeps the fantasy colors separate while cleansing the hair. Try Overtone to maintain fashion colors between appointments, so they're always looking fresh."
Icy Blue Ombre for Wavy Hair
@dlouhovlaskacz
Flawlessly work with the natural sexy waves of your icy blue hair by dyeing it sapphire from roots to ends! This cool blue ombre hairstyle might be a challenge to achieve and maintain, but it's obviously worth it.
Dark Purple to Denim Blue Ombre
@hairbyselinalara
Look at this dark purple to denim blue ombre hair idea on long, wavy hair! It's a work of art, full of vibrant colors. The splashes of blue and purple blend well together. Start to revamp your style and opt for these colored locks!
Violet to Dark Blue Ombre
@hair_workx
Be the talk of the town with this truly captivating mix of enchanted blue ombre hues. Turn your long waves into a canvas for your creative fun side.
Teal and Light Blue Ombre Mermaid Hair
@hair__ty
Make your mermaid hair dream come true with this teal ombre hair! Start with a rich ocean blue ombre shade at the roots that blends nicely with cyan as it reaches the ends.
Light Brown to Royal Blue Ombre
@clichekai_
Own those summer waves on the tips of your hair with a bright refreshing shade of azure. A brown to blue ombre dip dye is a funky technique to liven up your locks.
Brown Hair to Light Blue Ombre
@sammiespiceee
This shining fairy and faded blue-purplish hue dripping down your brunette mane will give you a totally edgy vibe. Even with a short-length, it's possible to recreate cute blue ombre hair ideas like this one.
Pink to Blue Ombre
@marshaircolor
If you have a sweet tooth, this pink-to-blue cotton candy hair is surely for you! This delectable blend of pink hues looks fab on tan skin.
Black Roots with Silver to Blue Ombre
@overcaststudios
Allow a silver to blue ombre to beautify a mid-length haircut. This modern grey-blue ombre hair color can get a more textured effect from a wavy style. The movement does something great to the hues. Wear it and take that icy queen title while looking so divine!
Brown to Blue Ombre
@alexacouryhair
Look at this gorgeous head of blue hair! Colorist Alexa did a color melt using natural brunette hair as a base and melted into a mermaid blue cyan ombre that complements those long waves amazingly.
Black to Light Blue Ombre with Beach Curls
@augustpearljodi
This is a smokey, saturated blue ombre hair with a color melt, finished with beach curls. It was handcrafted by salon owner and stylist Jodi Stormshak of Nashville, TN.
With this blue hairstyle, Stormshak says you'll be able to let the color fade out to a gorgeous icy blonde/pastel blue with a much softer grow outline.
"Make sure you're going to a colorist who specializes in not only vivids but blondes as well. Having a good foundation color will help the vivid color last longer and fade significantly better! Know that this is a high-maintenance color, so you're not only needing to budget for salon costs, but product costs as well," she adds.
Blue to Green Ombre
@hmamodio
These blue ombre hair tresses were created by stylist Heather Amodio of Camillus, NY.
"It's sure to create an eccentric upgrade to the hair's natural color," she notes. "It has a certain innocence to it with the way it peacefully blends."
Amodio wants you to be clear on the maintenance that is required. "Don't opt for this color if you can't handle a day or two of dry shampoo to help preserve the color."
"It definitely takes a strong, confident personality to pull off a dramatic color. Try Pulp Riot and Matrix Socult. They are most stylist's paints of choice. This green and blue ombre hair was done with a mixture of the two," she adds.
Black to Midnight Ombre on Short Hair
@lizalikestocolor
"Don't you just love dark blue shades? If you want to be dark with some fun color, but not too bold or bright, ask for blue highlights," says stylist Liza Russo of Lombard, IL.
Russo encourages you to opt for a few on the sides and a herringbone section on top with Revlon blonde up and 15 vol. "For the base color, use Revlonissimo demi-permanent color 2.10 from scalp to ends. Then process for 25 minutes, blowdry it, then add Pulp Riot Nightfall all over to create this dark blue ombre hair," she adds.
This dark shade with some bolder blue pops of color on short hair looks amazing! If you do want to upkeep this look, you need to come in for a trim at least for your sides every few weeks.
This color is for women who are extroverts and introverts alike, but not always in the corporate world for this blue color. Fashion colors are starting to get trendy so more and more corporate offices are allowing them to be in the workplace.
Medium-Length Black to Navy Ombre
@jamybethhair
This medium-length black to navy ombre was created by hairstylist Jamy Morrell of Reno, NV.
"The coolest thing about this blue ombre is that it's wearable," she notes. "It requires maintenance because regardless of hair type or texture, it will fade."
To keep it this vibrant, navy blue, you would need to come in every 3 weeks for a gloss. Use dark towels at home and sleep on a black pillowcase if you are considering this color.
Pink Purple Blue Ombre with Soft Waves
@locksbylauryn
This pink, purple, blue ombre is unique, colorful, and fun! It was created by hairstylist Lauryn Lee of Encino, CA.
"The loveliest part of this color is how bright the colors are! Even though these colors are pastels, use diluted neons from Pulp Riot hair to create a bright palette of pastels that stand out," says Lee.
For women considering a blue ombre hair dye like this, Lee reminds us that creative colors like these are super high-maintenance and costly. "For most women, it will take multiple sessions to achieve tones like these. Maintaining it once you got it can be a lot too."
Typically, colors like these will only last about 4-6 weeks until you're back to being blonde because they are so pastel. So, these pastels are not recommended unless you can keep up and maintain them well.
Black to Aqua Ombre Hair Color on a Long Bob
@hairbymarielle
"It's a multi-dimensional blue to aqua ombre on a wavy long bob to give women mermaid/unicorn vibes," says hairstylist Marielle Gutierrez of Canada.
She notes, "the coolest thing about this hairstyle is, of course, the blue ombre color! Don't you just love how the blue transitions into aqua, again, giving mermaid/unicorn vibes?"
These vibrant hues need to be washed in cool water only to prevent it from fading quickly and touch-ups every 8-10 weeks depending on how often you wash your hair.
Extra care includes: not washing the hair every day, limited heat styling as heat makes the colors fade faster, and good quality color-safe shampoo and conditioner (no drugstore brands). Blue conditioner would be a bonus to have!
Shoulder-Length Rooted Blue Pastel Ombre
@hairby.breanne
This pastel blue ombre style is super edgy and was created by stylist Breanne Leopold of Canada.
"You don't have to worry about it fading out to a not-so-flattering color," she explains. "This cut is really classy and easy to style, and it's so perfect for women short on time."
This cut and shade of blue ombre are perfect for ladies looking to make a statement. This pastel blue will fade true to the tone and then back to an icy blonde, which is perfect for women who are low-maintenance and looking for a quick change. Keep in mind that the color will only last a few weeks before washing out.
Black to Cobalt Blue Balayage Ombre
@bellaviebykaitlyn
This is a blue ombre/balayage because of the drastic change in dimension and the lighter pieces that come up into the root creating that painted look. They were created by licensed cosmetologist Kaitlyn Stephenson of Lubbock, TX.
Any time you're considering going with a fashion color like this blue balayage, Stephenson says you have to think about 3 things:
"1. What condition is your hair in? Most fashion colors need to have a blonde or even platinum background (especially pastels), so your stylist will most likely have to lighten your hair for the color to be vibrant and look right. So is your hair healthy enough to be lightened? This is something your stylist should be able to help you determine.
2. Upkeep. It's a sad fact, fashion colors tend to fade faster than natural-looking colors. If you want a color like this you need to be willing to wash your hair with cold water, use a heat protectant any time you're using heat, use a good leave-in conditioner to keep the cuticle sealed, and be willing to go back to your stylist and get the color refreshed ever so often. There are also some color depositing shampoos that are great but will only work for the same color hair all over, will not work for an ombre or hair with multiple colors.
3. Money. Because your stylist will need to lighten your hair beforehand, it's considered a multiple-step process and will definitely cost more than just a basic balayage or color. Also, as stated before, fashion colors tend to fade easily. So can you afford to see your stylist often and pay for the right products to keep this color fresh and vibrant?"
Vivid Blue to Purple Blue Ombre
@hairbymarlenewagner
"This purple and blue ombre shade is great for women open to different colors," says color specialist Marlene Wagner of Arlington, VA.
"It was an all-over bleach application," she explains. "After washing out the lightener, Pravana colors were applied and meshed together at the ombre point. The challenge with this look is that blue hues always fade to green."
To keep blue ombres lasting longer, wash less and with cooler water.