50 Stunning Brown Hair with Highlights Trending This Year
Face-Framing Highlights on Espresso Brown Hair
@kaansayar1
Face-framing highlights on espresso brown hair can accentuate and soften facial features. They provide an illusion of dimension to any cut. If you're one of the beauties with defined cheekbones, a money piece and waves can emphasize them!
Burgundy Brown Hair for Older Women
@virginiaandcohairstudio
Burgundy brown hair for older women is a low-key hue when wanting to add a pop of color without it being too drastic. A burgundy color suits most skin tones so it can easily be done on almost any woman looking for a change in hue.
Sun-Kissed Highlights on Chestnut Brown Hair
@hairby.tika
These sun-kissed highlights on chestnut brown hair are stunning and were created by hairstylist Tika of Arnhem, NL.
"It's a combination of highlights, balayage, and a face frame," said Tika. "The hair was toned with a milkshake silver shine shampoo."
To keep the color fresh, Tika recommends you use the milkshake silver shampoo once a week.
Cool-Toned Highlights on Warm Brown Hair
@cuts.by.carsy
Cool-toned highlights on warm brown hair create a bright, modern-type dimension. It looks so chic and is so much better with waves. It's the movement that enhances the dimension and texture of the tresses. No doubt—this whole cool blonde and warm brown combo idea is a hair goal!
Ash Brown Balayage for Brunettes
@thathairfriend
An ash brown balayage for brunettes creates that subtle smokey tone you'll love! Take a look at how the highlights appear soft and seamless. The perfect haircut and style must be something that adds emphasis to the ash brown hair color. In this case, a long layered chop with waves is the optimum combo.
Brunette Highlights on Cinnamon Brown Hair
@jenny.candelahair
Brunette highlights on cinnamon brown hair results in a beautiful, radiant style. When wearing shades like this, it's best to style the tresses with waves to avoid a flat finish. Hair color like this looks more promising when shiny, so use oil for added glow.
Dark Blonde Highlights on Dark Hair
@m.c_glamour
Dark blonde highlights on dark hair results in a very rich and vibrant dimension. Add soft waves and subtle texture for a chic finish. Plus, doing so will make the blonde highlights pop.
Espresso Brown with Light Brunette Highlights
@tabetha_and_co
A vibrant shade of espresso brown with light brunette highlights can class up long hair. Styling and giving your dark hair with highlights some voluminous waves shows off its chic dimension.
Dark Blonde Highlights on Dark Brown Hair
@hair_bykate
If you opt for some dark blonde highlights on dark brown hair color, flaunt them with soft waves. That's the best way to display dimension on dark brown locks, allowing the blonde hue to pop yet brighter.
Chestnut Highlights on Rich Dark Hair
@hairbymickk
How can you not be obsessed with these hair highlights for brown hair? It offers chestnut highlights on rich dark hair, which complement dark brown eyes. When styling, curl your long tresses away from the face and apply hairspray. That should boost your natural beauty.
Brown Balayage with Blonde Highlights
@hairstylist.madison
Merging brown balayage and blonde highlights creates warm tones, perfect with loose waves. Spritz a sea salt and sugar spray to your lengthy mane, adding a bounce to the cut without weighing it down.
Dark Brown to Light Brown Ombre Highlights
@ mane_ivy
A masterpiece such as this beauty is worth the try! These dark brown to light brown ombre highlights will let your long tresses glow like jewels. For hair that's fine and straight, beach waves and texture will add weight to it.
Blonde Balayage Highlights for Dark Chocolate Hair
@sadieface
For women who have warm skin undertones, these dark chocolate locks are a gem! It features flattering blonde balayage highlights for dark chocolate hair. The dimension makes a sun-kissed effect that appears very natural on long soft waves.
This honey bronde is a transitional color option for blonde balayage highlights for dark brown hair. They were created by creative color specialist Sadie Curtin of Costa Mesa, CA.
"Something that will allow you to go to a lighter brown without being blonde," notes Curtin. "You can stay a brunette at heart, but with more dimension and brightness, you can achieve this honey bronde hair color."
Always consider the upkeep when choosing your future new hair color. Do you wanna visit the salon monthly, quarterly, or yearly? Bronde hair color is a great option for quarterly salon visits.
Also, Curtin says you must consider your skin tone. "Warm tones will help brighten your face. They soften dark circles and signs of aging."
Light Chocolate Highlights for Black Hair
@live_love_dohair
Long, soft waves and subtle highlights in chocolate brown hue—what a combo! These light chocolate highlights for black hair are perfect when you're opting for a bit of a shine. The volume is what makes the color accentuate even brighter.
Rose Gold Highlights On Brown Hair Color
@she_runs_withscissors
We're drooling over those hints of strawberry intertwined with a rich, dark chocolate brown base! This pretty and refreshing style gives its wearer a pop of uniqueness and edge.
Dark Brunette with Red Highlights
@laurynality
This quirky and bright hairstyle is a brunette hair color with red highlights that creates dimension without effort. Reds can spice up dark-toned manes and give contrast and depth. This dark red-brown hair is a must-try!
Long Dark Brown Hair with Blonde Highlights
@roadjanee
Give off a modest yet sexy vibe with this long dark brown hair with blonde highlights, curled at the ends. Take note of how beautifully the balayage blonde streaks can highlight your dark brown strands and waves!
Rich Brown Hair with Silver Streaks
@glitterblur_glam
Add some flashes of silver streaks on your brunette mane for a livelier look! This is a very stylish technique to add brightness to your brown hair highlights.
Medium-Brown Hair with Blonde Highlights
@hair_by_becky_s
If there's one thing to love about this season, it's this fall-inspired wavy medium-length mane that's painted fantastically medium-brown. The transition from dark to light plus the honey balayage make this one a real top-notch hairstyle. Medium brown hair with highlights is sexy all year long!
Chestnut Hair with Blue Highlights
@stephaniekempsell
A cool way to wear ashy brunette hair is to pair it with electrifying mermaid azure streaks! This wavy chestnut hair with blue highlights is an absolutely unique hairstyle that will surely drop everyone's jaws.
Dark Red-Brown Hair With Subtle Highlights
@chrissycalderonuy
Amp up your bob with a combination of vibrant and dimensional reddish-brown colors! Wine red hair brightened by blonde highlights produces a totally amazing dimension on straight hair.
Caramel And Blonde Highlights in Brown Hair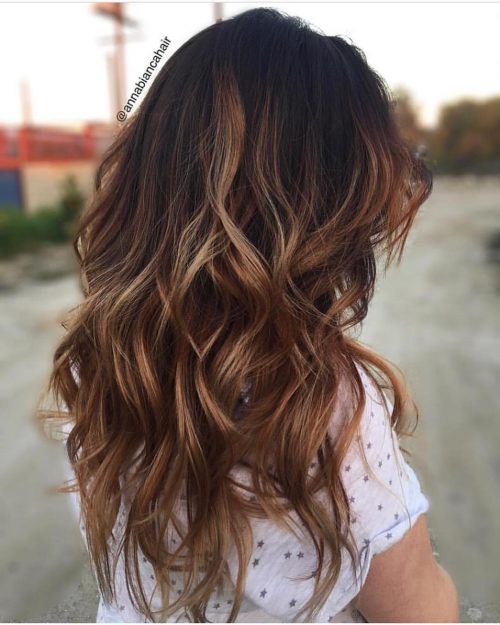 @annabiancahair
Super light honey streaks create a really marvelous contrast against a dark brunette base. This style allows its wearer to have a lived-in, low-maintenance long mane that's so beautiful for fall. Blonde and caramel highlights in brown hair are sexy!
Brown Hair with Red Highlights
@hairbysaamm
Brown hair with red highlights creates a subtle yet impactful result. Licensed cosmetologist Sam of California shares the techniques behind this hair inspiration.
"A mix of highlights and babylights with a diagonal placement was used to create this look," says Sam. She also thinks that it's great for all hair types and lifestyles.
Mahogany Highlights on Brown Hair
@allisonnlogan
Why not add some vibrant crimson pieces to your mahogany mane for a spicy look?! These highlights on brown hair can save you the upkeep of having solid red hair and still offer you a hot and sexy hairstyle.
Purple Highlights in Brown Hair
@salonjadewi
Create an amazing contrast of warm brunette and cool violet tones swirled together in an envy-inducing hairstyle like this! It adds fun and dimension to any hair on a whole new level.
Pink Highlights with Brown Hair
@alexx_does_it
Kick it up a notch without major commitment! If you want to do fun color but can't make it to the salon all the time, the best thing to do is add some rose pink highlights with brown hair!
Dark Cocoa with Auburn Highlights
@hair.styles.by.ann
Transition your hair into this dark cocoa color with auburn highlights to bring out hints and vibrancy of reds. These undertones look stunning on simple straight hair. Ideal when you want a super stylish look with just enough maintenance needed.
Light Brown Hair with Highlights
@yourstylistaj
This light brown hair with highlights is on a layered tousled lob. The use of face-framing blonde highlights for brown hair going around the face can make your skin look bright and lively!
Platinum Blonde Highlights on Ash Brown Hair
@jessicahaircreations
Get an insane transformation when you opt for a full balayage of brunette and some icy blonde highlights. This cute style can be rocked on any hair length.
Light Blonde Highlights for Brunettes
@jessicahaircreations
Update your chocolate hair with warm vanilla streaks for more dimension. This bleach color is surely marvelous on medium to long wavy hair.
Gray Highlights in Brown Hair
@stylesbyalexis.gs
This one's a really smart and gorgeous hairstyle to try on naturally dark hair without requiring too much maintenance. A silver balayage plus soft waves make for unique and gorgeous dark hair highlights!
Golden Highlights in Brown Hair
@elegancesalonrye
Set your eyes on this fall-inspired golden butter balayage that's perfect for shoulder-length brown locks on a lob cut. You can opt to put in some highlighted layers for added dimension. Feel free to also go extra by opting for chunky golden highlights.
This is a soft natural balayage, perfect for brunettes. It was created by stylist Danny Babayev of Rye, NY. "This color transitions beautifully from dark to light, without any harsh lines. The warmer tones are beautiful, but it's important to avoid brassiness," notes Babayev.
This buttery golden blonde is the perfect shade for a brown base color. Consult with your stylist about what type of style you want to ensure the color placement was ideal for your cut.
"This color technique is perfect for a woman who doesn't want a lot of maintenance," adds Babayev. "This balayage is for any brunette who likes warmth in their hair. As far as the cut, shoulder-length hair is definitely trending right now. The layered highlights are a great way to ease into a shorter cut."
Caramel and Toffee Highlights in Brunette Hair
@sarah_cee_hair
These are caramel highlights in brunette hair. We can't get our eyes off of this tousled wavy toffee lob! Its softness and volume will definitely get you attention.
If you're a brunette, caramel and toffee highlights are the perfect examples of an eye-catching dimension. "It features beautiful golden strand lights to give brunettes that pop of brightness and still maintain their rich brunette color," exclaims stylist Sarah Crandall of Jackson, MI.
First, Crandall says to always have realistic expectations. "Lighter colors on brunettes highlights can be tricky considering previous color history. Secondly, this style is perfect for any face and lifestyle! The longer bob, shoulder-length, hair is a very trendy cut."
Bronde Highlights on Golden Brown Hair
@thebeautyxpert
"If you have naturally very dark hair or deep brown hair color, ask for a combination of foilayage and babylights," says salon owner and stylist Mandee Kozar of Monongahela, PA.
"The balayage in foils will give you maximum lift and creates a lived-in style," Kozar explains. "To break up harsh lines and create a beautiful blend, smudge the roots. This combo technique is for dark brunettes looking to achieve a "bronde" effect with minimal upkeep."
If you have a level 5 or darker and want bright blonde highlights in brown hair, Kozar says it could take a few visits to get your desired result. "It could also be quite expensive. It's always best to start slow to maintain the integrity of your hair."
After every appointment, it's important to take care of your hair at home to make sure it's in its best condition possible for the next lightening appointment. Do deep conditioning once a week, using a heat protectant, and always using color-safe shampoo and conditioner.
Long story short, if you are naturally dark brown and want to have blonde in your hair, it requires time, patience, and quite an investment in your appointments and home hair care.
Warm Brown Hair with Copper Highlights
@cowboyboots.n.cowgirlroots
"Use a warm copper-brown base with pops of copper highlights throughout to achieve this chic, yet sophisticated color," says balayage specialist Kira Jackson of Thousand Oaks, CA.
The copper hair color is ideal for almost all women, and it's highly achievable for many types of hair. Warmth is something that happens almost every time you lighten someone's hair, so why not work with it instead of against it?
"As we all know, red tones fade fast," she notes. "Invest in a truly sulfate-free shampoo and conditioner. Try a color-enhancing shampoo as well, to help maintain color by slowing down the fading process."
As for hair type or face shape, this color rocks on just about any woman who can embrace the warmth!
Dark Brown Hair with Ash Blonde Highlights
@bell_thestylist
This balayage dark brown hair with highlights was created by hairstylist and barber Belen De Jesus of Riverside, CA. "It's low-maintenance on the regrowth and perfect for women who don't want to be in the salon too often. You can also choose to refresh the toner once it washes out. Women can have fun and have the same color, but a different shade of it," said De Jesus.
"The lighter you choose for your color, the higher the maintenance, and also expect a price increase," she explains. "Using the right products for your hair will help with achieving your hair goals. Especially if you plan on doing any color services. Doing a deep conditioning treatment before hair appointments are always helpful to help keep hair as healthy as possible."
De Jesus also says one of the best things you can do for your hair after doing any color services is to invest in color-safe or sulfate-free shampoo. "A moisturizing conditioner, and/or some type of leave-in serum/conditioner are also needed. Your hair will love you and be easier to manage!"
Be patient! Sometimes certain colors can take multiple sessions but enjoy each stage for a different color each time.
Short Mocha Brown Hair with Light Brown Highlights and Lowlights
@brittss.braidss
"This brown blunt bob, in particular, is a statement hairstyle with the naturally blended highlights and lowlights. The light brown highlights on dark brown hair compliment each other so well," says hairstylist Brittany Gray of Woodlands, TX.
"Even if you're not going to heat style your dark brunette with blonde highlights, you still need a heat protectant because the sun alone can damage your hair," she explains.
Chocolate Brown Hair with Caramel Highlights
@colorbycarlykins
This long, tousled bob with rich chocolate, honey, and caramel tones were cut and colored by stylist Carly Kinsella of Friendswood, TX.
"For my wash and go, ladies, use a bit of mousse, like Moroccan Oil Beach Wave Mousse on dry hair," says Kinsella. "Finish it with a bit of texture spray for volume and added definition. Try Surfrider Texture Spray by Sexy Hair."
Natural Brown Hair with White Highlights
@hair_bynay
This natural brown hair with white highlights is a hair painting or balayage. It was created by hairstylist Naomi Derhy of Apple Valley, MN.
"It's a fun dimensional but different way of highlighting hair," describes Derhy. "The cut with long layers creates a lot of movement and only adds to the color! Curls always help with a style like this as well. It makes the colors pop and really shows the contrast between the dark and light!"
Derhy advises you to be realistic." This color took multiple sessions costing $150-200 each time. It's an investment but worth it! Going slower to get this blonde is the best way rather than trying to do it all at once. This can be very damaging and nearly impossible to come back from," she explains.
Colors like this are nice for a lower-maintenance lifestyle. You'll typically need to go in every 2 to 4 weeks. You'll sometimes need to go in monthly for glossing treatments and strengthening treatments in between that time.
Purple Ombre Highlights on Deep Brown Hair
@katiefro
This is a balayage purple ombre on a deep brown hair color, cut into an A-line, triangular bob. The cut and color were handcrafted by hairstylist Katie Fro of Lindenhurst, NY. "A smokey, deep lavender was created using OYA Wilds, a semi-permanent color line. Don't you love how seamless the blend is from the natural hair color," she asks.
A balayage or ombre style looks great as it grows out. There are no harsh lines of demarcation. However, the vivid purple color will only last 4-6 weeks.
Fro insists using a sulfate and sodium chloride-free shampoo and a color depositing conditioner will keep the color looking it's best for longer. "As it fades, it will turn into a pastel lavender and then eventually back to blonde. The best part is getting a new color shade as it fades," she adds.
Thin Light Brown Hair with Honey Highlights
@hairbysashafaye
Thin light brown hair with honey highlights scream fall, warmth, softness, & fun! "Ask your colorist for some warm brunette lowlights intermixed with honey highlights," notes hairstylist Sasha Ehrenberg of San Rafael, CA.
"Being able to have a stylist who knows how to properly undercut is key," adds Ehrenberg. "Use a texturizing/salt spray to add texture & softness to your bob style."
Honey Blonde Highlights for Dark Hair
@hair_by_keciaparker
"The richness of the honey blonde highlights for dark hair color is sexy! It's a nice honey tone with a rich brown base color. It shows contrast and depth while still looking natural. It's a perfect transition to fall tones from that brighter summer blonde," describes hairstylist Kecia Parker of Houston, TX.
"This honey color is perfect for women wanting something trendy and stylish," says Parker, "while still being low-maintenance! The honey-toned highlights are placed in such a way that they don't need to be retouched for 3-5 months."
With good hair products, your brown hair with highlights will maintain its shine. As far as products go, Parker recommends you try Kevin Murphy.
Mushroom Brown Hair with Subtle Natural Highlights
@laurenmorenohair
Mushroom brown hair with subtle natural highlights is natural, effortless everyday hair." If you have grey hair, you'll need to go in every 5 weeks," says hairstylist Lauren Moreno of Sherwood Park, AB.
"Ask your stylist to touch up your roots and add fine foils for a seamless natural blend," said Moreno. "When it comes to the cut, ask for a razor cut. The razor really softens coarse hair, and really controls and eliminates weight removal."
These subtle highlights are for that everyday woman, who wants a wear-and-go style. It's soft, it's trendy and easy to maintain. It's the perfect shade of brown. You have so many options for future colors. You can easily lighten it up or make it darker.
Light Brown Highlights on Chocolate Brown Hair
@emdoesmyhair
"When it comes to hair trends, most stylists are influenced by short brown hair that has been naturally kissed by the sun," says hairstylist and master colorist Emily Alderson of Winnipeg, MB.
When highlighting brunettes, Alderson says, "don't go for a real bleached color. It has to look natural, and seamless. The same way young kids get highlights from playing outside all summer. The tones are kept warm to compliment the deep-colored base."
For women considering these light brown highlights on chocolate brown hair, request a thorough consultation with your stylist. There are so many variations of dark highlighted hair, so be specific and bring pictures.
Brunette Hair with Strawberry Blonde Highlights
@style_haus_salem
"This brown highlighted hair color looks amazing on regular redheads," says hairdresser and color specialist Cortney Pinion, a salon owner in Salem, OR.
"If you were a natural redhead as a child, you know that as you aged, your red had become drabber," explains Pinion. "Visit your colorist often if you want your red back. Try to stay on the natural side of red, meaning a copper-based, not violet-based tone."
With redheads, the trick is to keep the tones believable, which means tons of dimension. Ask for some lighter strawberry-blonde (again, a copper-based tone) highlights. That way you feel lighter for the spring transition, but retain your redhead identity.
This strawberry blonde color is lower-maintenance. The highlighted areas are strategically placed and blended so that roots will never be an issue. Plus, because this is a brown-based copper red that is close to its natural color, the fade grows out subtly.
Golden Highlights in Dark Brown Hair
@hairbyjessical
Golden highlights in dark brown hair? Ummm, yes please! "This is called honey balayage highlights for brunette hair," states hairstylist and colorist Jessica Lim of Centreville, VA.
The color is natural, but you can still see the dimension of the color. It's really low maintenance since the highlights blended well. Also, your hair will grow without a line of demarcation.
Lim says this color & style is for women who have dark hair. "Usually, if you want to keep your root/natural color balayage, you'll need to get a touch-up around 3-9 months. Also, balayage highlight is a great way to introduce highlights to women who never got highlights before or who want a natural shade," she adds.
Balayage Brown Hair with Burgundy Highlights
@karma__liverpool
This blended burgundy/violet balayage with a deep brown base was created by salon owner and stylist Melissa Maloney of Liverpool, NY. "Some teasylights (teased foil highlights) through the top help to break up what could otherwise be a harsh base color," notes Maloney.
"The best thing about this style of balayage makes a very bold violet-red look much more natural and approachable. This burgundy is brought to life in natural light, but can also look very subtle in other light," she adds.
Maloney goes on to state that you'll need to be open to having a very dark base color. "This type of dimension with a burgundy balayage can only be achieved on a dark base. You must also be prepared for color maintenance. This means that color-safe shampoos and color-protecting conditioners and styling products should always be used. While the placement of the balayage highlights only needs to be done occasionally (about 3 times per year) the burgundy color should be maintained with a demi-permanent glaze every 4-6 weeks."
Red and Blonde Highlights on Cool Brown Hair
@beautified_by_katie
"The beautiful lows of a rich red and the highs of a cool-toned natural blonde on brown tresses is very eye-catching. Plus, it was created from a color correction! With this mixture of natural-looking highlights, don't you think of fire," asks hairstylist Katie Haase of Greenwood, IN.
"Ask your stylist/colorist to first go completely red, then add in blonde highlights," says Haase. "Be prepared to have your roots done every 4-6 weeks. This color isn't recommended for women whose face is naturally very red. The color would only accent that. As for women wearing this color, it is slightly more on the bold side."
Light Caramel Highlights on Straight Mousy Brown Hair
@lushhairsaddleworth
"This is a color combination of caramel and chocolate colors," says salon owner and head stylist Holly Andrew of the UK.
Andrew recommends you blend together gorgeous caramel highlights into naturally brown hair using Wella Koleston products with a dark brown in between. "Also, mix Olaplex into all colors to keep the hair healthy and shiny," she adds.
If you're a brunette, spice your color up with a few different natural tones. For this cut, it shows off the colors perfectly, making them pop! The loveliest part of this style is the stunning colors.
Andrew says you can keep your hair looking healthy with hair treatments, such as Olaplex. "This keeps your subtle caramel highlights and other hues to look amazing but also protects your hair from damage and breakage."
Brown Curly Hair with Golden Highlights
@bonita_1216
These brown curly hair with golden highlights were created by salon owner and senior stylist Bonita Padro of Hillsborough, NJ.
"This brunette hair has blonde and brown hues with a warm golden-toned balayage," says Padro. "You'll need a root touch-up for the color every 5 weeks and a balayage every 3 months. This is a very easily maintainable hairstyle and color."