20 Hottest Dark Brown Hair Color Ideas You'll See Right Now
Long Dark Brown Hair
@karolanntousignant
Natural dark brown hair is sexy especially when styled with luscious waves! This long, dark hair promises minimal maintenance yet vows to give you a really feminine and beautiful vibe.
Brown Locks with Lowlights
@mfbeautylounge_
Stunning brown locks with lowlights fit skin tones that lean towards the lighter side of olive with hints of yellow. Caramel lowlights look really beautiful on a naturally dark base.
Golden Dark Brown
@danidoesdopehair
One of the best dark brown hues to go for when you're looking for a warm and natural hair color – these alluring hair colors for dark hair works its magic best on cool undertones! The soft golden highlights are sure to give dark hair enough radiance.
Very Dark Brown with Red Highlights
@alex.jacobshair
Give a pop of crimson to your rich chocolate locks! This style is fashioned to offer stunning volume and movement to wavy hair.
Dark Ash Brown Hair Color
@tatahairstudio
This ultra rich dark brown color with an ash brown tone is wonderful for styled waves and layered hair especially when under the light. Its perfect gloss gives those deep brown hair tresses a two-toned look.
Shoulder-Length Dark Caramel Balayage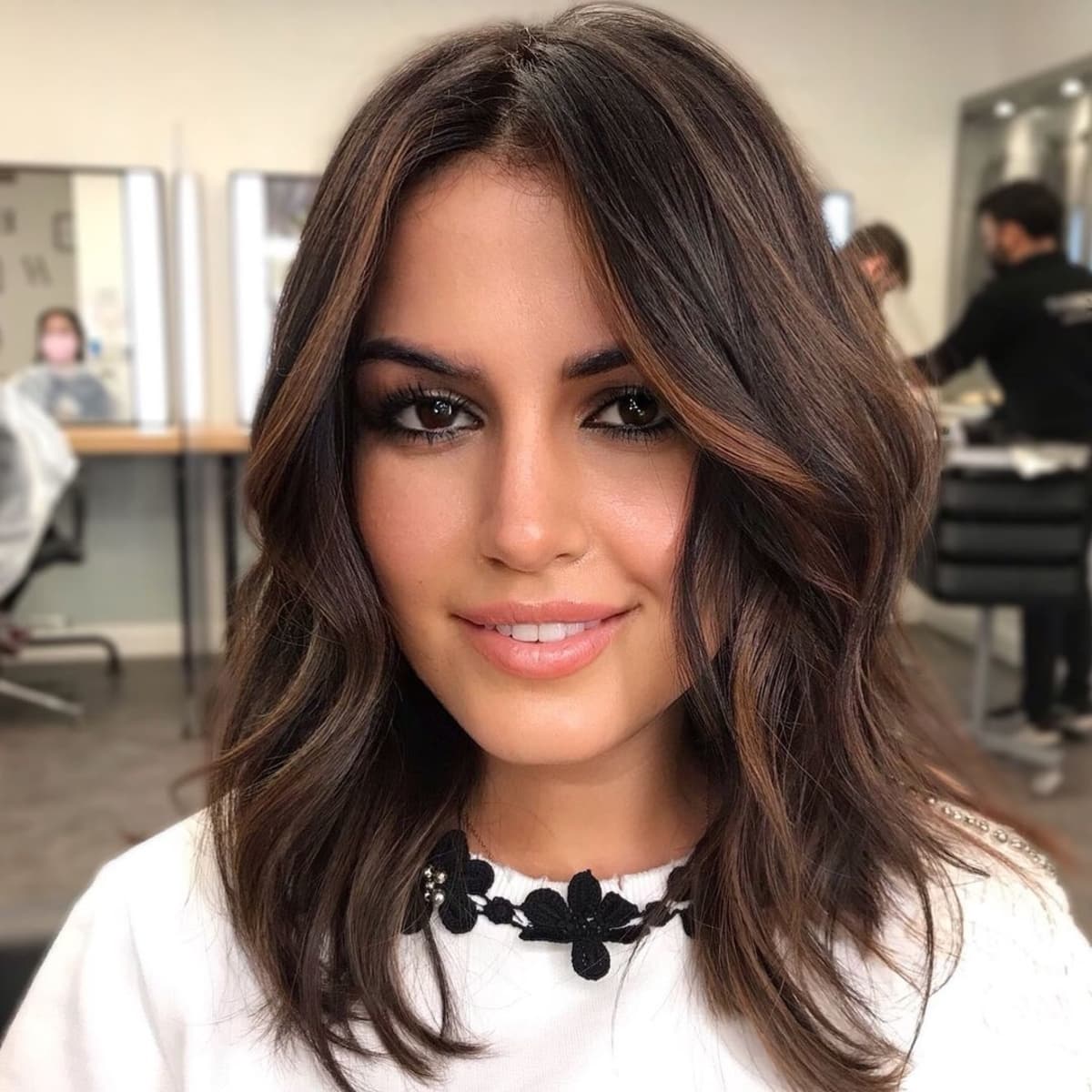 @kaansayar1
These subtle medium brown highlights painted on a flattering medium-length hair gives off a sophisticated vibe. It's super easy to style – add a wave for body or pull up into a bun, you'll always end up being a stunner in this medium brown locks with subtle highlights.
Short Hair with Dark Brown Ombre
@amys_ponytails
Need hair color ideas for dark hair? This dark brown hair color features a smooth transition of bronze and caramel hues that are perfect for shoulder-length lobs. Natural yet sophisticated, this flattering 'do makes any woman a stunner!
Silver Highlights with Dark Brown Hair
@_brandifranciscohair
The masterpiece made with silver and brown tones is sure to give you the winter vibes! Add some cool pearly accents to your dark brown locks for a more contrasted, voluminous style.
Natural Dark Chocolate to Dark Golden Brown Ombre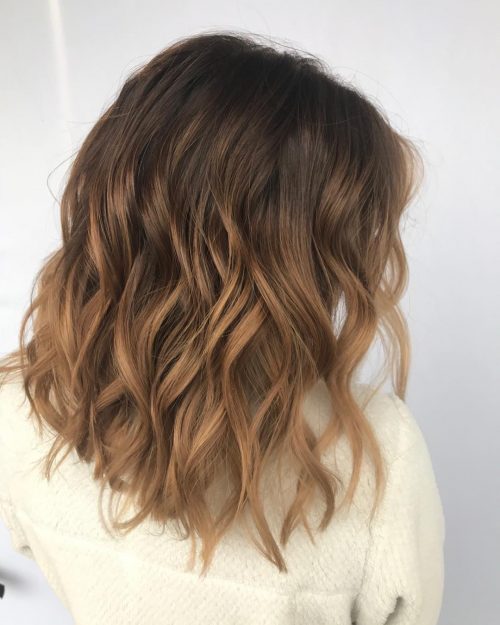 @beauty.by.julie2
Rich mahogany locks with almond dipped-ends on beach waves are certainly a match made in heaven! This faded dark brunette hair and the golden brown tones can soften and take the weight off your hair. A chocolate brown hair color like this works best on a medium to a long-length haircut.
Medium-Length Coffee Brown
@kalliedwardshair
Give your naturally dark brown hair life when you try this modern smoky color! Pair this dark brown hair with your favorite flattering haircut for a fresh vibe.
Deep Brown Hair with Red and Blonde Highlights
@hairby_courtneymorris
A harmony of brown, earthly colors definitely steps up any kind of long hair styles. Make sure you try out this versatile combination of reds and blondes if your hair color is dark brown because it's suited for any hair type and texture!
Dark Auburn Brown
@ohlucyy
Carry the autumn leaves with this fall hairstyle in auburn brown color that's gorgeous on any hair length! Special tip – hazelnut eyes are best enhanced by this red-infused shade of dark brown.
Dark Brown Hair with Purple Highlights
@hairbydanettef
Pair dark brown hair with purple highlights to create a fun, stunning dimension. Try the darkest brown hair color as the base to make the purple strands pop even brighter. When styling, jazz the tresses up with curls and waves to give them more movement and body.
Espresso Brown with Caramel Highlights
@ashley.reps
If you want a simple chic dark brown hair dye job to give your brunette hair a twist, this espresso-colored hair is for you. These lighter pieces are a great way to showcase your textured medium-length hair.
Dark Fudge with Blonde Highlights
@hair_by_ryanelizabeth
These are sweet balayaged waves that easily add depth to your long dark hair. Going with high-contrast dye jobs never fail in giving a totally eye-catching style.
Deep Mahogany Brown with Highlights
@hairby.lou
It's a rich red-infused brown wavy hair cut to the shoulders. Perfect for the season, the warmth of the dark brown tresses creates a powerful color that is both easy and manageable to style.
Dark Brown Black
@style.or.dye
This black brown hair color is a dark brown mocha! It was created by stylist Emilee Cockerham of Hayes, VA. "It's rich and shiny the hair turned out! Ask for curls because it really shows the dimension and shines extremely well! The haircut is a simple one-length with longer layers to take away some weight," explains Cockerham.
If you do want to go dark, Cockerham says to make sure it's what you truly want to do "because it's difficult to come back from. If you are planning on going dark for fall and then back to blonde in the summer, use a semi-permanent color instead. It'll cause less damage when you start lightening again and help save the integrity of your dark hair colors. Deep chocolate-y brown hues are such beautiful colors. It's nice to see beautiful dark brunette hair once in a while!"
Dark Brunette with Ash Blonde Highlights
@page.paints
This dark brown rooted blonde, lived-in hair colorwas created by salon owner and stylist Alycia Smith of Richland, NY.
"The loveliest thing about this shade of dark brown is that it allows a brunette to pull off platinum hair while still looking natural," says Smith. "By keeping a darker root shade, the color tends to be more flattering on someone with naturally darker hair."
Smith believes you get the best of both worlds with a color like this. "It's also extremely low maintenance because of the way the blonde is blended. It only requires minimal upkeep compared to a woman who is completely platinum. So, go darker! The blend allows for it to grow out seamlessly."
This style is great for women who want a high-end color but might not have the time to maintain an all-over blonde or traditional highlight. Shorter textured looks are best when not over-styled with dark brown hair colors.
Dark Red-Brown Hair
@casskicksbrass
This dark red-brown hair is luxurious and looks flattering on a fair skin tone. It makes the thick tresses look vivid with its rich tones. To protect a reddish brown color, sulfate-free shampoo and conditioner are the best. The red-depositing shampoo and conditioner from a stylist or professional are useful, too! They'll make the at-home maintenance easier.
Chestnut Brown with Light Brown Highlights
@ga_beauty89
This dark chestnut shade with light brown highlights is a warm-toned dimensional balayage. It was created by hair artist Gaby Koite of Alrington, TX.
"The best thing about this is the color," claims Koite. "It looks so natural, especially on a darker base! Focus on more brightness around the face and around the ends. Ask your colorist to create a root melt to make the natural brown roots blend perfectly together."
This brown hair color is for women who are looking for a change in hair color but not ready to make that huge leap to go blonde just yet!
"There is maintenance to this dark brown color, but not too much," she adds. "Just need to come in every 3-4 months for base and toner retouches. Use a blue shampoo once a week to keep brass away from your darker locks and keep your hair looking fresh in between retouch appointments. Lower the temperature on your heating tools and always use heat protection!"