21 Stunning Photos of Dark Brown Hair with Blonde Highlights
Silver Blonde Highlights
@kimnguyenhairstudio
Cool silver-blonde highlights on dark brown hair color form a dimensional piece of art. To achieve the same vibrancy and ashy hue, use toners.
This hair trend exhibits a soft color. It looks playful and modern with textured waves. An already stunning color like this is easy to style, too.
Brown Hair with Caramel Highlights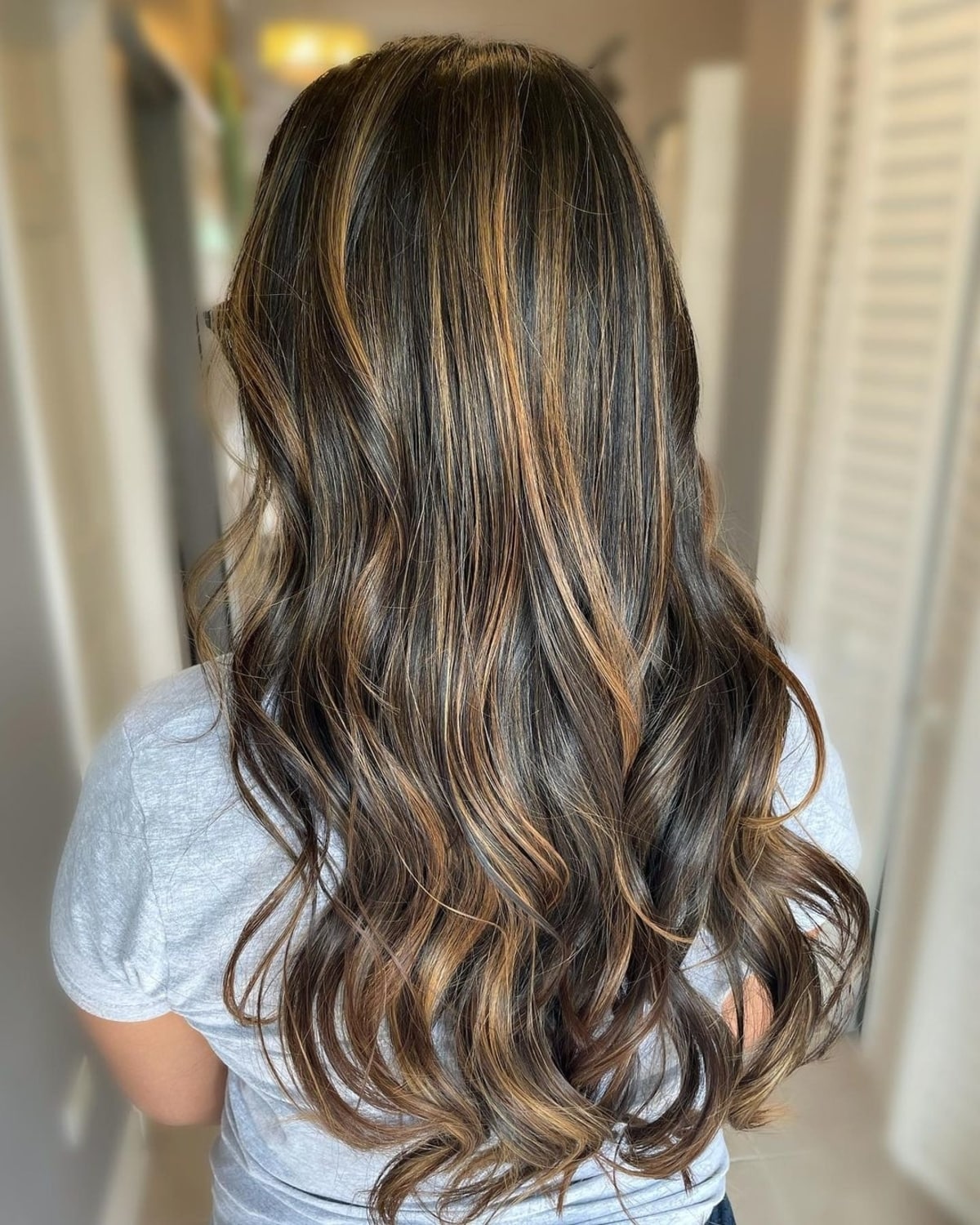 @hair_by_nate_
Brown hair with caramel highlights is a natural, rich, and warm color for women with dark hair. Golden caramel and honey tones give dimension to dark hair that breaks up a solid deep brown hair. Ask your stylist for balayage style highlights that blend seamlessly and grow out naturally.
Blonde Highlights on Brown Short Hair
@summerevansstudio
Blonde highlights on brown short hair can instantly add texture to your hairstyle. You don't have to be bored with your brunette. Add some flair to your hair with this bold color!
Dark Brown with Beach Blonde Balayage
@demetriuspombosalon
A dark brown with beach blonde balayage will have you feeling fabulous! If you're looking for contrast in your current hair color then look no further. The dimension of the brown and blonde will stand out perfectly well.
Brown-Blonde Gradient Ombre Hair
@oliveri_parrucchieri
Try a brown-blonde gradient ombre hair color if you're wanting a beautiful low-maintenance hue. The seamless transition from brown to blonde will have people obsessed! You will love the dimension it provides, whether your hair is styled straight or curled with waves.
Brunette Balayage with Dark Blonde Highlights
@kisha_frenchieandco
Dark blonde highlights on dark brunette hair create a dirty, seamless balayage. This balayage brunette hair idea offers a softer blend, enabling a more natural grow out.
Achieve this colour idea by opting for teasylights to brighten up the mids and ends.
Thin Blonde Highlights
@brushedwithlove
Opt for brown hair with blonde streaks, and get that elegant style that you've always wanted! Natural hair's earth tones work best with a few highlights.
Ash Blonde Highlights
@balayageombre
Ash-blonde highlights provide medium-length dark tresses a generous amount of brightness. This hair color features blonde front pieces that frame the face while keeping it radiant.
Truly, the different tones and colors mix together well, which creates an ultra-chic dimension.
Dark Brown Hair with Blonde Highlights
@cristiane_hatsuko
Beautiful and delicate loose curls towards the tips of any long hair plus the blonde highlights on dark chestnut brown color work so well together.
Brown Hair with Champagne Blonde Highlights
@mrlaithkhatib
Try champagne blonde highlights on long, wavy hair. The outcome? A breathtaking hair trend with a boho and lived-in vibe. With dark brown roots, the blonde shines even brighter.
Platinum Blonde Highlights
@kylieannefritz
Platinum blonde highlights on natural brunettes offer a trend packed with style! The entire hair idea has a chic, trending payoff that gives dimension to a mid-length cut. It's proof that dark brown hair and blonde highlights go hand in hand.
For a more youthful and natural-looking edge, opt for a balayage. It's a technique for highlighting in which lightener is hand-painted onto the strands.
Red and Blonde Highlights
@thehairbyjess
Red and blonde highlights on medium or long hair are fun and exciting to wear. This idea gives tresses a more dimensional and vibrant result. It works best on natural blondes.
If you're naturally blonde, get the look by adding red lowlights to your light neutral blonde hair color. It's also a great way to go darker for the winter.
Light Blonde Highlights and Lowlights
@southmarksouth
Add some light blonde highlights and lowlights to dark brown hair, and watch a chic dimension come to life. The shades flatter women with neutral skin tones.
When styling, use a curling wand for effortless waves. Complete the look with a mist of a flexible hold hairspray.
Dark Brown Hair with Subtle Blonde Highlights
@hairbybrookeann
Dark brown hair with subtle blonde highlights? Yes, please! "This is the perfect option for women wanting a subtle change," says hairstylist Brooke Ann Rushing of Chattanooga, TN.
"The subtle pops of blonde pairs perfectly with the long layers and tousled waves," notes Rushing. "Baby lights and balayage are the way to go for a more low-maintenance look. You don't have to worry about the harsh 4-6 week grow-out!"
For dark brown with partial balayage hair, Rushing says a sea salt or texture spray is perfect for giving these blonde highlights movement. "Anyone can rock this color! You can usually go months between color services with this look and still look fresh," she adds.
Icy Blonde Highlights
@jenny.c.hair
Icy blonde highlights, if mixed with black strands, carry out a high-contrast dimension. The challenge here is to achieve a lighter and brighter hair color without compromising the integrity of the hair. To maximize lightness, ask your stylist about foilayage.
Dark Hair Color with Honey Blonde Highlights
@innhair
Imagine wearing these honey blonde highlights on dark hair. If you have dark brown hair, this is an exquisite choice. It even looks luscious on thick tresses. This hair color makes a modern, playful finish when paired with beachy waves.
Strawberry Blonde Highlights
@slayedby_meg
Strawberry blonde highlights on dark brown hair are always shiny and chic. It makes an awesome go-to look for ladies who has a very feminine vibe.
Complete the look with waves and add a few pieces of bangs for a flirty, modern finish. Hair color like this makes blue eyes pop.
Golden Blonde Highlights on Long Layered Hair
@toritcosmo
This long layered cut and color combo is a great way for a brunette to introduce blonde into their life!  It was created by hairstylist Tori Thimian of Simi Valley, CA.
"It adds a ton of dimension to a brunette without going fully blonde," she notes. "Brunette clients also tend to add highlights to their look as a subtle way to hide their gray hair."
If you're considering this golden brown and blonde hair Thimian says to think about how often you want to visit the salon for maintenance. "Someone who prefers visiting only twice a year may want to consider a more low-maintenance look like a balayage," she explains.
"On the flip side, as I mentioned before, highlights are a great way for a brunette to take a step onto the blonde side without a full head makeover. They also help hide the gray hair which everyone is ok with," she adds.
Chunky Blonde Highlights on Brown Hair
@vicious_pretty
These chunky blonde highlights remind us of the '90s-inspired hair trends. They bring out definition and dimension to dark brunette hair. Its high-contrast look creates uniqueness that goes with long, straight, or wavy locks.
Bronde Highlights
@hairbybreewatts
These bronde highlights look very pretty on darker brown hair. The tones create a soft sun-kissed dimension that works well on long-length tresses for the summer season. To achieve such beauty, opt for these brunette balayage highlights. Style it with waves to upgrade the hair texture.
Beige Blonde Highlights
@princess.y.salon
Beige blonde highlights add sparkles to a dark brunette hair color. This hair trend offers warm tones.
It's ideal for women with warmer skin complexion, too. A classic blonde balayage like this isn't complete without the waves. It's the movement and volume that help the dimension to pop.