13 Gorgeous Examples of Dark Brown Balayage Hair Colors
Dark Chocolate Brown to Light Chocolate
@hobbschelsey_hairstylist
Caramel-y and oh so sweet! This takes home the gold, for any woman of any hair length and any hair type!
Brown and Blonde With Honey Highlights
@_hairbymary_
Some sheer highlights to brighten your look. The brown and blonde never looked so good together!
Dark Ash Brown
@beautyyimpulse
Natural dark brown balayage hair is the best looking hair, don't you think?
Dark Brunette Lob
@hairbylorenashley
Going for a shoulder length cut always looks so complicated. Lucky for you a dark brunette balayage hair color seems like the fitting choice for a sophisticated cut.
Blonde and Dark Brown
@kayla_thehairwizard
All you need is a tipping hat and you're all set to rock the world, cow girl!
Dark Brown to Ash Blonde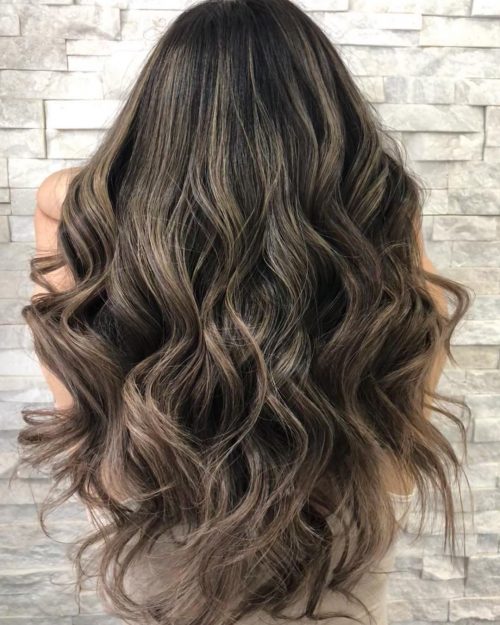 @ceedoeshairr
Inconspicuous balayage dark brown highlights are all the rave this year. This one looks like you just sprinkled frosting all over your luscious locks!
Dark Burgundy and Brown
@brittany.ertelhairdesign
Rich red velvet and chocolate colors now drip your locks! Big curls create an illusion of mixed colors for a best presentation.
Caramel and Dark Brown
@kelsey_at_hairbenders
Only one way to describe this balayage dark brown color: a toffee bar dessert blended in all its gooeyness.
Red and Dark Brown
@anthonylimhairstylist
A combo of these colors create a toasted chestnut look that is yummy to look at!
Q&A with style creator, Anthony Lim
Hair Dresser @ Limón Salon in San Jose, CA
How would you describe this look?
I created this look for the fall seasons and for clients who would love the warm tone that's little spiced up but not bright or in the blonde range. Even though the tone is vivid, the dimension still blends in with her natural dark hair, creating something very interesting and eye-catching. Perfect for fall and winter.
Any advice for someone considering it?
Unlike other blonde or brunette highlights that always focus on the lights, I created this look for clients looking for depth and subtle dimension. It would work on all hair types (length and texture)
I focused the depth (darker tone) around the nape and crown, creating a slimming effect on the neck and face. It' soft and not too loud (especially because of the red tones).
I used all Redken Color because they have a unique vibrancy in their tones, and the incredible shine is from Oribe Haircare. This look will definitely be a great fit for clients who still want some sort of subtle highlights. A look appropriate after spring and summer and heading to fall and winter.
Black to Dark Brown
@folkhelsinki_maija
Q&A with style creator, Maija Liespuu
Hairdresser @ Folk Helsinki in Helsinki, FI
---
How would you describe this look?
My favorite thing about this black to dark brown balayage is that it's so easy to maintain, both cut and color. Balayage highlights are soft, and the outgrow is natural. This haircut is also easy to maintain and style. Balayage can be done once or twice a year, and just a few gloss+cut appointments in between are needed to keep the redness and dry ends away.
Any advice for someone considering it?
For styling, a few loose curls and a texture spray is enough to give the hair the perfect carefree look. Color placement and hair length can be modified to any hair and face type. This look is for anyone who wants an easy but trendy look!
Subtle Dark Brown
@noresalon
Q&A with style creator, Raluca Dowell
Salon Owner / Hair Stylist @ Nore Salon in San Antonio, TX
---
How would you describe this look?
It's "lived-in glamour" because this appointment was just toner and haircut and her last color (lightening) was done 3 months prior, just much lighter. In this appointment, we toned it down quite a bit. The magic of glazes (toners, gloss) goes beyond just making the hair feel good and give it luster. It can give it a completely different look without having to go through the whole coloring process yet again. 
Any advice for someone considering it?
I would advise clients that a balayage dark brown color like this will be easier upkeep for the busy mom, busy professional woman that still wants that seductive brunette look that is never boring. She still is able to play it off safe by not needing a lot of maintenance.
This client has extremely frizzy hair and some hard to break curl in some areas, but with the magic of a good blowout and a good curl, everything is possible. I used a mixture of products for this look.
Light Brown to Dark Brown
@sadieface
Q&A with style creator, Sadie Curtin
Extension Expert & Creative Color Specialist @ The Livingroom Salon in Costa Mesa, CA
---
How would you describe this look?
This color combo reminds me of autumn. Its rich tones and ribbons of warmth give this hair color a unique finish. It really stands out while still maintaining a professional appearance. The long layers provide movement to showcase the highlights and give bounce to the curls.
Any advice for someone considering it?
Adding in dimension is key when dealing with brunette hair. It helps transform an average color into a showstopper. Long or short hair can be styled using face framing color. When asking your stylist for a similar look, use keywords as "Money Piece" and "Face Framing" to help describe the bold highlight.
Dark Brown and Silver
@brittanyscissorhandsharris
Q&A with style creator, Brittany Harris
Hair Artist / Owner @ Enchanted Hair Design Studio in Childersburg, AL
---
How would you describe this look?
This is a great look for brunettes who want to go lighter without fully sacrificing being a brunette and who also want something low maintenance. The texture layers are also a great choice for someone with finer hair that wants body and movement in the hair without losing too much weight from the ends.
My favorite thing about this look is the contrast of brunette and silver while keeping that lived-in balayage feel.
Any advice for someone considering it?
Consult with a stylist about whether or not this look is achievable and to determine how many sessions and in between stages they will have to go through before this look could be achieved. It took two sessions to achieve this color on my client who is a virgin level 5 in order to obtain our goal of level 10. If there is dark color on the hair or the natural hair is under level 5, this look could take several sessions to achieve.
Kera Clenditioner is a great product to keep the icy silver tone in the hair at home between salon visits.