14 Ways to Style Beach Waves for Short Hair
Ocean Waves on Short Hair
@beauty.by.lojo
To achieve ocean waves on short hair, use sea salt spray, then scrunch, then let loose. These three easy steps to get this suave chill-out style, especially for women with black fine hair!
Tousled Beach Curls
@madi.jcsalon
No matter the cut or style, soft waves do fit any hair type. Not just for that summery look, messy beach curls transcend all seasons!
Short Bob with Beach Waves
@beverlyeze
Posh and perky, a short bob with delicate waves makes you look like a doll. Curl hair and brush out to mellow out the waves.
Beach Waves for Short Hair Using a Flat Iron at Home
@hairdidbysas
If you've been blessed with fuller hair, you get to enjoy having short hair more! There's a lot to play around with when sporting a beach waves hairstyle. Beach waves for short hair contributes to the overall body of your hair. Also, a flat iron is great for creating these small waves.
Ombre Beach Waves and Short Hair
@salon.nine
Every angle and feature of these ombre beach waves and short hair truly captivates the hair color, curls, and cut!
Boho Inspired Beachy Curls
@hairbykayti
Highlight your boho inspired beachy curls and dark roots by putting little flower pins in your hippie braids or around your head for a festival beachy wave look.
Effortless Beachy Hair with a Curl
@hairbytriina
The keyword here is effortless: go over your hair with some mousse or tie it up for an hour and you've got an easy beach waves hair style!
Beach Waves on Very Short Hair
@peachiehair
Make way for beach waves on very short hairstyles like bobs and pixie cuts! Sea salt spray your way to gorgeous ripples on your dark brown locks.
Textured Beach Wave on Shorter Hair
@nohairpicss
The easiest way to get a textured beach wave on shorter hair is to spritz on some sea salt hair spray and scrunch your ends afterward. Instant vacation vibes!
Heatless Beach Waves Natural 'Do
@jacquie.hair
One way to heatless beach waves is to twist your hair in a bun right after getting out of the shower. Keep it on for around an hour then let loose!
Easy Short Layered Hair with Beachy Waves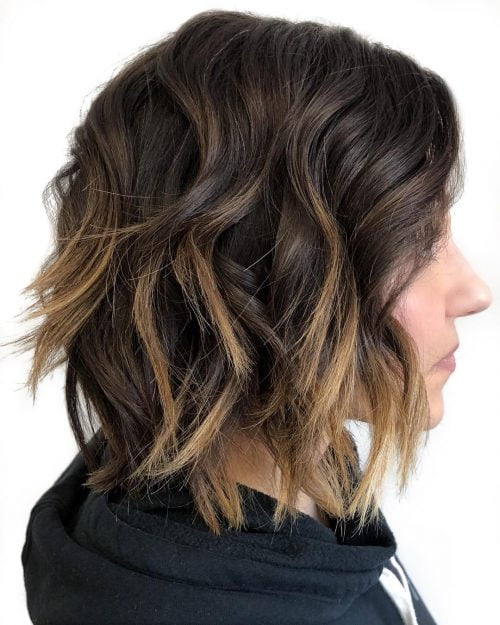 @rachel.lott.hair
Short layered hair with beachy waves should be heavily textured, like this slightly short inverted bob. These easy beach waves have a fun secret; about 1/3 of the hair is actually a very short clippered undercut.
According to stylist and owner of Camellia Hair and Beauty in Queensbury, NY, Rachel Lott explains, "the girl in the photo has thick curly hair, so this technique collapses the shape of the cut, keeping the back from being bulky or triangular. It's also a fun wavy hairstyle for when she wears her thick hair up!"
When it comes to styling, Lott says "to finish styling, use a lotion for moisture and shine on your natural beach curls, then loosely wrap around a 1″ iron, alternating directions for tousled beachy waves."
Messy Beach Waves Short Hair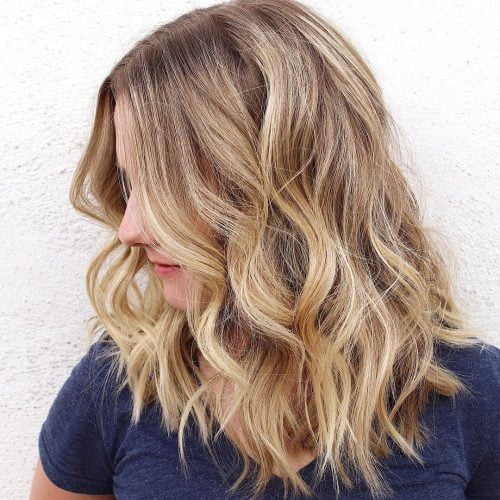 @sonoranyettyhair
This is a shattered lob, as it has lots of texture for a beachy flowy vibe! When getting beach waves, curl in the opposite directions. When you curl the top part of your hair, curl straight up at the base to ensure all that volume stays in place.
Ombre and balayage specialist, Yvette Sandoval, from Salon Amore' in Gilbert, AZ, says, "use Bumble and Bumble thickening line for all the volume, and Moroccan Oil texture sprays to give it lots of texture and that messy beachy wave."
Sandoval adds, "the shattered lob is a very versatile cut and will look good on women with any type of hair. Styling may take more effort with certain types of hair and texture but can be achieved with the right beachy hair products and proper education from your stylist."
Subtle Waves on Medium to Short Hair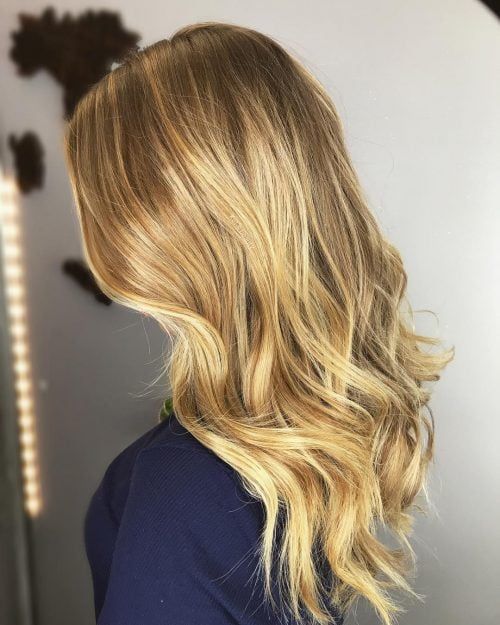 @kathrynldigioia
Subtle waves on medium to short hair? Yes, please! This cut was kept at a decent length with long layers, followed by lots of texture for that beach vibe. As for curling short hair, use a 1-inch curling iron followed by finger combing the curls to create loose waves.
Kathryn Di Gioia, owner of Di Gioia's Beauty Studio in Hermosa Beach, CA, says "when it comes to hairstyles for wavy hair, less is more! Think effortless, easy, low maintenance. Women think more is better when in actuality it's not. Desired products for these beachy-looking waves would be any dry texturizing spray, creams, textured paste, and salt sprays."
She adds, "for hair type, the straighter the hair and less curly the better! If you have a more textured style hair or more curl then, of course, you'll have to put in the extra work as to smoothing out your hair and getting it perfect the way you'd want it."
Beach Wave Hair Tutorial with a Curling Iron
@chels_theofficialhairstylist
This light blonde textured bob haircut is very popular right now, especially the beach waves. With this bob haircut,  you can wear it straight and sleek or super fun tousled with beach waves.
Create your beach waves for short hair using a Chi 1-inch curling wand and Joico texturing spray. Go for a beach wave bob haircut if you have an oval face shape. Face shapes play a big part in choosing the right haircut to accentuate certain features. If you choose a haircut that doesn't work well with your face shape it will accentuate features you may not want the eye to be drawn to.
Hairstylist Chelsea Brevik of Jamie's Hair Designs in Thousand Oaks, CA, says, "be aware of higher maintenance. If you're a woman who doesn't want monthly visits to the salon for color and haircuts stay away from this cut."
Chelsea also gives us a quick beach wave hair tutorial stating, "if you want to have cute beach waves, you have to curl your hair every day to create this style. Just don't do it daily because too much heat can really damage your hair. For example, braid your hair at night, undo the braids in the morning and poof! You'll have overnight beach waves and dry hair with no heat. As far as products go for styling you would need a leave-in conditioner, a heat protectant if your leave-in doesn't have any, dry shampoo, and texturizing spray."