15 Youthful Medium-Length Hairstyles for Women Over 50
Medium Length Hair with Face-Framing Bangs
@erikamarie72
This long bob may be the key to achieving a different hairstyle. The fringed bangs on women in their 50s can take years off their face.
Transition your medium length hair into a shorter style that's fresh, flattering, and fun!  You can give it so many personalities through adding layers, doing all one length, or stacking it in the back!
The longest part of your hair in the front can act as an arrow towards your facial features. So make sure you talk to your stylist about what would be most flattering with your features and style!
When looking for medium haircuts for older women, odds are you won't be able to put your hair up in a high ponytail. So take that into consideration!
Textured Cut for Thin Hair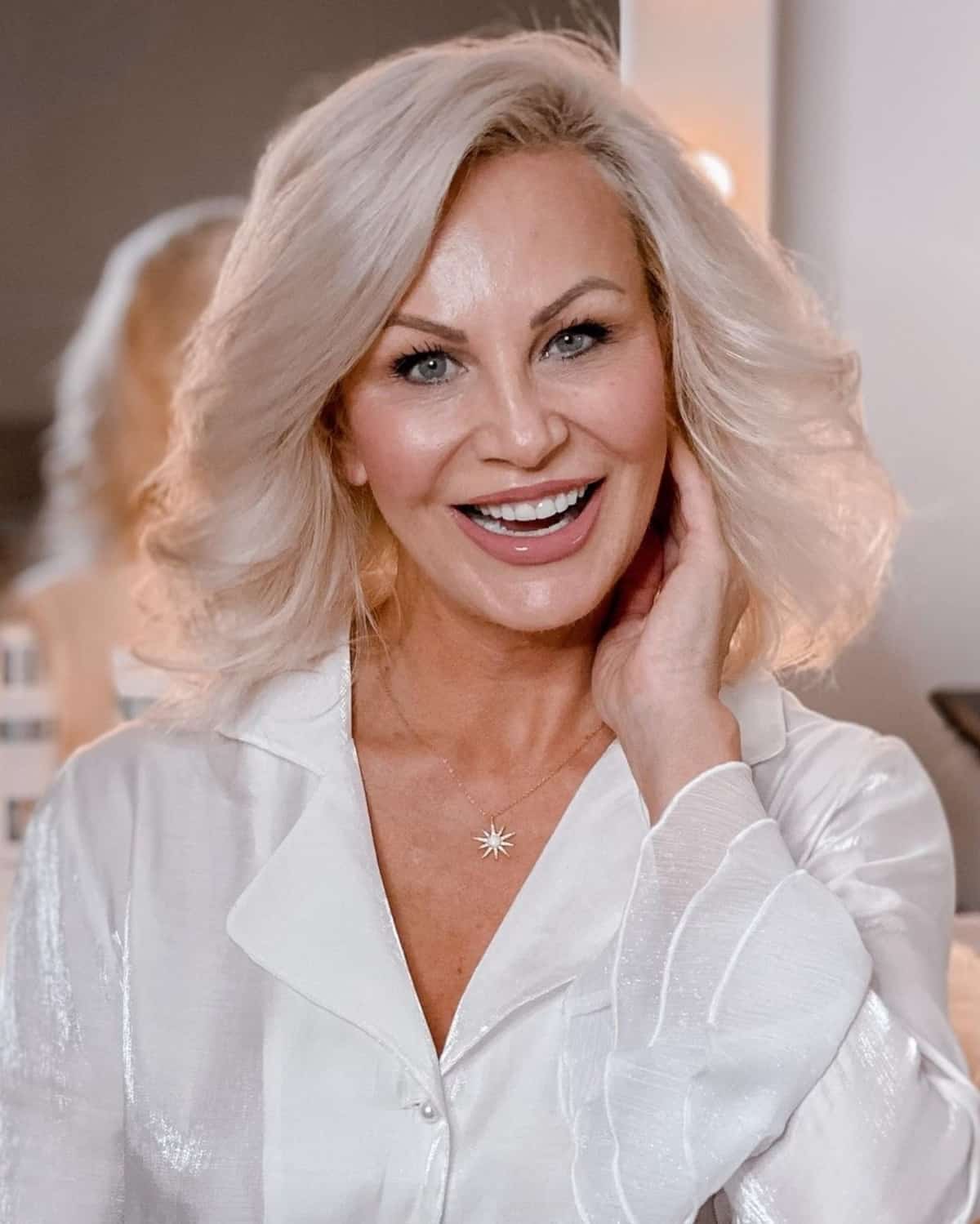 @kazzstyle_
A textured cut for thin hair will add width and volume to your style. Women over 50 tend to find their hair becoming a little thinner. While layering too much can remove the weight, adding texture is a softer way of layering to maximize fullness. The textured layers widen the volume of hair, especially when blow-dried with a round brush.
Blunt Cut with Layering
@soubecas
Pairing a blunt cut with layering is sure to give locks extra volume and movement. Greece-based stylist Soubecas Ioannis did the point cutting to soften the hair ends.
"This cut gives a feminine but dynamic and professional style," says Ioannis.
For styling, he suggests volume mousse for the root volume. The argan oil would also be helpful to moisturize and gloss the mid-lengths.
Long Bob (Lob) Hairstyle for Women Over 50
@patricio.moreno
Easy does it with long tresses maintained in a graceful manner for women in their 50s. Hair falls slightly past the shoulder which achieves a mature yet modern look.
Medium Length Feathered Layers
@hairjustine
You can never go wrong which so much texture as this flyaway ends give! Shorter layers create more body and makes for one of the better hairstyles for women over 50 with thin hair.
Natural Bob for Curly Hair for Older Women
@lee.young63
Consider a natural bob for curly hair for older women. Aside from the curls, this style has a lot of texture that makes the tresses seem full of life! To maximize its beauty, use a texturizing product as a finishing touch.
Layers For Women Over 50 with Glasses
@hairgirl541
Feathered long bob is a gorgeous way to show off some layers and to give volume and texture to your medium hair. Full bangs and frames accentuate this cute hairstyle for women over 50 with glasses and eye color.
Collarbone Length Side Part
@luc.hair
Be the best you can be in your 50s with some neatly parted hair that flicks backward for a softer effect. The blonde hues add natural touches to the medium hairstyle that will help tame your appearance. This is one of the best medium length hairstyles for older women.
Shoulder-Length Cut for 50 Year Old Women
@hairby_calliej
Medium hairstyles for older women, like this long bob, just might be what you need to get a refreshing style. The simple yet sophisticated approach of this mid-length style can be explored, with soft curls, layers, and even varied hair colors for women over 50.
Messy Shag for Women with Thin Fine Hair
@brileywow
Cut layers on layers and style in a wild way to achieve an adventurous 50+ hairstyle.
Hairstylist Brittany Riley of Greenville, SC created this medium hairstyle for women over 50. "It's a sexy shattered lob," says Riley. "The slight angle gives a slimming look by drawing your eye down and framing the face. However, the shattered layers give volume to the crown drawing your eye up. Medium length hairstyles for thin hair over 50 can be quite versatile," she explains.
When it comes to styling, Riley recommends you, "take into consideration that you will need a round brush, flat iron, and texture spray or powder to achieve the full effect. This medium length hairstyle for a 50-year-old woman is fun and sassy but does take some effort to style."
"If you get a texture spray like Oribe' Dry Texture or L'oreal Techni Art Super Dust, you can rejuvenate this style throughout the day by roughing up the root with your hands," she adds.
Medium Length Wavy Lob Hairstyle
@tegs_shaghair
A medium length wavy lob hairstyle can lift your facial structure and make the hair appear thicker. A medium length hairstyle for a woman over 50 brings some balance to the face and length. This also prevents the hair from dragging the face down. To elevate this length, add some soft waves and run your fingers through to break them up. It'll create a stacked effect and will fill the hair out, especially on finer hair.
Mid-Length Layered Bob
@linda_carmineandco
This mid-length layered bob was created by master stylist Linda P of Warrington, PA. "This cut is a medium length lob (long bob) with light layers at the bottom. The layers give it movement to enable you to wear it in multiple ways. It can be worn casual or dressy, curly, messy or straight," she states.
When asked about whether or not older women should opt for this cut, she says, "go for it! It's so easy to style, and almost all hair types work well."
For styling a messy finish, let it air dry on a hot day with some light gel. With thicker hair, blow dry with smoothing creme and a round brush for a straighter finish.
Linda goes on to explain, "volumizer can be used on finer hair over 50. Also, you can really dress this style up by curling it. Another fabulous thing about medium length hair is that you can still pull it up! You cannot go wrong with this style. To keep this hairdo looking its best, get it cut every 5-6 weeks."
Medium Length Beach Waves
@glam_by_gladys
Get medium-length beach waves to ensure your hair looks and feels fuller. Medium-length hairstyles for 50-year-old women are a great option by lifting the length to below the shoulder. This can make the tresses look thicker, and it's versatile enough to wear up or down. To maximize this length, add some beach waves to widen the appearance of the hair and add a youthful softness.
👉 Here are more quick and easy wash and go hairstyles for mature women in their fifties
Textured Lob for Women Over 50 With Thick Hair
@jackmartincolorist
This mid-length haircut for thick hair is textured, shaggy and versatile.
If you want low maintenance, try these piecey layers. If you're carefree and love wild hair, go for it!
Add texture into your hairstyle for women over 50 with thick hair with a dry texture spray like Beach Club IGK or Texturiza by Unite.
Rough dry or air-dry, and if you need the extra body, try using a medium curling iron. Shake out and add texture with your favorite spray.
Medium Length Angled Bob
@hair_by_christij
Medium hairstyles for women over 50 are all about finding a versatile cut that works with your hair density, facial features and lifestyle. Owner and stylist Christi Jimenez created this beautiful angled bob. According to Jimenez, this shoulder-length cut is a very low maintenance but modern.
"Whether you love to wear your hair messy, naturally wavy, or curled loosely, this style will work great," says Jimenez. To style medium haircuts for women over 50 like this one, Jimenez suggest you use a leave-in conditioner, blow dry balm, and a 1-inch curling iron.
Lightly Layered Cut for Older Women
@laurenopeed
Hairstylist Lauren Oakley Peed of Durham, NC created this layered cut for older women. "This collarbone-length haircut is a soft and natural-looking blonde. The cut and color framed around the face offer youthfulness and glow," she says.
This hairstyle is great for women in their mid 50s who want low maintenance hair, or is more high maintenance. The medium-length caters to both. It can be tied back into quick style or blown out.
For styling products, Lauren says to "try Aveda Cherry Almond Leave in Conditioner. This is one styling product that can take the place of many."
If you want a fun and easy medium hairstyle in your 50s, this is perfect and so versatile! It fits the on-the-go older woman as well as the professional office-type!