These 18 Jumbo Box Braids Are Just Incredible
Double Twisted Jumbo Box Braids
@shurba_by_samri
Get your fabulous jumbo twists in an XL-size for a more stunning upgrade. The fewer pieces you have, the easier maintenance and styling will be!
Fresh Black Big Box Braids
@ebonisgiftedhands_
The way these exquisite pieces are laying is making us fall in love more with this protective jumbo box braid style! Grab two to three strands from the front and tie at the back for an easy feminine look.
Long Hair with Chunky Braids and Cuffs
@hairbydtx
These blonde jumbo box braids are composed of three thick pieces braided to perfection with double weaves in between for superb contrast. Notice how the shimmering golden strands decorated with metal rings make this whole look truly unique!
Perfect Top Knot
@locsbylexx
A stunning example of how braids and updos always go together. Here, the bright red braids are coiled into a crowning high bun and decorated with cute golden cuffs.
High Ponytail with Long Braids
@jos_hair
Accent an exquisite design with contrasting thickness and wearing your pieces up into a neat and eye-catching jumbo box braid 'do!
Gorgeous High Bun Updo
@stylesbydaniij
This one's a dope top knot using jumbo box braids. It's ideal for you who wants to show off your pretty face and accessories and feel fresh all day!
Cool Triangle Parts
@hairby.liyah_
Take your jumbo box braids a level higher with these totally cute triangular box braids that would catch everyone's attention!
Asymmetrical Lob Box Braids
@jessbeautydesigner
These thick uneven long bob of decorated pieces certainly is the bomb! This jumbo box braid hairstyle is perferct for working and business ladies.
Long Bob Braids
@elyssetl
Unleash your groovy side with this really cute braided jumbo box braided lob cut that goes definitely on-point with oval faces!
Big Box Braids
@thembraidedgals
Go large and square! This jumbo braided work shows how neat and easy this funky protective style can be.
Unique Updo Bun
@taylordddd._
Get the best of both worlds when you go half-way with a top knot! This look is a marvelous example of the many ways with which you can style and personalize your jumbo boxy braids. Braiding has become an art form.
Beautiful Thick Box Braids
@mshollywood919
A different and cute look perfect for the new year – these jumbo layered feed-in box braids are sure to make you feel fab all day!
Attention-Grabbing Jumbo Box Braids
@braidsbybre1
Highlights is a creative method to put interest and movement into your super long box braids. With this much length, you'll surely have plenty of options for styling your jumbo box braid haircut as well as compliments received.
Protective Big Box Braids
@hairbykneetay
Rock this jumbo hairstyle with box braids by going classic. A simple side part accents an oval face and leaves you with a cute and easy-going vibe.
Classic Braided Ponytail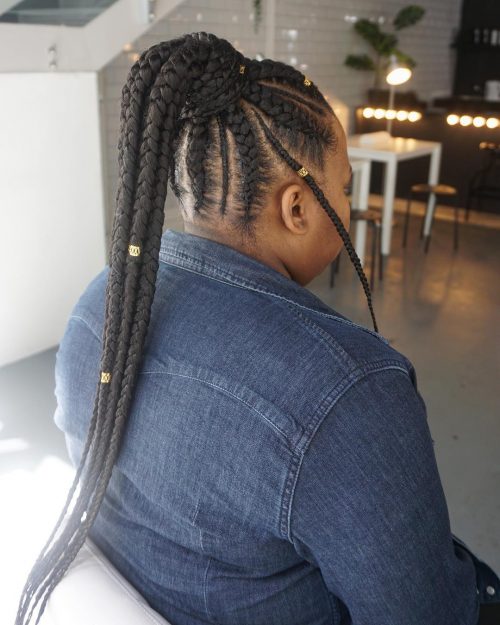 @bunnybraids
If you have no time to maintain your natural hair then these fabulous jumbo feed-ins are for you! You can add box braids in between for contrast and some really cute metal cuffs for a unique touch.
Fun Braided Top Bun
@home.braids
Q&A with style creator, Tulie Francois
Braidstylist in Québec, Canada
How would you describe this look?
This look is a jumbo box crown braid! It is beautiful and elevated with a classy touch. You definitely have to wear it with pride and grace. I love its versatility. You can wear it with different size of braids, design it as you wish, and add a little touch to it with hair jewelry or colored braids without damaging your hair. It doesn't take too much time to do, and it allows your hair to rest.
Any advice for someone considering it?
This look can fit any type of hair. It shows your face very well, therefore, you have to be confident to wear it. It is also a very mature and professional hairstyle. Perfect for a busy lifestyle because once it's done you do not need to worry about it or add nothing to it.
Half Up Bun
@boxbraidsbytiffany
Q&A with style creator, Tiffany Shuler
Braider @ Box Braids By Tiffany in Columbus, OH
---
How would you describe this look?
This style is considered as jumbo box braids. It's a trendy take on box braids, a popular hairstyle in the African American culture. What I like about this style is its versatility. It can be dressed up or down, it is all about the braiding.
Any advice for someone considering it?
Jumbo box braids of any style are considered protective styles. They are not only for fashion but meant to tuck your hair away and aid in growth and retention. It also saves time with getting ready in the morning since there will be no need to do your own hair. This style can feel heavy during the first week of wearing it. There can be some tension when getting this style, but it's important to communicate with your stylist to avoid being uncomfortable or in pain. It took approximately 8 packs of pre-stretched hair (brand: Lock'N Hold) to achieve this style.
Half Updo
@bethdefinesbeauty
Q&A with style creator, Imebet Thompson
Manager / Natural Hairstylist / Professional Braider @ Beth Defines Beauty Salon in Atlanta, GA
---
How would you describe this look?
I called this the half up/half down braid style or jumbo box braids in back/cornrows in front. These can be done much smaller, if the client wishes, or longer. It's always up to them to decide on the braiding. They are beautiful jumbo box braids created on half of the head with feed-in cornrows in the front. The big and small braids give the hairstyle a cute contrast and design. What I love about this style is that it is very versatile besides having cornrows.
Any advice for someone considering it?
This style is suitable for any occasion, for the working class, and for party time. Women with any hair type or texture can rock this look. It is very easy to maintain, just sleep in a silk bonnet or scarf and it will last up to 4-6 weeks. Also, the scalp can be moisturized daily for extra protection and prevent dryness.
It can be worn as is in the picture or all down. It also can be braided into one braid and be accessorized. We can also create a full ponytail with the ends hanging for exercise moments or into a bun for a more corporate classy professional look.