24 Jaw-Dropping Dark Burgundy Hair Colors You Have to See
Dark Berry Burgundy Balayage

@iamerictsering
A burgundy balayage makes everything transcendental, but this deep purple makes everything so ethereal, and this dark berry burgundy shade is a fun gloss for natural dark tresses.
Layered Dark Burgundy Hair

@noopurchokshi_amichokshi
Layered dark burgundy hair gives richness, shine, and boldness to any dark-haired gal. Burgundy tones blend naturally with brunette making it the ultimate shade if a woman prefers a bold change without adding some lightener. The rich warm tones usually work best with warmer, darker skin tones.
Bright Burgundy Highlights on Very Dark Hair

@thegoodhairwitch
Bright burgundy highlights on very dark hair are beautiful when evenly blended with a few chunky, brighter pieces, especially around the face. For better growth maintenance, blend the color into your root with a balayage technique.
Red Velvet and Deep Burgundy

@crystalxhair
Rock a red velvet and deep burgundy hue for bright locks that will appear delectable to every person who sees it. Add a subtle base shift for a seamless balayage finish.
Tawny and Burgundy Blend

@bora_kalaj
Try a tawny and burgundy blend for a subtle yet filled with rich dimensions that will look great either straight or wavy. Having tawny mixed in the formula will still help keep the richness of the color to achieve a more natural hue.
Deep Burgundy and Magenta Balayage

@silver_studio_by_dragan
Consider a deep burgundy and magenta balayage that will shine through and pop when it catches light against a dark base. Let the color speak for itself by adding some sleek waves, and a shine booster like Love Touch by Evo.
Medium Dark Burgundy Hair Color in Balayage

@beautybybethanyanne
Red-brown hair with loose barrel curls make for an interesting three-dimensional burgundy hairstyle. Whether you have a mid-length or long chop, this wavy burgundy red hair is a must-try!
Deep Maroon Red Burgundy Hair

@keanna.washhousesalonsllc
This burgundy and maroon balayage is the next hair trend to try! Add that cellophane gloss over the dark red hair color to create a dark maroon hue and a nice glow.
Dark Rooted Burgundy Red Hair Color

@bettina.jnzn
Achieve shadow roots to show deep wine color transitions within your deep burgundy locks. When styled with loose curls, this dark burgundy hair with a root fade is perfect for casual or formal occasions.
Dark Hair with Burgundy Highlights

@tejahscreativestyles
Jazzing up dark hair with burgundy highlights doesn't only mean putting together two colors from opposite ends. Sometimes it can be as powerful as a rich plum color with your jet black hair.
Dark Merlot Wine Burgundy With Highlights for Wavy Hair

@kimstylesme
Enjoy this dark burgundy hair with highlights! A glass of true plum wine hair goes a long way for a powerful lady.
Purple Burgundy Hair

@lzhouseofhair
Careful hand-painting made this deep purple and burgundy color mix lovely. The tones in this burgundy purple hair color are perfect for adding a fun dimension to straight locks.
Brown Hair with Burgundy Highlights

@live.love.create47
Don't hate, appreciate this burgundy brown balayage curated by the lovely colorist Rebekah! The combination of subtle burgundy red highlights and brunette hues create a mahogany color that suits ladies with an olive skin tone.
Rich Deep Burgundy Hair

@beautyby_brittanyjean
A rich mauve-burgundy hue for your long, loose locks. Come through with that red-violet shine and standout in the crowd!
Dark Burgundy with Blonde Highlights

@jlucywoods
Ripe burgundy plum can be an exciting color in itself. Champagne blonde highlights add warmer tints and a distinction for both colors.
Dark Burgundy and Scarlet Highlights

@hairart_byhoule
Dark burgundy and scarlet highlights give hair pops of vivid hues and a seamless grow-out. Stylist Megan Houle of New Hampshire describes it as an ideal color choice for women with darker/damaged hair because it can be applied to yellow or even slightly orange hair so you don't have to lift past a level 8/9.
To achieve the color, Houle started with a dimensional rooty balayage to lighten up the hair. She explains, "I mixed up some pink shades using all Pulp Riot colors and applied them in triangular panels. Also, I used an Olaplex bond builder during the process to ensure the hair's integrity."
Dark Chestnut Burgundy

@blassomhair
Dark chestnut burgundy offers a natural-looking color with a pop of fun! It's great for ladies who want to try new tones that aren't too bright and bold.
California-based stylist Kourtney Blas used multiple techniques to achieve this hair color.
"I painted all sections and used the natural base for the root color. I added a few red-brown lowlights throughout, leaving some natural color out. Finally, I toned my painted sections to a beautiful cherry cola color," Blas explains.
Dark Reddish Burgundy Brown with Hints of Mahogany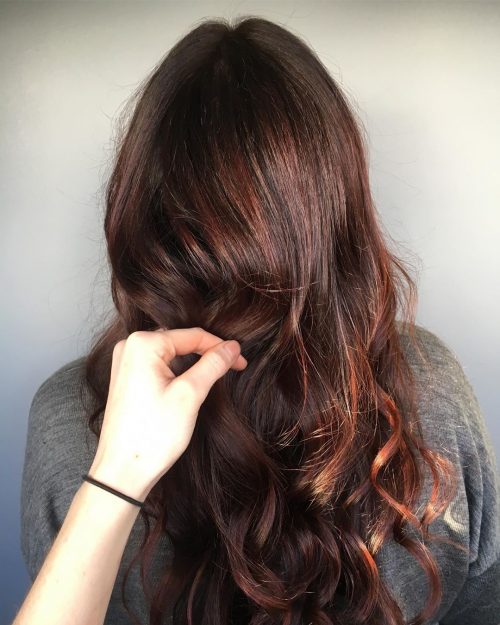 @caley_at_clhnb
This dark reddish burgundy brown with mahogany streaks was created by senior stylist Caley Farrer of Albany, AK. It's a burnt plum root smudge feathered into deep mahogany.
For at-home maintenance and styling, Farrer suggests getting "a good color care shampooing range and a beach styling spray are great for showing off the color texture and creating that effortless shabby chic look."
She adds, "this color would be great for any woman who has a medium-to-olive complexion, and the color can be slightly tweaked to enhance your features and tan you up during the summer."
Dark Brown to Dark Burgundy Ombre

@ctoyyy
This dark brown to dark burgundy ombre was created by color specialist Cindy in Canton, OH. "I've been calling it "raspberry truffle". We loved the shine that Redken color gels and shades brought to her hair, so we decided to go with a sleek glass-like finish!"
"A dark burgundy hair dye is great for women with lighter colors (balayage ombré) who are looking for a bold change! This look can be low-maintenance with the right products. She took home a Viral Wash in purple to keep the tones up at home in between until she needs a root retouch with a gloss refresh," she adds.
Curly Burgundy Hair

@hairbyhannarella
This curly burgundy hair was created by hairstylist Hanna Leighty of Lee's Summit, MO.
"For the color, I did a balayage, which is a technique of highlighting that allows for a softer and more natural grow out. I then used a permanent red violet color because she wanted something a little more vibrant."
When asked why she did the color this way, Leighty recalled, "because the lady wanted a burgundy style, and the color is low-maintenance. I would recommend the color for women with a neutral or warm skin tone."
Dark Violet Plum and Burgundy

@exquisitebeautysalon_alma
This really dark burgundy plum hair color was created by stylist Alma Castro of Madera, CA. "I pre-lightened it by doing a balayage hand paint. After drying that, I applied a violet and added a purple booster."
With this type of burgundy tint on long hair, Castro recommends you use a good shampoo and conditioner. "I love the Bedhead brands and Joico. No drugstore products. I have seen a lot of thinning in the hair and color not lasting as long," she states.
Dark Brown Burgundy

@juanita_lopzbeauty
This dark brown burgundy is rich in color and voluminous in the thickness of her curls/hair. It was created by stylist Juanita Lopez of San Diego, CA.
Lopez says, "you need to keep in mind that this dark brown hair is in the red family. Reds tend to fade a bit faster than most colors. This means it's higher-maintenance, but if you want to stand out, this is the color for you!"
Dark Red Burgundy Highlights on Black Hair

@karamizuhair
These dark burgundy highlights on a black base were created by hair apprentice Kara Mizu of Honolulu, HI.
Mizu says, "because colors fade and become dull over time, I'd explain during the consultation that a black and burgundy hair like this requires a new hair care regimen. Maintaining this look includes home care as well as regular toning in the salon."
To care for your black burgundy hair at home, Mizu recommends limiting washing to once every two days, switching to a dark-colored towel and pillowcase, and drying hair immediately with a blow dryer.
She adds, "the longer the hair sits wet, the more color will be released from the hair and drip out onto your clothes/pillowcase. After two weeks of wear, using a red color-depositing shampoo or conditioner once or twice a week will help to keep color vibrant."
Very Dark and Short Burgundy Hair

@lauraschaefferhair
This very dark and short burgundy hair was created by color specialist Laura Schaeffer of Doylestown, PA. "The best thing about this style is the plum color I was able to achieve using L'Oreal's oil-based and ammonia-free line, Inoa," she says.
To maintain this very dark burgundy color, Schaeffer says, "the color needs to be maintained every 3 to 4 weeks, and salon-quality shampoo is essential to keep fading minimal."