These 26 Plum Hair Color Ideas are Totally Trending Right Now
Cool Light Plum Hair Color

@studioak.reetta
Use a straightening iron to achieve this modest light plum color. The violet color should give that impact of adventure. Hazel eyes would look breathtaking with this classic plum shade, too.
Galaxy Plum

@therainbowhairartist
A galaxy plum is a fun color to try to get a deep iridescent tone to your hair. The galaxy effect has a darker variation to the unicorn hair color. It gives depth and offers a variety of tones, making the hair look visually plumper.
Fuschia Plum

@joffrey_jara
A Fuschia plum balayage is a great shade for women who want to try having fashion colors in their balayage. Vibrant shades work better on women with darker hair whereas paler colors work on women with lighter hair. For longer-lasting color, rinse with cool water.
Magenta Plum

@maibeyondwaxstudio
Magenta plum hair color is a combination of pink, red, and purple shades blended to create a dark but vivid pink. For an easy grow-out and better dimension, blend in some of your natural hair colors.
Icy Plum Color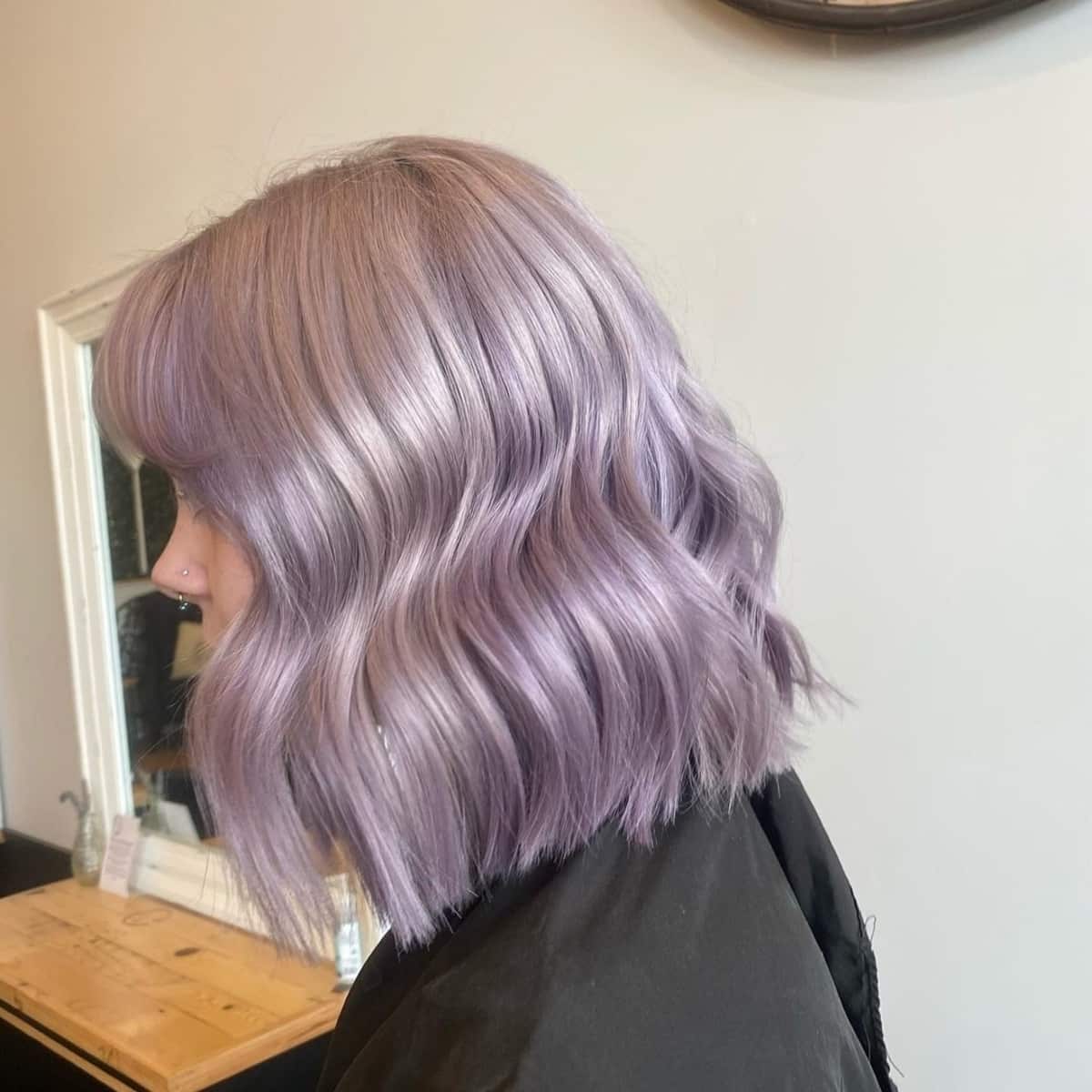 @brooklyn.hairparlamer
The icy plum color is a combination of pastel lilac and silvery blonde. Icy plum hue tends to look better on fair skin tones and is the perfect way to spice up any hairdo.
Ashy Gray Plum Hair

@zoeyho_hair
Ashy gray plum hair is a sexy, refined hair color. Purple hues with cool undertones give a soft smokey finish. For best results, have your stylist lighten your hair with a balayage technique to the lightest pale yellow, then apply an ashy silver and muted purple toner. Finish it off with loose, soft curls that reveal the gorgeous cool grey plum tones.
Plum Roots on Blonde Hair

@butterflyloftsalon
Plum roots on blonde hair are a great color technique that adds depth and vibrancy to blonde hair. A plum purple shadow root on highlighted or solid blonde hair allows for a softer grow-out and is very on-trend. Ask your stylist to use a semi-permanent plum color on your roots for a gorgeous root melt result and easy upkeep.
Dark Brown Hair with Mahogany Plum Highlights

@_brookelynch_
This dark brown hair with mahogany plum highlights features show-stopping long plum locks, bedazzled with deep lilac. No more boring dark base with this plum red color, plus you'll definitely be a head-turner!
Chocolate and Plum Balayage

@adornedbyaudree
Terrific transformation by colorist Audree where chocolate brown and burgundy plum were interspersed perfectly. If you like balayage on your dark hair, definitely try it with a chocolate plum hair color for a unique flair.
Dark Red, Lilac, and Plum Balayage

@tanyamichelle_hairartist
This is what lilac dreams are made of! Achieve this lilac plum color with some warm undertones. Enjoy countless compliments on your dark red plum-colored hair.
Plum Brown Shade

@mshellwear
Never thought that plum and brown would be a thing, did you? Get those purple undertones and bring a new twist to your brunette locks with this plum brown hair color. If you have an olive skin tone, this is a must-try!
Plum Purple on Curly Locks

@foreversummer_cosmetologist
Stylist Summer made this plum purple hair color trend as natural as possible. The soft purple color and the perfect plum curls can be achieved for a radiant glow.
Violet Plum Color on Short Hair

@bretell_beauty
Vibrant plum purple and burgundy brilliance shines through you, sis! Bouncy jaw-length hair with this plum hair dye is a stunner.
Dark Plum Hair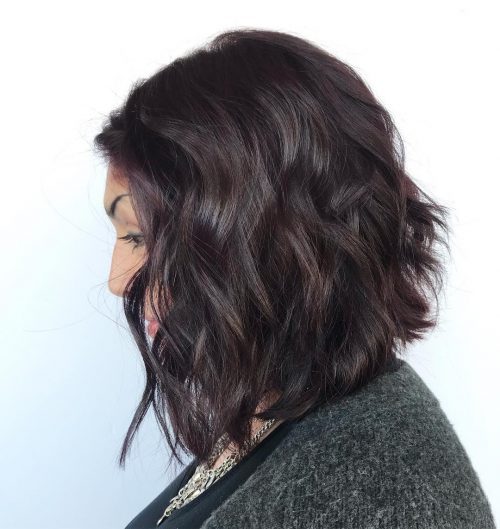 @jhans_beauty
Mulberry dark plum hair on waves are smashing! Colorist Jordan helps you get through a bad hair day with this unbeatable combination of the dark plum color and wavy style.
Dark Purple Plum on a Medium-Length Bob

@elissawolfe
Totally living for this vivid dark plum hue on a mid-length bob cut! Stylist Elissa mixed purple balayage in these plum hues for that subtle dimension.
Bright Plum Hair Highlights on Dark Roots

@wildflower406
Mix deep cherry red with your natural, dark roots for a dazzling plum hairstyle. This fun color is one of the great ways to show off your edgy, playful side.
Rose Plum Color

@thehairchameleon
Wear a rose plum color if you're feeling adventurous but don't want to commit to vivid hair colors. Cosmetologist Izzy Rooney of Ohio did a hand-painted balayage to achieve this rosy plum shade.
When wearing this color, Rooney suggests, "make sure that you're using lukewarm or cold water when you shampoo. And always use a sulfate-free product."
Lavender Plum Hair

@l.e.d_hair
Try the lavender plum hair color if you want to experiment with tones that fade out into a clean icy blonde. Hair color specialist Laura Dixon of the UK made this fun, gorgeous shade with a balayage.
"I used a freehand-painted balayage technique to lift pieces in the grown-out roots. This creates dimension and allows the color to pop," Dixon points out. The colors used are from Schwarzkopf Professional.
Electric Plum Hair Color

@hairby_darcee
An electric plum hair color looks fun and daring, and the best part is it's low-maintenance! Color specialist Darcee Williams of Ohio says this color will fade out with multiple washes and return to a natural brown.
"This was created by doing an all-over color on virgin hair," she explains. "I used the Joico Lumishine 4VV 30 volume." While this plum color is achievable on all types of hair, Williams believes it works best on virgin hair.
Dark Brown Plum

@alissaerin_hair
A shade of dark brown plum is a subtle, fun color that's perfect for an everyday look. Plus, it's easy maintenance! Balayage specialist Alissa Erin of Statesboro, GA is behind this awesome creation.
Erin used the color melt technique for this color. "I mixed two colors together to create a seamless blend," she notes. "Every few months, I will hand-paint balayage the ends to brighten them up," she adds.
Subtle Dark to Light Plum Ombre

@colorbymichelle
This plum ombre hair was created by balayage specialist Michelle Hernandez of Fresno, CA. "The best thing about this is anyone can rock it – young and old. The fun part is that there are two levels of violet. You have your deep plum color to the lighter red-violet," she notes.
Hernandez feels anyone can have this shade. "Basically, you could go from the salon to the office. As far as maintenance with any color service, you'll need to use color-safe shampoo to help longevity and vibrancy. Wash less often. Use protective serum when using hot tools," she adds.
Plum and Black Balayage

@hairbykayleel
This is a plum balayage, which is a plum hair color on black hair. It was created by stylist Kaylee Lamy of Winnipeg, MB.
"It consists of rich purple tones, softly blended into a dark brown base to give beautiful depth and a striking statement," explains Lamy. "The best part of this black plum hair color is when the light hits, it gives illusions of different purples. A single hair dye won't produce this color illusion."
Balayage is great for a natural grow out. The technique "balayage" is soft and painted on the hair in an artistic manner. Often times the balayage technique needs to first be done as a lightening service in order to get that true color you see in the picture.
Lamy advises, "to keep your color vibrant requires regular refreshing on average 4 to 6 weeks. This color is recommended for women who don't spend a lot of time in the sun or chlorine. If you do spend time in the sun use shampoo with UV protection and color protection."
She goes onto explains, "because of the pre-lightening for the balayage base of this service, a leave-in conditioner (strength and anti-breakage) is great to help with how chemically treated hair can act and feel. Prep your style with a heat protectant to preserve and prevent the early fading of the gorgeous plum. Protecting from the high heat of our styling tools also equals healthier hair, which equals richer, shinier colors."
Plum Red

@sydstylist
This is a beautiful plum red hair color because it has cool tones rather than warm tones, almost as if it has a purple hue to it. It was handcrafted by licensed cosmetologist Sydney Fogner of Columbia, SC.
"It's fun and powerful without stepping into the vivid category. Don't you just love cooler reds versus warm coppery reds and bright 'firetruck' reds," she asks.
Fogner says you're going to need to be prepared to visit the salon more often. "If this is not your natural color and there wasn't any type of shadow root left, you're going to have to get your roots touched up at least every 5-6 weeks, as well as refreshes to keep the color vibrant. This is something to take into account for sure because you are upping the maintenance as well as what you'll be spending on your hair," she explains.
This particular tone looks best with cooler skin tones, especially those with pink undertones. However, the formulation can be personalized. Either darker/lighter or cooler tones/warmer tones can still be in the plum realm but fit a different skin tone. A great thing about this type of red is it is still professional. It's not natural, but it's also not in your face.
Eggplant Plum Color

@katelynn_hhair
This eggplant plum color is a rooted color melt and was created by stylist and colorist Katelynn Hillenbrand of Centereach, NY.
"Ask your colorist to work with your tones to create exactly what you've been looking for, a mix of plum and jam tones with a deeper brown root," says Hillenbrand.
With different shades of plum, Hillenbrand advises you to open up a conversation about maintenance and color preservation with at-home  care prior to the color service with your colorist. "If you're looking to have this dark plum hair color, you're in for some upkeep," she notes.
Consider 6-week upkeep appointments that include a root touch-up and creative color glaze. Purples and plums like this are great for a bit of an edge that's still workplace acceptable in most cases!
Burgundy Plum

@msmalydoeshair
"This shade of plum is for women who want a subtle but different look," says hairstylist Maly Souvannasap of Ogden, UT. "If you previously had a light brown balayage and want this plum hue, go for it! Using the right products will also make this come alive."
Souvannasap says your hair would either need to be all-natural and never colored or have any highlights to get this color to show. "Also, note that it does take good quality shampoos and hair products to keep your hair looking its best! Talk to your stylist about the different hair products they recommend to keep this color looking fresh," she adds.
Deep Plum Hair Color

@francine_scissorhands
This deep plum hair color is a subtle way of having some fun in a professional world. This plum color was created by hair artist Francine Estrada of El Paso, TX.
"Cool-toned plum shades are a stepping stone to going with a more daring look and color," says Estrada.