34 Gorgeous Burgundy Hair Color Shades to Show Your Colorist
A burgundy hair color is a blend of brown and purple that create a deep burgundy red wine hue. Like a fine wine, deep merlot, cabernet, oxblood, and Bordeaux hair color hues shimmer at the slightest hint of light.
The bold tones of a beautiful burgundy offer wonderful framing and contrast for every skin tone. These hues are great for the shy girl who desires a striking change or the carefree spirit who just loves attention. This versatile shade is waiting for you.
Before your next hair appointment, check out these popular pictures of burgundy hair color ideas.
Sangria Burgundy on Long Wavy Hair
@guy_tang
This is one of Guy Tang's classic color transformations on Huda Kattan's long wavy hair. It's a gorgeous combination of burgundy purple hair with hints of light nutmeg.
Curly Burgundy Hair
@iamkandacemarie
A curly burgundy hair has all the flare. Beautiful and complimentary on warmer skin tones. If starting with a darker base you may need to pre-lighten to achieve a brighter burgundy. So consider what after hair care you will need to keep those colored curly locks hydrated. Definitely oils, deep conditioners, and anything your stylist prescribes for your specific texture.
Seamless Burgundy and Magenta Balayage
@silver_studio_by_dragan
A seamless burgundy and magenta balayage with dark, blended roots allows for better growth and works best with balanced skin tones. Ladies of any age can pull off this fun, bold hair color.
Red Violet Burgundy Tones
/ @glossarysalon
In this red-violet burgundy wine hair color, the tones really become vibrant in natural lighting. "The color is deep and professional, but when you see in the natural light, it really pops," says Tracy Branch, a National Educator for John Paul Mitchell Systems.
"Try the Paul Mitchell Ultimate Color Repair System," explains Branch. "Their shampoo, conditioner, and the Triple Rescue Thermal Protection Spray is infused with quinoa. It keeps your color vibrant and prevents fading for up to nine weeks!"
To maintain the vibrant burgundy tones of this color, Branch recommends you go in for a gloss or topcoats using Paul Mitchell PopXG Burgundy every four weeks and touching up the new growth every six to eight weeks. "Thermal protection is a must, as well as washing with color-safe and sulfate-free products like Paul Mitchell Ultimate Color Repair System."
Burgundy Pinot Noir with Bangs
@becky_at_houseofcolor
Doesn't this remind you of a wonderful bottle of wine, maybe Pinot noir? It was created by hairstylist Becky Stout of Colorado Springs, CO.
"This burgundy (color) bob haircut looks really nice with full bangs to make beautiful blue eyes pop," says Stout. "These colors do fade but this specific color line allows it to fade to a beautiful mauve color."
Avoid washing every day, using dry shampoo for in-between days, and curling her hair daily to achieve this desired wine hair color.
Shiraz Wine LOB
@c00lidc
"This shiraz lob's depth of the burgundy color allows for a nice fade out since reds fade quickly," explains hairstylist Andrea Rojas of Rockville, MD.
"Though the color is dark, reds do fade quickly, so most colorists will only recommend reds for women who can be in the salon every 6-8 weeks to refresh their toner," she adds.
Purple Burgundy Balayage for Long Hair
@roseshairstudio1
This shade of purple-red burgundy balayage is perfect for fun, bold, adventurous women. It was created by hairstylist and color specialist Rose Garcia of Austin, TX.
"It's warm yet cool, making it suitable for many skin tones," says Garcia. "The pink violet tones are flirty and fun and the cut creates fullness and bounce."
Garcia recommends you use lukewarm to cool water when washing. "Use a sulfate-free shampoo, alternating with a red color depositing shampoo or conditioner to keep the color vivid until your next appointment," she adds. "Shampooing about 2 times a week would be ideal. Re-toning would be about every 6-8 weeks."
Dark Burgundy Pixie Cut
@djrcolor
This mesmerizing dark burgundy red pixie cut with sharp edges couldn't be any bolder without a stunning plum hue.
Though it requires maintenance if you wanna keep the cut and color for a long time, it's definitely a worthy head-turner look to own.
Layered Boysenberry + Burgundy Locks
@kalex.stylist
This shade of burgundy red hair looks gorgeous on lengthy waves and pale complexions.
Try this as an ombre with your natural black hair if you want a taste of this sweet rich color.
Dark Burgundy with Magenta Highlights
@_beautybybree
A rich luscious dark burgundy hairstyle suits any skin color, warm or cold, so the only thing you need to rock this bold dashing color is confidence!
Subtle burgundy red wine highlights and flirty big waves on brown hair would create the dimension needed to complete one of the most gorgeous hairstyles here.
Medium-Length Mauve Burgundy Hair Color
@annemazing_hair
Who would've thought that a metallic mauve and a rich mahogany base would blend smoothly and amazingly?
No matter what your skin tone is, this super pretty burgundy hair dye would surely look perfect on you!
Black and Burgundy Dip Dye
@haleydoesthehair
Here's a black and burgundy dip dye hair trend that adds a soft yet edgy upgrade to a mid-length cut. The balayage creates a seamless blend of shades. For the burgundy hue to pop even brighter, waves on ends do wonders, for sure. Try this burgundy hairstyle to bring out instant gloss to dark tresses.
This black and burgundy hair dye is a low-maintenance color to a more purple tone. It was created by hairstylist Haley Krumm of Vancouver, BC.
"The foilyage technique was used to lighten the hair," explains Krumm. "Previous at-home coloring left a lot of warm red tones through the ends of the hair. If that's your case, use it to your advantage and create this juicy berry color!"
This burgundy hair color is a warm purple, merlot to marionberry. Color can be so open to interpretation, sometimes, and the important part is this color is warmer in hue.
Krumm says it's more low-maintenance than highlights or all-over colors, because of the applied technique. "There are no harsh lines of demarcation."
With any color service, make sure you're doing your at-home care! Color-safe shampoos, heat protectants, and washing the hair in cooler water. All of those things help to preserve your burgundy color hair.
Blonde and Burgundy Hair Color
@anaisvaldez.hairstylist
"This blonde and red burgundy hair was inspired by the beautiful colors of spring flowers," explains hairstylist Anais Valdez of Fallbrook, CA.
"It's styled with easy flowing waves that help the color intertwined and pop with its contrasting colors," she notes. "This fun hair dye and burgundy style is a perfect way to add some fresh and fun change to your hair."
Burgundy Brown Raisin Hair Color
@emilytee_sc
This burgundy brown hair color is the look of today's balayage! This particular color was created by senior hairstylist Emily Tee of Malaysia.
"Instead of doing the entire head which is very high maintenance, you can overlay a color onto highlights or a balayage for a softer, more wearable rich shade of burgundy," says Tee.
The best way to maintain burgundy color hairstyles is to use the recommended color shampoo and conditioner at home.
The right shampoo and conditioner will enable you to help to enhance the rich burgundy hair color and also give a long-lasting hair condition.
Burgundy + Mahogany Blend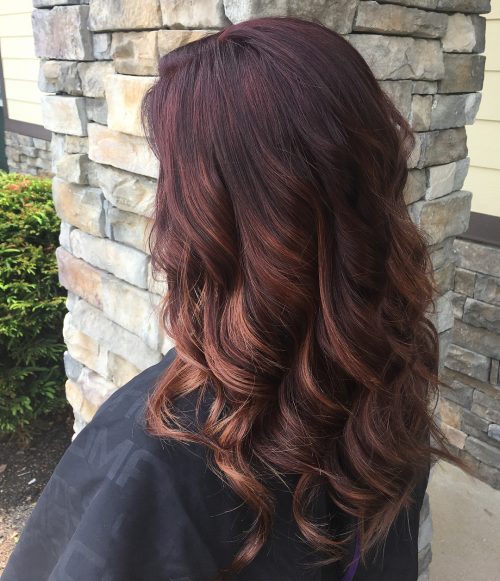 @tashas_handm
"These burgundy tresses have the ultimate dimension with shades of red, brown, and bursts of violet all blended together to give it great mahogany tone with burgundy lowlights," explains master colorist Tasha Kummer of Greenville, SC.
The mahogany mixed with honey really complements each other.
When a color has red in it, Kummer says you have to schedule your appointments every 6-8 weeks.
"Use a shampoo that is salt-free and sulfate-free that is good for the hair color used," she adds. "It's best to use a shampoo that your stylist recommends."
Burgundy with Blonde Highlights
@platinumblondestudios
Trendy and stunning—what's not to love about this burgundy hair with blonde highlights? These vibrant tones are making a statement! Pair a shade of burgundy with blonde highlights to provide your long tresses a new, unique edge. This high-contrast look flatters fair to medium complexions.
Dark Cabernet to Neon Tangerine Orange
Kheyli Tristen / Instagram
"This is a rich, dark cherry burgundy shade that fades into a neon tangerine orange at the tips," says hairstylist Kheyli Tristen of Pasadena, CA.
Tristen recommends you use a red and orange color wash at home to replenish the color.
"A woman with a lighter or a tan complexion can pull this color off, which means all types of hair can wear it as well. It's a stunning hair color for brown skin," she adds.
When it comes to maintaining hair color (especially fashion colors like this), leaving the hair's natural oils is healthy, and washing with cold water prevents the color from washing out so quickly.
Deep Burgundy Highlights
@lisacaveneehair
Those deep burgundy highlights on dark hair create a black cherry effect. The result? Fabulous! The depth of the burgundy color is what makes it sophisticated and classic. Waves within the deep burgundy hair color, accentuate the highlights.
Chocolate Brown Burgundy Bob
Carissa Callaway / Instagram
spice-inspired long bob is a rich burgundy hue. It was created by hairstylist Carissa Callaway of Ripon, CA.
"This color is ideal for any ladies who want to liven up and enrich their dark locks," says Callaway.
Plum Burgundy Hair Color
@hair_by_emali
After the salon, taking care of a plum burgundy color can be as easy as one, two, three nowadays.
Keep some purple shampoo (and other products) with you, go in for regular touch-ups, and enjoy the color!
Zinfandel with Purple Highlights
@little_lele_scissorhands
Down for a hair idea that's one-of-a-kind? Why not rock such long and rich burgundy hair? Dark roots plus a shade of zinfandel with purple highlights—what a vibrant color melt! Added waves and curls create a more dramatic result. To keep its shine, use a red shampoo which deposits red tones into the hair.
Burgundy Highlights on Black Hair
@hairbyashleypatron
Burgundy highlights on black hair are a great way to change up a dark color. The awesome thing about burgundy highlights is that they change in different lighting! Sometimes, it can be more subtle in indoor lighting and brighter in direct sunlight. Either way, it's always a very shiny color and makes long thin hair look much fuller and healthier.
Chocolate Merlot Burgundy Hair
@hairby_calliej
If looking for a way to incorporate any burgundy hues into your style, this is a chic one that you'll love! The depth and richness of chocolate merlot hair color gives long hair a flattering result. Red and burgundy shades tend to fade quickly, so sulfate-free hair products will be useful.
Dark Red Wine Burgundy Hair
Alicia Layne / Instagram
This dark burgundy wine-colored balayage blends into the naturally dark hair. It was created by stylist Alicia Layne of San Diego, CA.
"Use a violet toning conditioner if you're a wine-haired lady," says Layne. "The violet brings out the purple tones in the color. For that, use Blonde Angel by Kevin Murphy."
A burgundy color works well as a balayage on darker hair, too.
Layne recommends you try the violet conditioner on dark red hair color, and you'll be surprised at how pretty the results are. "Red is famous for fading the fastest, so see your stylist to refresh the color."
Rich Burgundy A-Line Bob
Elian Crabari / Instagram
This is a rich burgundy A-line bob with wearability of the style and all the dimensions in the color. It was handcrafted by hairstylist Elian Cribari of Orange, CA.
"Keep up with your root touch-ups and try an all-over semi-permanent gloss to keep the richness of the burgundy hair," says Cribari. "You'll also want to use a good shampoo and conditioner like Kerasilk Color by Goldwell, as well as a hair serum like Kerasilk Protective Oil by Goldwell to use after towel drying."
Burgundy Hair with Highlights
@carlybighamhairstylist
This sweet hair dyeing combo features burgundy highlights that not only add depth to the color, it also makes the brown-red shade more vibrant.
Deep Port Wine Burgundy Hair
Monica Silacci / Instagram
"This burgundy hair haircut is classy and sultry at the same time, like a glass of fine port wine," states hairstylist Monica Silacci of Burlingame, CA.
Silacci recommends you try Oribe's Beautiful Color line to keep your color vibrant and prevent fading.
"Some women may also use a red depositing shampoo from time to time, but if the color has faded out too much, it may be time for a glaze," she notes.
Dark to Light Burgundy Ombre
@tmhairdesign
Rock this dark to light burgundy ombre hair and show your love for classic styles! This trend features a reddish-brown tone to flatter fair to medium skin complexions. The catch in wearing this burgundy ombre mane is that it demands high maintenance.
Use a UV protective styling balm or thermal protection spray to prevent color from fading in the sun. If you have acne-prone skin or have a lot of red pigmentation, it's best to stay away from being a redhead altogether.
Light Burgundy Tint
@thesalonno.1
Are you a natural redhead who simply wishes to intensify her (already sensational) hair color?
Amp up your hue by heading to the salon for a light burgundy red color gloss.
Maroon Burgundy for Short Hair
@studio417salon
Wants to give your bob a different twist? This trend offers hints of maroon burgundy for short hair like yours. With waves, the highlights are creating a dramatic result. This maroon hair color looks very stunning from every angle!
Burgundy with Auburn Hues for Older Women
@alexandros_hairsalon
Burgundy with auburn hues for older women makes a fun, funky hair color that complements a warm skin tone. Stylist Andromachi of Canada created this hair color to highlight women's best features.
Andromachi points out the importance of maintenance for red hair. "I recommend a red shampoo. It preserves the color and gets rid of orange or brown undertones." Andromachi also suggests a visit to the salon to renew the color every 3 to 3.5 weeks.
Bordeaux Curly Burgundy Hair
/ @yenmingg
"This is a Bordeaux for Your Hair because it's a rich and dimensional color with tons of warm burgundy hues," says stylist Michelle Hsiung of Beverly Hills, CA.
There are so many different shades of burgundy to choose from, and all can be customized for most skin tones.
Hsiung suggests you use a sulfate-free shampoo for any color-treated hair, especially burgundy tinted hair.
"Keep up with maintenance by coming in for a gloss to freshen up the color and keep a vibrant and shiny appearance," she adds.
Black and Burgundy Balayage
@jayvonriedel
If you're thinking of classing up your black mane with pops of a dark wine color, go for it! Get that dazzling, natural-looking result with a black and burgundy balayage. This subtle burgundy style won't let your straight, fine locks appear unexciting. When styling, curl the mid-lengths but leave the ends out for a softer touch.
Burgundy Meets Blackberry Jam Hair Color
/ @beautyby_larissa
This burgundy hue is fun and confident, but not too bold. It was created by hairstylist Larissa Angelopoulos of Apple Valley, CA.
"Women with jobs who aren't allowed to have fashion colors can still express themselves through their hair with this burgundy tint," says Angelopoulos. "Olive and tan completions go great with this burgundy tone of color."
Women with naturally dark hair rock this color well because in most cases they already have lots of underlying red pigment.